Zynga (ZNGA) is quietly approaching multi-year highs on the back of strong execution that now produces consistent growth. Combined with solid growth forecasts for the mobile-game market, the stock is setup for this run to $4 being only the initial step in a multi-year rally.

Forever Franchises
The investment thesis on Zynga changed a while back as the mobile-game developer shifted the development model to more predictable updates and live services from a reliance on developing new hit games. The ability to produce consistent bookings growth from existing franchises like Words With Friends and Zynga Poker de-risked buying the stock back when the Zynga traded below $3.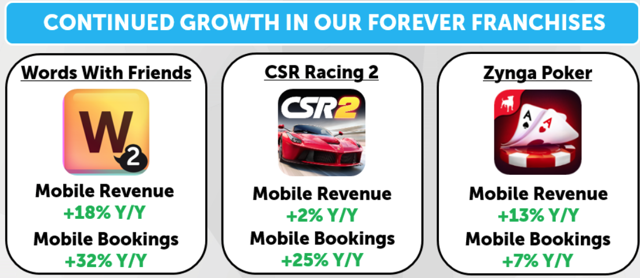 Source: Zynga Q1'18 shareholders letter
None of these games top the grossing game charts so growing is part of taking market share and participating in a growing mobile market. The mobile portion of the global game market is set to expand to $70 billion this year and reach over $100 billion by 2021. Smartphone games have already surpassed both PC and console revenues placing Zynga in an ideal position to finally benefit from market growth.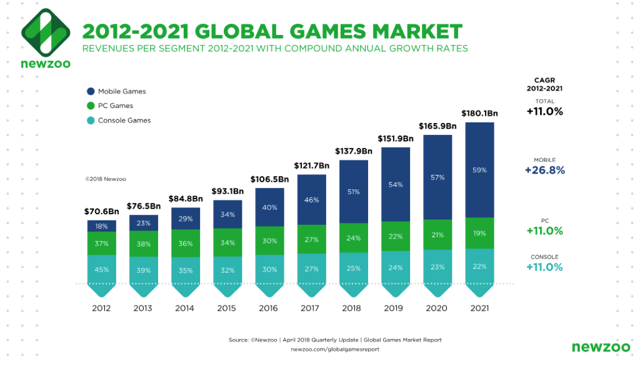 Source: Newzoo
Zynga hasn't been perfect in execution as the social slots category saw mobile revenue dip 4% over last Q1. Mobile bookings were flat for this category, but the company still executed on 10% bookings growth YoY.
Guidance for Q2 bookings was $218 million, a solid jump from the $205 million estimate from last year. Zynga has a history of smashing internal estimates on bookings. The company beat the Q2 estimate last year by $4.2 million and smashed the Q1 estimate by $9.5 million. A similar beat this time would place Zynga at the highest level in years at possibly $225 million.
Easy Undervalued Argument
The argument now that Zynga is generating consistent profits is that the stock is undervalued for the gaming sector. With bookings at just above $200 million per quarter, a big hit game could drive a spark in bookings growth providing a huge catalyst for the stock.
The thesis though is based on the company returning to growth in excess of industry leaders. Analysts forecast FY19 revenue growth for Activision (ATVI) and Electronic Arts (EA) below the growth rate of Zynga:
Zynga – 9.1% Activision – 7.0% EA – 8.8%
Despite Zynga now having the higher forecasted growth rate and the obvious logical conclusion that a new game could move the needle more at the smaller company, the stock shouldn't trade at a substantial EV/S discount to these industry leaders.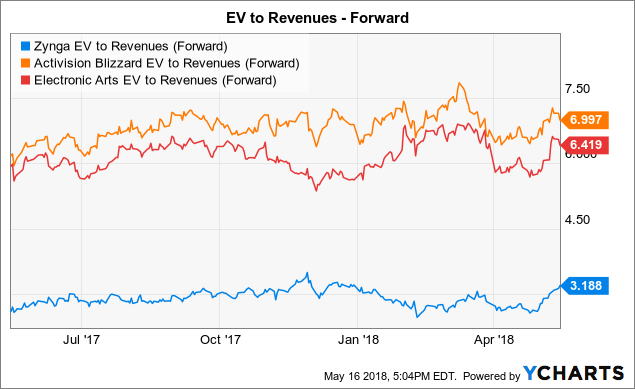 ZNGA EV to Revenues (Forward) data by YCharts
Takeaway
The key investor takeaway is that the market is slowly catching on to the attractive valuation of Zynga now that growth is more predictable. The stock though still trades at very cheap levels at $4 and a discount to peers. Possibly even as important, the stock is on the verge of a breakout at this level that could send the mobile-game developer towards the 2014 highs of nearly $6.
Disclosure: I am/we are long ZNGA.
I wrote this article myself, and it expresses my own opinions. I am not receiving compensation for it (other than from Seeking Alpha). I have no business relationship with any company whose stock is mentioned in this article.
Additional disclosure: The information contained herein is for informational purposes only. Nothing in this article should be taken as a solicitation to purchase or sell securities. Before buying or selling any stock you should do your own research and reach your own conclusion or consult a financial advisor. Investing includes risks, including loss of principal.