Business Overview
ZCL Composites (OTCPK:ZCLCF) (or ZCL on the TSX) is the world's largest manufacturer of underground fibreglass storage tanks. Their products are divided into 3 sectors: Waste & Wastewater, Industrial, and Oil & Gas.
Financial Position
ZCL is in a very strong position, with 0 debt and a price to book of under 3 to 1 at the time of this article.
(From Sedar)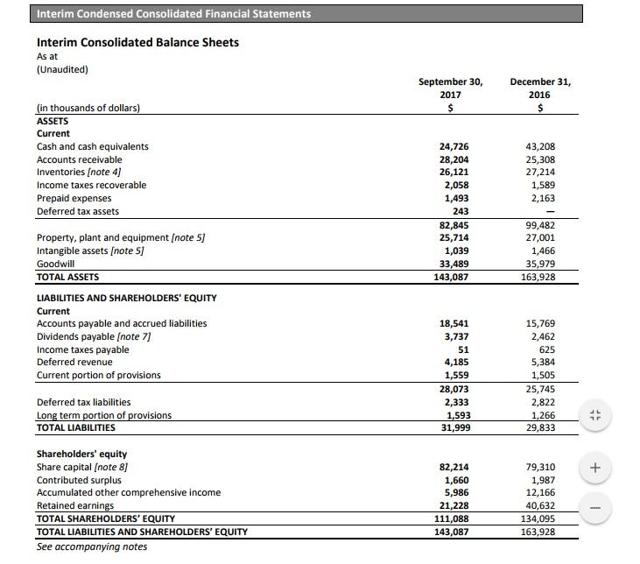 Sudden Decline
The main purpose of this article is to point out that the recent decline of ZCL is way overblown and represents a buying opportunity of great value. The recent Q3 Earnings on Nov 2 saw the share price decline from $13.71 at the close to an open of just under $12 on Nov 3, it is now trading under $10.40 at the time of this article. The technicals are terrible, but the fundamentals of the company haven't changed much at all, certainly not enough to warrant a decline of roughly 25% of the stock price.
Why the sudden decline? Below you can find the earnings from their most recent quarter.
(From Sedar)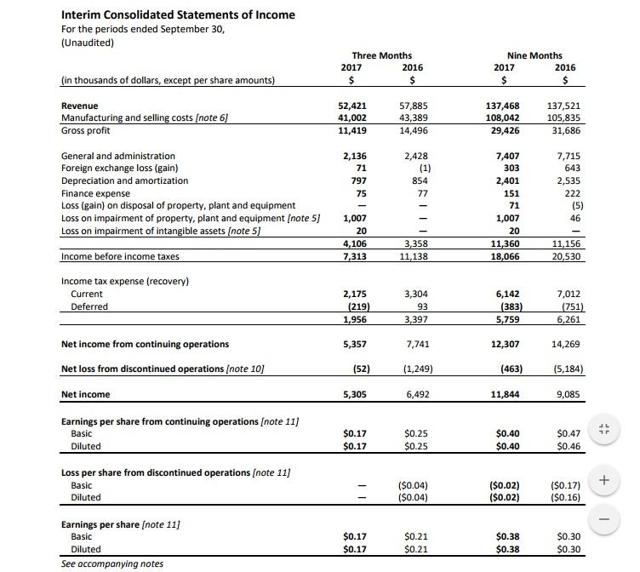 The only analyst that participated in the most recent earnings call was from Raymond James and he had predicted an EPS of $0.28 vs the actual $0.17 with revenue missing as well. His questions of CEO Ron Bachmeier during the call were tough yet fair after the company assured investors previously that the headwinds facing the company in 2017(including temporary higher material costs as well as the increasing Canadian dollar) would be mitigated by increased demand. ZCL forecast their demand poorly for this year and especially the most recent quarter, something they admitted they would have to improve on in the future. They also claimed that the decreased demand was due to 'book and bill' revenue, that which is ordered and delivered in the same quarter which makes up a significant portion of their revenue and came in at the bottom of their predicted range. The CEO did claim that a lot of their main customers deferred their purchases into 2018, and hinted that 2018 would produce record demand. (The analyst from Raymond James decreased his price target from $16.00 to 13.50 after earnings, but maintained an outperform rating)
It is clear from the decline in share price that investors did not believe the CEO in his statements predicting record 2018 results after ZCL failed to produce in 2017. I would argue that the CEO should be judged on his entire body of work, and ZCL's performance since he took over in August 2012 has been very impressive.
(From Morningstar)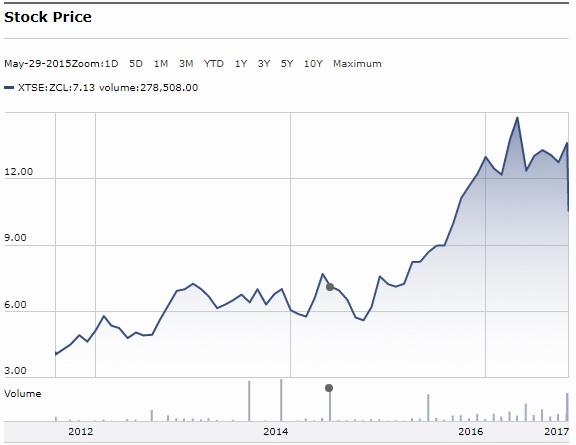 Share price has increased and the dividend has increased greatly as well.
ZCL's free cash flow is very impressive
(From Morningstar)

I cannot be certain the reason for the recent decline, but it appears as though it could be an unwarranted loss of faith in management from a recent rough patch. I am unsure of the investment mandates of certain institutional investors, but there are a number of growth funds that held significant positions in ZCL and after their recent results they may have been forced to sell their positions in the company as it no longer meets the growth mandate. Also, significant declines can trigger stop losses and force further liquidation of holdings.
The time to buy is when there's blood in the streets.
– Rothschild
I fully understand how poor earning results can be signal of things to come for a company. Poor quarterly results for highly leveraged companies or companies that require significant growth rates to justify their valuation should have a significant impact on valuation. ZCL does not fall into either of those categories with a forward annual P/E of < 14/1 (from Reuters), no debt, and a very reasonable targeted 10% annual revenue growth rate over the long term.
Conclusion
Stocks often overreact to each earnings result, but what has happened to ZCL is nothing short of extreme and completely unwarranted in my opinion. This has resulted in an opportunity that could be very profitable for investors should the company return to growth as expected in 2018.
Disclosure: I am/we are long ZCLCF.
I wrote this article myself, and it expresses my own opinions. I am not receiving compensation for it. I have no business relationship with any company whose stock is mentioned in this article.
Additional disclosure: I initiated positions starting on November 6, adding more today and depending on price may add to my positions.
Editor's Note: This article discusses one or more securities that do not trade on a major U.S. exchange. Please be aware of the risks associated with these stocks.
About this article:ExpandTagged: Investing Ideas, Long Ideas, Industrial Goods, Canada, Chemicals – Major DiversifiedWant to share your opinion on this article? Add a comment.Disagree with this article? Submit your own.To report a factual error in this article, click here