Last winter, I took a trip with my son.
It was his 18th birthday.
To celebrate, we ventured up to the Rocky Mountains about 100 miles outside of Denver, Colorado. It was set to be a weekend of skiing Fresh powder And exploring the great outdoors!
I put my laptop away and had complete freedom from work. Or so I thought
After picking up our bags and hopping on the shuttle, we started our venture towards the ski resort.
But on our journey, I noticed NUMEROUS lines of people waiting throughout the city of Denver.
After a closer look
I saw those lines of people were mostly located outside of marijuana dispensaries.
My 'inner analyst' was dying to go investigate
But this was a family trip And I wasn't going to show interest in 'pot' right in front of my 18 year old son.
However
It was then I 'knew' the marijuana hype was real.
And today I am finally able to give America's Pot Revolution the attention it deserves!
The Money Show's HOTTEST Investment 3 Blocks Off The Strip
As I mentioned yesterday, I am here in sunny Las Vegas for The Money Show One of the biggest investment conferences in America.
With all of the hoopla of cryptocurrencies this year I expected bitcoin and blockchain to be the overwhelming focus of the show.
But boy, I was DEAD wrong.
No
The star of this conference is exploding marijuana industry.
You see, while bitcoin and drama in Washington took over the news
The marijuana industry has been quietly growing exponentially these past few years.
Check out the North American Marijuana Index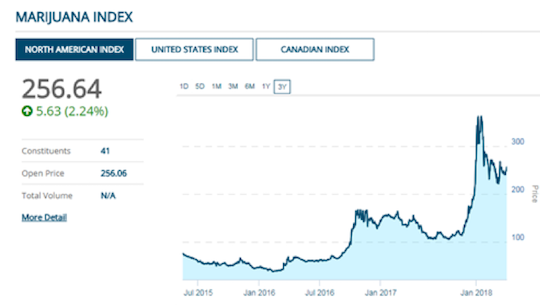 Since January 2016 The industry has grown nearly TEN-fold.
But you hardly hear about it on the news!
The Money Show is a different story
Everyone here is talking about the growth of the marijuana industry And that this $30 billion dollar industry is nowhere near its potential.
In Nevada, marijuana is currently legal for recreational use.
Even though I am not a smoker, I decided to go check out one of the dispensaries close to the hotel.
This was something I wanted to do since I saw the lines of people in Denver.

Your editor doing some 'undercover research'
I went in pretending to be the standard tourist.
But secretly I was there to get the inside scoop on this exploding industry!
The dispensary was not what I imagined.
It's essentially an upscale pharmacy.
The staff were informed, professional, and knew the all of the details on their products and the local laws surrounding marijuana.
For example, they told me that while it is LEGAL to purchase marijuana Smoking it in public is still a BIG no-no.
If you get caught smoking marijuana by police officers, you will be hit with a $600 fine.
They also told me business has been CRANKING since they opened for business last July.
Apparently, Americans are gung-ho over pot.
In fact, 60% of Americans support the full-scale legalization of marijuana for adults.
And the laws are changing to reflect that.
At the moment, 29 US states have laws legalizing marijuana medically or recreationally, while most US states have allowed the non-psychoactive portion of marijuana.
And just when it seems like this piping hot industry couldn't get any hotter
The train isn't stopping here.
In fact, this is just the beginning!
12 more states are voting on either full-scale or medicinal legalization this November. Check out this map.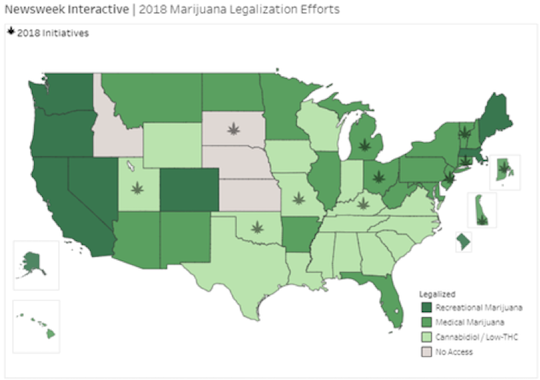 States who have a leaf in the middle are voting to further their laws regarding marijuana.
Here are the respective topics they are voting on:
New Jersey- Recreational
Michigan- Recreational
Delaware- Recreational
Rhode Island- Recreational
Connecticut- Recreational
Ohio- Recreational
Oklahoma- Medical Marijuana
Kentucky- Medical Marijuana
South Dakota- Medical Marijuana
Utah- Medical Marijuana
Missouri- Medical Marijuana
Now you might be wondering where there 12th state is
Well, this January, Vermont was so eager
Rather than wait for a citizen driven vote in November, lawmakers decided to legalize recreational marijuana.
We are in the midst of a full-blown revolution here in America.
And the potential addition of 11 states could skyrocket this industry even further.
Think of it this way
In 2013, we saw the first wave of marijuana stocks explode in value following November votes
Such as Cannabis Sativa(CBDS) that went from $0.75 to $11.00 in two months from December to February
And that same year, two states (New Hampshire and Illinois) legalized medical marijuana.
Can you imagine what would happen if all 11 states adjust their marijuana laws this year?
It's like these marijuana stocks are sitting on a launch pad Ready for takeoff.
Not surprisingly
Corporate America is already pouncing on the opportunity.
Constellation Brands, the $42 billion dollar company behind Corona, Modelo and Svedka recently took a 10% stake in Canadian medical marijuana company, Canopy Growth Corp.
Canopy Growth Corp has grown 10x in market cap the past 2 years, along with exponential growth in their sales.
But they aren't the only marijuana company growing this rapidly And it's only a matter of time before more big corporations get involved.
For example, while Big Tobacco has declining sales
The marijuana industry is probably looking very appealing.
Companies like Philip Morris and Altria could leverage their expertise in the smoking industry to dominate legalized marijuana.
Later this week, I'll be releasing a more in depth look of the marijuana industry
And the potential companies set to dominate.
Stay tuned!
Here's to growing and protecting your wealth!
Zach Scheidt
Editor, The Daily Edge
Twitter FacebookEmail