Over the past several years, a stark dividing line has essentially cleaved the Internet sector into two halves – the Wall Street favorites like Netflix (NFLX) whose valuation keeps surging and sends shares doubling almost every year, and has-been companies like Yelp (YELP) which still see some modest share price appreciation, but are treated by investors like old industrial companies that have lost their touch.
Yelp has had decent performance in the year to date, rising about 10% and beating the broader market, which is essentially flat. Yelp's performance, however, pales in comparison to other internet names – Twitter (TWTR), for example, is up nearly 40%, and Netflix is up 70%. The valuation gap between Yelp and its internet peers has widened over the past several quarters, but I believe Yelp is on an upward trend to close that rift.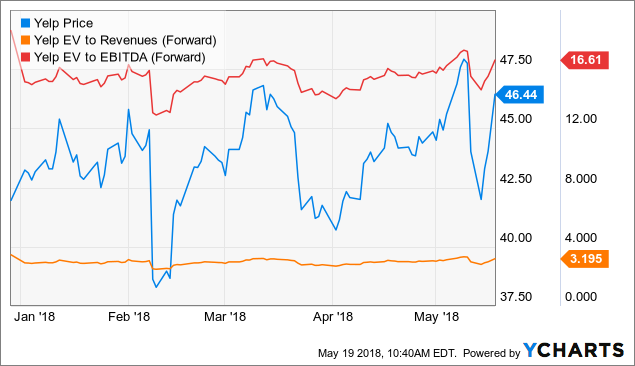 YELP data by YCharts
Of course, Yelp is no longer a growth stock. Its mid-teens revenue growth certainly doesn't merit the 8-10x revenue multiples that its high-flying internet peers are trading at. But is Twitter's current valuation at 3.2x forward revenues, as shown above, the right price for it either? This isn't a company that has just simply stopped growing – yes, it's slowing down its growth trajectory, but it's also transitioning into becoming a profit machine.
This quarter, Yelp didn't make any improvements in its operating margin due to investing a significant amount of R&D dollars into its product development, but the company still managed to keep Adjusted EBITDA margin flat and grow it by 10% y/y, unlike last quarter where the company saw a dip in EBITDA margins. Additionally, the company's ~$300 million sale of Eat24 to GrubHub – though a near-term headwind to revenue comps – shows that the company is focused on unlocking value in its assets for investors, and not simply chasing growth or empire-building.
Yelp still has many innings left in its recovery. Though Yelp is no longer the coolest internet company on the block, it's certainly one of the stocks with the best value in the sector. As the markets rediscover volatility this year, I believe growth-oriented investors will shift more into value, and high-flying names may see a correction in their valuations. Take cover by investing in more undervalued names like Yelp. Buying rebounds in the internet sector has proven to be a winning strategy this year – aside from Twitter's recovery, Pandora (P) is another good example, having risen 50% in the year-to-date after strong Q1 earnings. This was a company investors had once left for dead.
Remain long on Yelp and focus on the company's conversion into a more stable-growth, higher-margin business.
Q1 download
Here's a look at the results of Yelp's first quarter:
Figure 1. Yelp Q1 earnings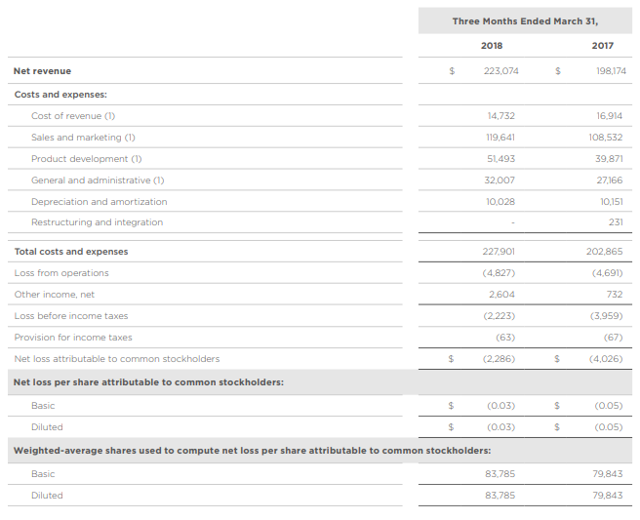 Source: Yelp investor relations
Revenues grew 13% y/y to $223.1 million, outpacing Wall Street's expectations for $220.3 million (+12% y/y) by a hair. While 13% revenue growth doesn't sound overly impressive, note that Eat24's $17 million of revenues are consolidated in the year-ago quarter.
Adjusting for the sale of Eat24 and removing its contribution to 1Q17 results, Yelp's revenues would have grown by 22% y/y – certainly a respectable organic growth rate, and one that merits a valuation multiple in excess of 3.1x forward revenues:
Figure 2. Yelp adjusted revenues

Source: Yelp investor relations
What I find particularly encouraging is also the fact that Yelp is pursuing additional opportunities beyond advertising, which has been and still is the largest driver (>90%) of revenues, especially after the sale of Eat24, which provided transactional revenues from order delivery.
And while it is early, our increased investments in Yelp Reservations and Nowait are also yielding promising progress. In the first quarter of 2018, we grew the number of diners seated via Yelp by 27% quarter over quarter, and both diner and business owner feedback has been strong. These experiences resonate with our large consumer audience and create significant value for our clients."
Of course, advertising still remains the core of the Yelp franchise in the present day. One of the most impressive metrics in the quarter was the fact that Yelp added 14k paying advertiser accounts in the quarter, bringing the total base of advertisers to 177k at the end of Q1, up 27% y/y. Yelp attributed this success to increased sales productivity, which are the magic words investors want to hear for just about every technology company: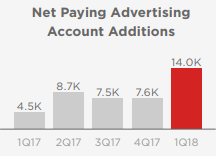 Source: Yelp investor relations
One caution, however, surfaces with Yelp's user metrics. Yelp saw a dip in both desktop and mobile MAUS to 73.7 million and 69.9 million, respectively. While 1Q17 was a particularly difficult comp, the trend is still an important metric to watch. Because Yelp drives the majority of its revenues from advertising, it effectively doesn't matter how many more advertisers it signs on if users and clicks decline:
Figure 3. Yelp MAU trends

Source: Yelp investor relations
On the cost and profit side, Yelp took product development costs up to 23% of revenues, up from 20% in 1Q17. Total GAAP operating losses of -$4.8 million stood at a -2% margin in the quarter, roughly flat from the same period last year. Despite the uptick in costs, however, Yelp managed to grow its Adjusted EBITDA (its primary profitability metric) by 10% y/y to $33 million, representing a flat 15% EBITDA margin:
Figure 4. Yelp adjusted EBITDA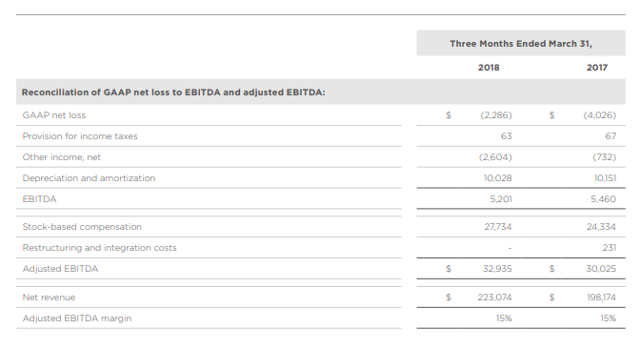 Source: Yelp investor relations
Yelp's Q2 guidance, which calls for adjusted EBITDA of $39-$42 million on revenues of $230-$233 million, also implies an improvement in the EBITDA margin to 17% next quarter. Note also that Yelp's pro forma EPS in the quarter of -$0.03 beat analysts' expectations of -$0.05.
Key takeaways
Yelp initially took a tumble after posting these strong Q1 results, but even though shares have recovered since, they are still a long ways toward reclaiming a "normalized" valuation. While the company has become less of a growth machine in recent years, it has pivoted successfully into becoming a cash flow and EBITDA generator that, in the near future, could be seen as an attractive acquisition target.
I have confidence in Yelp's ability to continue growing its business at a stable pace and managing continued earnings growth. The Q1 earnings dip leaves open a nice opportunity to buy shares in an undervalued name.
Disclosure: I/we have no positions in any stocks mentioned, but may initiate a long position in YELP over the next 72 hours.
I wrote this article myself, and it expresses my own opinions. I am not receiving compensation for it (other than from Seeking Alpha). I have no business relationship with any company whose stock is mentioned in this article.