The dark cloud that has loomed over Wynn Resorts (WYNN) for so long seems to be finally dissipating. Steve Wynn has sold all of his shares and is no longer associated with the company from a shareholder perspective. Wynn Resorts' recent first-quarter earnings report has vindicated the strength of the Wynn brand both domestically and internationally, with foot traffic and room occupancy remaining consistently strong. It also seems that regulators are easing off as Maddox continues to do his best to appease regulators.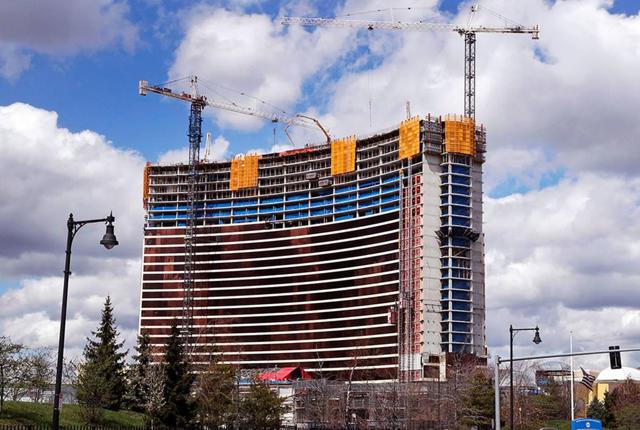 Image Source
Matt Maddox, the new CEO, has also done a very impressive job in addressing shareholder concerns and has already accomplished a lot in a very short time frame. He could very well become the next Steve Wynn, except without the controversy. His emphasis on shareholder value, international growth, and brand strength makes him a strong leader. Under his leadership, I truly believe that Wynn Resorts has a very bright future ahead of it.
Earnings Beat
Roughly a week ago, Wynn Resorts reported their earnings for the first fiscal quarter of 2018. EPS for the quarter blew out analyst expectations of $1.93, coming in at $2.30. Revenue for the quarter grew by an impressive 21.1 percent y/oy to $1.72 billion but came in below analyst expectations by a mere $20 million.
Estimating revenues on a quarterly basis for a gaming company is difficult, due to all of the variables associated with the business. This revenue miss was minor and is overshadowed by the sheer magnitude of Wynn's earnings beat. On a year over year basis, Wynn's EPS nearly doubled from $1.28 in the same quarter of 2017. Operating revenues surged to $618.2 million, an 11.9 percent increase y/oy from $552.7 million. Both Wynn Macau and Wynn Palace continue to print money, with each of them posting double-digit operating revenue growth. Wynn Palace had it's operating revenue increased by 47.2 percent year over year! Even Wynn's Las Vegas properties saw their operating revenues grow, however only by a tepid 3 percent year over year. Adjusted property EBITDA for their Las Vegas operations, Wynn Palace, and Wynn Macau grew by 6 percent, 89.4 percent, and 15.9 percent respectively.
More initiatives are being made to further improve Wynn's growth prospects. With a new CEO comes a new approach to the business, and I like where it is going. Maddox seems to be focusing on reexamining the capital allocation of the company. In Vegas, Maddox is choosing to place an emphasis on the "luxury customer" and is looking to squeeze every penny out of Vegas possible. $100 million will be plowed into a program that plans to bolster the appeal of downtown Wynn Macau in an effort to drive more foot traffic to the area and enhance the atmosphere.
However, that is not to say that Maddox is spending excessive amounts of cash on projects. He seems to be much more fiscally disciplined compared to Steve Wynn and has said that the amount of cash being burned by projects was "not sustainable." Paradise Park, which once had a $3 billion dollar budget, is being scaled back. Spending and costs in Las Vegas are also being closely examined by the company.
Maddox is best known for his efforts in helping Wynn establish a presence in Macau as the CFO. Hoping to replicate that success as CEO again, Maddox has suggested that he is openly trying to establish a presence in Japan. Galaxy Entertainment's relatively new 4.9 percent stake in Wynn Resorts also suggests that the two gaming companies will partner together in the future. If the two gaming companies join forces in the future, it would likely be Japan. Japan is fertile ground for gaming companies, and Maddox seems to want to capitalize on the opportunity. Going head first into Macau has provided a windfall of growth for Wynn Resorts; doing the same in Japan would potentially replicate that level of growth.
Despite the controversy surrounding Steve Wynn, operations in Macau and Las Vegas continue to rake in the cash. People are still coming in droves, and the brand does not seem to have been significantly damaged. Occupancy for Wynn Macau increased to 3.3 percent on a year over year basis to 99 percent! Wynn Palace saw a minor jump in occupancy, increasing from 95.6 percent to 96.8 percent y/oy. The only blip stemmed from their Las Vegas properties, which saw it's occupancy percentage decrease by a slight 1.6 percent year over year to 83.9 percent. However, there is nothing which suggests that decrease in occupancy was driven by the controversy surrounding Steve Wynn.
For the most part, customers seem to be shrugging off the controversy which has plagued shareholders for so long. There is no sign that customers are frequenting Wynn's properties any less because of Steve Wynn's past actions.
As a cherry on top, Wynn announced that they would be increasing their dividend to $0.75 per share starting in the first quarter of 2018. Shareholders should expect annualized dividend payments of $3.00 per share.
Regulation Threat Diminishing
Steve Wynn's full departure from Wynn Resorts has greatly reduced the risk of a regulatory pushback. He is no longer associated with the company and does not have any sway over the company. Macau's investigation is still ongoing but has been silent. The main point of tension lies with the Nevada and Massachusetts Gaming commissions respectively. Both of them are conducting their own independent investigations.
Fortunately, Maddox has taken a proactive approach towards the issue. He has added more women to the board, pushing Wynn Resorts into the top 40 companies in the S&P with the best female representation. A new department has been formed as well within the company that focuses on gender equality and diversity specifically. Female employees now also have paid maternal leave, and sexual harassment training has been changed for the better.
Maddox is trying to protect the Wynn brand and is trying to improve the corporate culture. His actions are bullish developments and will help reduce turnover and prevent future controversies.
The casino which they are building in Boston has also been renamed in order to appease regulators. Encore Boston Harbor is now the new name of the casino.
A lot is at stake for Wynn Resorts; the worst case scenario is that their license in Boston is pulled by the Massachusetts gaming commission. The project would then be stuck in limbo, and the money put into the casino would be wasted.
However, the likely scenario is that the Boston project will proceed as planned. Massachusetts wants this casino, it would attract more tourists to Boston, be a source of tax revenue, and also create local jobs. The allegations against Steve Wynn are horrible, but that should be in the past now as he is no longer even associated with the company. Maddox's efforts to change the corporate culture and remedy the controversy should also be taken into consideration by the regulators.
Analysts seem to think that the chance of Wynn Resorts keeping their license is high. Recently, Stefanie Miller of Height Capital Markets noted that "we continue to believe that regulators will likely allow Wynn Resorts to keep its Massachusetts gaming license." She noted the efforts and changes Maddox has been making to appease regulators as the reasoning behind her belief.
I believe that pulling the license would be the nuclear option by regulators. I think that if Wynn Resorts does get punished, it would most likely be in the form of a fine or forced sensitivity training. Regulators could even push for a tax hike on the casino. The notion that regulators will instantly go for the nuclear option seems to be an unfounded one.
Conclusion
At the current price, I think that Wynn Resorts is still a buy at this price level. Since I wrote my last article with a buy recommendation, the stock has appreciated in value by over ten percent. I think that there is still room for the stock to appreciate, with the value of their properties alone justifying the current valuation and more. With the risk of damage and regulatory to the business dramatically decreasing, I believe that Wynn Resorts is bound to see new all-time highs.
Disclosure: I/we have no positions in any stocks mentioned, but may initiate a long position in WYNN over the next 72 hours.
I wrote this article myself, and it expresses my own opinions. I am not receiving compensation for it (other than from Seeking Alpha). I have no business relationship with any company whose stock is mentioned in this article.