For today's piece, let's travel back in time and go back to my Seeking Alpha archives. On April 8, 2014 and then May 5, 2014, I wrote two very detailed and highly bullish pieces on World Wrestling Entertainment (WWE).
Enclosed below, here are the three pieces. By the way, I made the (Yum, I Love Eating Crow) piece, an author's pick, so free site readers can go back in time and read it without hitting the paywall, should they be interested.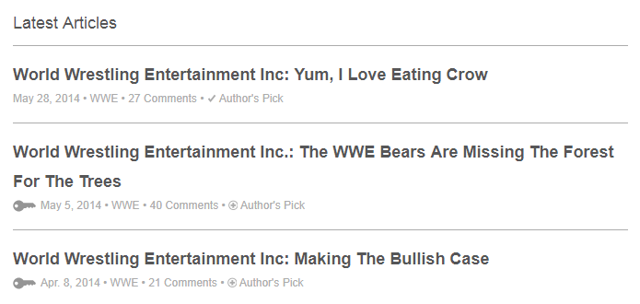 As always, I was eating my own cooking and invest in the stock, just like I do now as I buy my own recommendations. Although the initial position was modest, for the record, I bought some shares at $22.26 on April 7, 2014.

Source: Snapshot of my WWE trading history in my Fidelity Account
Lo and behold, on May 15, 2014, we learned that Vince McMahon was drinking his own bath water and he strongly suggesting, to Wall Street, that his TV Rights contract renewal deal would come in dramatically better than the last round proved to be high drama and fiction.
Adjusted for dividends, as you can see from the Yahoo Finance data, WWE shares crashed on May 16, 2014, dropping from $19.93 to $11.27 or 43.5% with 41 million shares changing hands. So in a five-week time span, I was down a cool 50%. Worse, I looked like a Muppet as I wrote two glowingly bullish WWE pieces on SA (April 8th and May 5th 2014) and shares crashed on May 16th.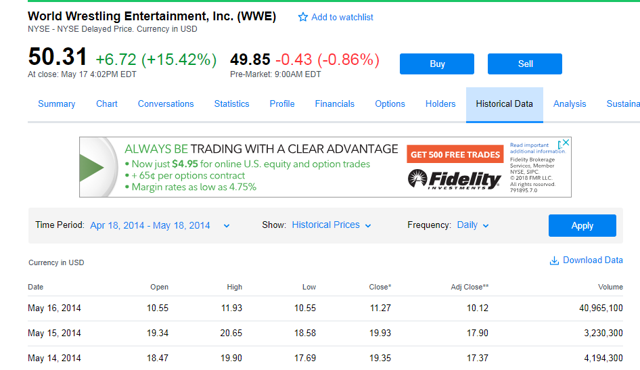 Source: Yahoo Finance
So what did I do? Did I go hide under a rock? Of course not, I did what all good value investors do, I reexamined my thesis. I felt it was still intact and I bought more shares. I bought more shares on May 16th at $11.02, and more on May 19th at $11.67 and then more on January 27, 2015 at $10.33. In the end, I just got exasperated and eventually sold my MIGHTY 800 shares of WWE for a modest 20.6% profit.
Fast forward to yesterday, May 17, 2018, and WWE shares made a new all-time high and pierced the $50 per share mark.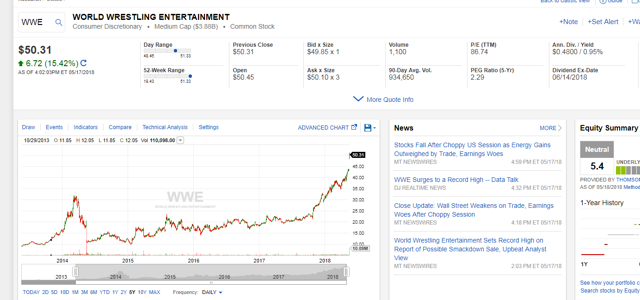 Source: Fidelity
Incidentally, on August 9, 2017, the day Disney (DIS) announced its intentions to create its own OTT network, I immediately connected the dots and realized that WWE showed great foresight by establishing its own OTT streaming network back in 2014. This also meant that WWE has great hidden asset value in its OTT network and might be a good acquisition target.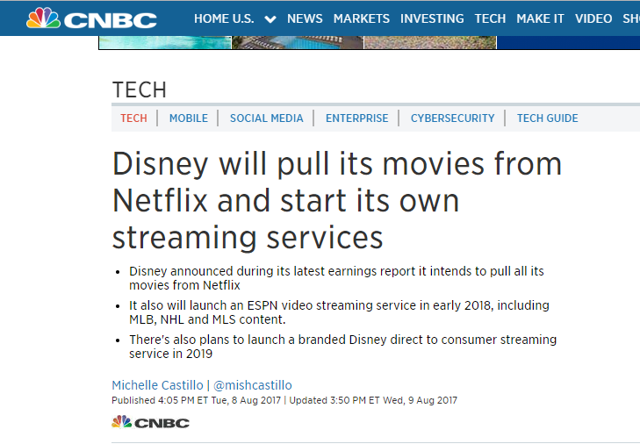 Source: CNBC
I did mention the WWE dots I connected to Market Adventures readers, but only on "livechat" as I got distracted and never got around to formally writing it up. It still bothers me to this day that I didn't get around formally writing up WWE for Market Adventures readers. The only consolation was that at least one of my Market Adventures readers, on "livechat" then, made a great return on her WWE investment. She bought WWE shares around $22ish and sold in the mid $30s.
As for why WWE has had a big leg up, after all its underlying operating results have been fine, but not amazing, again, I would argue, the real reason is the hidden value of its OTT network and talk that Vince McMahon will move SmackDown away from NBC Universal to a higher bidder (see the May 17, 2018 report by Wrestling Inc). On the TV Rights side, Vince is talking his book again and trying to land a much more lucrative TV deal. Is this just Vince buster or is it real? I'm not sure.

Source: WWE FY 2017 10-K (pg. 25)
Takeaway
WWE is the perfect example that doing a lot of fundamental work on a business and having conviction can create superior long-term returns, if you have a long term perspective (years not days or months). Although, I still wish I held onto my 800 shares of WWE, as they would have been worth $40K, as of yesterday (plus the dividends I would have received), it is another invaluable lesson that long-term value investors can compound their capital at superior rates than traders.
Had I not done all the work on WWE from April 2014-2015, I would have never been able to connect the dots and realize that WWE was the best way to play the news that Disney was planning to move away from Netflix (NFLX) and create its own OTT network. Next time, I need to remember to buy the shares, put them in a proverbial drawer and see what they are worth in six to twelve months' time. As I often say on Market Adventures, investors make serious money, traders grow a lot of grey hair.
Disclosure: I/we have no positions in any stocks mentioned, and no plans to initiate any positions within the next 72 hours.
I wrote this article myself, and it expresses my own opinions. I am not receiving compensation for it (other than from Seeking Alpha). I have no business relationship with any company whose stock is mentioned in this article.