Editor's note: Seeking Alpha is proud to welcome Charlie Evreux as a new contributor. It's easy to become a Seeking Alpha contributor and earn money for your best investment ideas. Active contributors also get free access to the SA PRO archive. Click here to find out more 禄
Willis Towers Watson (WLTW) has just been granted a licence to operate in China. With expansion into new territory afoot for the recently-merged company, WLTW is showing underlying strength compared to competitors.
Since the merger of Willis and Towers Watson in 2016, the combined company has gone from strength to strength.
It was announced on 15th May that Willis Towers Watson has become the first global broker to be fully licensed to transact insurance business in China.
To be the first foreign broker breaking ground in China is a huge competitive advantage.
WLTW has been granted access to an insurance market in a country with more than 1.3 billion people. Further to this, the Chinese insurance landscape is highly concentrated at the moment. 50% of the market is controlled by just three players. The scope for a smaller player to break the mould is large.
Foreign insurers make up just 6% of the Chinese market at the most recent count. Growth potential in this area is huge. Willis Towers Watson is primed to close this gap.

Source: Aon's 2016 whitepaper on the Chinese Insurance Market
Looking at the overall landscape of the insurance market in China, we can see that the premium per capita is minuscule compared to more developed nations. It currently stands at less than 5% of the US premium. As China's economy grows and falls more in line with the G7, this premium should develop as well.
We have seen China's insurance market boom since 2005 and before, growing from $60bn to $390bn in 2015. In addition to this, the Chinese insurance industry is forecast to grow at twice the rate of the overall Chinese economy. Some analysts have set a target of low double-digit annual growth until at least 2020.
Furthermore, WLTW continues the integration further since the merger in 2016. This will lead WLTW to become greater than the sum of its parts due to leveraging its global distribution network and creating a unified platform.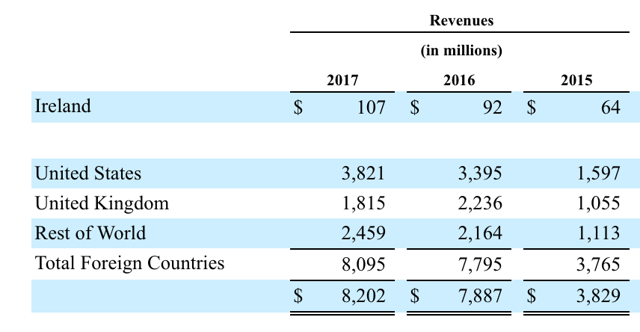 Diving deeper into their 10-K, it's immediately striking to see how much revenues have grown in such a short amount of time. While I don't want to surmise, it would be prudent to assume a 114% increase in revenue, over the course of two years, is in some way down to the combined resources which the unified firm now possess.
Although the costly and time-consuming process of combining independent companies is no doubt a drag on management attention (they've identified this as a potential issue), WLTW has still performed well and grown significantly in its time as a single entity.
As far as I can tell, WLTW, or the insurance industry as a whole, doesn't appear to have stand-out risk factors for its growth or general income. The main risks to WLTW are a general economic downturn or regulatory action.
WLTW also has enough cash flow to service current debts ($4.5bn in debt compared to $8.2bn annual revenue and a healthy debt/equity of 0.43). In fact, the cash flow has increased substantially since merging. End of year cash and cash equivalents have increased from $532m in 2015 to $1.030 billion in 2017.
While Jay Powell (Chairman of the Federal Reserve) hinted at a faster rise in interest rates earlier in his term, these fast rises in rates haven't materialized in practice.
WLTW interest expense currently stands at $188m, which will rise incrementally as rates increase.
Though a fast rise in rates won't break the bank for WLTW, the slower rise which we have seen from the Fed will benefit them, as they are given more time to consolidate and prepare for higher interest payments.

A summary taken from their most recent financial reports:
Reported revenues were $2.3 billion Net income was $221 million Adjusted EBITDA was $557 million or 24.3% of revenues Diluted earnings per share were $1.61 Adjusted diluted earnings per share were $2.71
Moving to a price chart and some industry comparisons, we can see further reasons for bullishness.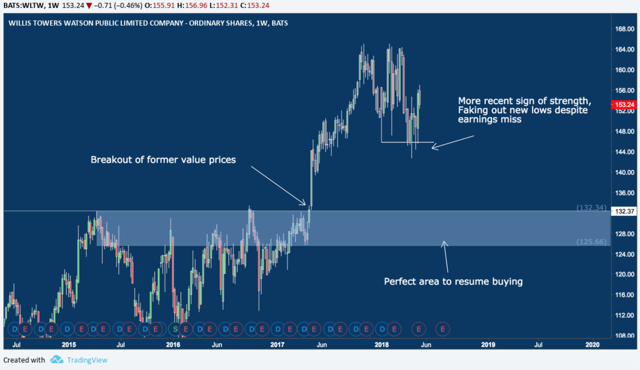 In terms of technicals, we can certainly see more than one reason to sit up. After breaking out of the 2015-2017 price value area, WLTW has continued its rise.
Should buyers want to initiate positions, $132.34 to $125.66 is just the area to do so. Despite being nearly 16% below the current price, it is very likely buying will continue in this area.
This price range was previously heavily traded, with the huge push out of the area showing a clear supply and demand imbalance.
For the more impatient buyer, perhaps someone looking for a shorter-term investment, there's currently a momentum buy opportunity unravelling in this stock.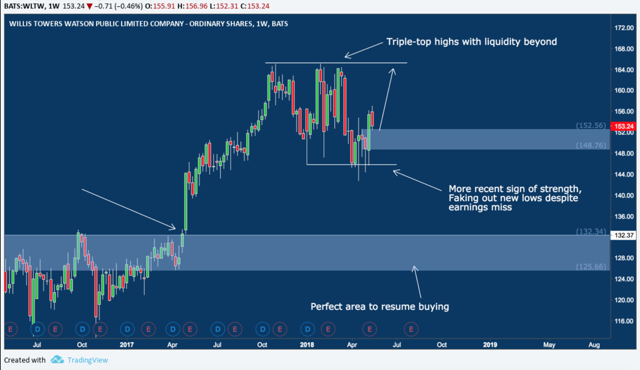 Zooming in on the same weekly chart, we can see the "fakeout" of a recent strong low. Following this, last week was a very strong bullish week which has cleared a prior high (week of 16th April).
This leads me to believe that anywhere between $152.56 and $148.76 will be a springboard for a move to a new all-time high. The highs of WLTW look extremely primed for a price probe. Any liquidity beyond those highs will be used for larger players to exit some of their positions.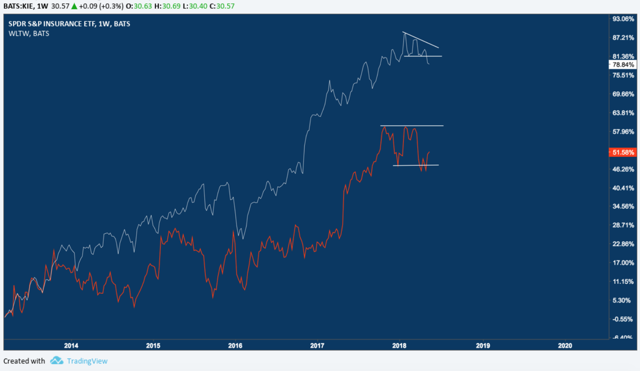 Comparing WLTW to the SPDR S&P Insurance ETF (NYSEARCA:KIE), we can see that WLTW is showing strength compared to its benchmark.
KIE appears to be holding below its bull flag while WLTW has solidly rejected the bottom. This means that WLTW is stronger than its overall sector. This is further confluence for the momentum buy.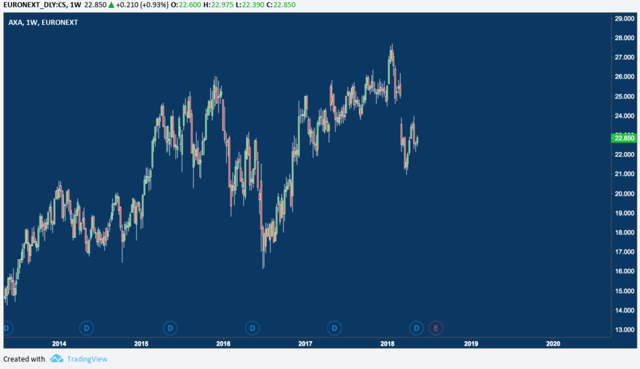 Upon further comparison, we can see that the industry leader, AXA (CS), happens to be showing weakness.
AXA has firmly rejected the interim highs at 26-27, and moved down swiftly, including a large gap to a fresh low.
This is more positive news for WLTW. Anyone looking to immediately rebalance their long-insurance portfolio sector should take a serious look at WLTW and what they can offer.
Their expansion and first arrival into the growing Chinese market give them a large competitive advantage over their contemporaries.
For the more passive value investor, there's a solid technical and fundamental case for buying if we get a 15-20% dip in price. Investments from the $132 area are shrewd, to say the least.
Disclosure: I/we have no positions in any stocks mentioned, and no plans to initiate any positions within the next 72 hours.
I wrote this article myself, and it expresses my own opinions. I am not receiving compensation for it (other than from Seeking Alpha). I have no business relationship with any company whose stock is mentioned in this article.