I was not expecting to write an AMD (AMD) article again so soon, but circumstances call for it. One of the weirdest downgrades I have seen in a long time was the downgrade of AMD on Monday by Susquehanna, from a price target of $13 to $7.50.
Analyst Christopher Rolland thinks that "impending competition from Bitmain", who commands about 70-80% of the ASIC market (application-specific integrated circuits used to mine cryptocurrencies), might lower AMD revenue by 20%.
While I have no way of knowing the amount of business AMD is doing as a result of cryptocurrencies, I doubt very much if it's 20%. Fellow SA writer Michael Wiggins De Oliveira recently shed some light on the subject in a recent article. According to him, the revenue figure he came up with is about $47M for all of 2017.
Even if it turns out to be a little higher for 2018, it's an insignificant amount. So even if AMD loses 100% of this business, it will not have a significant impact on its finances.
So aside with the Susquehanna downgrade, let me tell you why I have become an AMD bull lately. The reason has to do with AMD's valuation. More specifically comparative valuation.
Granted, AMD is not that profitable yet, but it did not go from $2 to $15 a share on profits. One metric I have used to value AMD over the past several years has been the Price/Sales ratio.
Below is the Price/Sales ratio of AMD and Nvidia (NVDA) on a trailing and forward basis.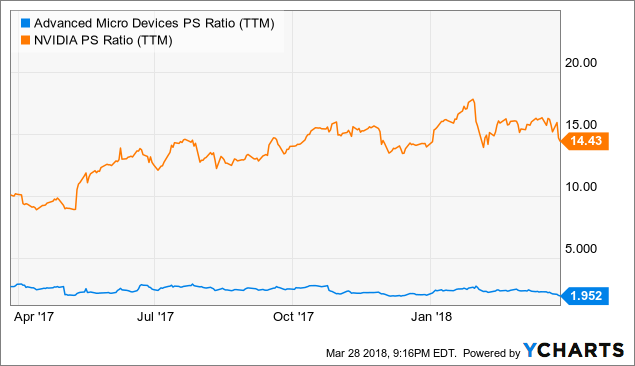 AMD PS Ratio
(TTM) data by
YCharts
AMD PS Ratio (Forward)
data by
YCharts
Irrespective of the current profitability of AMD and NVDA, the later trades at an astronomical 14X times trailing and 11X forward revenue. Believe it or not, there are not many companies out there that trade so rich based on this metric.
Now, if analysts are correct, for the current year AMD's revenue will grow by 17.8% and by 7.8% next year. In NVDA's case, revenue is estimated to grow 27% this year and 15% next year.
Granted, NVDA is growing faster than AMD and also has a much better balance sheet, however, one has to realize that this is already backed in NVDA's stock (and then some). And is a 7% difference in revenue growth for next year worth a 10X higher Price/Sales ratio that NVDA trades for? Not for me.
If and when AMD profitability improves, its stock will significantly outperform NVDA. This because AMD is still trading at depressed levels.
Next year, analysts are modeling EPS of $0.53 for AMD, which comes out to a forward multiple of about 20. In NVDA's case, the forward P/E is 30. Granted NVDA's premium is warranted, however, a lot can go wrong in the future that might change current estimates.
Also, note AMD is trading at very depressed earnings. NVDA, on the other hand, is firing on all cylinders. I prefer to have a stock that can significantly expand profitability and trades at a very low Price/Sales ratio, than a company that is trading at a premium and P/E expansion is maxed out.
Because with NVDA trading at such a rich Price/Sales ratio, if something goes wrong, its stock could drop by a lot. This is the main reason I do not like to pay such a premium for any stock. The richer the premium, the harder they fall.
Technical reasons to buy AMD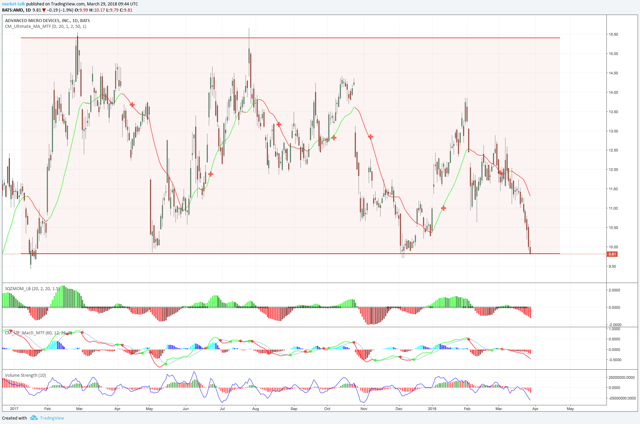 Please note the above chart. Over the past 18 months or so, AMD has been trending between the range of $10 to $15 a share.
The question is, has anything changed today vs. 18 months ago, that warrant AMD shares to go lower? The answer is no. AMD today has higher revenue and profits vs. 18 months ago. And like I said above, analysts are modeling EPS of $0.53 next year.
So basically, if we assume nothing is wrong with the company, then we also have to assume that it might trend to $15 a share once more. In fact, over the past 18 months, this will be the 4th time AMD shares trade at around $10.
So, while I might be wrong and shares might go lower, the data that I have at my disposal and the fact that AMD has bounced 3 times in the past from the $10 handle, lead me to believe that buying AMD at current levels is a winning proposition. Please also consider: AMD Continues To Be A Range-Bound Trading Opportunity
I will make a bold call again
Back in Dec. 16, 2016, I made a bold call, telling you to sell AMD and buy Intel (INTC) (please consider: AMD: Everything Is Baked In The Cake Except…).
Back then, you could not find anyone bullish on INTC, and you could not find a single bear on AMD. But as it turned out, my call was correct.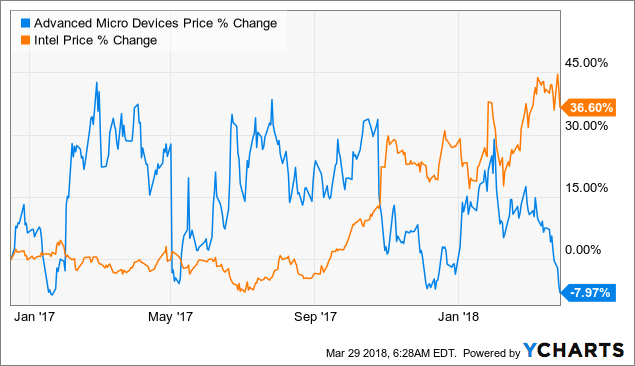 AMD
data by
YCharts
I will now make another controversial call.
I am now calling for AMD to outperform both NVDA and INTC over the next 12-18 months. I am sure my timing will not be perfect, however, I at the finish line think AMD will outperform both names.
As was the case back then, I doubt if you could find many investors that are bullish on AMD today and bearish on INTC or NVDA.
My reasoning for this call has to do with comparative valuations. Simply put, I think AMD trades at a significant discount to both stocks, and given time, I think AMD will outperform.
As for INTC, my rating is a hold, and I see limited upside over the next 12 months. As for NVDA, I consider it overvalued and suggest investors sell it.
Bottom line
AMD's problem is not that it will lose cryptocurrency business, but that it can't produce enough Ryzen CPUs.
AMD is currently trading at a significant discount on a Price/Sales basis to NVDA, and I think it can outperform NVDA over the next 18 months.
And while I do not consider INTC overvalued, I think AMD will outperform over the next 12-18 months as well.
Disclosure: I am/we are long AMD.
I wrote this article myself, and it expresses my own opinions. I am not receiving compensation for it (other than from Seeking Alpha). I have no business relationship with any company whose stock is mentioned in this article.