Chinas cloud computing market size is expected to grow to 430 billion yuan ($64.68 billion by 2019). Technavio also estimates that the data center industry of China is growing at a CAGR (Compound Annual Growth Rate) of 13%. Im not surprised that Advanced Micro Devices (AMD) is pushing hard its latest EPYC server processors for Chinas fast-growing cloud computing/data center market.
Ever since 2005, China has been the worlds largest market for semiconductor products. EPYCs future contribution to AMDs top-line and bottom-line growth wont be complete if it doesnt make an impact on Chinas server/datacenter hardware infrastructure. It will be AMDs new x86 processors, not ARM-based SoCs, which have the best chance to hurt Intels (INTC) lucrative server business. China is also the country which contributes the most revenue to Intel.
As per AnandTech, AMDs EPYC processors are more affordable (based on core-count/price ratio) than Intels Xeon products. Im part Chinese; so I understand Chinas data center operators will most likely appreciate AMDs lower-than-Xeon pricing strategy for EPYC.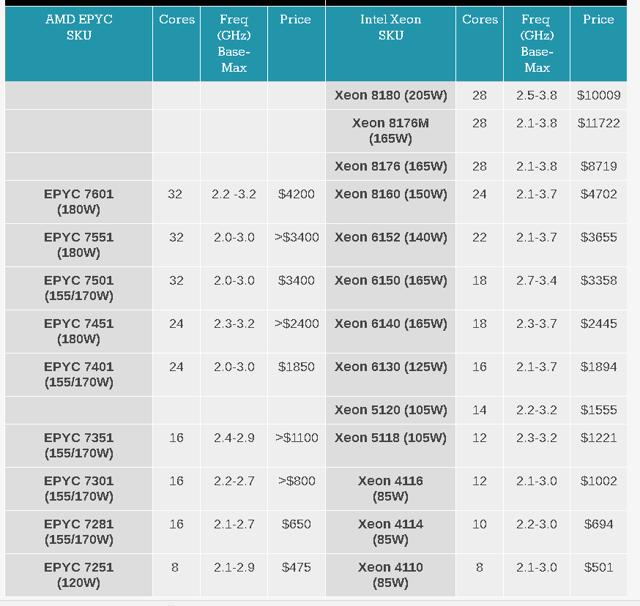 (Source: AnandTech)
Aside from cost savings, AMDs innovative Infinity Fabric technology makes its server processors 100% flexible and scalable for custom server/cloud infrastructure deployments. Infinity Fabric is EPYCs ace against the new scalable Intel Xeon processors.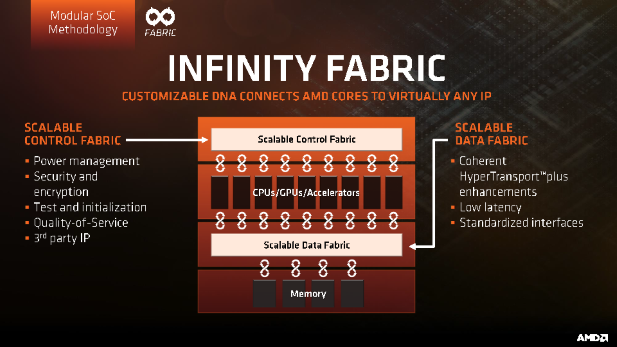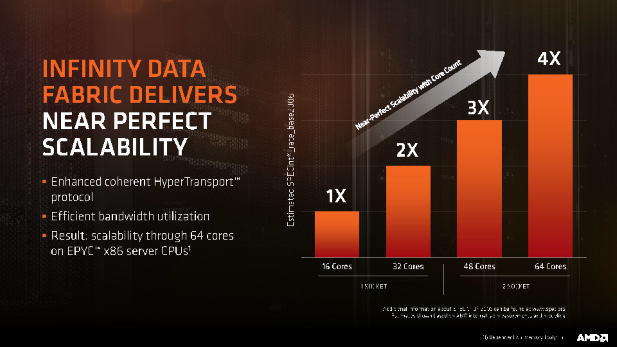 (Source: AMD)
If theres no screw-up, my guesstimate is that Chinas growing data center/cloud computing industry could help AMD sell 300k to 600k units per year of EPYC processors. At an average selling price of $1,200, 500k units of EPYC sold to Chinese firms could add $600 million to AMD's annual revenue.
Why China Could Boost EPYCs Future Sales
As per the report of CTIForum.com, AMD has partnered with Chinese online business giants JD.com (Jingdong), Baidu (BIDU), and Tencent (OTCPK:TCEHY) for its EPYC processors for large-scale data center deployments. Lenovo (OTCPK:LNVGY) and Sugon are also the global ecosystem OEM partners for EPYC-based server products.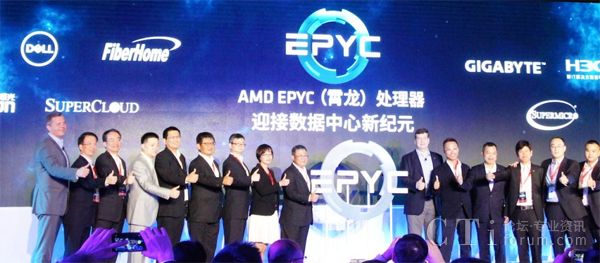 (Source: CTIForum)
Baidu is the largest search engine operator in China. More than half-a-billion Chinese people make 580 million search queries on Baidu every day. Baidu needs more processors to host this demand on its servers. Tencent is the worlds largest games publisher and it has a massive need for processors for its cloud/server infrastructure network. Tencent Cloud is now also the third biggest IaaS (Infastructure-as-as-Service) provider in China. Jingdong or JD.com is the second-largest e-commerce company in China. JD.com is also a cloud platform service provider.
These three Chinese conglomerates are already enough to probably boost AMDs market share in global x86 server processor sales. As of last year, Intel enjoyed 99% share in x86 server processor sales. EPYC being adopted by three of Chinas largest server farm/data center operators could improve AMDs 1% share.
Going forward, AMDs chances to return to annual net profitability could improve if it can regain 10% of the x86 server processor industry. Back in 2006, AMD enjoyed 26% market share in x86 server processors. Missteps of AMD over the last decade allowed Intel steal 25% share. The huge debt load that AMD had to suffer over its grossly overpaid purchase of ATI Technologies in 2006 meant it did not have enough R&D budget to keep its x86 processors competitive enough against Intels products.
The data center business is Intels most lucrative division. Better margins are possible in selling pricey server processors than on consumer CPUs like Core i3 or Core i5. Pricey Xeon server processors are partly why Intel enjoys a much higher operating margin than AMD.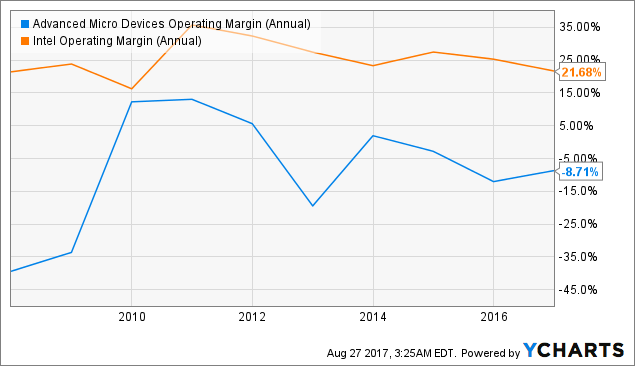 AMD Operating Margin (Annual) data by YCharts
AMD also needs a healthy, growing data center business to improve its pitiable balance sheet. In spite of mega-super optimism over its stock, AMD ended 2016 with more than $2.91 billion in total liabilities. As of Q2 2017, AMDs total liabilities amounted to $2.95 billion.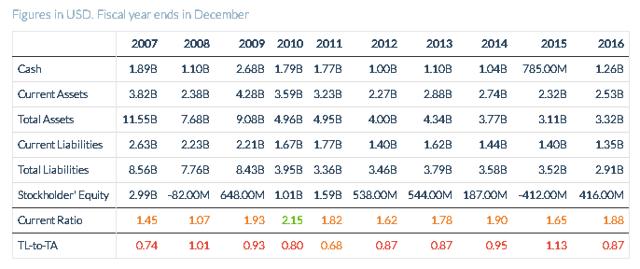 (Source: VURU)
The unhampered investor exuberance over AMDs stock could drastically evaporate if AMD remains a money-losing firm by the end of 2018. Vega GPUs, Ryzen, and EPYC are very competent products with affordable price tags. Baidu, Tencent, and Jingdong obviously tested EPYC and found it worthy as a replacement to Intel Xeon CPUs. They wont be publicly sharing their backing of EPYC if it doesnt meet the strict requirements of their server infrastructure.
AMDs management no longer has an excuse why it should operate with a negative net profit margin going forward. It already has the right products, and industry giants like Baidu and Tencent are backing the company. Everything seems to be fair weather sailing for AMDs x86 processor business.
Intel is unlikely to use massive contra-revenue to protect its server processor business in China too. Intel's recent massive acquisitions like Altera and Mobileye mean Chipzilla doesn't have extra money to subsidize its products against AMD's new processors.
Conclusion
I remain long AMD. The 14-nanometer Zen-based EPYC is already a strong equalizer to Intels Xeon server products. AMDs server CPU roadmap is still promising better iterations. The 7-nanometer Rome (Zen 2) and Milan (Zen 3) are scheduled for release by 2020. We can just pray that Chinese firms will buy enough EPYC processors. AMD needs robust revenue growth to have enough money left to finance the development of the Rome and Milan server processors.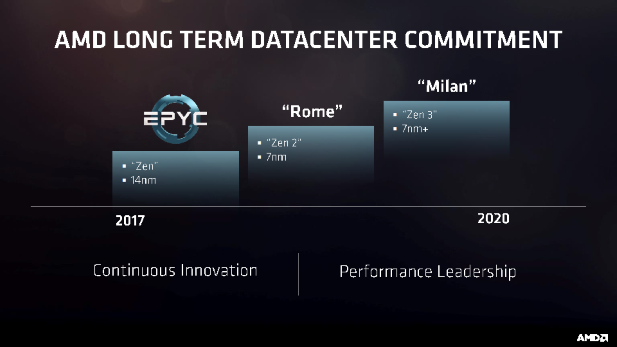 (Source: AMD)
AMD CEO Lisa Sus ethnicity might help convince more Chinese firms to defect to EPYC server processors. When I was still employed in the creative/marketing industry, selling things/services to businessmen with Chinese ancestry was easier done when I disclosed my 25% Chinese heritage via maternal lineage. Good guanxi is immediately established when the deal makers share the same blood line.
I will buy more AMD shares if Alibaba (BABA) and China Telecom (CHA) also announce they are going to use EPYC processors for their data centers and server farms. China Telecom is the second-largest data center service provider in the Asia-Pacific. Its common sense to conclude that China Telecom is also Chinas no.1 player in data center services.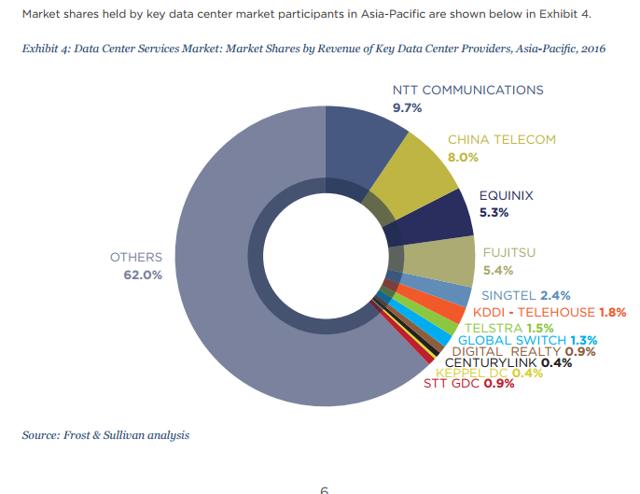 (Source: Frost & Sullivan)
Alibaba Cloud is the fastest-growing and biggest IaaS operator in China. AMD convincing Alibaba to buy bulk orders of EPYC processors is going to be an epic win. Alibaba Cloud had more than 40% of Chinas IaaS Public Cloud Market. AMDs 1% market share in x86 server processors can improve faster if EPYC gets adopted by most of the biggest internet companies.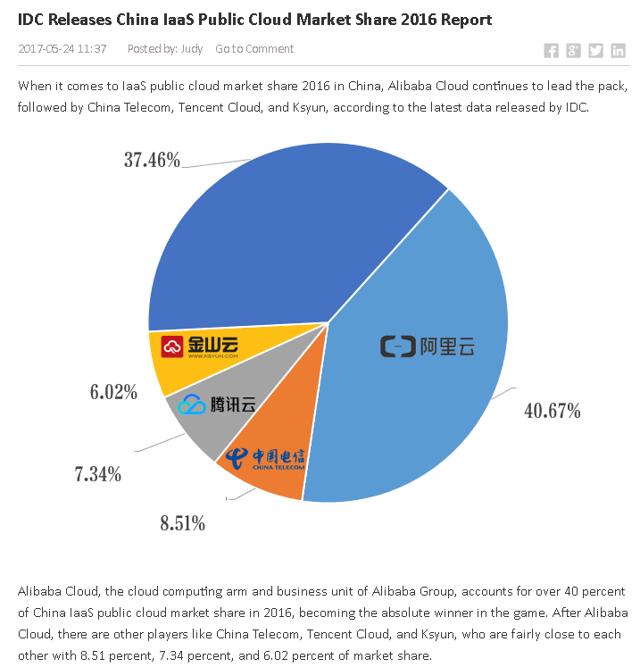 (Source: IDC/Hostucan.com)
Disclosure: I am/we are long AMD, INTC, TCEHY, BIDU, BABA.
I wrote this article myself, and it expresses my own opinions. I am not receiving compensation for it (other than from Seeking Alpha). I have no business relationship with any company whose stock is mentioned in this article.
About this article:ExpandAuthor payment: $35 + $0.01/page view. Authors of PRO articles receive a minimum guaranteed payment of $150-500.Tagged: Investing Ideas, Long Ideas, Technology, Semiconductor – Broad LineWant to share your opinion on this article? Add a comment.Disagree with this article? Submit your own.To report a factual error in this article, click here