I agree with Jefferies' assessment that apprehension over Epic Games' Fortnite and Bluehole's PlayerUnknown's Battlegrounds is why Activision Blizzard's (ATVI) lost $6 billion in market cap. Epic Games, a subsidiary of Tencent (OTCPK:TCEHY), made $126 million last February 2018 from its free-to-play Fortnite battle royale game. Bluehole's battle royale game, the $30 buy-to-play PlayerUnknown's Battlegrounds [PUBG] also made $103 million last month.
Many investors dumped ATVI after March 12 because battle royale games are taking away players and monetization from Activision's Overwatch/Call of Duty games. More than 30% of PC gamers around the world played battle royale games like Fortnite and PUBG last month. Tencent/Epic's Fortnite is the most popular with 16.3% of PC gamers playing it. As of January 2018, Fortnite has 45 million players.
A year ago, battle royale games only accounted for 6% of PC gaming. Activision was too focused on its billion-dollar-earning Overwatch that it failed to promptly join the battle royale bandwagon started by PUBG in May 2017.
(Source: Newzoo)
Activision's heroes-based shooter Overwatch is also no longer among the ten top-grossing games on console. PUBG and Fortnite are higher in global revenue rankings than Overwatch.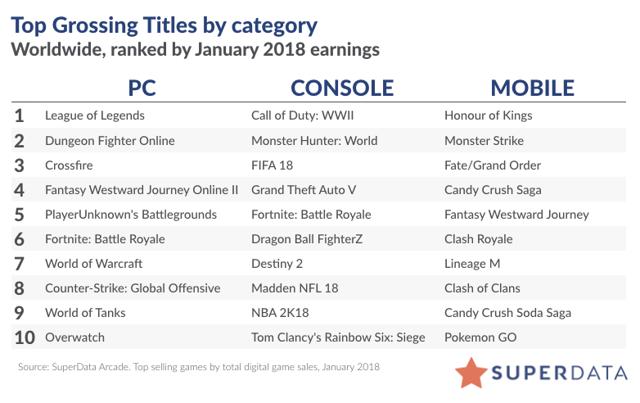 Fortunately, Activision is now hinting it will also release a battle royale-compatible game very soon. The May 2018 release of Call of Duty: Black Ops 4 will confirm if Activision can also repeat the battle royale success of Fortnite and PUBG.
Activision only needs to equal the 100-player-capable battle royale games of Epic and Bluehole. Activision tested a battle royale mode for its China-exclusive Call of Duty Online game earlier this year, but it was limited to only 18 players.
The original concept of the battle royale genre is to have 100 or more players fight it out so that only one winner will remain. Implementing a battle royale mode in Call of Duty with a low number of combatants is a sure way to failure.
Battle Royale Games Can Boost ATVI
Investor confidence over ATVI will likely rebound if Call of Duty: Black Ops 4 battle royale starts making $50-100 million in monthly sales. Those former microtransactions customers who defected to Fortnite and PUBG are likely to return to Activision Blizzard's games if they have battle royale modes.
Further, it is easy for Activision to implement battle royale modes. Epic Games only spent two months to develop and put the live battle royale mode of its Fortnite shoot-zombies survival PC game. I expect Activision to eventually implement a 100-player battle royale modes for Overwatch and Destiny 2.
A heroes-based battle royale game mode for Overwatch is a unique feature that Fortnite and PUBG cannot imitate. Since Activision is late to the party, it must offer something unique to attract players away from Fortnite and PUBG. There are now 27 heroes available in Overwatch. Each hero has unique gameplay style and purpose which can revolutionize current gameplay of battle royale.
A duos-based and squad-based using 27 heroes with unique skillsets/abilities on a battle royale setting will make it more fun. It can be a legit team-based e-sports feature that requires more cooperative gameplay.
Furthermore, instead of just selling costumes/accessories for male/female players (like in Fortnite and PUBG), Overwatch: Battle Royale can create and sell more specific costumes/accessories for 27 different heroes. On the long run, it will be more profitable to sell premium loot boxes that give out random legendary/rare outfits for 27 characters.
My idea of a heroes-based Overwatch battle royale is feasible. A very small studio, Hi-Rez is already beta-testing it with Paladins. Activision is a much larger company than Epic Games and Hi-Rez Studios. It has the manpower and financial might to quickly enable the battle royale mode in any of its popular PC/console games. I can even picture a battle royale mode for World of Warcraft using the 12 different classes of that role-playing game.
Final Thoughts
I have added more to my ATVI position and will purchase more as long as it trades below $70. I am highly confident that Activision is capable of competing in the surging battle royale genre. Call of Duty and Overwatch are popular franchises that command millions of loyal fans. It can win back paying players once Activision battle royale modes for these popular games.
It will be the turn of Fortnite and PUBG to lose players after Activision muscles in on battle royale.
Epic Games enabled battle royale mode for Fortnite last September after it saw the mega-success of PUBG. Fortnite took less than 5 months to generate $126 million in monthly revenue and beat PUBG. Activision can also do it if it makes a laser-focus on battle royale.
Disclosure: I am/we are long ATVI, TCEHY.
I wrote this article myself, and it expresses my own opinions. I am not receiving compensation for it (other than from Seeking Alpha). I have no business relationship with any company whose stock is mentioned in this article.
Editor's Note: This article discusses one or more securities that do not trade on a major U.S. exchange. Please be aware of the risks associated with these stocks.