"Even fools say something worthwhile now and again. Even a blind pig finds an acorn sometimes." – Robert Jordan, The Eye of the World
A Tier 4 biotech concern named Verastem (VSTM) has been a founding member of the model Busted IPO Forum model portfolio since the fourth quarter of last year. The shares spent a few months marking time, but the stock has been on a real roll of late as can be seen from the chart below.

The stock is off some 13% today in early trading. The company took advantages of the recent rise in their shares to announce a ~$35 million secondary offering priced at $4.50 a share today. If you believe all the positive analyst commentary around this attractive developmental name, the rally maybe only beginning and this will turn out to a buyable dip.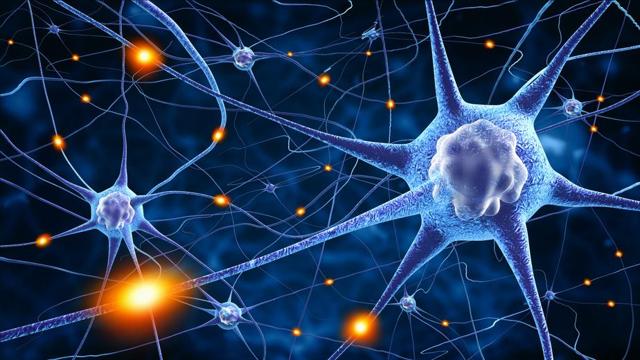 Company Overview
Verastem is a Needham, Mass.-based clinical-stage biopharmaceutical company. The firm is focused on developing and commercializing therapeutics that improve outcomes for cancer patients. After its recent rise, the stock trades right at $4.50 a share and has an approximate market cap of $270 million. Verastem came public in early 2012.
Pipeline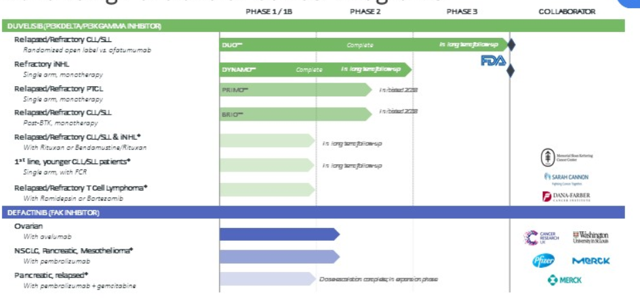 Source: Company Website
Verastem's primary drug candidate is a compound called duvelisib which is in trials for a variety of indications. On April 9th, the FDA accepted Verastem's marketing application seeking approval for duvelisib for the treatment of relapsed/refractory chronic lymphocytic leukemia/small lymphocytic lymphoma (CLL/SLL) and accelerated approval for relapsed/refractory follicular lymphoma.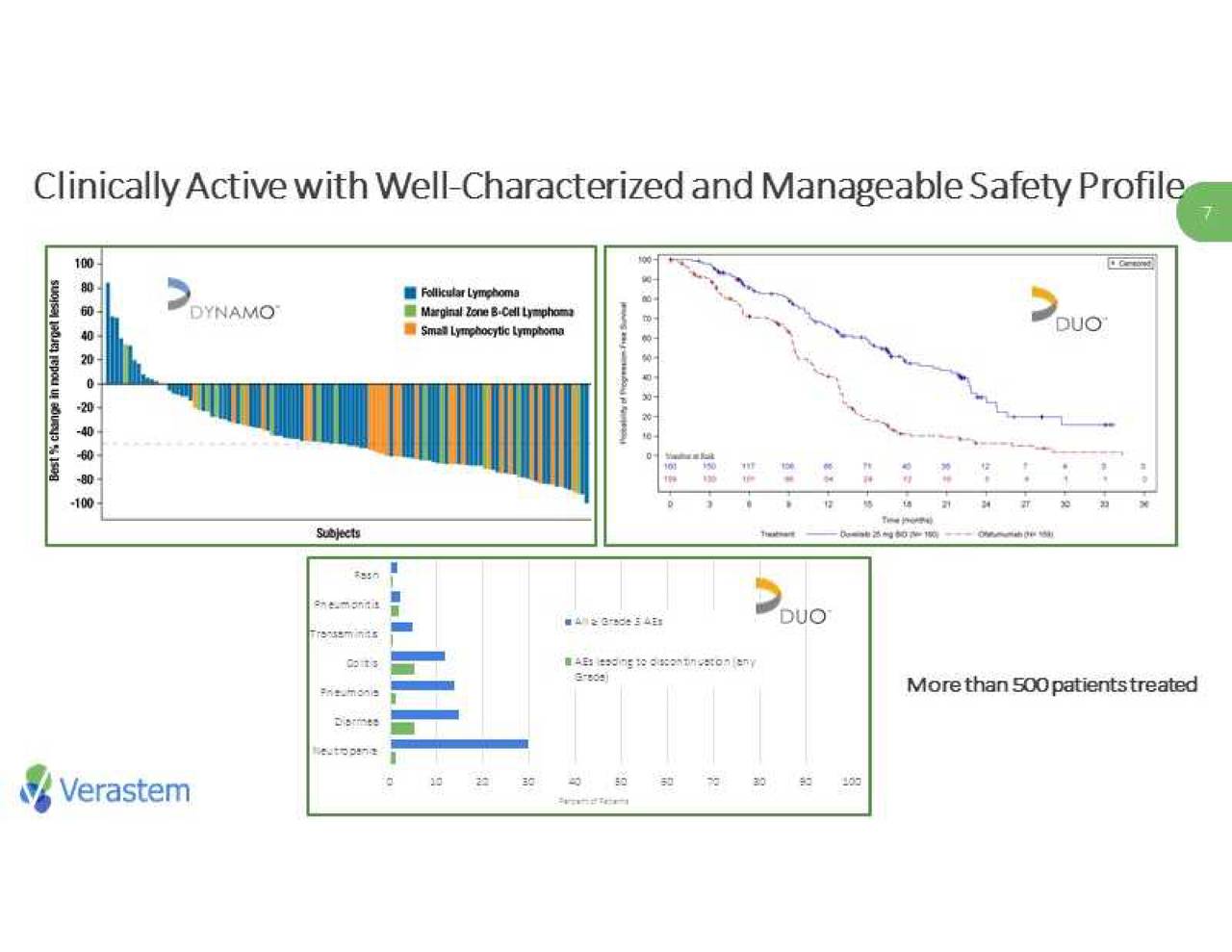 Source: Company Investor Presentation
Given trial results leading up to the submission, it seems likely the company will garner a green light from the FDA on the Oct. 5th PDUFA date. The marketing application received accelerated approval which could knock four months of the approval process and is an encouraging sign.
Recent Analyst Activity and Balance Sheet
The company has been the recipient of a lot of positive market chatter over the past two weeks. Here are the current thoughts/ratings from analyst firms.
May 2nd – Cantor Fitzgerald – Reiterated Buy rating with $17 price target:
Duvelisib has a PDUFA of 10/5/18. The NDA for duvelisib in chronic lymphocytic leukemia (CLL) and follicular lymphoma was filed in February and accepted in early April, with a PDUFA of 10/5/18. The question of E.U. submission may be dependent on partnership, which would be positive for the shares, in our view.
May 2nd – Seaport Global – Initiated VSTM as a new Buy with a price target of $14:
Investors are giving little credit for duvelisib success, despite positive Phase 3 data in chronic lymphocytic leukemia, positive Phase 2 in fillicular lymphoma, and currently being under priority/accelerated FDA review.
May 3rd – Oppenheimer – Maintained a Buy rating and $15 price target:
Our outlook for revenue and EPS for 2021-2022 remains unchanged. We are increasing our estimated SG&A in 2019 and slightly decreasing SG&A in 2020 to account for expense timing. This is resulting in adjustments to our estimated loss or earnings per share in 2019 and 2020.
May 7th – H.C. Wainwright – Reissued Buy rating and $10 price target.
May 10th – B Riley FBR – Reiterated Buy rating with $17 price target.
The company ended the first quarter with almost $65 million in cash on the books and is burning through approximately $20 million quarter. The company did raise an additional $21.9 million its at-the-market equity offering program in April and early May. Add to that the ~$35 million that will be raised this week. The company also has another $50 million available via an existing debt facility.
Verdict
With an upcoming and critical milestone ahead, strong analyst support and money in the bank, we continue to like Verastem heading into its key PDUFA date. This risk/reward profile is not as attractive as it was when the shares exchanged hands at just ~$3.00 a share, but we still view it as positive (as does the analyst community). Accumulating a small position on dips like today still seems prudent within a well-diversified biotech portfolio for those investors that do not have this name already in their portfolio. The stock also makes a good buy-write candidate for those investors comfortable with simple options strategies.
"Therapy to life: Eat with the wise, and drink with the fools!" – Anthony Liccione
Author's note: If you would like to get these types of articles as soon as they are published, just become a real-time follower of the Busted IPO Forum by clicking here, hitting the big orange "Follow" button, and selecting the "real-time alerts" option.
Disclosure: I am/we are long VSTM.
I wrote this article myself, and it expresses my own opinions. I am not receiving compensation for it (other than from Seeking Alpha). I have no business relationship with any company whose stock is mentioned in this article.
Editor's Note: This article covers one or more stocks trading at less than $1 per share and/or with less than a $100 million market cap. Please be aware of the risks associated with these stocks.