In today's market environment, it is very difficult to find a true value play, with a large margin of safety. Network-1 Technologies (NTIP) provides investors with just that opportunity. Wall Street hasn't caught on yet, which I am glad about – it allows me to obtain a sizable position before they catch on. I am happy to have the opportunity to continue to add to my position at today's price of $2.75, so far below its intrinsic value of at least $6-$7, before Wall Street catches on.

NTIP data by YCharts
First quarter results for Network-1 were outstanding, as expected. I wrote in my last article that I expected Network-1 to have a great quarter, with my revenue estimate of about $18 million and about $10-$12 million going directly to cash, cash equivalents, or short-term investments.
They actually beat both my estimates by posting revenues of $19.46 million, and adding a total of $15.31 million to cash, cash equivalents, or short-term investments. Operating and net margins for the quarter were both significantly above their five year average, with 55.92% and 44.19%, respectively. On $19.46 million in revenue, Network-1 booked $10.88 million in operating income, and $8.60 million in net profits ($0.34 in diluted earnings per share). They generated just under $17 million in net cash from operating activities, and about $16.75 million in free cash flow.
The $15.31 million that was added to cash, cash equivalents, or short-term investments was an increase of 28.28% from the December 31, 2017 levels. They now hold $56.68 million in cash and cash equivalents, and $12.79 million in short-term investments, for a total of $69.47 million in liquid assets.
Their total liabilities are up to about $10.65 million as of this quarter, but this is no concern as they still have $59.31 million in net working capital.
Network-1 spent about $400,000 buying back their stock at an average price of $2.57 during the quarter. They expect to spend another $2.5 million buying back shares in the future.
Why This Quarter's Results Are So Impressive
Excluding their two major outlier years (2010 and 2016, which I've written about in the past, where they received significant extraordinary one-time income) this quarter by itself will make 2018 their best year yet in terms of revenue, operating income, net income, EPS, net cash from operating activities and free cash flow generation. Not only would this quarter alone prove to be one of their best years yet, but revenue, net income, and free cash flow, would be up 22.50%, 115%, and 179%, respectively, from last year. That is assuming they don't even earn another dollar at all this year (which is unlikely).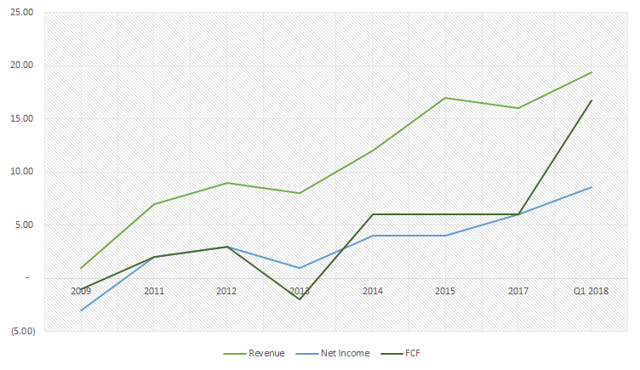 Source: Data, Morningstar. Graph, self-created.
You may be thinking about how these results could be ruined throughout the year from poor results, which is possible, but unlikely. Once revenue is earned, it won't be taken away, so they will at least see growth in revenue year-over-year. They have a very minimal burn rate of a few million dollars per year (further discussed in my previous article), which would still leave them with a profitable, free cash flow positive year.
HP Litigation
There have not been any material changes in the HP litigation, yet. A hearing was held yesterday, May 14, 2018, and the decision is currently pending.
Due to licensing agreements prior to the HP case ruling in November, Polycom was required to pay Network-1 three installments of $1 million each October starting in 2017. The October 2018 and 2019 installments will not be paid if the HP case ruling is upheld, but is expected to be paid if the ruling is overturned.
Also, if the ruling is overturned, Network-1 is expecting to collect all payments owed to them from companies that have not made payments due to the HP case ruling. That includes Polycom, HP, NetGear, Dell, and Cisco.
Facebook Litigation
There also have not been any material changes related to the Mirror Worlds Facebook litigation. However, Facebook did file a motion this quarter for summary judgement on non-infringement and a hearing has been scheduled for July 18, 2018.
As mentioned in previous articles, Network-1 has successfully defended, or settled, with Microsoft (2015) and Apple (2016) with relation to Mirror Worlds patents.
The Opportunity
Network-1's stock is up about 20% since I initiated my position, but there is still significant upside at today's price of $2.75. With Network-1, investors have the opportunity to buy a great business at a discount to its intrinsic value – a true value play in today's market. Investors are getting an able and honest management team, a business with a moat, a business priced at a large discount to its intrinsic value, a high degree of confidence in the valuation, and a business that can be understood relatively easily.
My previous article shows an in-depth analysis illustrating why I value the company's stock at $8-9 per share if the HP ruling is overturned, and about $6-7 per share if the HP ruling is not overturned. This quarter's results further my conviction towards this valuation. With no debt on the balance sheet and over $2.71 in cash per share ($2.30 net cash per share, cash – total liabilities), there is minimal downside from today's price, with an asymmetric upside potential. Their cash position alone can value the stock between $4.50-$6, with a high degree of certainty. Investors are getting the rest of the business, all of their patent portfolios, and huge potential upside from the HP case, for free.
Right now the stock is off of Wall Street's radar, which has allowed me to obtain a sizable position at reasonable prices. As this stock gains more awareness, more investors become aware of the value of company, and they continue to generate and save tons of cash, I expect the stock price to continue to climb. This opportunity is certainly a play that Buffett would have taken back in his partnership days. I plan to continue buying the stock, and recommend a strong buy rating for other investors as well.
As famed value investor Mohnish Pabrai says, "Heads, I win; Tails, I don't lose much."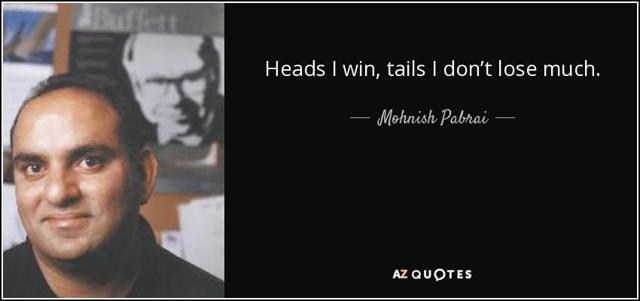 Source: AZ Quotes.
Author's note: If you have enjoyed this article, please hit "like" below, and click the "follow" button next to my name at the top of the page. Your support will allow me to invest further time and resources into creating proprietary research.
Disclaimer: Everything included in this article is not to be taken as investing advice because I am not your investment adviser. Also, I have not considered your specific situation as your fiduciary. Investors are expected to do their own due diligence before making any investments, and should consult with an investment professional who knows their objectives and constraints.
Disclosure: I am/we are long NTIP.
I wrote this article myself, and it expresses my own opinions. I am not receiving compensation for it (other than from Seeking Alpha). I have no business relationship with any company whose stock is mentioned in this article.
Editor's Note: This article covers one or more stocks trading at less than $1 per share and/or with less than a $100 million market cap. Please be aware of the risks associated with these stocks.