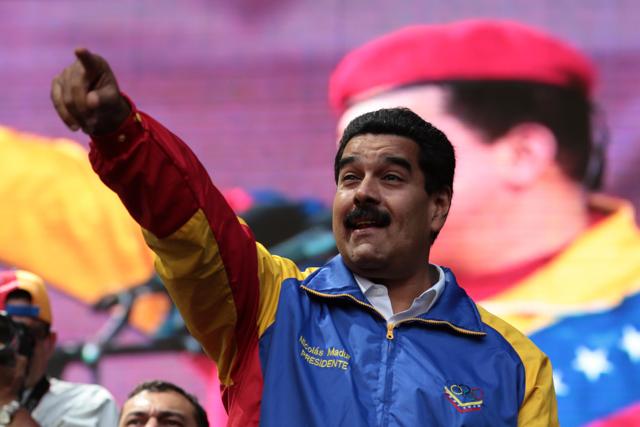 Venezuela President Nicolas Maduro
Halliburton (HAL) reported revenue of $5.74 billion and EPS of $0.41. The company missed on revenue by $10 million. The stock has been flat since earnings were released. Below are my takeaways on the quarter:
North America Held Up…
Halliburton and Baker Hughes, A GE Company (BHGE) are the kings of North America land drilling. North America was the runt of the oil services segment shortly after oil prices diverged to the downside in the second half of 2014. Over the past 18 months, the segment has been white hot. That has been good for Halliburton which receives over 60% of its revenue from the region. Cash flows from the segment also helped the company repair its balance sheet after it incurred fees from its failed merger with Baker Hughes. This quarter the company's total revenue fell 3% sequentially, while North America was up 3%.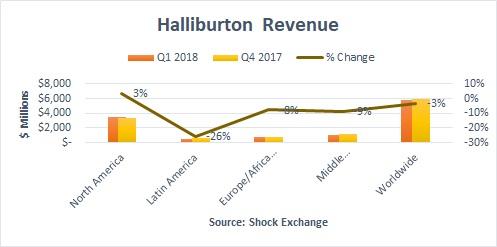 During the quarter, the North America rig oil-directed rig count increased 203 rigs, or 27% Y/Y. Improvement in the average rig count drove completions higher. Halliburton experienced increased activity throughout the North America land sector across product lines, particularly in pressure pumping and artificial lift. The rig count continued to improve, yet it only drove revenue up by single digits sequentially. When happens if the sector stalls?
Halliburton has always been dominant in North America, but having over 60% of its revenue in the sector could be a risk. Over the past few years, the company has increased its market share in the region. If the sector turns down, it may have to take share from others in order to keep revenue and earnings from falling. That does not bode well for lesser-capitalized firms.
…But Venezuela Did Not
Halliburton's international revenues were in the doldrums this quarter. Total international revenue outside was $2.2 billion, down 12% sequentially. In the Middle East and Asia, modest increases in activity were offset by pricing pressure. Seasonality in Europe, Africa, CIS caused revenue from the region to fall 8%. Meanwhile, Latin America was a major drag. I suspected the region could create headwinds after Schlumberger (SLB) reported a double-digit decline in Latin America in Q1.
Halliburton's revenue from Latin America was off 26% Q/Q. The low light was a $265 million write-off of assets related to the Venezuela operations:
Certainly a lowlight for the quarter is the write-down of our remaining assets in Venezuela. We continue to work at a reduced level as we believe the ultimate path for resolution in Venezuela involves oil and gas.
Schlumberger has curtailed its operations in Venezuela due to state-owned PDVSA's inability to pay its vendors in a timely manner. The country could become a headwind for Halliburton as well. Latin America represents only 8% of Halliburton's total revenue. However, Halliburton may need to rely on other catalysts in case North America stalls. For now, international markets likely will not be it.
Will Halliburton Seek A Deepwater Presence?
Halliburton is dominant in North America, while Schlumberger is considered stronger than Halliburton in international markets. Schlumberger also has a presence in the deepwater segment via its acquisition of Cameron International. Cameron represents about 17% of Schlumberger's total revenue. GE's (GE) Oil & Gas brought deepwater operations to the table when it merged with Baker Hughes; deepwater could now be a hedge for Baker Hughes, A GE Company if North America turns down.
The question remains, "Will Halliburton seek to acquire assets in the deepwater market to round out its product offerings?" Deepwater may not rebound unless oil prices remain above $70 for a sustainable period. If it does bounce back, then Halliburton could be found wanting.
Conclusion
HAL trades at 13.9x trailing EBITDA. The upside in North America may have already been achieved. I rate HAL a sell.
Disclosure: I/we have no positions in any stocks mentioned, and no plans to initiate any positions within the next 72 hours.
I wrote this article myself, and it expresses my own opinions. I am not receiving compensation for it (other than from Seeking Alpha). I have no business relationship with any company whose stock is mentioned in this article.