Ever since December, when we saw record highs for cryptocurrencies like Bitcoin and Ethereum, the past few months have given us a breather with the current bear market. It seems as if cryptos have lost their lust, as the buzz doesn't seem as great as it was in late 2017. Many are still bullish long term on cryptocurrencies, but it remains to be seen what will happen in the face of regulations and market turbulence. As business professors from my school have discussed with me, blockchain is here to stay; the issue is determining which currencies will be successful in the long run, as many of these altcoins are quite likely to fizzle out.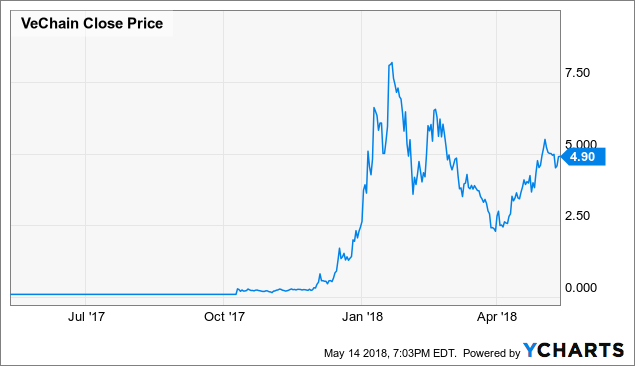 VeChain Close Price data by YCharts
But one altcoin that I have kept my eye on for some time has been VeChain (VEN-USD), a blockchain platform focusing on financial services, smart contracts, and supply chain management. In this article I will give a quick summary on the applications of VeChain, dig into investors like PricewaterhouseCoopers (PwC) and how they play a role, as well as analyze current management and how it can steer VeChain to success.
VeChain and its Applications as a Cryptocurrency
We can get a good sense of the potential through VeChain's Development Plan (which is essentially its white paper). Here, they provide a statement on their original vision:
Building a trust-free and distributed business ecosystem to enable transparent information flow, efficient collaboration, and high speed value transferring.
So what exactly does this mean? The keys here are "information", which will be transparent among all parties, and "trust", which will be important if it wants to be accepted widely. These two factors are what makes business cooperation simpler, and allows for greater efficiency and lower cost; this is the value creation which VeChain is trying to achieve.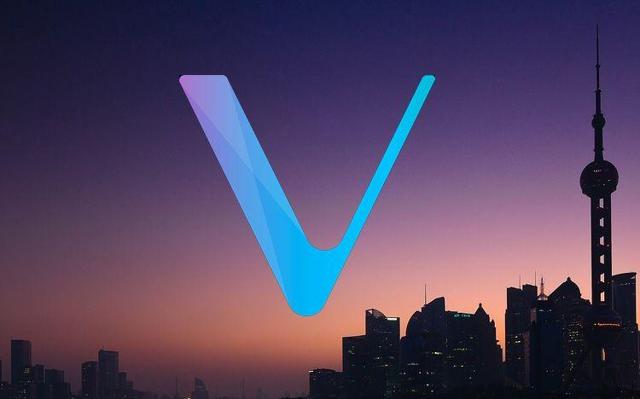 Source: Coin Reviews
Touching quickly upon the technical side, VeChain's Blockchain is based upon the Ethereum codebase, and VeChain ID's are hashed through a sha256 function. The key part of this Hashed Storage Service (HSS) is that it ensures that the data cannot be tampered with, enhancing the security of this blockchain service. This will be important when we consider the applications of this technology, such as:
Fashion and Luxury
In the development plan, VeChain notes how in the fashion and luxury industry in Europe, anti-counterfeiting costs brands 9.7% of total sales every year (~$2.87 billion). And the losses due to fake goods are shown below in the development plan: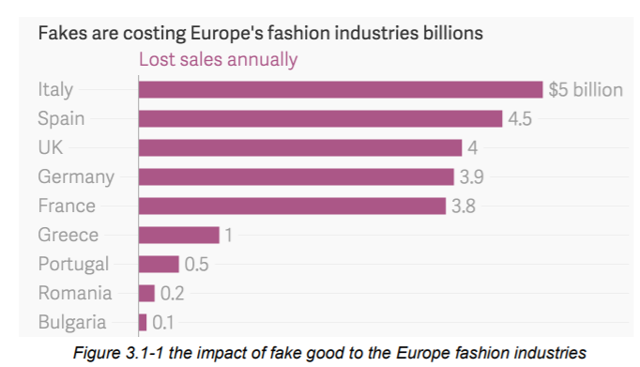 With VeChain, the brands can make the product based on their order plan while at the same time "activating" the product when verifying it. This verification process authorizes the enterprise's SAP order form, and authenticates the product from the beginning of the production process. When the customer finally receives the product, he or she can scan the chip on the product tag to trace the "history" of the product and ensure its authenticity.
Food Safety
VeChain uses the dairy industry as an example. Especially with strict regulations, VeChain can play a role in ensuring food quality from the milk source. This includes providing information on the farm, fertilizer management, health conditions and drug use of livestock, and provides consumers a clear picture of the food quality they are receiving. It already has success with this through the completion of a liquor tracking platform, where consumers can track the liquor product from the very beginning of the process. An example of what the consumer sees is provided below in the development plan: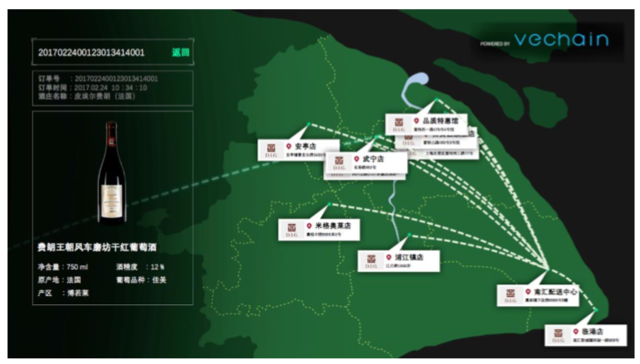 Car Industry
The production cycle of cars involves a multitude of parties, including the manufacturer, regulators, financial service providers (insurance companies and banks), and the consumers. With VeChain, every car will not only have the data history of the production parts and completion of the vehicle, but also records of ownership, accident history, and more. This will give all parties sufficient information to make decisions, whether it is to provide funding, ensure the safety of the vehicle, or give consumers the added information needed to make a purchase decision.
These are just some of the potential applications which VeChain can have on an array of industries. VeChain has a dedicated Internet of Things (IoT) technology team for its encrypted chip tag development, data security, and authorization modules in the blockchain technology.
So how does it work as a cryptocurrency? The cycle works as follows:
Consumers can use VeChain tokens to purchase products and services from vendors. The vendors use these tokens by paying the VeChain foundation for access to the blockchain technology. The VeChain foundation can distribute the tokens back to consumers in exchange for payments in Ethereum (ETH-USD).
Hence, the currency connects consumers, vendors, and the VeChain foundation all in one ecosystem.
Competitive Advantage
The importance of all this? That VeChain has a rather realistic and simple goal with a widespread application to a multitude of businesses. With over 1500 cryptos in the market, each of which has its own group of supporters claiming its product to be the next best thing, we must be skeptical when considering the practicality of these blockchain projects. There are cryptocurrencies like Vibe (VIBE-USD) which claim that they will revolutionize the world by allowing people to buy and selling virtual reality experiences, or products like Ripple (XRP-USD) which aim to bring a "frictionless experience" towards sending money via a connection of financial institutions and payment providers. These two examples highlight the advantages which VeChain has over other cryptocurrencies.
The first is that VeChain has an easily conceivable idea (focused upon trust of information) that has a reasonable vision for being applied to the real world; we know the idea is easily applied because VeChain has already demonstrated a working product with its liquor tracking platform. Vibe in contrast is relying on a market that is not fully developed; it is hard to bet on a concept when it is so difficult to predict where a market like VR will be a couple years from now. The second advantage is the level of competition. A crypto like Ripple, though it has an emphasis on financial institutions, is still competing with Bitcoin (BTC-USD), Stellar (XLM-USD), and a host of other cryptocurrencies to be the leader of a cashless world. VeChain has no direct crypto competitors, as most companies usually deal with information transactions themselves. While there are non-direct competitors like IBM, what VeChain wants is to standardize the entire system through its cryptocurrency. As more and more companies continue to move to the cloud, VeChain should be in a prime position to capitalize.
Partnerships with PwC and More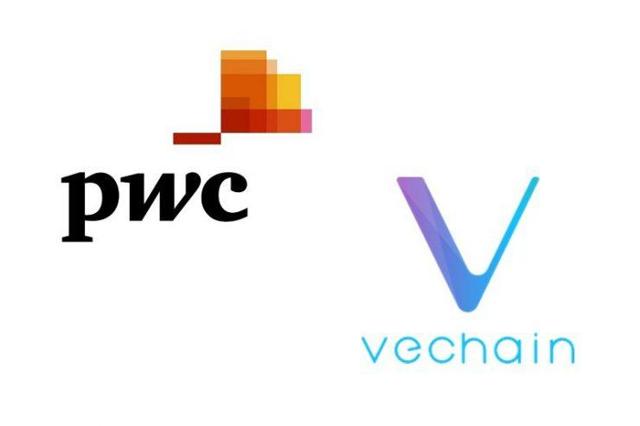 Source: Moon Catcher
The development of PwC as an investor has been prominent for VeChain's prospects. Only a couple weeks ago it was reported that PwC Hong Kong and PwC Singapore had entered into a joint business relationship with VeChain; each acquired a small ownership interest in the business. As the press release states:
PwC Hong Kong is now in discussions with VeChain to provide trust based services on the VeChain platform. This will require the use of VeChain Tokens to access and perform transactions on the platform.
For both companies, this represents the start of a strategic collaboration towards providing innovative professional services via blockchain technology. But for VeChain this offers great potential through the backing of a Big 4 auditor, one with a large presence in assurance and consulting services. And the presence of a big name investor should make consumers more comfortable using the blockchain technology VeChain offers. It still remains to be seen how the relationship will ultimately materialize as challenges remain, such as dealing with compliance issues from vendors, risk management, and corporate controls.
VeChain has also attracted the attention of other companies. They have confirmed partnerships with BMW (though the dynamics of this relationship haven't been revealed), as well as Oxford University, which will help with the research and development of the VeChain platform. Other accomplishments also include partnering with Renault, Microsoft, and Viseo to create the first ever digital car maintenance book prototype, as well as with Michigan State University to integrate mobile edge computing into VeChain's platform.
The various partnerships indicate how applicable VeChain's blockchain technology is across many industries, and continue to demonstrate how the platform can actually be utilized and put to work. And the links with other brand names should only help grow the attention it needs to be adopted by consumers.
Strong, Diverse Management to Lead VeChain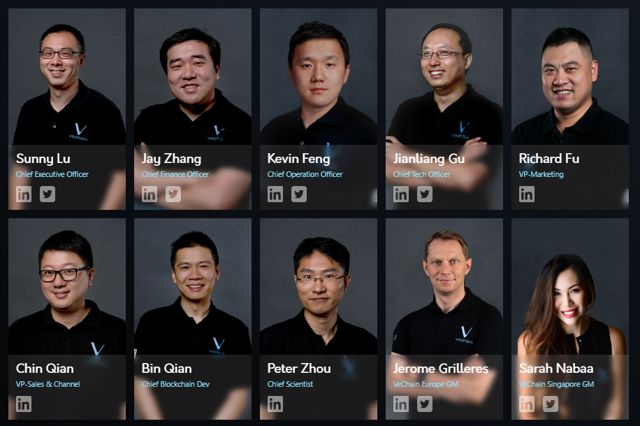 Source: VeChain
Perhaps most important is the leadership team of any cryptocurrency, as it has the responsibility of actually executing the vision of what it wants the technology to become.
The first aspect is the amount of experience the team has in audit, assurance services, and managerial consulting. CFO Jay Zhang and COO Kevin Feng both have had significant experience working for PwC well over 10 years (which may explain how the partnership was achieved), and Zhang even had a brief stint at Deloitte as well. The backgrounds in these fields should help when dealing with compliance issues via other companies and ensuring the cyber security of the blockchain platform.
The CEO, Sunny Lu, has had a range of experiences of companies operating in China, including 3M, Barcardi, and most recently, Louis Vuitton China (where he served as CIO). His experience in a CIO role is especially important in this day and age, where operational technology and internet technology are increasingly converging, and CIOs usually help connect the bridge between the two. As CEO, we should see Lu spearhead the charge of applying blockchain technology into the operational world of supply chains and other services.
VeChain also has some international exposure through its Europe GM, Jerome Grilleres. With an MBA from the London School of Economics, Grilleres has had experience both at Goldman Sachs with commodities trading, and at Barclays with business development and strategy. He should bring a global presence to VeChain to push its applications past the Chinese market and into Europe (his operations are based in Paris). And finally, at general counsel VeChain has Scott Brisbin, a UCLA graduate and lawyer whose clients in the past have included the Rolling Stones, Disney, and MGM. With VeChain, Brisbin will be in charge of legal security and organizational structure.
What has stood out to me is the amount of diverse and relevant experience this team brings to the table; it strikes me as a legitimate team that actually has the ability to make due on its plan. The spread of its management across multiple continents is important as well, especially if VeChain is to eventually enter a variety of markets via different companies. I often think about the dot-com bubble with cryptocurrencies; many of these cryptos are claiming to be the next big thing, where in reality very few of them will find that type of success. But I look to the team's lengthy history in the facets of its blockchain technology, namely the experience in assurance, business development, legal, and regulations. It is definitely more than just a money grab from fundraising, and should inspire faith behind any investor that VeChain is driven by a dedicated team.
Cautiously Optimistic for the Road Ahead
As I said before, with cryptocurrencies, there is no such thing as a sure thing. But as an investor, what we can do is find altcoins that give us the greatest odds of success for getting back a return on our investment.
At the very least, VeChain has the signs of a legitimate blockchain project. The vision of the blockchain is clear and is applicable across many industries, and has genuine and reliable partnerships that should help take it to the next level. Not to mention that VeChain management consists of reliable, consistent experience from a multitude of backgrounds and geographies, it seems that VeChain has the tools it needs to succeed. While we will not know for a while whether or not it actually happens, I am cautiously optimistic that VeChain can eventually become one of the leading cryptocurrencies of our future. I would suggest potential investors at least consider the option of adding a position to their portfolio.
Disclosure: I am/we are long VEN-USD.
I wrote this article myself, and it expresses my own opinions. I am not receiving compensation for it (other than from Seeking Alpha). I have no business relationship with any company whose stock is mentioned in this article.