On Tuesday, Mizuho Securities analyst Irina Koffler dished out a rather dramatic upgrade of Valeant Pharmaceuticals (VRX). Raising it from Neutral to Buy was significant, though not earth-shattering. The head-turner was the improved price target. Koffler had thought VRX stock was worth $15, but upped her target to a whopping $27 per share.
Thats 25% greater than the stocks current price.
Her rationale? The company is growing its key brands and has stabilized losses from older products. Her point is well taken too. Its not exactly new information though; we started to see green shoots and a little stability weeks ago, as one would expect to see at a turnarounds trough.
Valeant is indeed a buy in a way that it wasnt a few weeks ago, however, because something else far more important has started to shift in the right direction.
Recap
If youre reading this then you likely already know the Valeant story. If you need a refresher though, heres the Q&D version
Between 2012 and 2015, with plenty of prodding from activist investor Bill Ackman, Valeant made a string of ill-advised acquisitions of companies and drugs. A couple of tipping points were reached in late-2015 though. One of them was a mountain of debt that wasnt being adequately serviced by all the deal-making now-former CEO Michael Pearson had done during that time. The other was outrage over the unfettered rise in drug prices that Ackman, Pearson and Valeant as a whole were counting on continuing.
End result: The house of cards fell, and sent VRX stock to a loss of more than 95% between the August-2015 peak and the April-2017 low.
Much has changed in the meantime, and even before that bottom was hit. A new CEO is one of those changes, as was the sale of drugs and divisions it could spare.
Job number one? Paring back debilitating debt. A close-second job, however, was reviving its existing portfolio for maximum marketability and profits. A name change is also in the works.
Fast forward to today well, a little over a week ago. First quarter earnings of 89 cents per share topped estimates of 60 cents, and a top line of $1.99 billion rolled in higher than the $1.95 billion the pros were expecting. Though revenue was actually down year-over-year, organic revenue growth and this is critical was better than expected. CEO Joseph Papa was pleased to point out that its top two divisions, Salix and Bausch & Lomb (which account for three-fourths of the companys revenue) collectively saw revenue growth of 10%.
None of that is the really interesting part of the story though. No, the really interesting aspect of this saga is whats happened between investors ears just within the past few weeks.
The Bulls Coming Out of the Woodwork
VRX stock is, if were being blunt, a volatile mess. Its difficult to get a read on its undertow from one day to the next, and even when you take a step back and look at the weekly chart its elusive. If you can apply the right tools though, you can further smooth out its volatility to determine which way the masses really believe its going to move.
The Chaikin oscillator is one such tool to do this.
Chart technicians are going to hate this simple explanation, but a Chaikin line is essentially a volume-weighted momentum indicator. It matters, because any trend thats going to last has to have volume behind it, and gather volume as it progresses. Valeants Chaikin line has been pointed higher again since late last month even before last quarters report crossing back above the zero level in the process. This is an objective indication that, despite any naysaying, there are more Valeant bulls then bears at this time.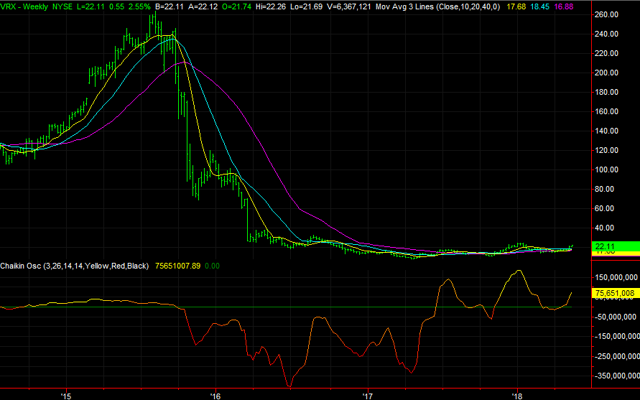 Source: TradeStation
Its not just a net-bullish trading crowd that should prove a little inspirational here, however. Analysts are warming up to Valeant Pharmaceuticals as well. The current rating of 2.9 (on a scale of 1.0 to 5.0, where 1.0 is most bullish and 5.0 is most bearish) barely rates above a Hold. You can see, though, that the professional opinions on Valeant are finally starting to edge higher, while price targets are starting to soar.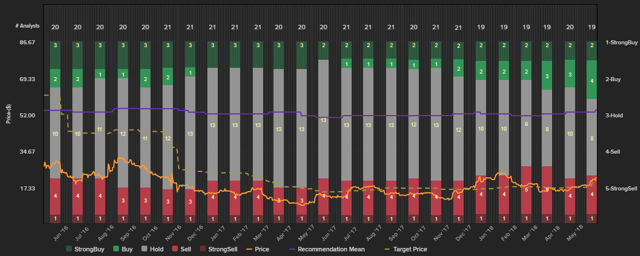 Source: Thomson Reuters Eikon
Theyre still collectively only lukewarm on Valeant, to be fair (and as you can see). But, the analyst community is much like the investor community in that it moves like a herd. Now that some analysts are thinking more boldly, others should soon follow.
The shifting undertow goes beyond the superficial indications, however. In many regards a wide swath of traders are starting to accept the fact that bets against VRX arent going to pay off.
In that vein, the short interest of 12.5% of the float says traders have been abnormally bearish on VRX. The 21.5 million VRX shares now held as a short position is a multi-month low, and half the total held as short positions this time last year. The bears are doing their best to get out while they can at prices they can afford.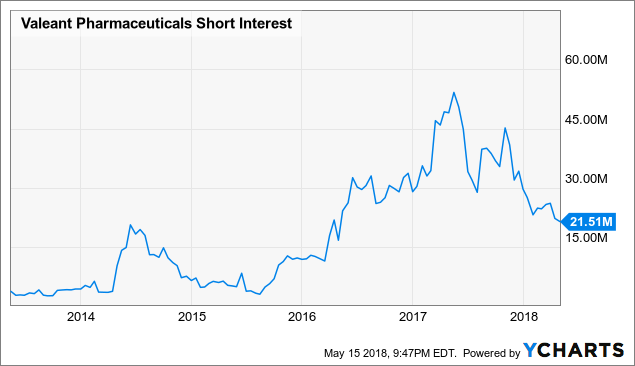 Source: YCharts
The option-trading crowd has also flinched, though well apply a different interpretation of what theyre telling us.
Contrarianism is, in simplest terms, a bet against the prevailing opinions when those opinions are at their strongest. Its an idea that works in trading because the crowd/mob is most wrong when they think theyre the most right.
To that end, the put/call ratio for Valeant shares, which compares the activity of traders expecting the stock to fall versus the activity of traders expecting VRX to rise, has surged to multi-year highs as of last month despite the fact that the company finally started to see a ray of hope late last year. This was a proverbial doubling down on the markets assumption that Valeant would never recover, and much like the way a poker player has to try and buy his or her way out of an ill-advised bluff, this degree of betting against Valeant has major contrarian implications. That is, its actually a bullish sign. The crowd was likely wrong when it was most certain it was right.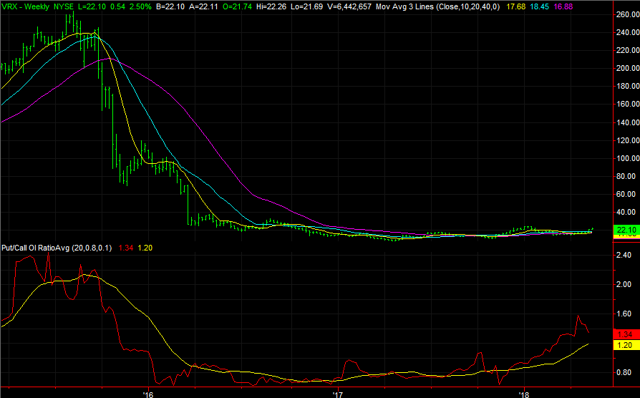 Source: TradeStation
Theres a reason all of this is happening.
Were it just one clue by itself, or even just two, it might not be worth noting. To see these subtle shifts on four different fronts though, all saying the same thing, its difficult not to conclude investors are starting to look at Valeant in a different light. The most exciting aspect of these underpinnings are, however, that theyve only just begun. Theres much more up on the horizon before these indications level off to steadier levels.
Bottom Line
Dont misread the message. Valeant Pharmaceuticals still has a massive amount of repair work that still needs to be done. Its also got a huge debt chain wrapped around its neck. As of the most recent quarter, it was sitting on $25.2 billion worth of long-term debt on the books, which cost it $413 million worth of interest payments last quarter. For perspective, the company reported adjusted EBITDA of $832 million, and adjusted net income of $312 million.
This is a trade (not an investment) not driven by fundamentals though at least not yet. VRX is a trade mostly driven right now by sentiment and trajectory. Organic growth is on the radar, and the markets collective opinion of Valeant is transitioning from net-bearish to net-bullish. The stock can get plenty of mileage from that alone for a long, long while.
Still, its not for the faint of heart.
Its also not a trade for anyone willing to plow in blindly in the height of the recent buying frenzy. If nothing else, newcomers would be wise to wait and see if the rally can level off, or even pull back. Theres still a bullish gap around $19.00 aching to be filled.
Filled or not though, Valeant has become a name thats rewarded those willing to buy on the dip and that was before the bulls started to show up en masse and the bears realized their mistake. With those two developments in tow, the fireworks can really begin.
Like this kind of insight and information? Hit the 'Follow' button above and keep your eyes peeled. I'm launching my own MarketPlace service within a matter of days, and will have even more actionable specifics for subscribers. Even if you don't become a MarketPlace member though, I'm still going to be publishing free commentary for all Seeking Alpha users… about twice per week.
Disclosure: I/we have no positions in any stocks mentioned, but may initiate a long position in VRX over the next 72 hours.
I wrote this article myself, and it expresses my own opinions. I am not receiving compensation for it (other than from Seeking Alpha). I have no business relationship with any company whose stock is mentioned in this article.