We have looked at Himax (NASDAQ:HIMX) several times in the past, and it always seemed to have much promise, but at least one of its businesses is doing bad and spoiling the fun.
After Q1 2018, we're actually getting optimistic that the company might have all its ducks aligned to produce better results. Not only are its traditional markets poised to improve in Q2, but also a few more quarters out, its new growth businesses are likely to take off. These new growth businesses are:
SLiM, Himax's high-end 3D sensing solution developed with Qualcomm (QCOM). A lower-end 3D sensing solution. An optical under-screen fingerprint reader for OLED screens (discussed below under non-driver business).
These three solutions all involve a significant input from Himax, hence have considerable barriers to entry and higher margins, and all offer significant growth opportunities. So let's start with these.
3D Sensing
The bright future for Himax should come from 3D sensing as it developed two solutions; one expensive (structured light) but sophisticated called SLiM in conjunction with Qualcomm, and another more simple (stereoscopic) but cheaper technology.
The SLiM solution is quite expensive and is only likely for the top smartphone models, which is why the company also developed the cheaper solution taking advantage of dual cameras already in place in phones.
The company is also well positioned for a third new authentication technology, the under-display fingerprint reader.
Most of the parts (like the DOE and WLO) for the SLiM are designed and developed by Himax itself, creating not only substantial barriers to entry but also higher ASPs and margins for the company.
The question is how much of it will sell. Smartphone makers have alternatives from other companies as Apple (NASDAQ:AAPL) demonstrates today with the technology from Lumentum (NASDAQ:LITE) and also from Finisar (NASDAQ:FNSR).
The Android market is likely to rapidly evolve; we know as much from Lumentum CCs. But management also had this to say (Q1CC):
The thing is that development, especially on the software side, to finalize everything, including the most important online payment, secure online payment, is, I said earlier, is more challenging than we anticipated… So, we said earlier that we expect from the existing, deciding customers, their mass production timetable be Q1 next year, given the lead time required, there is good potential that we will start to make shipments to such customers towards the end of the year.
So we think one has to wait until next year for things to happen in a meaningful way. Himax has customers who are involved in all three new authentication technologies, which further compounds the problems of forecast. But management also said that it expects "explosive growth" for next year with the cheaper stereoscopic solution probably being more important.
But before people get too carried away, what matters is design wins, and there isn't much to report yet in that department. Management is also in discussion with companies to adopt the technology beyond the smartphone (Q1CC):
I think also it is quite obvious we are already in discussion and in some cases, still in discussion with other customers for IoT application, home or business applications, home applications and certainly cargo applications, although the market size is quite small right now and most interestingly to me is automotive applications.
But given the size of the market and opportunities in smartphones, it's concentrating on that at least for now. But it's good to know there are expansion avenues beyond that market already.
Driver businesses
Large panel drivers are already doing well increasing at low-single digits despite a seasonally weak Q1 quarter.
This is driven mostly by China. The expansion is a bit hobbled by a shortage of 8-inch foundries, but the company has engaged a 12-inch one. Another hold-up is customer qualification processes, but that's just a matter of time.
The company expects double-digit growth for the year, with the emphasis on the second half.
Small panel drivers (44% of revenue in Q1) are still suffering from a weak smartphone market but things are set to improve here in Q2 and onwards.
TDDI was hobbled by high customer inventory, but the company has numerous design wins here that will translate into a material ramp-up starting in Q2, but more significantly in the second half of the year, as there are some foundry (12-inch) constraints. Management has been porting production to another foundry where mass production is ready in Q3. It also has a 55nm design but that will take longer to take off (first half of next year is what management argues). What should also be taken into account here is that progress will come at the cost of its traditional driver business, although TDDI drivers enjoy much higher ASP and higher margins. It has a target to hit 10M units per quarter either in Q4 this year or early next year. Automotive is a pretty profitable growth business for the company already accounting for over 15% of revenues, and it is sort of exploding with management guiding 20% sequential growth for Q2 and a whopping 50% for the year. It was up nearly 40% y/y in Q1, so growth might actually be accelerating a bit here. Non-driver businesses
The segment is expected to grow low single digit in Q2 and around 10% in 2018. It accounted for 19.8% of revenues in Q1.
WLO is part of its non-driver business, and it will also see an uptick in Q2 according to the company and the second half volumes will rise significantly. The company is closely working with its main customer in this space and expects newer designs to command significantly higher ASPs compared to its existing WLO (which is way below $1).
CMOS sensors are being used in the in-display fingerprint readers, apart from being a part in other stuff for the machine vision product line, the NIR (near infrared) sensor, which is a critical part in the SLiM.
Then there are Always On sensors for which the company acquired the remaining part of Emza in March, and this could set the company up for another growth market (Q1CC):
Himax is now uniquely positioned to provide ultralow power imaging sensing solutions, complete with Himax's industry leading super low power CIS design and Emza's unique AI-based computer vision algorithm. This will also help Himax enter into markets beyond consumer electronics, such as connected homes, smart buildings and security.
LCOS; the main focus here is AR goggles and head-up displays for automotive. There are a few design wins, but these are not yet taking off in a serious fashion. But things might change in 2019 (Q1CC):
We continue to make great progress in developing high-end head-up display for automotives. We and our partners together have secured a few design wins. Timing for such revenue contribution would be 2019 the earliest. We believe LCOS represents a significant long term growth opportunity for us.
And AR goggles will one day break out as well, although exactly when remains confounding the experts.
Margins and CapEx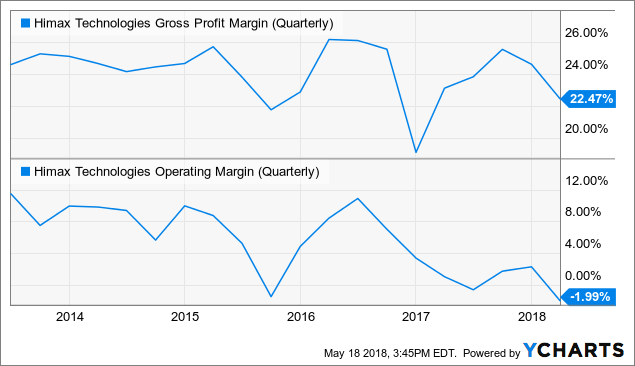 HIMX Gross Profit Margin (Quarterly) data by YCharts
Margins have trended down lately due to some headwinds but they will move up a tad in Q2 to around 23%. But as the figure below shows, OpEx has been trending up and profitability took a hit (from the earnings deck):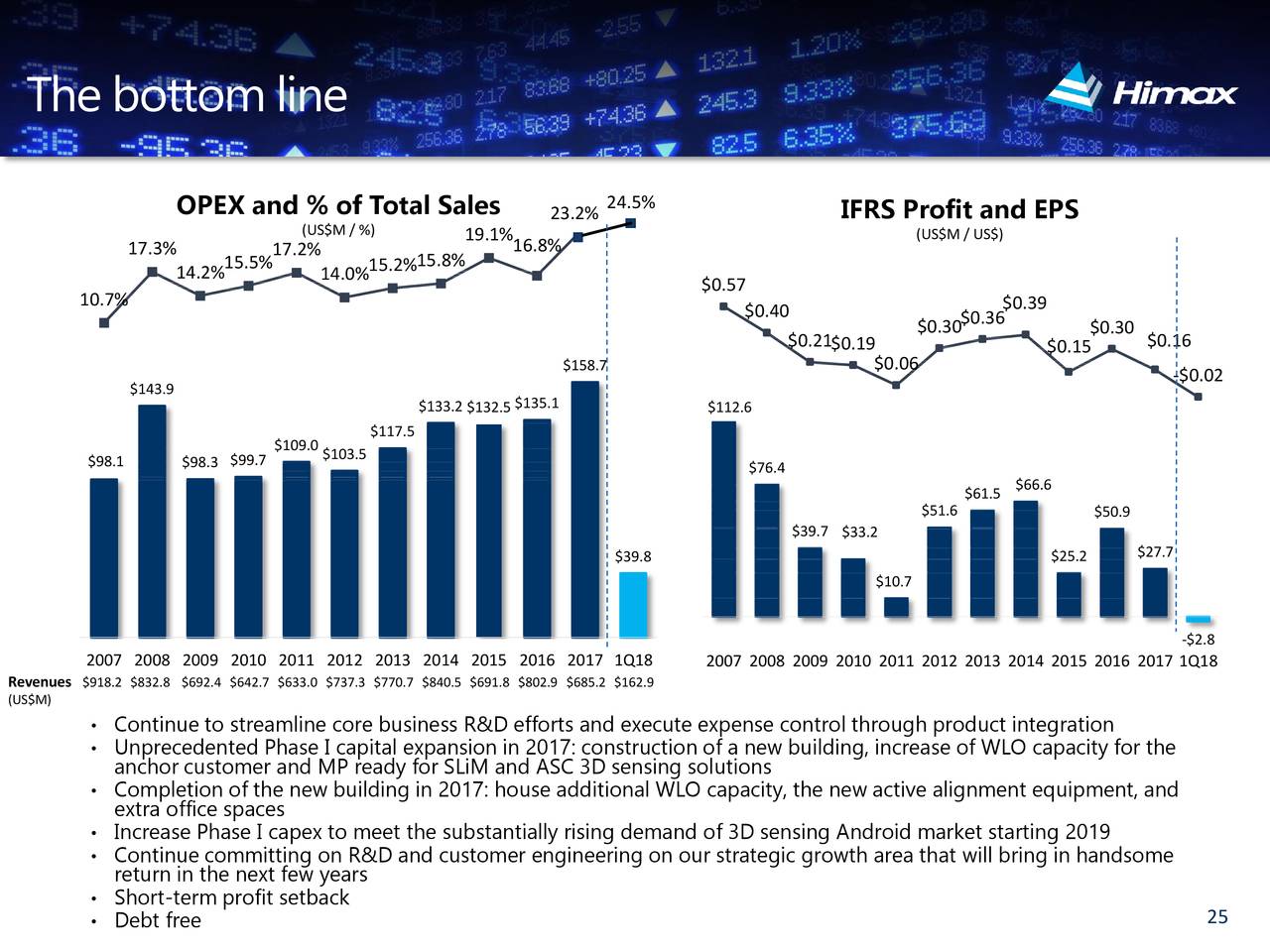 The company is also significantly increasing its CapEx, a so-called phase I program involving $105M in additional CapEx spending is already ongoing, involving a new building for the WLO production and trial runs of some of the parts for its 3D sensing solutions.
A phase II has been postponed due to the longer time it takes for the development, especially on the software side for the 3D SLiM solution.
Cash flow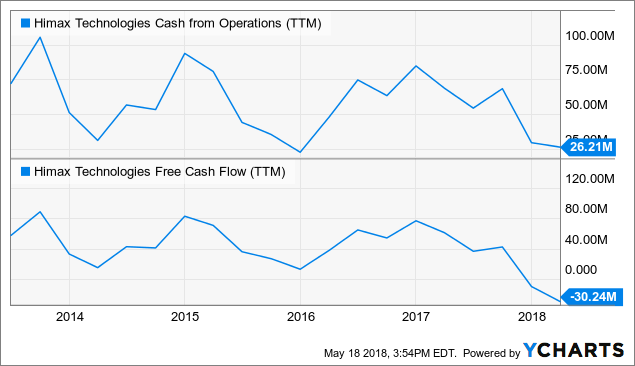 HIMX Cash from Operations (TTM) data by YCharts
The negative free cash flow is the result of the dividend and the increased CapEx ($18.6M versus $2M a year ago), but it doesn't seem the company is in any immediate bind (Q1CC):
We had 151.9 million of cash, cash equivalents and other financial assets as of the end of March 2018, compared to 199.5 million at the same time last year and 148.9 million a quarter ago. On top of the above cash position, restricted cash was 147 million at the end of the quarter, unchanged from 147 million in the preceding quarter and up from 107.4 million a year ago.
The company doesn't have debt, so should it run very low on cash, there are options available.
Valuation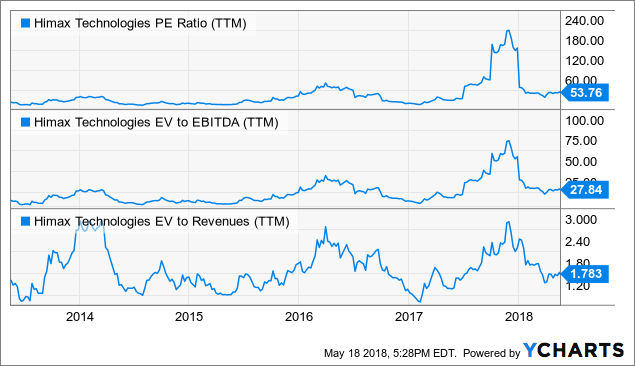 HIMX PE Ratio (TTM) data by YCharts
The shares aren't cheap, there was some margin compression due to headwinds like fab scarcity, mobile phone saturation and increased CapEx, and the figures are backwards looking. Revenue will be increasing between 9% and 14% sequentially.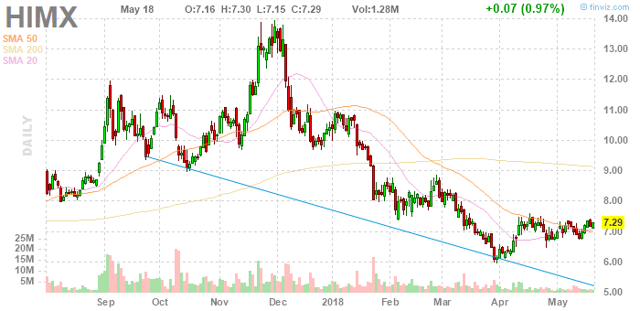 Conclusion
We are getting a bit more optimistic about Himax. It looks like its traditional business will be up for the rest of the year (display drivers for automotive are already booming).
By next year some of its new growth initiatives stand a good chance of taking off as well and here is where things could become interesting as the company has multiple opportunities with advanced products with high ASPs and margin characteristics.
For next year, that could deliver a triple bonus of a reacceleration of revenue growth, materially higher margins and a tapering of CapEx. While the signs are positive, all of this remains to be seen and management has yet to reveal what its phase II consists off.
With the shares just off the 52-week lows, we think that gradually there are better times ahead when existing products recover and investors start to position for 2019.
Two caveats are that the shares aren't cheap, and OpEx and CapEx have risen notably, but it does pay a substantial dividend (yield 3.29%).
Disclosure: I/we have no positions in any stocks mentioned, but may initiate a long position in HIMX over the next 72 hours.
I wrote this article myself, and it expresses my own opinions. I am not receiving compensation for it (other than from Seeking Alpha). I have no business relationship with any company whose stock is mentioned in this article.
Editor's Note: This article covers one or more stocks trading at less than $1 per share and/or with less than a $100 million market cap. Please be aware of the risks associated with these stocks.