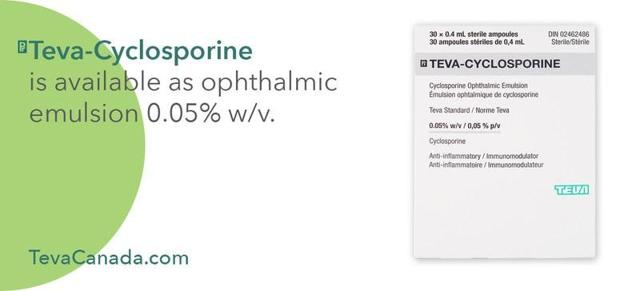 Source: newswire.ca
Last week Teva (TEVA) announced it had launched a generic version of Allergan's (AGN) blockbuster dry-eye drug Restasis in Canada:
Teva Canada Limited, a subsidiary of Teva Pharmaceutical Industries Ltd., announced the launch of Teva-Cyclosporine庐 ophthalmic emulsion, 0.05% w/v, a Health Canada approved twice-daily eye drop solution and the first generic version of Restasis庐 (cyclosporine) in Canada.
Cyclosporine ophthalmic emulsion is indicated for the treatment of moderate to moderately severei aqueous deficient dry eye disease, characterized by moderate to moderately severe: ocular staining, reduction in tear production and fluctuating visual symptoms, such as blurred vision.
Reports suggest Restasis had annual sales in Canada of $46.5 million. The Restasis patents were invalidated in U.S. Federal Court due to obviousness last year. Teva's launch could have implications on the possibility of a generic version of the drug being approved in the U.S.
Restasis Is Of Extreme Importance To Allergan
Restasis is highly-important to Allergan. The drug generated $274 million in revenue in Q1 2018, down 15% Y/Y; $18 million was generated internationally. Despite the decline Resasis is still Allergan's second-leading drug at over 7% of total revenue.
The therapeutics segment that Restasis is a part of has a contribution margin of nearly 69% versus 64% for U.S. General Medicine and 54% for international. Any additional hit to Restasis could have an outsized impact on Allergan's contribution margin and EBITDA.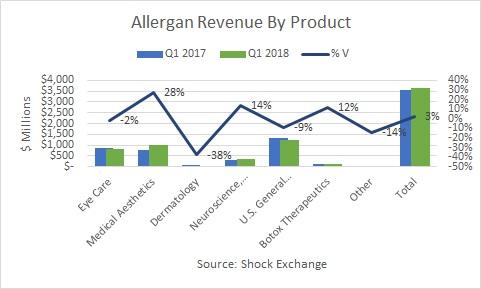 Allergan's total Q1 2018 revenue was up 3% Y/Y. It was stymied by a 2% decline in Eye Care and and a 9% decline in U.S. General Medicine. U.S. General Medical is the company's largest segment in terms of revenue and is facing a loss of exclusivity ("LOE") for several products. Eye Care includes Restasis, and will likely fall further once Teva's generic Restasis kicks in. Generic Restasis could reduce Restasis sales in Canada by 50% on a decline in price alone. Though Canada would represent only 4% of total revenue, generic competition would provide a headwind to Allergan's second-largest product when the company could least afford it.
AGN is off by over 30% Y/Y and management is seeking strategic options to drive the share price higher. I believe it may seek to monetize some or part of its Botox franchise which could spike the stock; however, it must also keep other parts of its operations from eroding to make any short-term gains last.
Potential Impact On Restasis In The U.S.
Allergan is currently locked into a patent battle in the U.S. with Mylan (MYL) and Teva pursuant to Restasis. An inter partes review ("IPR") brought on my Mylan could be completed within months. If Mylan wins the IPR then it could finally clear a path for generic Restasis in the U.S. It would be odd for Canada to have a generic version of high-priced Restasis and U.S. consumers not also have access to it. Canada's generic approval could (1) pressure U.S. courts to disallow Allergan and the St. Regis Mohawks's bid to block Mylan's patent challenge and (2) it could pressure the FDA to approve generic Restasis as soon as possible.
Conclusion
Canada's approval of generic Restasis could pressure U.S. regulators and/or lawmakers to approve a generic version by the second half of 2018 or sooner. Generic Restasis could drive down Allergan's revenue and EBITDA, and hurt the stock regardless of any strategic review. Sell AGN.
Disclosure: I am/we are short AGN, TEVA.
I wrote this article myself, and it expresses my own opinions. I am not receiving compensation for it (other than from Seeking Alpha). I have no business relationship with any company whose stock is mentioned in this article.