Is Model 3 production finally at 2,500 cars per week?
We'll soon see.
Confirmation may take some time until Tesla (TSLA) releases its Q1 production numbers. Typically, the delay between registering VINs and building cars runs four to six weeks. However, being the end of Q1 this week, we will probably learn soon when Tesla releases Q1 production figures.
This change is taking place during the last two weeks of the quarter. So a production speed up won't change the quarterly production totals significantly.
But if real it affords Tesla the opportunity to run an entire quarter (Q2) at the new production rate and then demonstrate the financial strength it has long claimed would result from Model 3 production ramp when it releases Q2 financials in about four months.
Here's what happened last week.
Last week's VIN registrations were very unusual
For the past several months, Tesla has registered (give or take) about 3,000 new VIN numbers per month. That is around 750 cars per week this quarter.
On average, Tesla has (since September) registered three batches of VIN numbers every two months as can be seen in the graphic below found at the Bloomberg Model 3 Tracker site. At the site, you can scroll over the graph to find dates and more information.
It looks like Tesla has been filing larger monthly production estimates and smaller corrections.
There's approximately a four- to six-week delay between filing VIN numbers and the vehicles actually being built. This is the horizontal delay between the green line of VIN filings and the black line of slowly increasing vehicle production. The black line is an estimate of the number of vehicles built, while the green line is real VIN filings with the NHTSA.
See Bloomberg's site for a description of how they come up with the black line.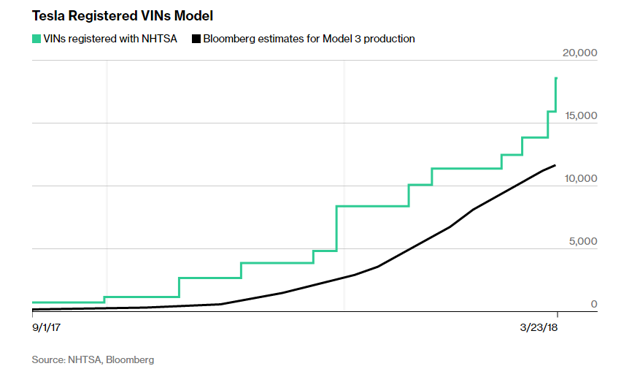 While Bloomberg hasn't increased its production estimate yet (the black line), it has noted the unusual activity regarding VIN filings in an article here. The green line shot upward last week, and if this is due to finally fixing the battery pack assembly with automated robotic assembly, then the black line will soon follow. We may see a sharp upward kink in the Model 3 production estimate any day now.
Tesla has so far made four filings in March with one week to go. As you can see below, each filing has been larger than the previous, and the time between the last two filings was just three days. Filings are busy work, so making filings once a month seems comfortable. Two per week is not. In other words, something changed and it's as if the filings needed to be increased because they weren't sufficient for the production now taking place.
Last week's registrations (4,717) were additionally unusual because on Tuesday they registered 2,062 and then just three days later on Friday they registered another 2,655. It's like whoever made the Tuesday filing goofed with too small a number and had to make a second filing to make up for the mistake.
Why make two filings in a single week? It's easier to just make a single filing for a larger number of vehicles… once a month. I'm guessing that the production rate suddenly changed and the accounting department had to catch up after the fact. It is as if additional filings needed to be added to accommodate a sudden change to production rate mid month.
In March, Tesla registered:
| | |
| --- | --- |
| March 1 | 1,088 |
| March 10 | 1,387 |
| March 20 (last Tuesday) | 2,062 |
| March 23 (last Friday) | 2,655 |
| Total for March (more than half were in the last week): | 7,192 |
For the past few months, on average, Tesla has filed batches of VIN numbers about once every three weeks. There is about a month or so delay between filing VIN numbers and vehicles rolling off the end of the production line. So the step increase in production last week will probably translate into increased Model 3 deliveries in April.
Stock Price Adjustment Likely
If true, I think it's likely the stock price will take a step upward on the confirmed news. That said, the overall market is down and that will reduce any Tesla shift.
Based on a wide variety of things I've read, I think Tesla finally installed the first assembly station for the new battery pack production, and more importantly, that it worked (is working).
During the last earnings call, Elon Musk stated that the battery pack robotic machinery was working in Germany and was being torn down and shipped to the Gigafactory where it would be re-assembled and put into operation by the end of March. That's right now, so this jump in production is what one should expect if the new machinery has been switched on.
A jump in production to take place during the last weeks of March fits the guidance in the last earnings call. It also means that the additional guidance for another production rate increase to 5,000 cars per week by the end of Q2 is still on target. To reach the next increase, most likely, a second robotic assembly cell needs to arrive from Germany and that cell should by now be nearing completion.
Apparently, the battery pack robotic cells produce around 2,500 packs per week per cell.
Conclusion
It appears that Tesla has installed a first new robotic battery pack production cell at the Gigafactory. Tesla may now be producing around 2,500 vehicles per week. This should be confirmed in early April when Tesla releases Q1 production information.
This is, additionally, indicative that Tesla is still on track to reach guidance of 5,000 cars per week by the end of Q2.
Tesla stock has been flat for the past year as Model 3 production woes have lingered. Production appears to be surging upward and one should expect the stock price to follow suit.
The Tesla Model 3 is poised to shatter all EV production and sales metrics.
Disclosure: I/we have no positions in any stocks mentioned, and no plans to initiate any positions within the next 72 hours.
I wrote this article myself, and it expresses my own opinions. I am not receiving compensation for it (other than from Seeking Alpha). I have no business relationship with any company whose stock is mentioned in this article.