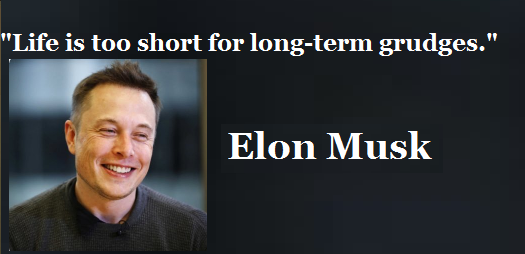 By K C Ma and Zachary Gunn
Admittedly, Teslas stock (NASDAQ: TSLA) may be the biggest battleground in todays market. There's no other stock that polarizes the longs and the shorts as much as Elon Musk and his company. In this article, we seek to compare the actual return performance of various Tesla investor groups. Long vs. short and retail investors vs. institutional investors.
Tesla Investor Groups
We first identified each investor entity using Bloombergs definitions as they break out each partys holding in the company from the stocks 13F filings (Table 1). (The SEC Form 13F is a filing with the Securities and Exchange Commission (SEC) also known as the Information Required of Institutional Investment Managers Form. It is a quarterly filing required of institutional investment managers with more than $100 million in qualifying assets.) Since each entity files its quarterly 13F on a different date, Bloomberg updates each stock 13F filings on a weekly basis. For example, as of May 20, 2018, the black Bloomberg screen below (Table 2) shows the most recent ownership breakdown for Tesla, per Table 1 definitions.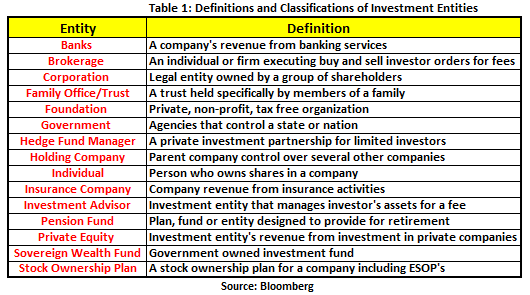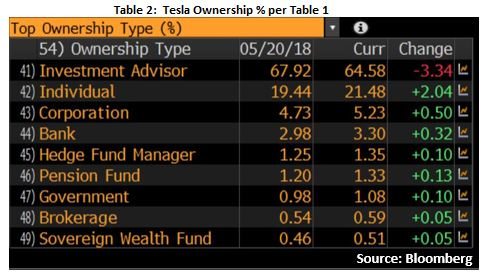 Tesla Institutional Holdings
For the purpose of this article, we measure the return performance of each group on its Tesla investments. We collected weekly ownership data for the period between January 2014 and May 2018. As the performance of short sellers is a main focus point, the data point has to start from 2014 because short sale data is only available after 2014 from the SEC due to the implementation of Regulation SHO. In Table 2-A, we showed some basic historical statistics for the ownership structure of each entity on its Tesla investment. During the period 2014-2018, the largest holder, Investment Advisers, on average owned 61% of Tesla shares, while banks own around 1.54% shares. For the purpose of this study, we aggregated banks, investment advisers, and hedge fund holdings (Figure 2-B) into a measure of institutional holdings which do not cover all typical institutions. Since we are more interested in the performance of institutions who have more discretionary decision power than typical passive buy-and-hold institutional investors, institutions like foundations, trust, private funds, or insurance company, and pension funds are not included in this new definition.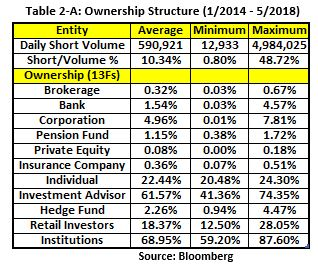 Tesla Retail Investors
We also are interested in the individual investors performance. Bloomberg uses company notes and filings to identify the ownership structure of individual investors, which averages around 22.44% for Tesla (Table 2-A). Upon further examination, Bloomberg Individual mainly consists of the holdings of Elon Musk. In order to get more color of the real individual retail investors, we computed the percentages share of holdings for retail investors by taking out the institution ownership, Elon Musks holdings, but add back the brokerage holdings, as it is more likely to be under the control of retail investors. Accordingly, the historical institutional holding and retail investors holding are displayed in Figure 8.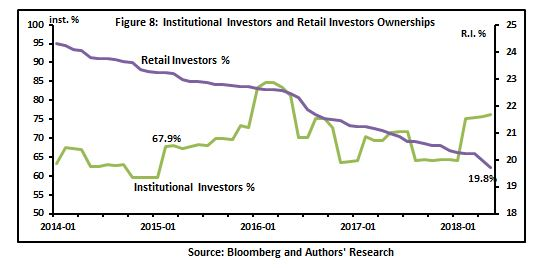 Tesla Shorts
Tesla daily short volume was obtained from FINRA short sale files, which averages at 590,921 shares a day, representing around 10% of the daily trading volume (Table 2-A). Maybe a result of higher valuation, Teslas short volume and short share increased significantly around 25% since 2016. The volatility of the short activities has increased at the same time (Figure 4). As usual, all data used in this study can be provided to readers upon request.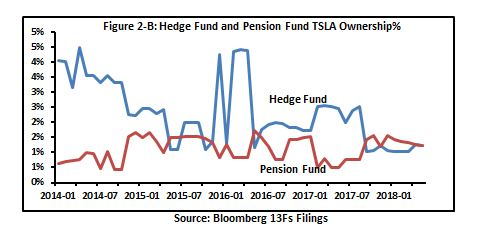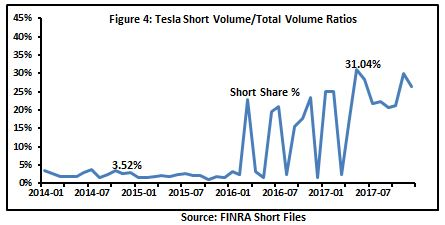 Performance Measurement
Since all investor groups have positions on a daily basis, the comparison of their performances will be meaningless because they would have the identical returns and the short sellers will have the opposite returns vs. the longs by design. For that reason, we only tracked the Tesla stock performance after the ownership level of each group reached some key level. The key level is picked as a relevant event because we are only interested in the case that the group has a significant change in ownership, signaling its change in company outlook. The key level is usually picked around the average ownership level of each group, as shown in Table 2-A. Whenever the key level is hit, we tracked Tesla returns for the following two months. The logic is to examine the performance of their voluntary changes of their Tesla investments.
Tesla Institutional Investors
Using the methodology and definitions described above, we first looked at the performance of the largest investor entity, institutions. In Figure 5-A, it shows that whenever the institutional holdings reached 67% or higher, they pretty much mirrored the average Tesla performance. However, when institutions investors increased their holdings to over 70%-75%, they started performing better than average investors. For example, when institution holdings reached over 80% ownership, their investments will make 9.46% in value over the next 40 days, compared to any other regular 40-day 3.6% return. The historical evidence suggests that institutions have made money based on their section ability of Tesla investments.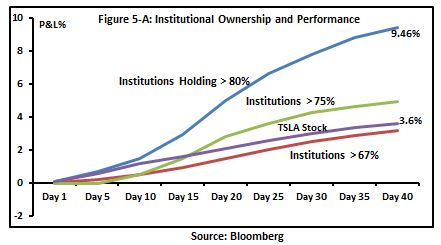 Tesla Retail Investors
Using the same method, we looked at retail investors Tesla performance after their holdings reached around 20%. When retail holdings reached over 20%, retail investors started outperforming. For example, when individual holdings reached 24% or higher, their investment returned 10.6% 40 days later, compared with regular 40-day +3.6% Tesla performance. It is clear that Tesla retail investors have a stellar record of their investment decisions (Figure 6-A).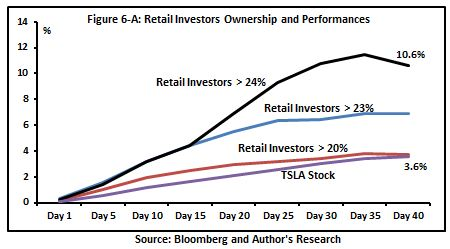 Tesla Short Sellers
We repeated the same process for Tesla short sellers (Figure 3). In this case, we used the short share ratio level as the key level to signify a significant bearish outlook. That is, if short volume ratio reached 25% or higher, short sellers will go into the short pain area or short squeeze which has resulted in 3% to 6% loss in the following 40 days.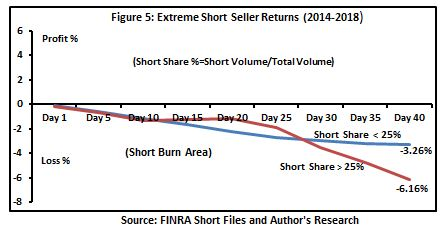 Who Is the Winner?
In summary, we used reasonable key levels of activity for each group to compare their investment performance in Tesla stock. For the period 2014-2018, when retail investors exhibited significant bullish moves in terms of increasing their long holding over 20%, their performance has fared best. Institutions, as specifically defined in this article, also performed better than average when they increased their holding beyond 70%. On the other hand, Tesla short sellers have experienced a short burn once the daily short volume share passed 25%.
Cautions
One caution to interpret the above statements is that these findings were derived under a specific set of conditions. They do not apply to average retail investors, institutions, or short sellers in a typical time period. The findings of this article also only apply to Tesla investments. As this is a historical performance report for different Tesla investor groups, no other assertions are being made about Tesla the company, TSLA the stock, or Elon Musk the CEO.
As Tesla is one of the most shorted stocks, the finding of this study may shed some light about the long-term debates between Tesla bulls and bears. In terms of what implications the finding may provide, we will leave up to the readers imagination.
As for the Tesla traders, there are key ownership levels which may predict future Tesla performance. Investors can use those indicators for their momentum or contrarian trading.
Disclosure: I/we have no positions in any stocks mentioned, and no plans to initiate any positions within the next 72 hours.
I wrote this article myself, and it expresses my own opinions. I am not receiving compensation for it (other than from Seeking Alpha). I have no business relationship with any company whose stock is mentioned in this article.