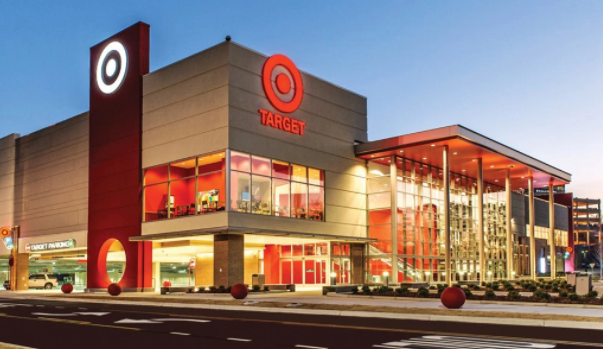 Image credit
Ive continued to be quite bullish on Target (TGT) in the recent past because I believe the run it has had of late is just the beginning of a longer term trend higher. The companys turnaround is progressing tremendously well and I also believe very much in the leadership team and its willingness and ability to pivot when necessary. One area I havent addressed, however, when it comes to margins is Targets rather substantial debt load and its detrimental impact to earnings. In this article, using data from Seeking Alpha, Ill show what Target has done with its balance sheet and the silver lining I see for margins down the road.
Total debt has been rather steady, but expensive
Well begin with a quick look at Targets total debt as well as interest expense for the past five years and estimates for this year to get a baseline.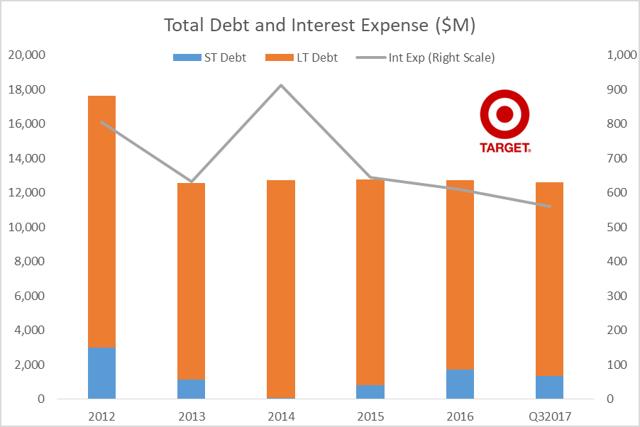 Chart created by the author using data from Seeking Alpha
Total debt has been flat since 2013, although the mix of short term and long term has shifted somewhat. While a steady amount of debt is actually a bit of an anomaly these days among big companies years of ultra-low rates have made borrowing attractive Targets current debt load is better than a third of its market cap. Thats a lot of debt for any company and while Target has been able to carry it, having that much is somewhat limiting in terms of new borrowing for acquisitions or buybacks.
Interest expense has been choppy but the trend has been lower over time. The last couple of years has seen interest expense around $600M and it looks like well be right in that neighborhood again this year. Given how much debt Target has, thats a little on the high side for financing costs. But to be fair, it has drifted lower over time and that helps with margins as interest expense directly decrements earnings.
Earnings have suffered from high interest expense
Now that weve gotten a look at the raw numbers, lets dig into what they mean for the stock. This chart shows the same time frame as above but with interest expense as a percentage of operating income. The idea here is to see how much of the companys operating earnings are given away to financing costs and assess the impact in a relative sense.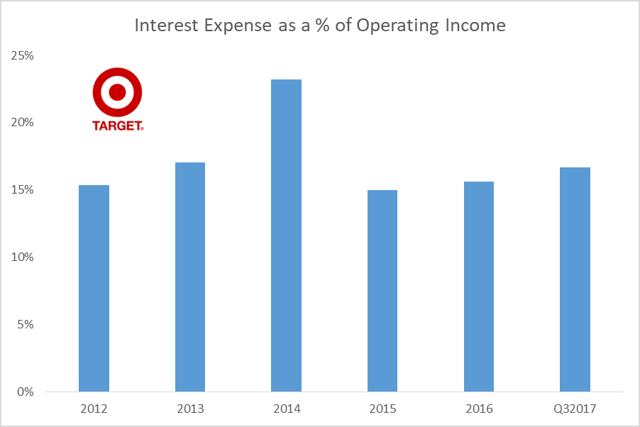 Chart created by the author using data from Seeking Alpha
For Target, it is quite a lot. The lowest values in this data set are in the 15% area, which is sizable to say the least, and this year is on track to be more, albeit with the fourth quarter pending. Whether this year ends up being 17% or something else isnt of great consequence; the point here is the Targets sizable debt load is taking a big toll on the income statement every year. Basically, one out of every six or seven dollars in operating income produced by Target is consumed by financing costs. Put in those terms, the magnitude of the problem is painfully apparent.
However, management has proven it is willing to pay down debt early, as it did in the third quarter, and as it continues to produce excess cash, well probably see more of that. Obviously management knows debt is a problem and given it has proven willing to do something about it, I suspect well see lower debt balances going forward, not higher ones.
Still, with the amount of work that needs to be done on debt, Targets lower expected earnings in the coming years may prove problematic. If Target cannot reduce interest costs more quickly than earnings decline, its percentage of earnings consumed by interest expense will rise and become an even larger issue. I believe in Targets strategic direction, in its leadership and its off-the-wall ideas like the Shipt acquisition. Its new pricing policy has given me pause because it means lower margins but on balance, Im still very bullish Target. Its debt load has the ability to exacerbate any earnings declines, however, because unless it pays off a bunch of it quickly, were likely to see interest expense deleverage into 2018. In other words, to me, this is the biggest risk to Targets earnings next year.
Lower gross margins from the new pricing strategy are priced into the stock. But interest expense will act like a lever up or down depending upon the direction that earnings go since interest expense doesn't move around much. By this I mean that if earnings come in better than expected, well see interest expense leveraged and it will be less of a burden. If earnings fall more than expected, the opposite will happen and we could see interest expense creep towards 20% of operating income. I dont think that will happen but as I said, I think this is Targets biggest risk for 2018. I love its strategic direction and the execution in the past few quarters has been great. But this company has a lot of debt and it has the ability to further deteriorate earnings if things go off the rails. Its not keeping me from staying bullish in the mid-$60s but if you own the stock, youd do well to keep a keen eye on the balance sheet going forward.
Disclosure: I am/we are long TGT.
I wrote this article myself, and it expresses my own opinions. I am not receiving compensation for it (other than from Seeking Alpha). I have no business relationship with any company whose stock is mentioned in this article.
About this article:ExpandAuthor payment: $35 + $0.01/page view. Authors of PRO articles receive a minimum guaranteed payment of $150-500.Tagged: Investing Ideas, Long Ideas, Services, Discount, Variety StoresWant to share your opinion on this article? Add a comment.Disagree with this article? Submit your own.To report a factual error in this article, click here