Welcome to the world of leather crafting. The world where Tandy Leather Factory (TLF) reigns supreme. Tandy Leather Factory is a niche specialty retailer that dominates the leather crafting market in an undisputed and absolute way.

But Tandy has a problem. It stopped growing in 2014. Sales peaked at $84mil and in 2017 were at $82mil. A lot of people think that this was because the leather crafting market stopped growing. And they are afraid that it will start shrinking. Fortunately, they are wrong.
Tandy Leather Factory IS the US leather crafting market. Tandy doesn't just sell leather, tools and accessories. Tandy educates and teaches its customers how to use the materials and how to achieve their creations. Every store has regular classes or shows and you can find one near you here.
This is from the latest 10-K:
[] Most of our competition comes in the form of small, independently-owned businesses some of which are also our customers. These small businesses generally carry only a limited line of leathercraft products. We also compete with several national chains that also carry leathercraft products on a very small scale relative to their overall product line. We also compete with internet-based retailers that provide customers the ability to search and compare products and prices without having to visit a physical store. We compete on price, availability of merchandise, depth of our product line, and delivery time. While there is competition with a number of our products, to our knowledge, there is no direct competition affecting our entire product line. Further, to our knowledge, our store chain is the only one in existence solely specializing in leathercraft. []
And this:
[] Our customer base is diverse, with individual retail customers as our largest customer group, representing approximately 60% of our 2017 sales. The remaining portion of our 2017 sales were to our wholesale, manufacturer and institutional groups (including horse and tack shops, Western wear, crafters, upholsterers, cobblers, auto repair, education, hospitals, prisons and other large businesses that use our products as raw materials to produce goods for resale). []
Basically even the small shops that compete with Tandy buy things from Tandy because it is way cheaper for them than buying from the source. But this doesn't explain why Tandy stopped growing. Which brings us to the key issue.
People.
Shannon Greene (Tandy Leather Factory CEO) on Q4 2016 earnings call (emphasis mine):
And what we are most excited to roll out [] is our new district restructuring. In the past, we've operated with regional managers across a small member of geographically large region. The size of the regions made it almost impossible for our regional managers to visit the 20 to 25 stores that they had to support with any semblance of defectiveness.
Today, we are now operating 15 districts that report up to two regional managers. Each of the districts contains 6 to 10 stores in a much smaller geographic footprint, which allows our district managers to help our stores road traffic and sales much more effectively. Under the old footprint, our regional were busy putting out fires. With a smaller geographic footprint and number of stores, we expect our district managers can train the next generation store managers and associates to better serve our customers and succeed in today's retail environment.
So far we've got 10 of the 15 district managers placed.[]
With the increase in our minimum salary base for our store managers, we believe we now offer a very competitive compensation structure that will allow us to attract and retain stronger store managers and associates, our people is where it starts. []
In summary, we've accomplished a lot since I took over in February, 2016, but we still have a lot of work to do. I'm very excited about the foundation for growth that we are rebuilding.
Tandy's most serious problem was that it couldn't find enough capable store managers that were also knowledgeable enough about leather crafting. And they couldn't train those that they had sufficiently because the regional managers were working in a responsive manner trying to be in too many places at once.
The key change here isn't just increasing store manager base salary from $36,000 to $50,000. The biggest change is introducing a new management layer between store managers and regional managers. This way Tandy can offer to worthy people both higher compensation and a more interesting career path.
The second key element to unlocking growth is the Pinners Conference & Expo: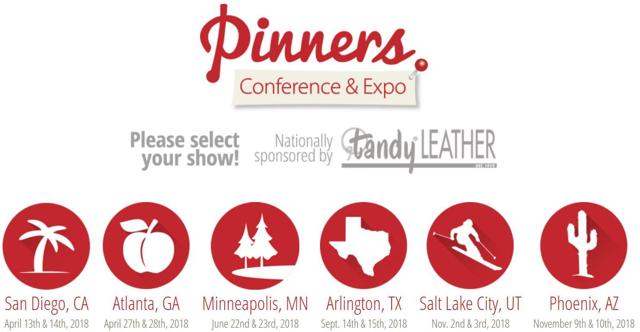 What is the Pinners Conference & Expo?
Pinners is two great events in one. It's a conference featuring 100+ Pinterest-based classes taught by the best presenters in the nation. And it's also a show with nearly 300 top businesses providing beautiful options in the worlds of DIY, crafts, cooking, self-improvement, photography, party planning, scrapbooking, holiday, beauty and fashion and all sorts of other great things. What's Pinners? It's where Pinterest comes to life. And after you come, it'll be your new favorite event!
The description is from the San Diego conference page. This series of events that are sponsored by Tandy are a great way of increasing the leather-crafting community. Pinterest has been a great social platform for hobbyists and leather crafting is no exception.
This is Shannon Greene Tandy's CEO from the latest Q1 2018 earnings call:
From a brand awareness standpoint, we just completed two out of the six scheduled Pinners Conference & Expo, which are two day events focused on crafting for which Tandy is the title sponsor. The first Pinners Conference was held in San Diego in mid-April and the second was in Atlanta this past weekend. Similar to what we saw in 2017, we hosted four leather crafting classes at each conference, all of which were sold out.
The enthusiasm and interest from these crackers and do-it-yourselfers was phenomenal. And it was very exciting to introduce them to leathercrafting as an additional creative outlet for expression. Im confident that our sponsoring the Pinners Conference will continue to generate new customer interest and I look forward to the next four shows that will take place this summer and fall.
Of course, this is not some massive proselytizing event but it will create a positive upward trend that will make leather-crafting more popular among the DIY population.
Now, let's talk numbers.
In the Q4 2017 earnings call, management set a clear target for the following years:
Looking out even further than 2018, we believe our long term strategy to drive sustainable growth in traffic and sales will achieve fiscal year 2020 financial targets, approaching $90 million in net sales and a return to greater than 10% operating income margins.
Currently at $7.85, Tandy is trading at 10 times 2017 operating income. With the same multiple Tandy would be priced at $9.7/share or 23.5% higher if management achieves their goal.
However, I believe that within the next 5 years, Tandy can achieve $100mil of revenue and a 12% operating margin (it was above 14% in 2013 and 2014) which gives a potential value of $13/share or a 65% gain.
Add the company's clear willingness to buy back stock (they bought almost 1mil shares in 2016 and have done opportunistic moves since) or give out special dividends when deemed appropriate and the reward profile for the next 5 years could easily increase to 85%. Good allocation is safeguarded by an aligned board of directors, as certain board members along with the CEO control 42.82% of the shares. Also, executive compensation is primarily cash-based with almost zero dilution from vesting stock awards.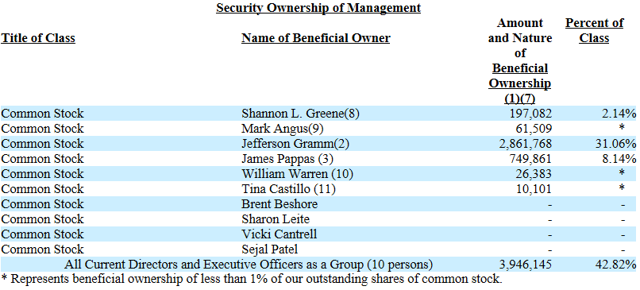 Wrapping it up
Tandy is a cheaply priced niche monopoly company with great margins, wide moat and only one challenge. Increasing its client base either through new stores or through increasing interest in leather crafting.
Good scenario: Tandy achieves $100mil of revenue and 12% operating margin within the next 5 years. Assuming another million share buyback in this time frame, share count could be at 8.3 million. That is $14.5/share on a 10X operating earnings multiple. 85% gain (good but not impressive).
Bad scenario: Tandy despite its efforts trying to grow, manages to just remain still at $85mil with a 10% operating margin on the same share count. That is a $9.2/share on a 10X operating earnings multiple. 17% gain (barely enough to account for inflation).
I own Tandy shares for my portfolio and my rationale for this investment can be summed up in this quote:
Focus on the downside and the upside will take care of itself.
Only time can tell if this is a good investment or not. In the current exuberant environment, I just try to be as fearful as is reasonable for a long-only investor.
Cheers!
Disclosure: I am/we are long TLF.
I wrote this article myself, and it expresses my own opinions. I am not receiving compensation for it (other than from Seeking Alpha). I have no business relationship with any company whose stock is mentioned in this article.
Editor's Note: This article covers one or more stocks trading at less than $1 per share and/or with less than a $100 million market cap. Please be aware of the risks associated with these stocks.