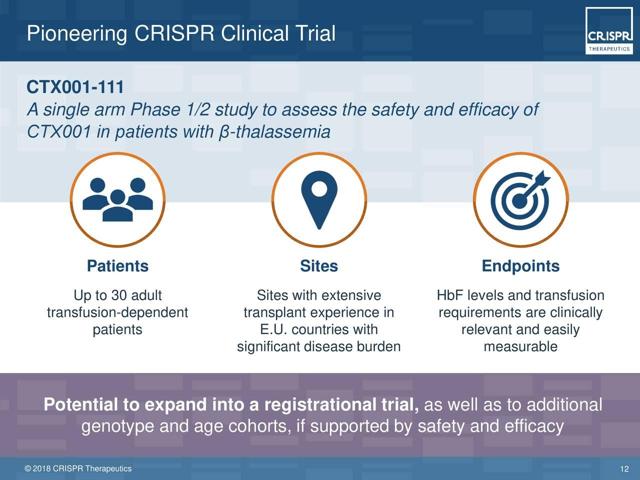 This article is part of a series on genomic medicine which is poised to transform healthcare over the next two decades. The first article entitled Genomic Medicine: Catch the Gene Therapy Wave is a primer providing context for company-specific articles in process.
CRISPR Therapeutics (CRSP) is preparing for their clinical debut in 2018 with lead candidate CTX001. Their CTX001 CTA was filed for beta-thalassemia last December and just recently approved, paving the way to CRISPR's European clinical trial initiation expected later this year. Management expects to file an Investigational New Drug "IND" application with the FDA in 1H18 for SCD. These trials are likely to be closely monitored as they face-off with competitive trials from Bluebird (BLUE) and Sangamo (SGMO). The comparison with Sangamo is the most intriguing considering their respective timetables. As a real-time molecular engineering test of CRISPR versus ZFN in a clinical setting, it doesn't get much better than this. Bluebird's lentiviral-based gene therapy trial will present mature data benchmarks likely edited using their metaTAL editing approach.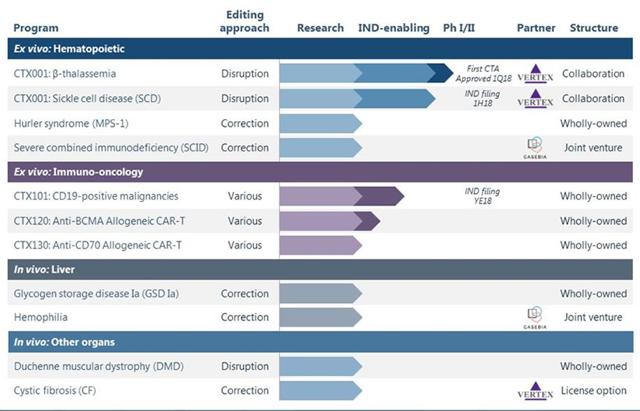 Beta-thalassemia and sickle cell disease "SCD" are hemoglobinopathies linked to mutations in the beta-globin or HBB gene. Both diseases manifest shortly after birth during the transition from fetal hemoglobin or HbF, the primary oxygen transport protein during uterus development, to adult hemoglobin or HbA.
CTX001 Vertex (NASDAQ:VRTX) collaboration
CTX001 is an autologous ex vivo CRISPR-edited cell therapy. The CTX001 therapy edits hematopoietic stem cells or HSCs to disrupt a specific enhancer of the BCL11A gene using Cas9 protein. This down-regulation of BCL11A expression is expected to up-regulate HbF to correct the HBB gene mutation. In preclinical CTX001 studies, this process demonstrated the ability to edit HSCs with approximately 80% efficiency at scale.
We observed this high editing efficiency across all stem cell subsets, including in long-term repopulating HSCs. After erythroid differentiation, this editing resulted in HbF accounting for greater than 30% of total hemoglobin in edited cells, compared to approximately 10% HbF in the control arm of the study. On a per cell basis, more than 90% of cells had modifications at the desired location, with 76% of the cells having edits in both copies of the target gene, and 16% of the cells having edits made on one copy of the target gene. We estimate that this editing rate results in HbF expression levels of greater than 35% in cells that have edits on both copies of the target gene, and over 20% for cells edited at one gene. (Source: 2017 10k)
Sangamo (NASDAQ:SGMO) collaboration with Bioverativ (NYSE:SNY)
Sangamo-sponsored BT-400-beta-thalassemia Bioverativ-sponsored BIVV-003-SCD IND filed
ST-400 and BIVV-003 are autologous ex vivo ZFN-edited cell therapies. They both intend to edit hematopoietic stem/progenitor cells or HSPCs to switch the BCL11A expression in mutant HbA back to that of functional HbF.
Preclinical data from clinical-scale in vitro studies have demonstrated that ST-400 and BIVV-003 can be manufactured by reproducible, high-level, ZFN-mediated modification in HSPCs mobilized in peripheral blood at clinical production scale (>108 cells), with an on-target modification efficiency of greater than 80%. Furthermore, erythroid differentiation of enhancer targeted cells showed modification of both BCL11A erythroid enhancer alleles in more than 50% of the erythroid colonies and resulted in a greater than four-fold increase in gamma globin mRNA and protein production, compared to controls. Specificity studies of ST-400 and BIVV-003 revealed no detectable off-target activity using state-of-the art, unbiased, highly sensitive oligo-capture assays. Preclinical data from in vivo studies in immune-deficient mice demonstrated robust long-term (19 weeks) engraftment and that targeted gene modification was maintained through multi-lineage differentiation in the bone marrow and peripheral blood. (Source: registration statement filed April 26, 2018)
Summary
The long-awaited first head-to-head comparison of CRISPR and ZFN genome editing in a clinical setting is about to kick off. The therapeutic approach being used is virtually identical aside from the cutting molecules with both targeting the same indications and BCL11A gene to be edited. Lots of time to get the popcorn though. Data likely won't be available for quite a while, but the buildup will likely be worth the wait.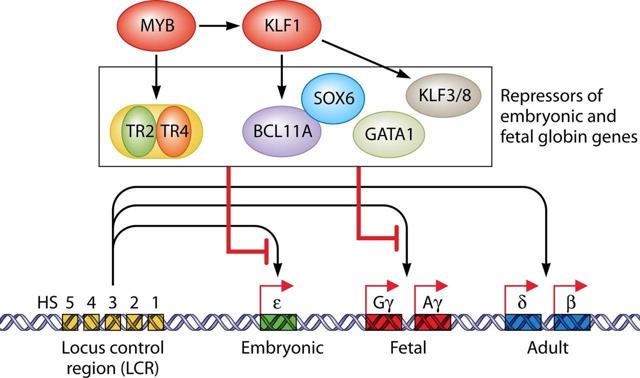 Investor be forewarned: This is a very volatile space. Many of the trials being initiated are for rare diseases for which there are no or limited alternative treatments. These patients can have serious medical issues and short life expectancy. The FDA approval process may take this into account, accelerating clinical initiation to provide the chance of improved quality of life. These conditions increase the risk of news similar to that of Juno last year, which precipitated a significant drop in valuation.
My tracking companies include Abeona Therapeutics (ABEO), bluebird bio, Audentes Therapeutics (BOLD), AveXis (AVXS), Cellectis S.A. (CLLS), CRISPR Therapeutics, Editas Medicine (EDIT), Intellia Therapeutics (NTLA), Spark Therapeutics (ONCE), Uniqure N.V. (QURE), Regenxbio (RGNX), Sangamo Therapeutics and Voyager Therapeutics (VYGR). The most active collaboration partners of this group are Celgene (CELG), Gilead (GILD), Novartis (NVS) and Pfizer (PFE).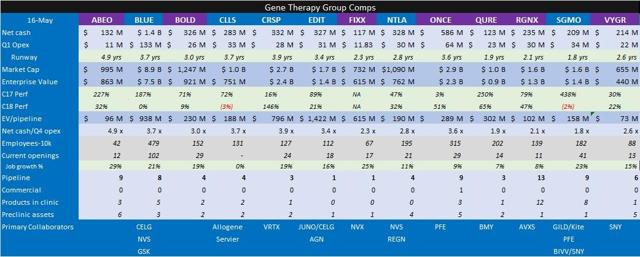 Disclosure: I am/we are long ATRA, CELG, GILD, RGNX, SGMO.
I wrote this article myself, and it expresses my own opinions. I am not receiving compensation for it (other than from Seeking Alpha). I have no business relationship with any company whose stock is mentioned in this article.