Long ago, Ben Graham taught me that Price is what you pay; value is what you get. Whether were talking about socks or stocks, I like buying quality merchandise when it is marked down. – Warren Buffett
Achaogen (NASDAQ:AKAO) is a stellar investment for opportunistic investors. Interestingly, the stock recently tumbled subsequent to the May 02 advisory committee (ADCOM) meeting. Notably, the expert panel voted unanimously (15-0) in favor of its approval for cUTI treatment. Nevertheless, there were only 4 out of 11 members who supported its approval for BSI. In the prior research, we elucidated plazomicins prospects and concluded that it is most likely to earn the approval for both aforesaid conditions (which has the set PDUFA on June 25). Moreover, we assessed that the CARB-X award adds further credence to the quality of its medicines. In this research, well explicate the other highly promising molecule in development (C-Scape).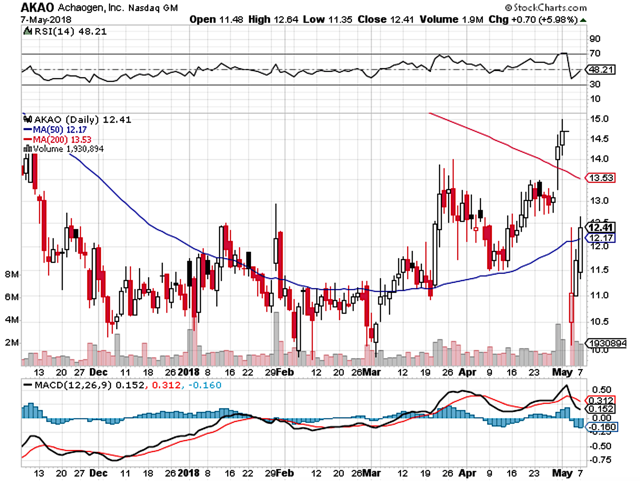 Figure 1: Achaogen stock chart. (Source: StockCharts).
Fundamental Analysis
Of note, we wish to briefly go over the company for those who are new to this investment. Accordingly, Achaogen is operating out of San Francisco, CA, and is focusing on the innovation and commercialization of medicines to treat resistant bacterial infections. The company prides itself on creating a work community that is scientifically driven, supportive, and collaborative. That corporate culture then translates into an organization that is brewing a highly promising therapeutic pipeline of the next-generation antibiotics to potentially serve countless patients (as shown in figure 2).

Figure 2: Therapeutic pipeline (Source: Achaogen)
While there are tremendous prospects in plazomicin, Achaogen is concurrently developing another promising molecule (C-Scape) to curb the increasingly alarming antibiotic resistance (as depicted in figure 3). C-Scape is a patient convenient and highly intelligent combination of ceftibuten (an approved 3rd-generation cephalosporin) and clavulanate (a highly efficacious beta-lactamase inhibitor). With excellent design, the clavulanate component neutralizes the bacterial enzyme (beta-lactamase) that, in and of itself, helps bacteria to become drug-resistant. Needless to say, both separate drugs have years of data supporting their efficacy and safety.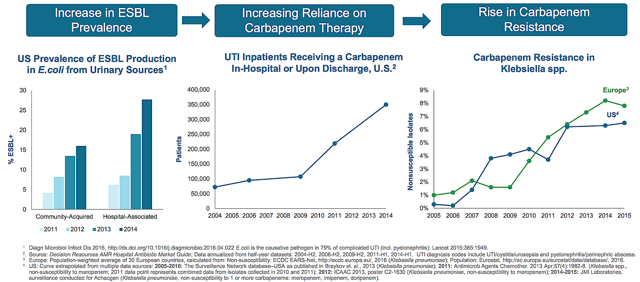 Figure 3: Increasing carbapenem antibiotic resistance (Source: Achaogen investor presentation).
As an oral antibiotic, C-Scape is most likely the silver bullet for patients suffering from cUTI (whose bacteria are already resistant against the standard of care, the oral antibiotic amoxicillin). These bugs include the extended-spectrum beta-lactamase (ESBL)-producing E-coli and Klebsiella. Notably, the standard of care places an oral antibiotic for UTI to be the first-line treatment. That being said, the increasing resistance to oral drugs is quite concerning. Given that IV antibiotics are the last treatment resort for this infection, the demand for efficacious oral meds (to preserve and protect the last line, IV-treatment) is quite robust.
Despite that the data for C-Scape came from early studies, both the clinical and non-clinical findings were highly promising. It was found in vitro (test tubes) investigations that C-Scape has the potent activity against ESBL-producing Enterobacteriaceae and rapid bacterial killing (bactericidal) property in time-kill experiments. As alluded, the strong preclinical outcomes prompted Achaogen to initiate the phase 1 clinical study in 2017. Thereafter, the human trial commenced early this year.
Per figure 4, C-Scape has superb efficacy and safety across all doses, thereby indicating excellent benefits to risks profile. Notably, Achaogen intends on conducting additional development (including a phase 1 clinical pharmacology study to gauge the likelihood of clinical and commercial success). Thus far, the early data in combinations with the pharmacokinetic models based on the science of beta-lactam/beta-lactamase inhibitor suggests that the oral three times daily dosing is best.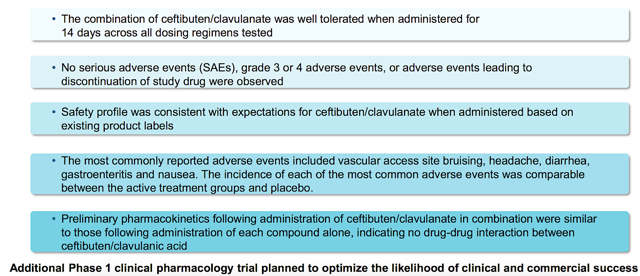 Figure 4: Stellar phase 1 clinical outcomes for C-Scape (Source: Achaogeninvestor presentation).
Its important for investors to be cognizant that Achaogen earned the BARDA contract back on September 2017. The prize entails $12M funding over the 9-month period (and the option to garner up to $18M in total). That aside, the FDA awarded C-Scape the Qualified Infectious Disease Product (QIDP) status for the treatment of cUTI, including acute pyelonephritis. The special designation allows C-Scape to have priority review and additional market exclusivity.
Final Remarks
In all, the recent ADCOM disappointment for plazomicin is certainly temporary. The stock is already heading northbound toward the PDUFA set on June 25 – a binary event that has a favorable chance of catapulting the shares to a new high. The other highly likely scenario is that plazomicin will be prescribed off-label for BSI. As reflective of the stellar quality of its meds, the company recently won the CARB-X award for plazomicin and QIDP for C-Scape. Furthermore, C-Scape will highly likely post strong clinical outcomes (and to gain approval) to offer patients suffering from cUTI another outstanding treatment option. The key concern at this point in its growth cycle is that the stock is still binary in nature. In case if both cUTI and BSI fail to gain an approval on June 25, one can expect the shares to tumble over 80% and vice versa. Last but not least, wed like to bid adieu by alerting investors to the presence of other innovators in the Specialty Report such as Melinta Therapeutics (NASDAQ:MLNT) and Paratek Pharmaceuticals (NASDAQ:PRTK).
Authors Notes: Were honored that you took the time to read our market intelligence. Founded by Dr. Hung Tran, MD, MS, CNPR, (in collaborations with Analyst Vu, and other PhDs), Integrated BioSci Investing (IBI) is delivering stellar returns. To name a few, Nektar, Spectrum, Atara, and Kite procured over 322%, 138%, 205%, and 83% profits, respectively. Our secret sauce is extreme due diligence with expert data analysis. The service features a once-weekly exclusive Alpha-Intelligence article, daily analysis/consulting, and model portfolios. Of note, there is an IBI version of this article that is a higher-level intelligence with extensive details, in which we published in advanced and exclusively for our subscribers. And, we invite you to subscribe to our marketplace now to lock in the current price and save money for the future.
Disclosure: I/we have no positions in any stocks mentioned, and no plans to initiate any positions within the next 72 hours.
I wrote this article myself, and it expresses my own opinions. I am not receiving compensation for it (other than from Seeking Alpha). I have no business relationship with any company whose stock is mentioned in this article.
Additional disclosure: I like to inform our readers of Seeking Alpha's recent policy change, in which the company implemented the paywall (not only to my articles but to all articles that are published over 10-day). This is in place, as the company is, after all, a business. And, the revenues from ads are not adequate to support the high-quality research that the company is providing. If you are a REAL TIME FOLLOWER, you will be notified immediately of our new research for you to continue to benefit from our due diligence. You can also gain access to all of my old articles and much more by taking the 2-week FREE trial of my marketplace, Integrated BioSci Investing.