Alliance Data Systems Corporation (ADS) has traded much lower through 2018. Market-wide worries about rate increases pulled back valuation premiums overall.
The company's market is particularly exposed to interest rate risks. This situation justifies a pullback, but I believe that the dramatic selloff it's currently experiencing is unwarranted and overdone.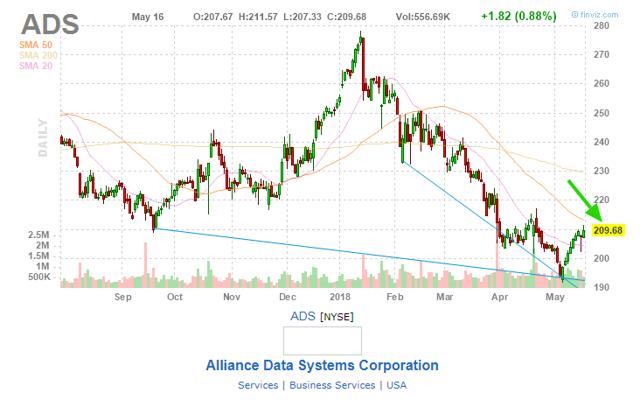 Source: Finviz, Quote ADS.
Business
ADS is a marketing consulting firm that utilizes data analytics to provide its clients with market insights and other services. It's also exposed to the financial sector through unsecured credit, which is dependent on consumer spending on associated stores.
Their market mainly consists of big corporations and business that require consulting services. Bank of America (NYSE:BAC), General Motors (NYSE:GM), FedEx (NYSE:FDX), Kellogg (NYSE:K), and Marriott (NYSE:MAR) are among their clients. ADS provides them with customer loyalty programs from data captured in client interactions. With this data, it can run algorithms and extract insights that are valuable for clients.

Source: Alliance's logos.
Naturally, ADS has longstanding client relations, which makes it a relatively predictable entity. Business wise, they operate in the following segments: LoyaltyOne, Epsilon, and Card Services.
LoyaltyOne: This segment consists of the popular AIR MILES reward program. It also offers other short-term loyalty programs and loyalty services like consulting, analytics, and mobile applications. Epsilon: Provides clients with marketing services like CRM, agency services, data, and affiliate marketing. Card Services: This section of the business operates from receivables financing, processing services, and marketing services. This segment behaves very similarly to a credit card company.

Source: Alliance Data Systems 2017 annual report and author's elaboration.
Segment Breakdown
Out of the three segments, Card Services is the most prominent component of the company. In 2017, it reported total revenues of $4.17 billion. The same year the other two segments, LoyaltyOne and Epsilon, reached $3.58 billion together. The card services business is the most important for Alliance Data Systems.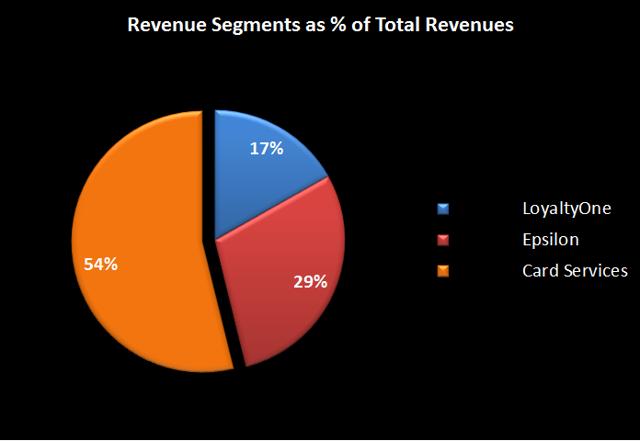 Source: Alliance Data Systems 2017 annual report and author's elaboration.
Going more in-depth into this segment, I found that the credit they give to their clients is unsecured. Because of this, they have to go to underwriters to securitize the debt and be able to sell it more efficiently. For this reason, ADS behaves similarly to a credit card company, where it has to run its big data algorithms to select the amount of exposure to each client and account approvals.

Source: Alliance Data Systems 2017 annual report.
This process of selection with big data analytics helps ADS keep its client delinquencies down. Last year, that figure sat at roughly 5%, but it's slowly rising year over year. This massive exposure to the Card Services market and their high levels of debt makes the company particularly sensitive to interest rate fluctuations.
Interest Rate Risk
Management recognizes that higher interest rates will reduce their FCF. Furthermore, it could derail any potential acquisitions or delay capital expenditures. Just for 2017, their interest expense was a whopping $564.4 million (7.3% of total revenues).
In other words, almost 35% of their operating expenses are paying off interest and other costs on their debt. This expense covers securitization funding costs, interest on deposits, and interest on long-term debt.
From their balance sheet, we can see that deposits (36%), their debt (20%), and other borrowings (29%) fund 84% of the company's assets. These percentages indicate that ADS is a highly leveraged company, although these figures are somewhat acceptable for businesses within the credit market.



Source: Alliance Data Systems 2017 annual report.
However, as interest rates rise, this could pose a severe problem for ADS. A mere 1% increase or decrease in rates could have a change in interest rate expense of $112 million. I expect interest rates to continue to rise this year. The ten-year could reach even 4% by EOY 2018. This market risk is material for ADS. Although, management expects to be able to hedge for this risk through derivatives and other interest rate securities.
I think that it's probably for this reason that ADS has traded lower this year. The crack in the bull market happened last February. It's always hard to pinpoint a specific cause for the pullback, but many agree it had something to do with rates rising. The 10-year treasury bond cracked 3% and that influences market prices.
The problem is that ADS stock has additional interest rate risk for the reasons I previously pointed out. On top of that, it's exposed to the credit card market, which is experiencing an increasing delinquency rate. As the Fed continues to tighten, ADS should see its costs and delinquencies rise, which could have a negative impact on results. As an added worry, the LIBOR is also increasing, which should drag results even further.
On The Other Hand
President Trump has brought with him a new age of deregulation and lower taxes for corporations. These should benefit particularly to ADS. Firstly, because Alliance Data previously paid one of the highest tax rates among Fortune 500 companies, hence, because of the tax cuts signed in 2017, it'll add $100 million in FCF for 2018.
Moreover, on the regulatory side of the business, the company's Card Service segment is subject to the Dodd-Frank regulations. These rules will most likely be reversed or eliminated soon. Hence, Alliance's business should benefit because of deregulation.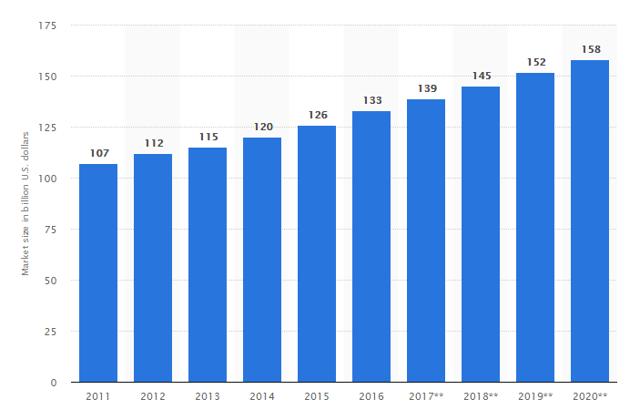 Source: Statista – Management consulting market size.
Also, the other two segments of ADS should be ok in my opinion. The marketing and management consulting market is expected to keep growing at a reasonable pace for the next few years. Secular growth should occur even despite the rise of ad blockers, cookie blockers, and tracking protection lists (TPLs). Nevertheless, those unlikely risks could render the company's marketing services obsolete.
Furthermore, other systemic risks shouldn't affect the company. For example, management claims that inflation is unlikely to hit their results for the time being.
Also, the AIR MILES and BrandLoyalty programs will benefit from the 2018 FIFA World Cup. This event should increase consumer spending with ADS and help generate double-digit growth in both of these segments.
Buybacks and Dividends
ADS is a very shareholder-friendly company. It has a stock repurchase program and recently announced quarterly dividends payable to shareholders. Their stock repurchases were done at the 225-240 range. These transactions give us an idea of where we're likely to find buying pressure.

Source: Alliance Data Systems 2017 annual report.
During 2017, ADS bought back 2.3 shares of its stock to the tune of $553.7 million. It still has left $446 million in dry powder to keep repurchasing its shares. Have in mind that it previously bought its shares at the 225-240 price range. Because of this, I'd imagine that management should find the current share price very attractive.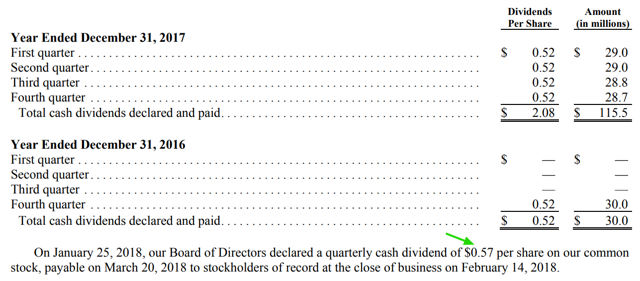 Source: Alliance Data Systems 2017 annual report.
Conclusion
ADS is a good value option. It's a stable business that's growing reasonable overall. At its currently low multiples, it looks like an attractive candidate for a value portfolio. ADS sports a meager PE ratio of 15.72, and its forward PE sits at 8.20.
It's also a company that has shown interest in its shares at higher levels than its current price tag and has enough free cash flow to buy back more shares. Also, its recent dividend announcement adds another shareholder-friendly aspect to the stock.
Nevertheless, investors should take caution with ADS because it's particularly exposed to interest rate risks. The firm's management has shown prudence and skill so far in this area. Moreover, they're aware of such systemic risks, and they're hedging their business through derivatives and other interest rate securities. Still, further rate increases should slow down Alliance's secular growth.
All in all, ADS presents risks that justify a slight pullback. However, after such a massive selloff, it currently offers an attractive value proposition for investors.
Disclosure: I/we have no positions in any stocks mentioned, and no plans to initiate any positions within the next 72 hours.
I wrote this article myself, and it expresses my own opinions. I am not receiving compensation for it (other than from Seeking Alpha). I have no business relationship with any company whose stock is mentioned in this article.