In 2017, Fossil (NASDAQ:FOSL) laid out an aggressive five-year strategic plan called "New World Fossil", looking to transform the business to adjust to the changing dynamics of the traditional and connected watch business. The story was grim – Fossil was at risk of obsolescence, traditional watches sales fell off for many quarters, and the company's ancillary products (leather and jewellery) suffered even more. The stock declined to $6 at one point.
A year later, Fossil has a new breath of life as smartwatches come to the fore, and showed that it is flexible and can transform into the new market! The stock is now $19.
This shows how emotional and short-term the market can be. The continuous slide of the share price spread the fear and affirmed investors that Fossil was deemed for failure. Chatter such as How many watches does a man need? Or Fossil is fossilising really showed how sceptical the market was with respect to the company. And madness is what it was with the share price. In the middle of this, we came out with a bold move at the beginning of the year and shared our opinion to buy in the stock. Now, at $19, we are adding more. The market likes stories, and the new story of Fossil is just starting to spread among investors.
The latest two earnings reports showed that the companys transformation plan – New World Fossil – is manifesting into tangible results. This quarters headline improvements were abundant and reflected in a huge change of sentiment in the market. So much so that even institutions are buying in.
And yes, we need to remind ourselves of the fact that as investors, we tend to seek affirmation from the market to confirm our findings. The share price reversion from $6 to now $19 tells investors that the New World Fossil strategic change is working thus far, but we are cognizant that it remains premature to judge precisely where this is going. However, Fossil is executing on the first leg of its turnaround.
Q1 Results
In the last conference call, the management laid out very conservative guidance, coupled with clear strategic goals. As a result, we factor in our reading that Fossil is attempting to underpromise and over-deliver. Regardless of how the company was before, we like this way forward.
Worthy mentions are:
Smartwatches shined again, posting growth of 97% yoy
We had the benefit of reading Fitbits (NYSE:FIT) earnings call a week before, and we would be lying if we didnt expect a good performance by smartwatches. Fitbits results and outlook on smartwatches were very assuring. Its smartwatches sales doubled on a sequential basis. Moreover, the company foresees an excellent product mix coming from its newly introduced smartwatches, and the health and wellness market is expanding rapidly.
Unsurprisingly to us, Fossils smartwatches performed well. The company delivered $80 million in sales for the quarter, 97% higher when compared to the first quarter of last year. The absolute sales percentage, 18% of total watches sales, is still small, but it was big enough to make yoy sales of watches to stabilise. Remember the double-digit declines just a few quarters before? 97% growth makes that seems so far back in the past!
Geographically, things are working better in Europe and Asia as opposed to the Americas.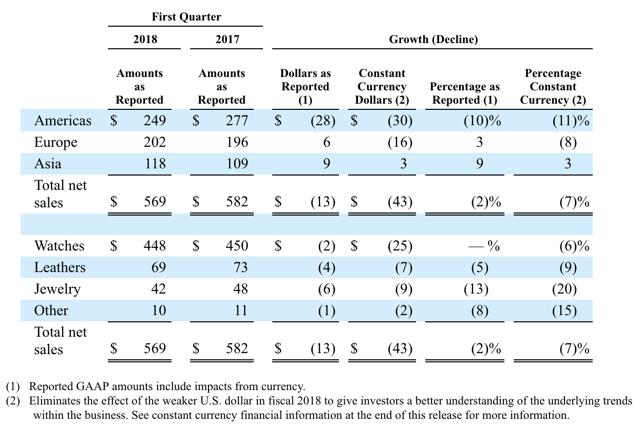 (Source: Fossil's 1Q18 8-K)
We are excited, and the analysts at the conference call were too. Nearly all questions were about the future of smartwatches.
Better yet, Fossil predicts the most dramatic improvement is going to be on fitness and health and wellness features that were already featured in a couple of SKUs last year in Q4. It is a step ahead of time. Additionally, it is always positive to learn that Google (GOOG, GOOGL) and Qualcomm (NASDAQ:QCOM) are significantly stepping up their investment in the category and the support of the ecosystem. Lastly, wearables last year was an $18 billion business, growing to $33 billion in three years. Fitbit is the number one in this category, but it is yet to produce positive FCF. Fossil has the scale and is still winning big contracts such as PUMA. Extrapolating the 5-6% of its traditional watch market share to smartwatches is an exciting prospect.
Marketing and sales channel wise, e-commerce outperformed wholesales
Ok, so it was impressive that Fossil achieved 5% improvement in SSS. However, it wasnt strictly "same stores sales". This growth was mainly thanks to the companys inclusion of the direct e颅-commerce sales in its comp sales calculation – this channel alone increased almost 50% for the quarter. Nevertheless, it was very encouraging to read that direct sales channel (in-store) also performed well. In contrary, the wholesale segment in the US and Europe suffered due to the phasing out of the Adidas (OTCQX:ADDYY) and Burberry (OTCPK:BURBY) contract and the decline in sales in Skagen. The remaining brands: Michael Kors (NYSE:KORS), Emporio Armani, Armani Exchange, and Diesel were relatively flat. Thus, the decision to exit the wholesale business in the Europe leather segment was a welcoming move.
Digital marketing was the second strategic change that Fossil wanted to focus on, and we will be watching this closely. So far, it is executing exceptionally well.
Margins improved
Gross margin improved to 50.5%, highest in the past five quarters (4Q17: 48.66%, 3Q17: 46.45%, 2Q17: 50.49%, 1Q17: 49.76%). Q1 benefited from nearly $20 million of the New World Fossil cost tightening effort, which is projected to drive $200 million in gross margin and efficiency benefits through 2019.
The company had lower expenses in the first quarter resulting from corporate and regional infrastructure reductions, as well as lower store expenses, given 81 stores were closed since last year (the total now is 512 stores). Unfortunately, store closures will continue to hurt total direct channels sales; last quarter, this negatively impacted up to 300 basis points. All in all, we are encouraged, for as more unprofitable stores are closed, Fossil will become smaller but leaner.
Lastly, restructuring costs will continue to affect EPS. However, it will decrease as fewer stores are required to shut down.
Our reported loss of $0.99 per share included $0.35 of New World Fossil restructuring charges. Excluding these items, our adjusted EPS loss was $0.64. Last year, our first quarter EPS loss was $1 and included $0.35 impact from restructuring charges. EPS was relatively flat this year compared to last year despite the lower sales volume as we continue to deliver on our New World Fossil initiatives with improved gross margins and lower operating expenses.
– Source: Fossil 1Q18 Earnings Call
EBITDA and FCF
For 2018, Fossil expects adjusted EBITDA in the range of $175-225 million and will invest approximately $25 million in capital expenditures. Coupled with interest expense of $50 million, Fossils FCF will range from $100 million to $150 million. These are fantastic numbers for a company that was supposedly struggling just a few quarters earlier.
Company management expects to see better years ahead:
As we said in our last call, our longer颅-term view is that after top颅line contraction in 2018, our initiatives should begin to stabilize sales levels in 2019 with sales growth returning in 2020 and continuing to grow annually thereafter. And with our New World Fossil transformation initiatives, we are targeting a double-颅digit operating margin over the long term.
– Source: Fossil 1Q18 Earnings Call
Financial Health
Fossils debt is at $463 million, reduced from $616 million a year ago. Cash is at $230 million, compared to $320 million last year. However, interest payment is higher by $2 million yoy due to the recent refinancing.
Overall, with trailing 12颅-month adjusted EBITDA of $204 million. Fossils first-quarter leverage ratio was 2.3 times, well within its 4.5 times bank leverage ratio covenant limits. The company is in no hurry to pay off its debts, but given the $230 million pile of cash and conservatively $100 million FCF, all debts could be paid off within two years.
Takeaway
Fossil's 1Q18 results were very progressive in the essential areas, though dampened with a few misses in the wholesales channel, the American market and further restructuring costs expected. However, it was enough to change the sentiment of the market from the demise of traditional watches to the growth of wearables! The current product mix of 18% is expected to rise to 25%, 30% and then 35%.
With forward EBITDA of $175-225 million and FCF in the $100-150 million range, managements convincing story is well-supported! The strategic transformation to shift the company from owning 5-6% of the world's traditional watches to owning the same percentage in the hybrid and smartwatches segments is well underway.
Fossil is a still buy from here.
__
If Fossil is not for you, we cover value stocks, so maybe try a diversified rail stock (L.B. Foster (NASDAQ:FSTR)), a beaten-down health retailer (GNC Holdings (NYSE:GNC)), or a pure online car parts play (U.S. Auto Parts Network (NASDAQ:PRTS)).
Author's note: Thank you for reading the article. If you have enjoyed our article, please click "Follow" to receive our stock picks as soon as they are published. Lastly, please do further due diligence to reach your own conclusions.
Disclosure: I am/we are long FOSL, GNC, PRTS, FSTR.
I wrote this article myself, and it expresses my own opinions. I am not receiving compensation for it (other than from Seeking Alpha). I have no business relationship with any company whose stock is mentioned in this article.