Asia Pacific Wire & Cable Corp Ltd. (NASDAQ: APWC) manufactures and distributes telecommunications, power cable, and enameled and electronic wire products in the Asia Pacific region, primarily in Singapore, Thailand, Australia and China. The Company manufactures and distributes its own wire and cable products and also distributes copper rod and wire and cable products manufactured by its principal shareholder, Pacific Electric Wire & Cable Company (PEWC). The Company also offers project engineering services in the supply, delivery and installation of power cables. Asia Pacific Wire & Cable Corp was founded in 1996 and is headquartered in Taipei City, Taiwan.
Share Information
APWC has a market capitalization of nearly $34 million with 14 million shares outstanding (and average daily volume of approximately 7.5 thousand shares). Currently the shares are selling at a P/B-ratio of only 0.22 and a P/E-ratio of approximately 10. It is worth noting that the Company has kept its number of outstanding shares steady at 14 million for more than at least 10 years.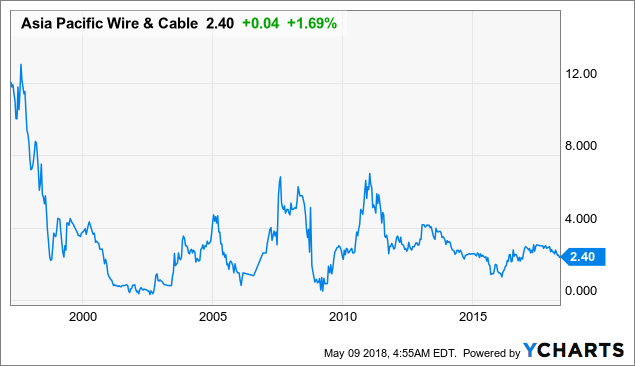 APWC data by YChartsStrong Balance Sheet
APWC has a healthy balance sheet. According to the latest annual filing, the Company has no long-term debt and hasn't had any for over 10 years. Although short-term debt stands at roughly $41 million (with debt-to-equity at 0.27) it is easily manageable due to strong cash position (of $46 million) and a current ratio of approximately 2.8.
Property, plant and equipment consists mainly of buildings and machinery but the Company also owns land, which as of December 31, 2017 was recorded at a cost of approximately $6.2 million.
The strong balance sheet enables the Company to withstand any adversities that may occur during the business cycle – in fact, APWC has kept a strong and stable balance sheet for most of its existence, e.g. keeping its current ratio above 2 since 2009 and holding around 15% of its assets in cash.
Customer Base & Market Position
APWC's customer base includes governments and public-sector institutions along with other commercial entities. Projects range from infrastructure projects to commercial and residential developments.
"Based on information published by the Thai Ministry of Commerce on sales by dollar value, the Company believes that Siam Pacific and Charoong Thai are two of the leading telecommunications and power cable and wire manufacturers in Thailand and are two of a very limited number of the government-approved suppliers of telecommunications cables for major public telecommunications projects in Thailand." (Source)
Although the wire and cable industry is generally competitive the Company has a strong position, especially in Thailand through its subsidiary Charoong Thai (founded in 1967), but also in e.g. Singapore, where it owns the exclusive distributor of medium and high voltage wire and cable products manufactured by PEWC. This has contributed to a fairly stable revenue base and on average profitable operations.
Shareholder Activism
On February 23, 2018 LONSIN Capital Limited and affiliates representing over 5% of the shares outstanding wrote to APWC's board of directors expressing their interest in acquiring a majority of APWC at $4/share (67% above current market price of $2.4). Although no public response has been released, this act by LONSIN (and its previous engagements with the Company) shows that the Company's shareholder base is alive and actively involved In pushing for shareholder-friendly activities.
Additionally, on March 28, 2018 APWC hired a new investor relations advisor to help the Company build awareness in the capital markets, increase liquidity in its shares, increase analyst coverage, expand APWCs shareholder base and further its relationships with investment banks.
"Most importantly, Asia Alpha Investor Relations will help APWC achieve a fair value in the public marketplace."
This goes to show that the board and management care about shareholder returns and are at least to some extent generally intent on maximizing shareholder value.
Dividend
APWC has in the past engaged in share repurchases, but in 2016 the Company "announced that the Board of Directors approved the implementation of a dividend policy as part of the Company's ongoing commitment to increasing shareholder value and return on investment." (Annual report 2017) The Company thus intends to pay cash dividends of at least 25% of net profits. Its first dividend payment was in 2017 and amounted to $0.10/share. Although APWC's ability to pay dividends may depend on the distributions it receives from its subsidiaries it is "the intention of the APWCs Board to share the Company's profits with shareholders, while reserving adequate funds for future expansion".
Valuation
As of Q4 2017 APWC had a book value of equity of roughly $153 million or nearly $11/share. At the current market price of $2.4/share this represents a discount of nearly 80%. Although earnings have fluctuated somewhat since 2008 the Company has averaged free cash flow of $0.55/share, resulting in a 23% free cash flow yield. This is meaningful since the Company has engaged in share repurchases in the past and recently paid a dividend of $0.10/share (representing 4.17% dividend yield).
| | | | | | | | | | | |
| --- | --- | --- | --- | --- | --- | --- | --- | --- | --- | --- |
| USD Mil | 2017 | 2016 | 2015 | 2014 | 2013 | 2012 | 2011 | 2010 | 2009 | 2008 |
| Op. CF | -17 | 9 | 9 | 8 | 21 | 12 | 23 | -3 | 18 | 60 |
| CapEx | -5 | -5 | -7 | -6 | -10 | -11 | -9 | -4 | -3 | -3 |
| FCF | -22 | 4 | 2 | 2 | 11 | 1 | 14 | -6 | 15 | 57 |
| FCF/Share | -1.57 | 0.29 | 0.14 | 0.14 | 0.79 | 0.07 | 1.00 | -0.50 | 1.07 | 4.07 |
Most obvious is the undervaluation though when we look at the Company's subsidiaries. One of APWC subsidiaries is Charoong Thai Wire & Cable Public Co Ltd. This company is 50.9% owned by APWC. More importantly, it is listed publicly on the Thailand stock exchange and has a market cap of nearly $108 million (3.39Bn THB). As a result, APWC's share is worth approximately $55 million. Since APWC's financial statements are consolidated this is not necessarily easily identified by investors. But this also means that by paying $34 million today for APWC, investors are getting the Charoong-part at a discount and the entire rest of APWC for free (see image below).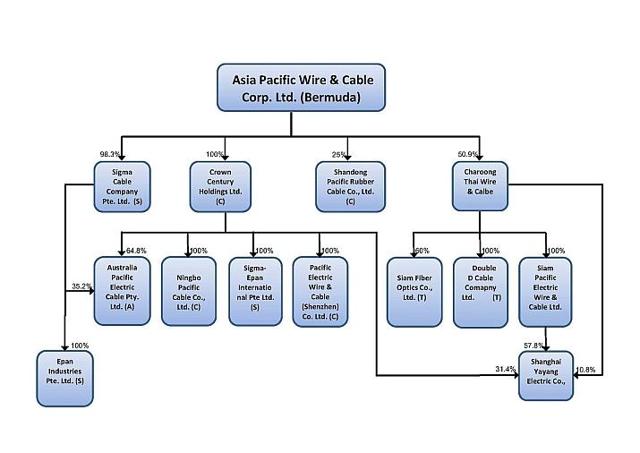 (Source: Annual Report 2017)
Since APWC is simply a holding company we can define its value as the net value of its assets, i.e the value of its shareholdings net of liabilities:
Value(NASDAQ:APWC) = Value(Charoong Thai) + Value(Rest) – Liabilities of Parent
where "Rest" is the entire left side of the above organizational chart, i.e. APWC excluding Charoong Thai (note: we only use liabilities of parent since subsidiary liabilities are accounted for in valuation of those assets, e.g. APWC borrows "Liabilities of Parent" to buy shares in "Charoong Thai" valued at Value(Charoong Thai) and asset "Rest" valued at Value(Rest), giving us net value of APWC according to the above formula).
Since APWC's shares of Charoong Thai have a market value of $55 million, APWC's corporate liabilities are $5.3 million (see segment information in annual report 2017 or image below), and the market cap of APWC is $34 million, the market is valuing the "Rest" at minus $15.7 million.


A correction of this, even just to set Value(Rest) = 0, would constitute a potential return of 46% (with market value of APWC going from $34 million to $49.7 million, or $46.6 million if we account for deferred tax liabilities).
Considering that the book value of APWC is $153 million and that (based on Charoong Thai's valuation) the Company should have market valuation of at least approximately $50 million, it is clear that APWC is very significantly undervalued.
Potential Reasons for Undervaluation
What can be the reasons for this undervaluation?
APWC is largely underfollowed and relatively small.
This is what the Company hopes to counter by retaining a new investor relations advisory service. The Company has some operations in China.
This may limit the availability of China-based subsidiaries to pay dividends to the parent. It is also possible that investors may mistakenly think that APWC is one of the reverse-merger listed Chinese companies that have suffered for long time in terms of share price performance. APWC is a subsidiary of Pacific Electric Wire & Cable Co. Ltd. (PEWC), which owns more than 50% of APWC shares ("controlling shareholder"). Investors may not have realized the value of Charoong Thai.
Charoong Thai is publicly listed on the Thai stock exchange, which is unlikely to be high on the horizon of US-based investors. Also, since APWC consolidates its statements the market may not have realized the simple holding-company structure of APWC and thereby the value of its parts. Catalyst(s) & Timeframe
Although there is no specific upcoming event that might trigger a sharp correction in the share price of APWC there are some factors that may be considered "catalysts" to occur within the year:
Management has recently brought in a new investor relations advisor.
This may shed a light on the Company in the investment community, bring more attention to it with expanded shareholder base, increased liquidity and market coverage. Dividend policy.
The Company paid its first dividend in 2017 and will likely do so again later in 2018. This should be considered credible since the Company has in the past engaged in share repurchases and is relatively focused on shareholder returns. Shareholder activism.
The recent acquisition offer by LONSIN capital, whose response to has not been disclosed publicly, may lead to further developments and at least shows the liveliness of APWC's shareholder base. Conclusion – Investment Summary
Asia Pacific Wire & Cable is good company with a healthy balance sheet – minimal debt, good working capital position and healthy cash levels. It has quite well-diversified operations in the Asia-Pacific region and a strong market position, especially in Thailand.
The Company is seemingly intent on being shareholder friendly and has expressed its intentions to deliver shareholder returns. Recently the Company implemented a dividend policy, paying its first dividend in 2017 at a roughly 4% dividend yield, having in the past engaged in share repurchases. Apart from bringing in a new investor relations advisor to further APWC's capital market position the Company's shareholder base has been active with a recent acquisition offer made by the firm's second-largest shareholder.
Currently APWC is significantly undervalued. The stock is widely underfollowed and mis-priced. It trades at an 80% discount to book value and a 23% free cash-flow yield. The Company should have a market value of at least $50 million, based on the value of one of its subsidiary Charoong Thai.
Downside risk is also limited. The Company has not issued any new shares in the last 10 years, its operations are generally profitable and the healthy balance sheet provides a comfortable cushion against any adversities that may occur in the course of business while also establishing a strong foundation to build on.
Today, APWC is valued at $34 million ($2.4/share). Its minimum value should be $3.5/share. With an upside of at least 46%, dividend yield of roughly 4%, healthy business and balance sheet, relatively shareholder-friendly management and active investor base, here may finally be a real bargain – a hidden treasure.
Disclosure: I am/we are long APWC.
I wrote this article myself, and it expresses my own opinions. I am not receiving compensation for it (other than from Seeking Alpha). I have no business relationship with any company whose stock is mentioned in this article.
Editor's Note: This article covers one or more stocks trading at less than $1 per share and/or with less than a $100 million market cap. Please be aware of the risks associated with these stocks.