Do what you like and are good at. – Charlie Munger
Syndax Pharmaceuticals (NASDAQ:SNDX) is an intriguing bioscience alerted to us by members of Integrated BioSci Investing. The company is innovating a stellar therapeutic pipeline that can deliver hopes to countless patients worldwide while rewarding shareholders with substantial wealth in the long haul. Of note, the shares traded $1.65 higher at $10.69 for +18% profits in the past 52 weeks. Nevertheless, an assessment of the chart revealed that this stock is quite volatile. Riding on the high beta to the investors' advantage is the pending clinical binary – reporting of the phase 3 (E2112) trial – that can galvanize the shares to a new high. In this research, we'll elucidate the fundamentals of Syndax while focusing on the catalytic events that can push the shares higher.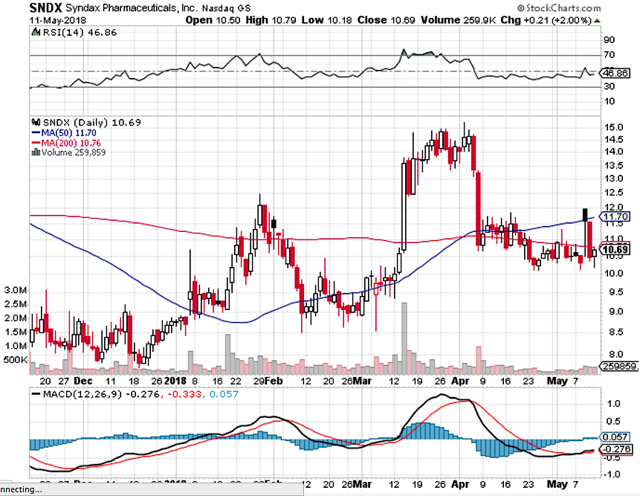 Figure 1: Syndax stock chart. (Source: StockCharts)
Fundamental Analysis
Headquartered in Waltham, MA, Syndax Pharmaceuticals is focusing on the innovation and commercialization of medicines to service the oncology market. The company leverages on its immuno-oncology expertise to develop two potential best-in-class assets, entinostat and SNDX-6352 (as depicted in figure 2).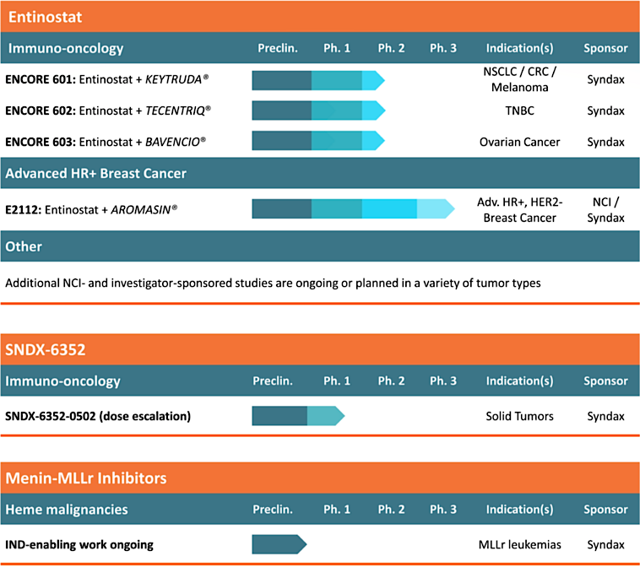 Figure 2: Therapeutic pipeline. (Source: Syndax)
As a small molecule, entinostat is a class 1 specific histone deacetylase ("HDAC") inhibitor. Per figure 3, this therapeutic class works by suppressing the enzyme (histone deacetylase) responsible for winding the DNA, thereby killing cancer cells via stopping their cellular division. The said drug is differentiated from other HDACs due to its selectivity for the class 1 enzyme. Moreover, it is available in the convenient oral once weekly formulation. Furthermore, it can be used in combinations with other medicines (such as checkpoint inhibitors) to deliver the synergistic benefits. Following the positive phase 2b (ENCORE-301) results, the FDA granted entinostat the breakthrough therapy designation. With the robust early clinical data, the company is advancing entinostat in the phase 3 (E2112) trial for advanced hormone receptor-positive, human epidermal receptor 2 ("HER2") negative breast cancer.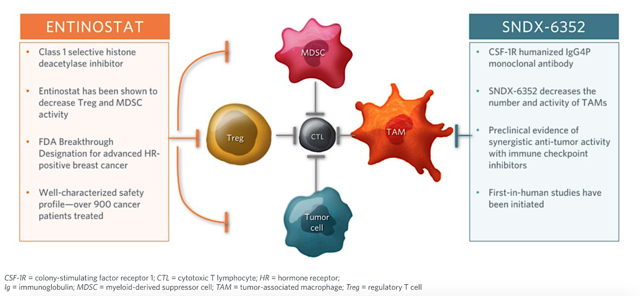 Figure 3: Underlying science of lead molecules (Source: Syndax)
Interestingly, entinostat is being assessed in combinations with various molecules in the phase 1B/2 via the following collaborative partnerships: (1) Merck (MRK), to study entinostat with Keytruda for the treatment of non-small cell lung cancer ("NSCLC") and melanoma; (2) Genentech, a member of Roche (OTCQX:RHHBF) [VTX:ROG] for TNBC investigations. (3) and, Merck KGaA (OTCPK:MKGAF) for ovarian cancer.
Asides from entinostat, the second key molecule (SNDX-6352) is a high-affinity antibody that works by neutralizing the colony stimulating factor-1 receptor (CSF-1R). The blocking of CSF-1R leads to the depletion of tumor-associated macrophages ("TAMs") that, in and of itself, is responsible for inhibiting key immune cells that fight cancer, i.e. the tumor infiltrating lymphocytes ("TILs"). In freeing TILs, SNDX-6352 reignites the immune system for combating cancers. Notably, the company intends to advance this asset later this year.
For Q1 2018, Syndax reported the $19.4M ($0.79 per share) net losses compared to $13.0M ($0.71 per share) decline for the same period a year prior. The total operating expenses increased to $20M from $13M for last year. The increase was due to more development activities, legal and professional fees. In viewing the balance sheet, there were $113.2M in cash and short-term investments. The total liability stood at $17M. Based on the metrics above, the company should have adequate cash to fund operations for another year. Investors should be cognizant that it is the norm for a relatively young bioscience company like Syndax to incur significant losses for many years prior to banking a net profit (due to the lengthy and low success rate of the innovation process). Nonetheless, it only takes one blockbuster to make your investment worthwhile.
Despite various developments, we're most interested in the upcoming interim results (in Q3) that will disclose the progression-free survival ("PFS") analysis of the E2112 trial. If the results are positive, it can catapult the shares by roughly 80% higher. Commenting on the recent developments, the CEO (Dr. Briggs Morrison) enthused,
Syndax is off to a strong start in 2018 and we believe this momentum will carry us through the balance of what we expect will be a milestone-rich and potentially transformative year. This includes the PFS readout from our ongoing pivotal E2112 trial, for which results are expected in Q3. We also look forward to sharing additional data from multiple cohorts of the ENCORE-601 program, including biomarker analyses, later this quarter at the ASCO Annual Meeting. The ENCORE program represents a key pillar of our clinical strategy and is supported by an extensive correlative science program designed to identify biomarkers that could predict which patients will respond to our combination therapies.For a small bioscience firm, the primary risk is whether the lead molecule will pass the clinical trial. With that being said, the main concern for Syndax is if entinostat can deliver positive phase 3 data. Given that most value in this company resides in this franchise, a negative reporting can induce the stock to depreciate by over 80%, and vice versa. Moreover, even if the aforesaid medicine will be approved, it might not generate substantial sales due to market competition and other unforeseen variables.
Final Remarks
In harnessing the power of two lead molecules (entinostat and SNDX-6352), Syndax is powering an enriched medicinal pipeline that can deliver hopes to patients afflicted by various deadly cancers. Moreover, if the data reporting for the phase 3 (E2112) within months, turns out positive as we prognosticated, the share can appreciate by approximately one fold. Given the various partnership with Merck and Roche for the co-development of entinostat with their flagship molecules (Keytruda, Tecentriq, and Bavencio), the company can get bought out if it demonstrates the robust clinical outcomes. Asides from entinostat, SNDX-6352 is an interesting molecule that can deliver the long-term growth prospects. With all the catalysts powering this firm, the asymmetric rewards to risks signified that the company can be a significant investment. Of note, the main concern for Syndax is if entinostat can deliver positive phase 3 data. Given that most value in this company resides in this franchise, a negative reporting can induce the stock to depreciate by over 80%, and vice versa.
Author's Notes: We're honored that you took the time to read our market intelligence. Founded by Dr. Hung Tran, MD, MS, CNPR, (in collaborations with Analyst Vu, and other PhDs), Integrated BioSci Investing ("IBI") is delivering stellar returns. To name a few, Nektar, Spectrum, Atara, and Kite procured over 320%, 160%, 242%, and 83% profits, respectively. Our secret sauce is extreme due diligence with expert data analysis. The service features a once-weekly exclusive Alpha-Intelligence article, daily analysis/consulting, and model portfolios. Of note, there is an IBI version of this article that is a higher-level intelligence with extensive details, in which we published in advanced and exclusively for our subscribers. And, we invite you to subscribe to our marketplace now to lock in the current price and save money for the future.
Disclosure: I/we have no positions in any stocks mentioned, and no plans to initiate any positions within the next 72 hours.
I wrote this article myself, and it expresses my own opinions. I am not receiving compensation for it (other than from Seeking Alpha). I have no business relationship with any company whose stock is mentioned in this article.
Additional disclosure: I like to inform our readers of Seeking Alpha's recent policy change, in which the company implemented the paywall (not only to my articles but to all articles that are published over 10-day). This is in place, as the company is, after all, a business. And, the revenues from ads are not adequate to support the high-quality research that the company is providing. If you are a REAL TIME FOLLOWER, you will be notified immediately of our new research for you to continue to benefit from our due diligence. You can also gain access to all of my old articles and much more by taking the 2-week FREE trial of my marketplace, Integrated BioSci Investing.