Recently, Syndax Pharmaceuticals (SNDX) announced updated results for its phase 1b/2 study in treating patients with a variety of cancers. The stock traded lower by 23% this past Thursday after the results were announced, but I believe it was a major overreaction. It was still able to clear a sub-population in non-small cell lung cancer (NSCLC). In addition, it still has a pipeline full of other clinical candidates. That means its not heavily reliant on its drug entinostat. For these reasons, I still believe that Syndax is a good buy.
Phase 2 Data
The phase 1b/2 trial was known as ENCORE 601, and it recruited patients with a couple of different types of cancer. They are: Non-small cell lung cancer, melanoma, and microsatellite stable colorectal cancer (MSS-CRC). One key thing to note is that cancer patients in this trial were either PD-(NYSE:L)1 treatment-naive and were pre-treated with other therapies. Syndax combined its cancer drug entinostat with Merck (MRK) Keytruda (pembrolizumab). The most mature data set reported dealt with the NSCLC patients, and thus that was the main data that was highlighted. The overall NSCLC data was weak, because there were only 6 partial responses out of 57 patients enrolled at the time of data cutoff. That gave an objective response rate ((ORR) of only 11%, which is not good. In addition, based on the cutoff time for evaluation, the progression-free survival rate (PFS) only reached 2.7 months.
On the outset this looks bad, but I don't think that the stock should have been punished the way it was. The reason why I state that is because NSCLC patients who have elevated baseline levels of monocytes (high levels of monocytes) obtained a better ORR of 29%. In addition, the PFS rate stood at 5.4 months (double compared to the entire NSCLC population). Now this data is much better, and with this data regulators may agree to allow Syndax to move forward in this subpopulation. The truth is that biomarkers are important, because they will be indicators of whether or not a patient will respond to a cancer treatment. In this case, those patients with NSCLC who are PD-(L)1 treatment naive may respond better to entinostat plus Keytruda compared to other treatments. I believe that such a subpopulation should be explored. This goes back to Keytruda or Bristol-Myers Squibb (BMY) Opdivo, in which these therapies were shown to improve clinical outcomes in patients who had higher levels of PD-1/PD-L1 expression in certain types of cancers. So in essence while these treatments may not improve the entire population, they may show a strong response in a sub-population. In my opinion, such a possibility should always be explored. The treatment case for cancer drugs is that it's not a straightforward path. That's why biomarkers are a necessity and will be more clear in proving whether or not a patient should go through a certain treatment in the first place.
There is one more reason why I believe this sub-population should be explored. That is the notion that this NSCLC patient population is not currently treated adequately. The current PFS rate in this patient population who have been treated with third-line chemotherapy following progression after platinum doublet and PD-(L)1 treatment only stands at 2.8 months. I think that regulators would agree that if patients with higher levels of monocytes may respond better with the drug combo (entinostat plus Keytruda) compared to current treatment options, it should definitely be worth exploring.
Entinostat Is Not Finished
Setting aside the results noted above from the ASCO abstract, entinostat still has multiple shots on goal. Syndax did not just stop by exploring only one combination with this drug. It has other combinations in the pipeline that it is testing with entinostat. They are as follows:
ENCORE-602 – Entinostat plus Roche (TECENTRIQ) treating patients with triple-negative breast cancer (TNBC) ENCORE-603 – Entinostat plus Bavencio treating patients with ovarian cancer Additional Products
Besides entinostat, Syndax has a couple of other clinical candidates. It has SNDX-6352 which is an immunological product being developed for solid tumors. There already has been a partnership established for SNDX-6352 in which it will be explored in combination with AstraZeneca (AZN) Imfinzi against solid tumors. The other clinical product is known as Menin-MLLr inhibitor being developed to treat certain genetically defined hematologic cancers. These additional products are in the early stages of testing one in phase 1, and the other as a preclinical product. Syndax even has a phase 3 trial readout that is expected by Q3 of 2018. This is the phase 3 registration trial of entinostat plus exemestane in advanced hormone receptor positive, human epidermal growth factor receptor 2 negative (HR+, HER2-) breast cancer. This is an investigator sponsored study known as E2112. The entire pipeline is shown below: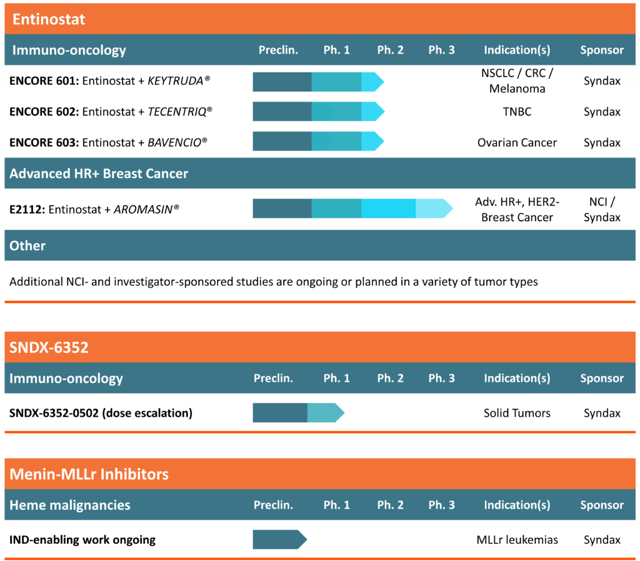 Source: Pipeline – Syndax
Financials
Syndax Pharmaceuticals is sitting in a good financial position, because it has $113.2 million in cash, cash equivalents, and short term investments as of March 31, 2018. It believes that its cash should be enough to fund operations for at least the next 12 months. That means there is no risk of dilution in the near-term. In addition, the company noted in its 10-Q SEC filing, that it could potentially obtain milestone payments with collaborators as well. It is highly likely though that it may need to raise more cash sometime toward the end of 2018.
Conclusion
I believe that the stock dipping by 23% based on the ASCO abstract data was not justified. Especially, when it was noted that a subpopulation with high levels of monocytes performed better. Had this positive finding in this subpopulation not been established, then I could understand why the stock would fall by that much. That was not the case though, and based on the possibility that regulators will likely allow this study to move on to a phase 3 it is bullish. There is still the risk that regulators may not like the subpopulation established, and may not allow Syndax to run a phase 3. However, I don't think that the FDA will disregard the higher ORR and PFS rate observed in patients with high levels of monocytes. Another risk is that the other combination studies with entinostat may not be successful. However, Syndax remains strong with a large pipeline. With multiple shots on goal, I believe it stands a good chance at getting a product up for FDA approval. For that reason, I believe that Syndax Pharmaceuticals remains a strong buy.
This article is published by Terry Chrisomalis, who runs the Biotech Analysis Central pharmaceutical investment research service on Seeking Alpha Marketplace. If you like what you read here and would like to subscribe to my Service, I'm currently offering a two-week free trial period for subscribers to take advantage of. My service offers deep dive analysis of many pharmaceutical companies throughout the biotech sector. Come see for yourself if my service is right for you.
Pricing: The Biotech Analysis Central SA marketplace is $49 per month, but for those who sign up for the yearly plan will be able to take advantage of a 33.50% discount price of $399 per year.
Author's note: To get these types of premium articles on attractive biotech and pharma stocks as soon as they are published, just clickhere for my profile. Hit the big orange "Follow" button and choose the real-time alerts option thank you for taking the time to read my analysis.
Disclosure: I/we have no positions in any stocks mentioned, and no plans to initiate any positions within the next 72 hours.
I wrote this article myself, and it expresses my own opinions. I am not receiving compensation for it (other than from Seeking Alpha). I have no business relationship with any company whose stock is mentioned in this article.