Since May 10, 2017, Nvidia (NASDAQ: NVDA) has been on a massive run. The stock has performed so well in fact that renowned investor SoftBank (OTCPK: OTCPK:SFTBY) has decided to purchase $4 billion worth of the company's shares.
Thus far, momentum investors really like Nvidia and for obvious reasons. The stock has tripled YTD while analysts typically remain bullish. The argument that the stock is moving too far, too fast is a loose one simply because the stock has been moving "too fast" for over 200% of its rally. On the other hand, evidence of a Trump-induced bubble might indicate that Nvidia is another stock being overbought. The stock is trading at 46.44 P/E compared to the NASDAQ average of 18.45. Further, volume of shares has also declined; partially as a result of SoftBank's emergence.
Some analysts contend that the stock is too rich at these levels and the fact that Nvidia operates in a very competitive market channel is reason to believe that the stock will soon come back to Earth. The stock price has soared along with the company's metrics which leads investors to ask: Is there any value left in Nvidia? SoftBank's recent investment is a vote of confidence that the stock will continue to perform, as SoftBank has a reputation of very credible and high-return investing. Per Motek Moyen of Seeking Alpha, "the halo effect of SoftBank's trust in Nvidia could inspire more hedge funds/institutional investors to load up on NVDA shares."
While the momentum of that investment is real and other players might soon enter the scene, the true potential of Nvidia lies in its exciting upcoming business products. NVDA was the best performing stock on the S&P 500 in 2016 as it grew over 370%. The growth is mostly attributed to Nvidia's omnipresence in the chipmaking industry where its products can be found in everything from virtual reality to gaming consoles. However, these are not the reasons or products that caused SoftBank to invest so aggressively. Rather, the investment was spurred by the presence of Nvidia in artificial intelligence. Companies such as Nvidia work to create machines that can exhibit intelligence on their own. Artificial intelligence is best epitomized by a self-driving car.
SoftBank's billionaire founder Masayoshi Son garnered his financial credibility early in the 2000s when he rode the technological wave behind companies such as Yahoo (NASDAQ:YHOO) and Alibaba (NYSE:BABA). Now, Son appears to be gearing up for the newest wave of technological innovation: artificial intelligence. While Son's reputation is certainly not enough to warrant investing in this expensive stock, artificial intelligence will be the future of software. If Nvidia can prove to be innovative enough to lead this wave, the company will only continue to expand and grow. SoftBank certainly thinks that Nvidia has the tools to accomplish this goal.
Jefferies analyst Mark Lipacis said this of Nvidia's presence in AI, "Nvidia posted its 7th consecutive beat… the 200$ growth in its Datacenter business and improving GM reinforce our thesis that NVDA is emerging as the de facto standard in AI."
As a May 9 earnings report published by CEO Jensen Huang reads, "The AI revolution is moving fast and continuing to accelerate. NVIDIA's GPU deep learning platform is the instrument of choice for researchers, internet giants and startups as they invent the future." Nvidia's presence in the realm of artificial intelligence conveys how the company is more than just a chip manufacturer. Not only that, the products it is manufacturing are in high demand from the largest internet corporations to the upcoming startups of the future.
Artificial intelligence is still in its early stage. Computers cannot currently operate with cognitive skills of a human. Rather, humans can order a computer to complete a task and that task will get done. It may be years in the future; however, AI is real and is coming. Nvidia is currently trying to accomplish AI in the form of GPU-accelerated deep learning. To again quote Motek Moyen of Seeking Alpha, "Nvidia's latest AI GPU, The Tesla GV100 Volta touts 5,120 FP32/GPU cores. The V100 is now even faster than the T esla P100." Nvidia's short-term goals include offering a commercial cloud platform for its AI technologies by the third quarter. This can be accomplished thanks to NVDA's long-term uptrend that has resulted in millions of dollars being pushed into research and development.
Further, Nvidia's competitor, Advanced Micro Devices (NASDAQ: AMD), has lost $2 billion over the past 5 years while Nvidia has raised over $4 billion in operating profits. Until AMD can solve the problems with its balance sheet, NVDA is the healthier option in this increasingly competitive industry despite its high price.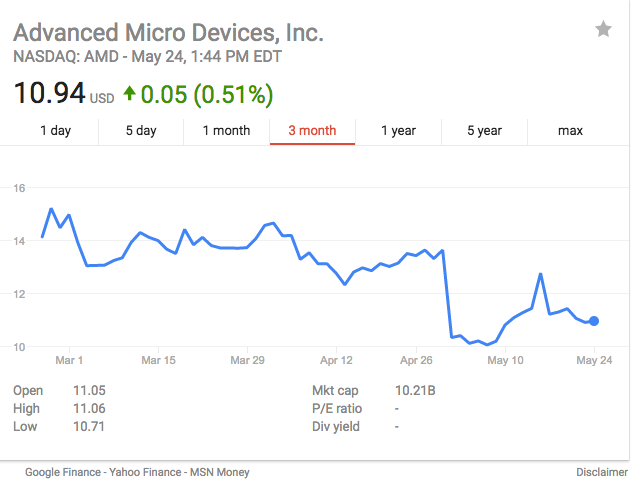 If AMD can sneak into Nvidia's profits while it explores the realm of AI, the stock might be one to take advantage of. Look for this opportunity to be greatest around the same time Nvidia pushes its commercial cloud platform in the third quarter.
Disclosure: I/we have no positions in any stocks mentioned, and no plans to initiate any positions within the next 72 hours.
I wrote this article myself, and it expresses my own opinions. I am not receiving compensation for it (other than from Seeking Alpha). I have no business relationship with any company whose stock is mentioned in this article.
Editor's Note: This article discusses one or more securities that do not trade on a major U.S. exchange. Please be aware of the risks associated with these stocks.
About this article:ExpandAuthor payment: $35 + $0.01/page view. Authors of PRO articles receive a minimum guaranteed payment of $150-500. Become a contributor »Tagged: Investing Ideas, Long Ideas, Technology, Semiconductor – SpecializedProblem with this article? Please tell us. Disagree with this article? Submit your own.Follow Sam Warren and get email alerts