The GEO Group (GEO) and Corrections Corporation of America (NYSE:CXW) were obliterated in August after the Department of Justice decided that it will use the end of private prisons. Expectedly, this didn't go down well with shareholders of private prison companies, and shares of The GEO Group and Corrections Corporation of America went into a tailspin.
Shares of private prison companies started to bounce shortly after the DOJ decision became news, but the damage was done. In my last piece on The GEO Group I said this about the sell-off:
As numerous sources have noted lately only ~11 percent of GEO Group's business is affected by the decision to cut back and end the use of privately operated prisons.
The effect on GEO's bottom line, therefore, is not going to be as big as Mr. Market presently prices into the stock. Further, there is just too much negativity attached to the GEO name at this point, which is why contrarian income investors may want to take a deeper look at the stock.
Though rational evaluation returned briefly in the days after the news, The GEO Group's shares again started to show weakness, again falling below $20 on deteriorating investor sentiment toward the beleaguered private prison sector.
Year-to-date, The GEO Group has been a terrible investment, with shares declining ~28 percent in value since the start of the year.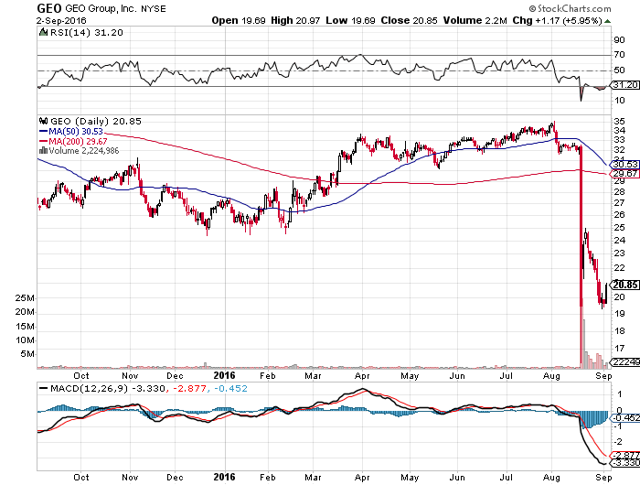 Click to enlarge
Source: StockCharts.com
The GEO Group Is Oversold, Still A Contrarian High-Risk, High-Yield Total Return Play
In my last piece on the private prison company, entitled "The GEO Group: An 11% Yield Income Play", I said that too much negativity was attached to the company, and that contrarian income investors may want to take a closer look at The GEO Group for dividend income and price appreciation.
More than one week has passed since the article was published, and The GEO Group's shares have become 8 percent cheaper, but the investment thesis has not changed at all. As far as I am concerned, it is too early to throw in the towel. Over time, The GEO Group and its competitors should start to trade based on fundamentals again, and not only on the Department of Justice statement, and the manageable impact of that decision. The GEO Group's shares sell for ~10.7x next year's earnings.
Your Takeaway
I still think there is an opportunity to squeeze a 20-30 percent return (dividend and capital appreciation) out of an investment in GEO over the next twelve months or so. The private prison company is still bordering on being oversold, while investor sentiment with respect to private prison companies is very low.
The DOJ decision has profoundly irritated investors, Yes, and shares of private prison companies have taken a beating. Even though GEO is selling for a lower price than when my last article on the company was published a little more than a week ago, I maintain that valuations in the sector have fallen too hard, too fast. Contrarian Income Buy.
If you like to read more of my articles, and like to be kept up to date with the companies I cover, I kindly ask you that you scroll to the top of this page and click 'follow'. I am largely investing in dividend paying stocks, but also venture out occasionally and cover special situations that offer appealing reward-to-risk ratios and have potential for significant capital appreciation. Above all, my immediate investment goal is to achieve financial independence.
Disclosure: I/we have no positions in any stocks mentioned, and no plans to initiate any positions within the next 72 hours.
I wrote this article myself, and it expresses my own opinions. I am not receiving compensation for it (other than from Seeking Alpha). I have no business relationship with any company whose stock is mentioned in this article.