November 21, 2017 concludes the 180-day lockup period on Appian Corporation (APPN).
When the lockup period ends for APPN, its pre-IPO shareholders, directors, and executives will have the chance to sell their 52.4 million currently-restricted outstanding shares. Just 6.25 million shares of APPN are currently trading on the open market.


(Source: S-1/A)
APPN's group of restricted shareholders is comprised of 11 individuals and 2 venture capital firms.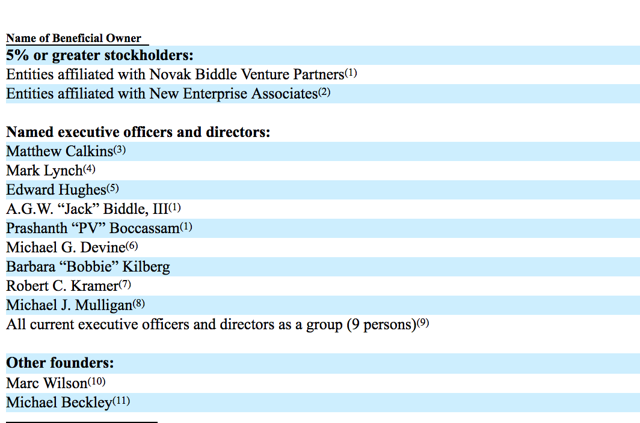 (Source: S-1/A)
The potential for a sudden increase in stock available in the open market could cause a sudden, sharp, short-term downturn in the price of Appian Corporation shares.
Currently APPN trades in the $23 to $24 range, above its IPO price of $12 and higher than its first day closing price of $15.01 on May 25, 2017.
Business Overview: Provider of Low-Code Software Development Platform
Appian Corporation offers a low-code software development platform that enables companies to easily develop applications. The platform automates much of the process for creating forms, records, data flows, reports, and other software elements that must be manually coded or configured. Its primary software markets include the markets for case management software, low-code development platforms, platform-as-a-service, and business process management. In addition, Appian offers professional and customer support services. The industries it serves include transportation, manufacturing, energy, media, telecommunications, government, healthcare, financial services, and others.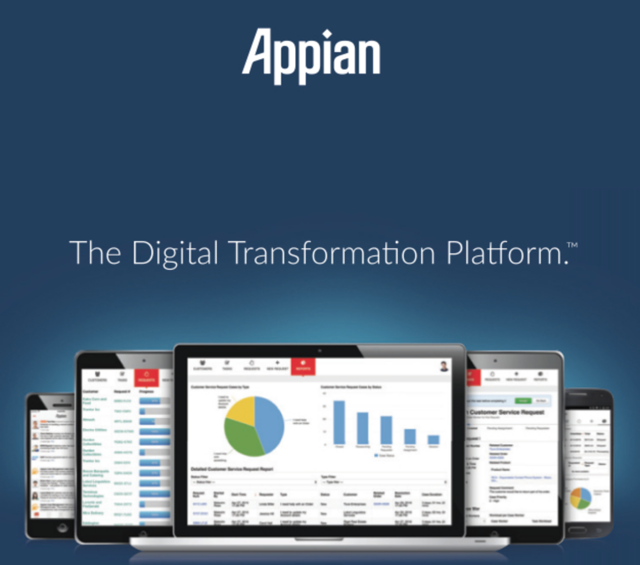 (Source: S-1/A)
Appians clients include the U.S. Department of Homeland Security, U.S. Food and Drug Administration, Cigna, Pacific Life, Pirelli, University of South Florida, Barclays, Fidelity, and Vermont Mutual Group. Appian was founded in 1999 and is headquartered in Reston, Virginia. The company has approximately 1,000 employees.
Financial Highlights
Appian reported the following financial highlights for the third quarter ended September 30:
Subscription revenue was $20.7 million for the third quarter of 2017, up 35% compared to the prior year. Total subscriptions, software and support revenue was $22.7 million for the third quarter of 2017, an increase of 28%. Professional services revenue was $22.0 million for the third quarter of 2017, an increase of 68%.
Total revenue was $44.6 million for the third quarter of 2017, up 45% compared to the third quarter of 2016.
Operating loss was $(6.5) million for the third quarter of 2017, compared to $(6.2) million for the third quarter of 2016.
GAAP net loss was $(6.3) million for the third quarter of 2017, compared to $(4.7) million for the third quarter of 2016.
As of September 30, 2017, Appian had cash and cash equivalents of $72.3 million.
Management Team
Co-founder, Chairman, CEO, and President Matthew Calkins launched Appian in 1999. Mr. Calkins served as an Executive of MicroStrategy Inc. He served as a Director of MicroStrategy Inc. from November 2004 to April 23, 2014. In 2004, He was awarded the 2004 Ernst & Young 'Entrepreneur of The Year' award in the Emerging Technology & Communications category. Mr. Calkins received a B.A. in Economics from Dartmouth College in 1994.
CFO Mark Lynch has served in his position at Appian since 2008. He previously served as the Chief Financial Officer for MicroStrategy Inc. He holds a B.S. in Accounting from Pennsylvania State University and an M.B.A. in Finance from George Washington University
Competition: salesforce.com, ServiceNow, and IBM, Among Others
Appian faces competition from organizations such as salesforce.com (NYSE:CRM), ServiceNow (NOW), IBM (IBM), SAP (SAP), Pegasystems (PEGA), Oracle (ORCL), and OpenText (OTEX). Morningstar lists its peers as Microsoft (MSFT), Oracle (ORCL), VMWare (VMW), Cielo, and Citrix (CTXS).
| | | | | |
| --- | --- | --- | --- | --- |
| | Market Cap (mil) | Net Income (mil) | P/B | P/E |
| Appian | $1,361.0 | ($28.0) | 8.5 | n/a |
| Microsoft | $650,108.0 | $22,113.0 | 7.3 | 29.8 |
| Oracle | $210,719.0 | $9,713.0 | 3.8 | 22.0 |
| VMWare | $49,249.0 | $1,186.0 | 5.7 | 43.3 |
| Industry Average | $9,867.0 | $236.0 | 6.1 | 29.0 |
Early Market Performance
Appian Corporations IPO priced at $12 per share, at the midpoint of its expected price range of $11 to $13. The stock closed on the first day of trading at $15.01. Since then, the stock has climbed steadily reaching a high of $28.46 on September 29. The stock currently trades in the $23 to $24 range.
Conclusion: Sell or Short Shares Before November 21, 2017
When the 180-day IPO lockup period for APPN expires on November 21, the company's pre-IPO shareholders and insiders – 11 individuals and two venture capital firms – will finally be able to sell a large quantity of previously-restricted shares for the first time. And why wouldn't they – they've had significant capital tied up in the IPO for some time and they've already booked significant gains: APPN has a return from IPO of more than 89%.
If even just a portion of these firms and individuals sell just some of their 52.4 million shares, there's a high likelihood that the marketplace will be flooded with previously-restricted stock – just 6.25 million shares of APPN are currently trading.
We suggest that aggressive, risk-tolerant investors consider selling any current positions and shorting shares of the APPN ahead of the November 21st IPO lockup expiration. Interested investors should cover their positions late in the trading day on November 21st and during the trading session on November 22.
Disclosure: I am/we are short APPN.
I wrote this article myself, and it expresses my own opinions. I am not receiving compensation for it (other than from Seeking Alpha). I have no business relationship with any company whose stock is mentioned in this article.
About this article:ExpandAuthor payment: $35 + $0.01/page view. Authors of PRO articles receive a minimum guaranteed payment of $150-500.Tagged: Investing Ideas, Short Ideas, Technology, Internet Software & ServicesWant to share your opinion on this article? Add a comment.Disagree with this article? Submit your own.To report a factual error in this article, click here