Major offshore drilling stocks have had a great start to this year. Rowan (RDC), Diamond Offshore (DO), Transocean (RIG), Ensco (ESV), and Noble Corp. (NE) have all increased in price. The main driver for this price increase was the upside in oil prices. Brent oil (BNO) is now close to the psychologically important $70 mark. The stock market is mostly about the future, so there's little surprise that offshore drillers' shares catch a bid when oil price is on the rise. Currently, Brent oil prices are in the healthy $60 to $70 range, which, in theory, should provide more contracts and improved day rates in the future.
While future trends are important, the current picture also deserves attention. In case actual market dynamics won't support optimistic predictions caused by rising oil prices, offshore drillers' shares will experience significant correction.
Rowan has just published its January investor presentation, which contains the company's estimates for marketed jackups and ultra-deepwater floaters and their utilization. The company has previously provided these numbers in a November presentation, so it's easy to watch utilization dynamics.
January 2018 Data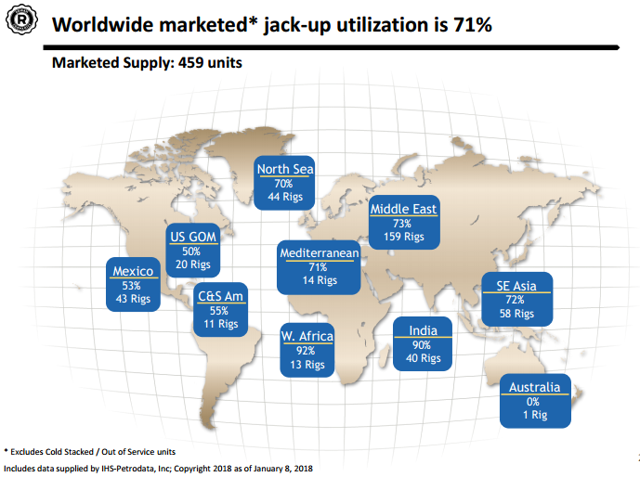 According to Rowan, the worldwide marketed jackup utilization, which excludes cold stacked and out of service units, dropped from 72% (data as of Nov. 27, 2017) to 71% (data as of Jan. 8, 2018). Meanwhile, marketed supply dropped from 460 units to 459 units. Thus, the decrease in utilization was due to more rigs going off contract than rigs which got new jobs.
To put things into perspective, marketed jackup utilization was 68% as of Feb. 13, 2017, and the marketed supply was 458 units (here and later, I'm using data from Rowan presentations for consistency). The bottom in jackup marketed supply is in, but improvements have not been stellar. The recent upside in oil prices have had no effect on the market so far.
January 2018 Data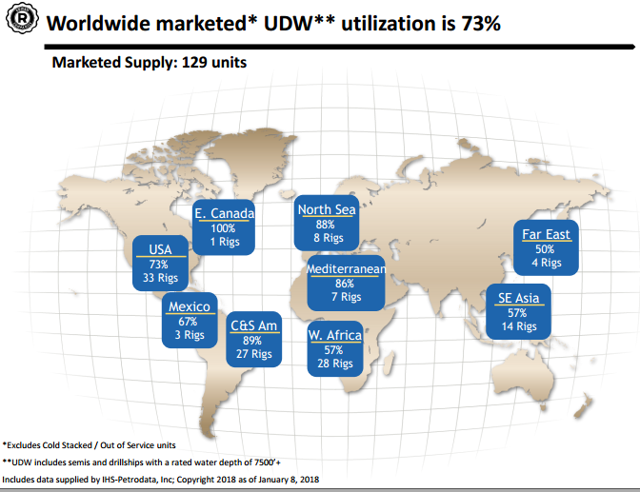 Worldwide marketed UDW utilization was up to 73% on Jan. 8, 2018, compared to 72% on Nov. 27, 2017. Marketed supply grew to 129 units from 128 units. Back in Feb. 13, 2018, utilization was 71% while marketed supply was 129 units. Thus, we witness small improvements on the UDW front, but these improvements are minuscule.
Now let's zoom out and travel back in time to September 2015. Back then, Rowan shares were in the $16 to $18 range. After the recent rally off the bottom, which lifted Rowan stock from $9 to as high as $17, Rowan shares are back to the same $16 to $18 range. Thus, it's extremely interesting to see how utilization trends were back in September 2015:
September 2015 Data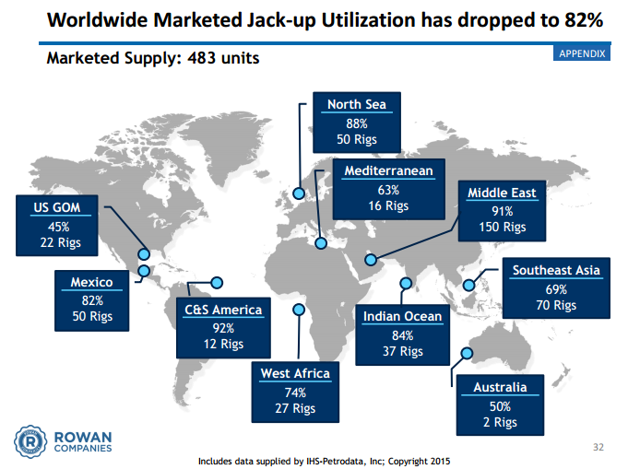 Jackup utilization was 82% while marketed supply was 483 units, which is 24 units higher than now. There was not much fleet attrition on the marketed side, while utilization dropped significantly as older contracts were not replaced by new ones.
September 2015 Data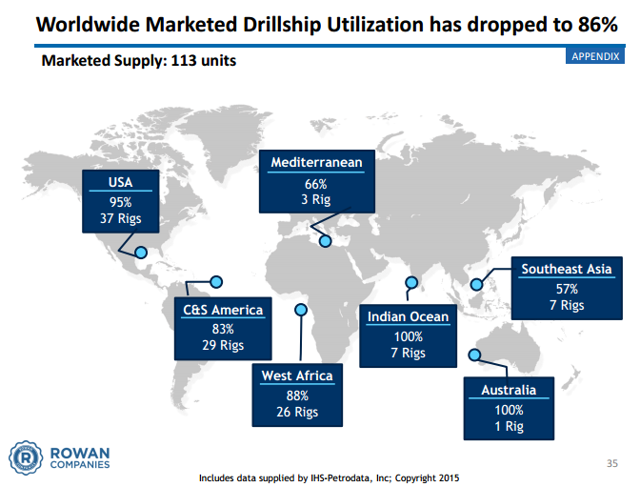 On the UDW side, the situation is even more startling: the marketed supply increased from 113 units in September 2015 to 129 units in January 2018 as newbuilds entered the market. Meanwhile, utilization dropped due to lack of new contracts and the end (in some cases, termination) of better-era contracts.
As I noted in the beginning of this article, the stock market is mostly about the future. Back in September 2015, Rowan's shares were under pressure as utilization trends had been clear and pointed downward. Now, Rowan shares have had significant upside on the expectation that higher oil prices will bring new contracts.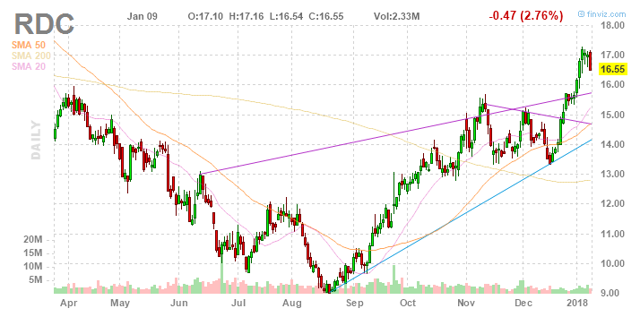 I am concerned that in the short term, the recent upside in Rowan shares is not fully supported by actual improvements in fundamentals. In my opinion, the gap between utilization numbers in September 2015 and current utilization numbers is very significant, while Rowan's share price is at the same levels.
Yes, Rowan made a breakthrough joint venture with Saudi Aramco (Private:ARMCO). Also, Rowan managed to keep its own jackup fleet quite busy (while suffering on the drillship side with only one drillship working out of four available). The company's financial strength clearly made Rowan shares a bet of choice (along with Diamond Offshore) for those investors who wanted exposure to the offshore drilling market but did not want excess risk. Despite all these positive factors, Rowan shares look a bit overheated right now and will likely need further oil price increases for more upside. In the longer run, I stay positive on Rowan if Brent stays around $65.
If you like my work, don't forget to click on the big orange "Follow" button at the top of the screen.
Disclosure: I am/we are long NE, ESV.
I wrote this article myself, and it expresses my own opinions. I am not receiving compensation for it (other than from Seeking Alpha). I have no business relationship with any company whose stock is mentioned in this article.
Additional disclosure: I may trade any of the above-mentioned stocks.
About this article:ExpandAuthor payment: Seeking Alpha pays for exclusive articles. Payment calculations are based on a combination of coverage area, popularity and quality.Tagged: Investing Ideas, Quick Picks & Lists, Basic Materials, Oil & Gas Drilling & ExplorationWant to share your opinion on this article? Add a comment.Disagree with this article? Submit your own.To report a factual error in this article, click here