Finisar (FNSR) has disappointed us in the past (it's the worst performer in the SHU portfolio) and it's disappointing us again, even if this is only partly their own fault. Last year, we had three good arguments for buying the shares:
The shares were cheap relative to its biggest rival Lumentum (LITE). The company would benefit from a Chinese rebound in demand. The company would benefit from the take-off of 3D sensing.
Well, that Chinese rebound has never really happened, and while the 3D sensing revolution is about to happen, the company really had limited capacity to benefit from its early innings, most of these went to Lumentum.
Meanwhile, Finisar has to build an entirely new facility (Sherman in Texas) in order to benefit from the expected demand explosion, and this requires quite a bit of CapEx, not to mention working with 6 inch wafers for the first time, success of which (at least not initially) isn't guaranteed either.
Worse, what happened instead is that both its mainstay markets, telecom and datacom, crumbled to such an extent that it can no longer be said that the shares are all that much cheaper than those of Lumentum, despite taking quite a bit of a hit: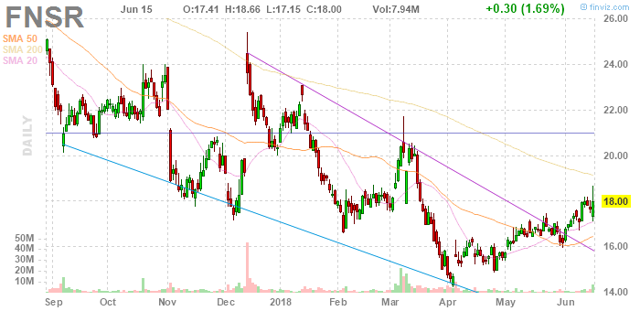 Results
And then we had Q4 figures on Thursday (June 14) and this basically was more of the same, both its core markets crumbling further and more than expected. From the earnings deck: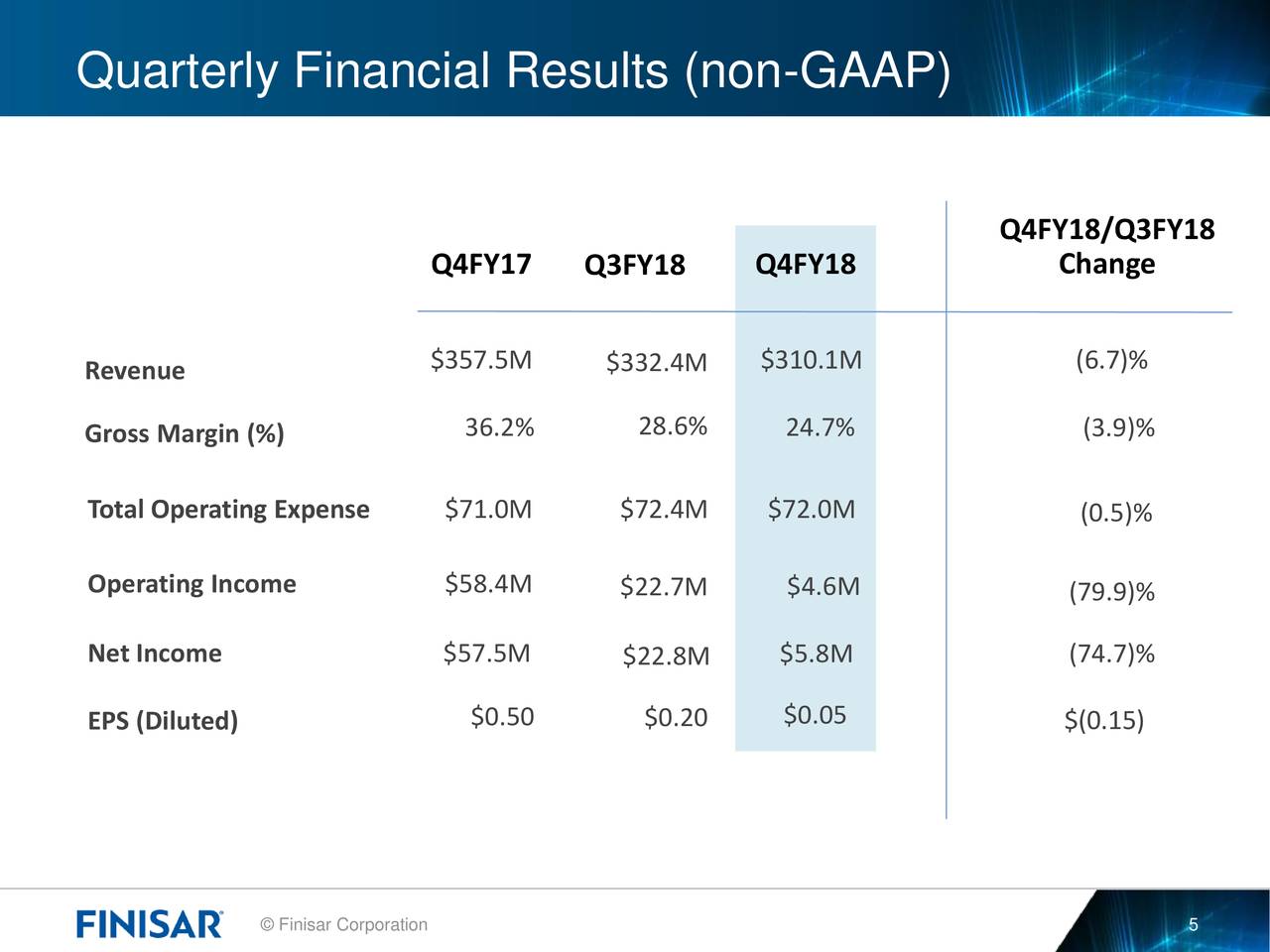 Both telecom and datacom revenues declined on expected lull in VSCEL demand and considerable price erosion (which management argues is linear), but the demand is actually rising especially from the big Web2.0 customers.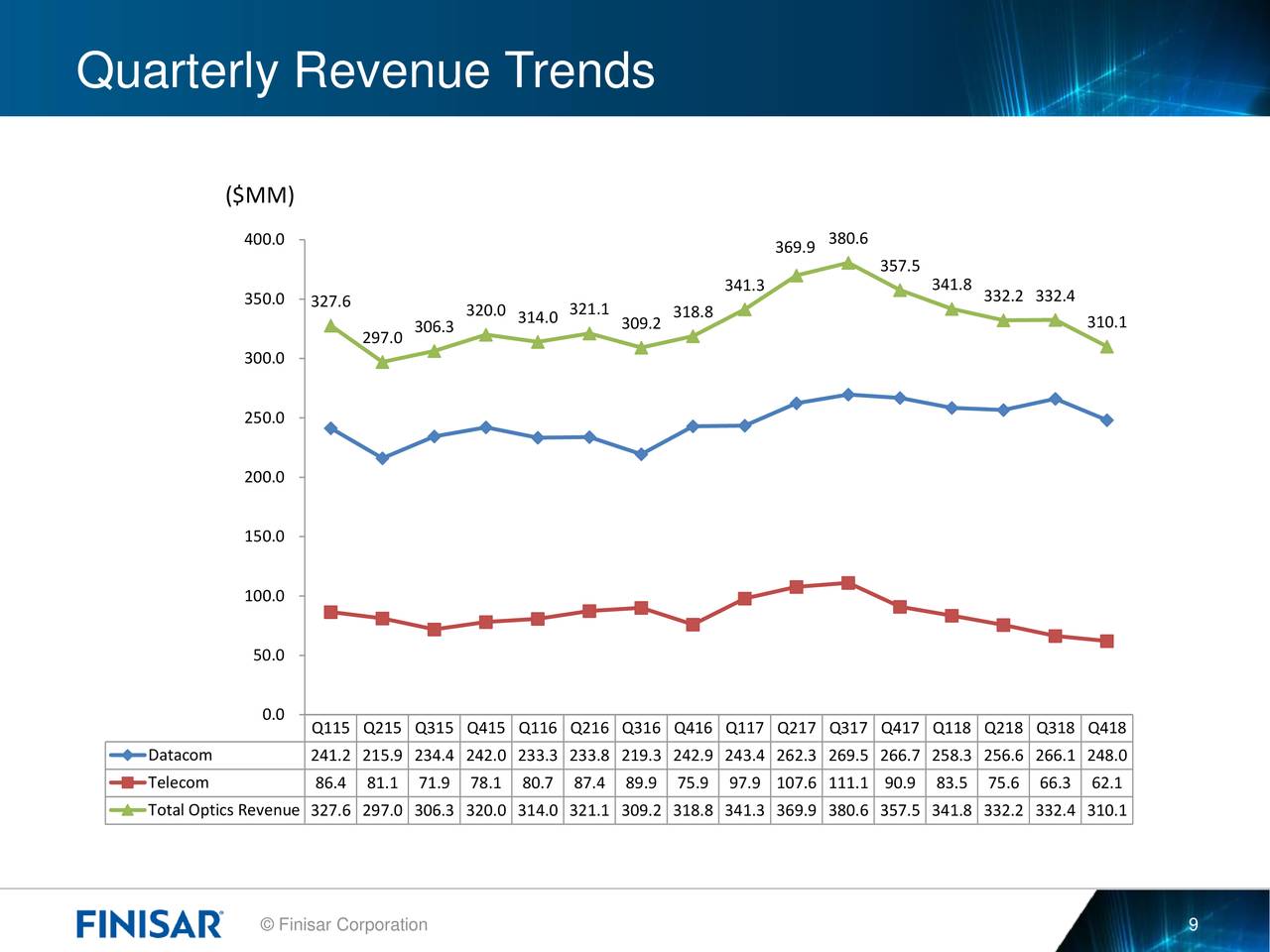 All in all, the company barely eked out a meager profit, but that's about all that can be said about the quarter. Margins collapsed as a result of falling revenues, a non-cash inventory reserve ($9M write-down) and an unfavorable product mix.
And in fact, some of the CapEx that was supposed to go into Sherman has been postponed to the present quarter (Q1 2019), so earnings are actually even a little inflated.
Speaking about the CapEx effort, this consists of three parts (this is for FY 2019):
The core business; roughly $25M per quarter. The expansion in China (Wuxi); $8M-$10M left, most in Q1. The Sherman facility in Texas for VSCELs; $100M in Q1 and $20M-$30M per quarter subsequently. Recovery
There are reasons to get more optimistic, and indeed, on Friday, the shares are up in what is a down market:
Less non-cash inventory reserve impact Better product mix, mostly due to the WSS increase in the mix but also VSCELs Modest China recovery in ROADMs (demand is actually increasing more in India for ROADMs) More 100G demand, which is booming Reducing cost in 100G Ramp in 3D sensing 5G
Apart from recovering demand (most notably for VSCELs), there is a favorable mix shift with good growth in stuff that carries higher margins, like VSCELs, CFP, CFP2 (mostly from China) and WSS.
Obviously, the biggest improvement will come from 3D sensing and it's encouraging for investors to hear management say stuff like (Q4CC):
we have closed a number of design wins for our VCSEL's in consumer and automotive applications. Our opportunity funnel will continue to increase in areas beyond automotive and handsets.
The company actually had an automotive design win, which is really encouraging in broadening the market.
Mind you, this isn't going to emerge immediately. Automotive is really only for calendar year 2019 or even early 2020 onwards and the company has a lot of CapEx to get ready, and then there are customer qualification to get through.
Management argued that the Sherman facility could start producing from October onwards, but customer qualifications and managing 6 inch wafers will ensure that the ramp will not be immediate. This is still a (calendar) 2019 story.
There is really growing demand from the big data centers, some even see the demand for 100G doubling this year, like analyst Tim Savageaux from Northland Capital (Q4CC):
You've had various competitors and suppliers talk about CWDM4 unit volumes kind of doubling in the second half of the year doubling again in '19.
Management isn't that enthusiastic, but sees growth coming, not only with CWDM4 (where the shift away from LR4 is still ongoing which also impacts margins as the price erosion is fastest in the latter) but also with QSFP28 transceivers.
The latter are the biggest part of their datacom business, with migration to 200G and a little later to 400G coming from the data centers.
However, it remains to be seen how much of the volume growth will be hurt by ongoing pricing pressures, which is why management is very focused on cost reductions.
Management does see margins improve as a result of the booming data center demand for 100G, despite the pricing pressure.
There are also a few promising signs from China, but not a major recovery. From the Q4CC:
I'd say ROADM or WSS was relatively flat in the quarter we just finished. But as Michael mentioned we're seeing increased demand for deployments in China and India and that whole drive meaningful growth in our fiscal Q1.
Strategic plan
Management is clearly not happy with performance and indicates they're revising their whole strategy. Cutting operational cost is the first step (Q4CC):
I believe we can ultimately get to a sustainable operating margin of 12% to 15%. We plan to do this by ramping in new markets, changing our product mix and focusing R&D priorities. Fundamental to be achieving this objective will be managing our operating expenses to 18% to 20% of revenue. These changes will not happen overnight. We'll take multiple quarters to implement but we have already begun taking steps to execute a plan consistent with these objectives.
But this is a multi-quarter effort. There is also a more fundamental review:
Contract manufacturing options. Components rather than modules. While the VSCELs are components so this will automatically increase when the Sherman facility is operative, management also thinks in terms of what they haven't done in the past, selling components into traditional optics markets.
With respect to contract manufacturing, management must have been frustrated to watch Lumentum move much faster in the 3D sensing markets because it makes use of contract manufacturing which enables it to ramp up much faster compared to Finisar.
And indeed, without mentioning this particular example, management is reconsidering its manufacturing footprint. Take for instance this (Q4CC):
part of our challenge is that we've probably held on to the 10 gig business longer than most and not the greatest gross margin business due to our vertical integration strategy.
This is surprising, we assumed there was a trade-off in the sense that vertical integration allows higher margins at the cost of slower ramp. But apparently that's not universally the case.
Guidance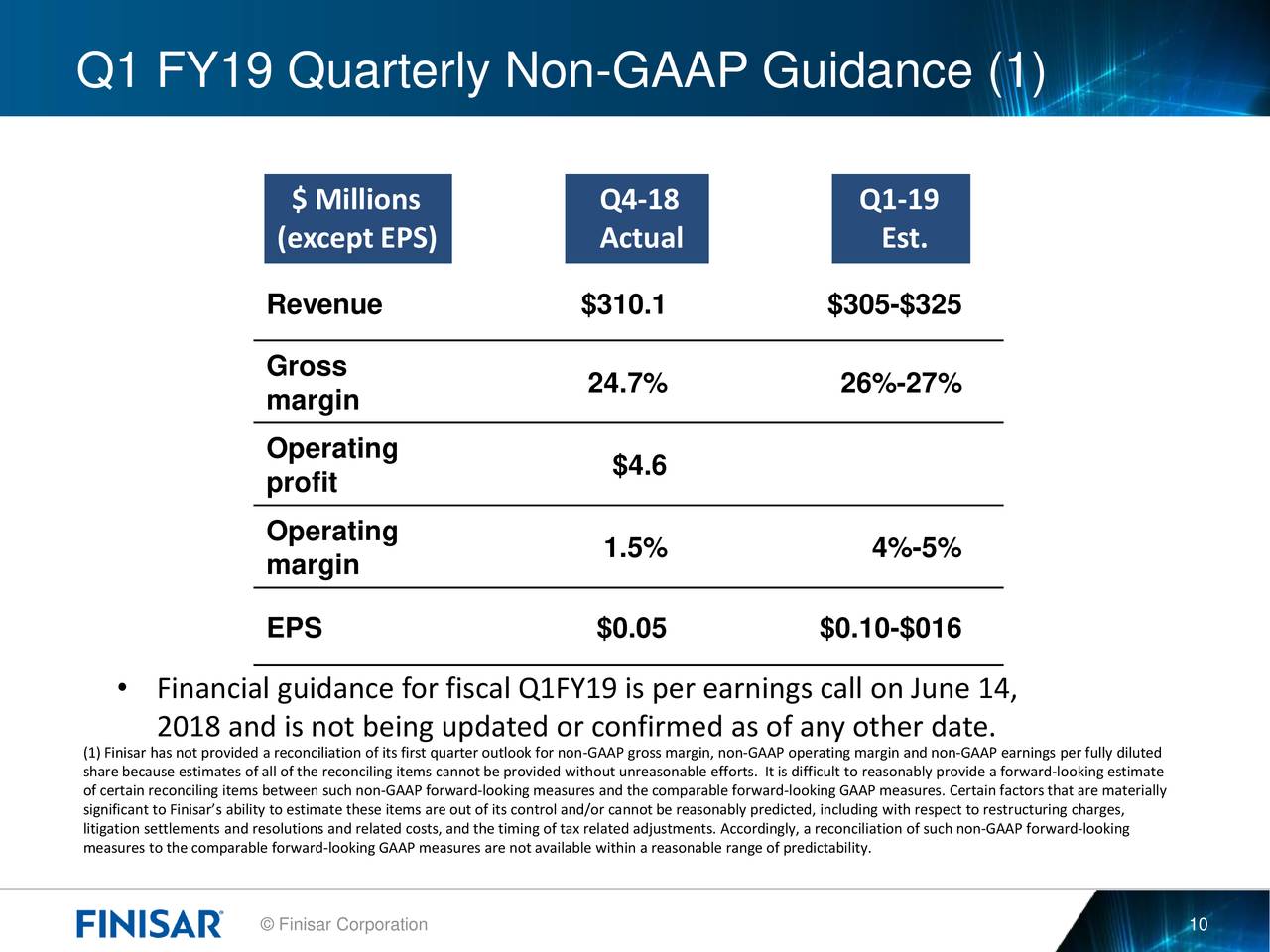 Conclusion
Given the structure of the market where production is fragmented among many competitors and companies don't have pricing power, the shares are actually not a long-term hold. What you have to catch as a shareholder is a wave.
We bought the shares last year for the SHU portfolio because we were expecting two of these waves in the near future (recovery in China and 3D sensing), but China hasn't happened and the company wasn't well positioned to really profit from the 3D sensing revolution, having to spend serious CapEx to expand capacity.
But the good news is that there now might be multiple waves. For sure 3D sensing will arrive and the company will be ready for it by the end of the year with several design wins and demand expanding to other sectors, and most of the CapEx falling off in the near future.
Then there is the ongoing datacenter build out, although this is a bit of a race between volume growth, price erosion and cost cutting, with an uncertain outcome.
Then there is 5G, which is taking off right now, although next year in a more serious fashion. Add to that the cost cutting efforts and the strategic revision and we might be on an up-cycle again.
Disclosure: I am/we are long FNSR.
I wrote this article myself, and it expresses my own opinions. I am not receiving compensation for it (other than from Seeking Alpha). I have no business relationship with any company whose stock is mentioned in this article.