PulteGroup (NYSE:PHM), based in Atlanta, Georgia, is one of America's largest home building companies, spanning operations in approximately 50 markets throughout the country. The group operates through numerous subsidiaries within its portfolio, providing the ability to meet the needs of multiple buyer groups, while responding to the many changes in demand. Operating on a national scale, one of the group's most prestigious assets is its reputation constructed by experience from over 70 years within the industry.
Sector: Consumer Discretionary Industry: Household Durables Target Price: $33.46 BUY Market Cap: $9.16B Volume: 4.78M Sales Growth: 14.31% EBITDA Growth: 22.37% WACC: 9.03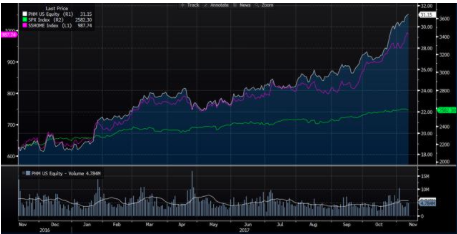 Thesis
PulteGroup has had strong revenue growth throughout previous quarters. This growth is expected to continue, as the group has developed a strong backlog pipeline with favorable operating margins. EBITDA margins have grown at a faster rate, creating value for the group and the opportunity to continue value creation. The group has also diversified its portfolio nationwide, backed by a strong expenditure strategy. Currently, the stock is undervalued.
Earnings Performance
Prior to the two most recent hurricanes, Harvey and Irma, the group's customer "sign-ups" were up approximately 15%. Following the end of September, company-wide sign-ups fell by approximately 3%. The disruptions from the two hurricanes were significant on consumer demand with regard to construction in the Houston, Florida, and coastal Carolinas. Prior to both hurricanes, overall buyer demand was robust in the quarter, but slowed resulting from the hurricanes in the ending months of the quarter. This significant decrease in demand has had an impact on operating margins temporarily, but customer traffic has dramatically rebounded following the storms. Operating margins were still profitable ending the quarter. Net new orders increase 11% ending the quarter, totaling 5,300 new homes. Compared to the previous year's quarter, third-quarter gross margins widened to 24.0% from 21.6%. Operating EBITDA margins improved to 13.7%, up from 13.2%.
PulteGroup's operations consist of two segments. Of the two business segments 98% of revenues come from the group's home building segment, while the remaining 2% of revenues comes from the financial services segment. The following graphs are segment comparisons of revenue and EBITDA margin. The graphs compare PulteGroup's performance to that of its most similar competitors. Data is filtered by companies that operate within the U.S only, to further represent PulteGroup's operation. The quarterly data is an average over the past eight quarters for each evaluation. The data is compared to the market cap average, represented by the dashed horizontal line.
Home Building Segment
Revenue Growth EBITDA Growth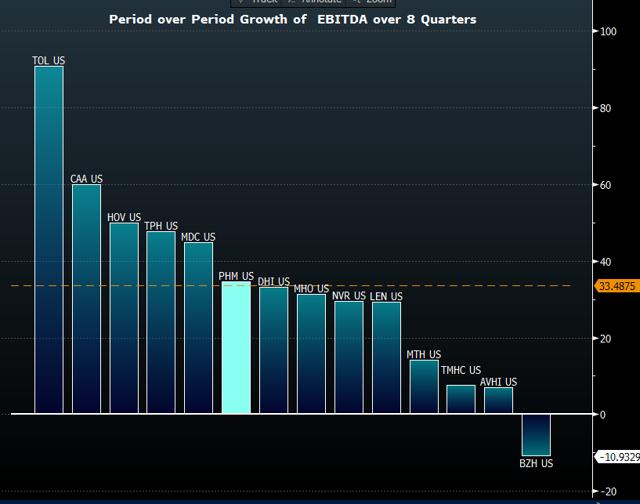 (Created by author using Bloomberg terminal)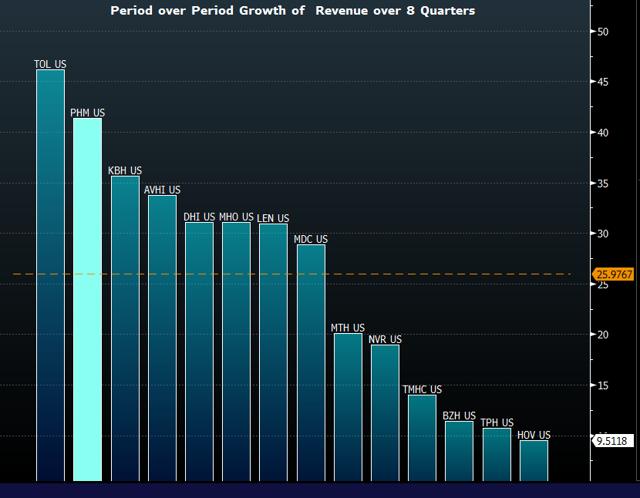 Financial Services Segment
Revenue Growth EBITDA Growth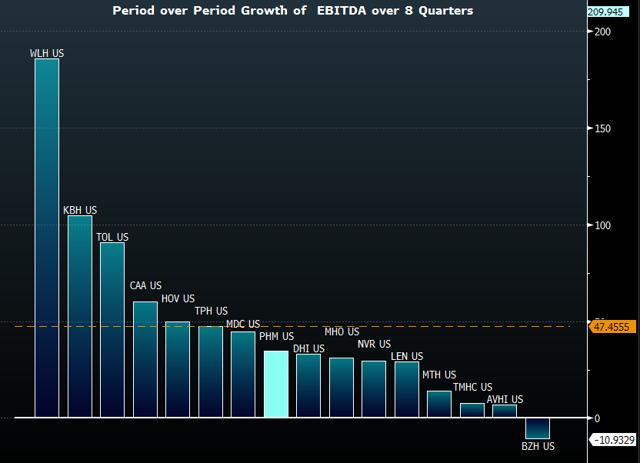 (Created by author using Bloomberg terminal)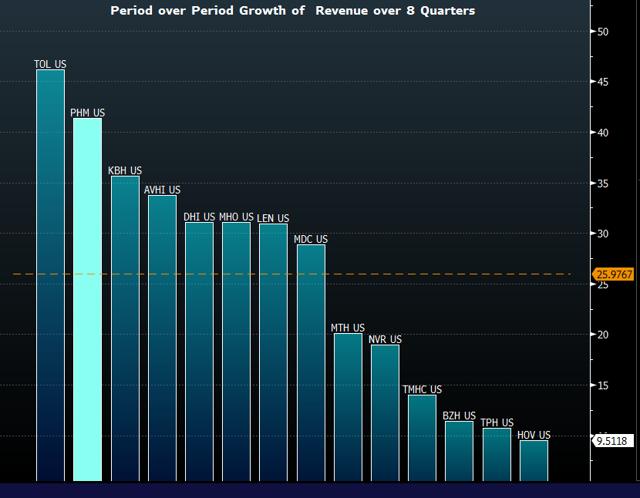 For PulteGroup's home building segment, revenue growth has been strong for the past eight quarters. The group has maintained an industry average EBITDA margin for the period. Affecting the group's EBITDA margin is the volatility in commodity-based products and the pricing of materials associated with production. Capex expenses for land purchasing and development are highly influential in the group's EBITDA margin as well. Later on in my analysis, I will provide an explanation of how the group plans to lower this expense, as its strategy will be evaluated as a catalyst of value creation. For a segment that makes up 98% of overall revenue, the group is showing strong revenue growth, with an industry average EBITDA margin leading to strong performance within the segment.
For the group's financing segment, revenues have grown at a rate higher than that of competitors over the past 8 quarters. Evaluating EBITDA, the margin has grown at a lower-than-average rate. I believe this is not a concern for overall growth and value, as revenues are predominantly from the homebuilding segment. The homebuilding segment has been able to compensate for the financing segment, as total revenue has continued to grow period over period. Looking at both segments, the group continues to grow EBITDA and operating margins at a rate higher than sales growth.
The following table is a comparison of cash-based adjusted EBITDA for the group. The measures are compared to those of the most similar Bloomberg competitors, with comparable market share.

(Data from Capital IQ)
Strong Industry Outlook
Organized in 1956, PulteGroup is a Michigan-based corporation that specializes and operates as one of the largest homebuilders within the United States. The core business of the organization includes the acquisition and development of land primarily for residential purposes. The other business segment the group operates is its financial services operations – within this segment, the group provides mortgage banking and financial consulting. Operating through its subsidiaries, Centex, PulteHomes, Del Webb, DiVosta Homes, and John Wieland Homes and Neighborhoods, PulteGroup offers a wide variety of home designs, including single-family detached, townhouses, condominiums, and duplexes, at different at different prices and with varying levels of options and amenities. The group targets the customer groups of first-time, move up, and active adult.
As of December 31, 2016, the group conducted operations in 49 markets located throughout 25 states. The group reports six market segments as follows:

Projections for the 2018 housing market are favorable with regard to new startups and price appreciation. Freddie Mac projections imply a 2% increase in 2018 for new home sales, with U.S housing prices expected to increase ~5%. Comparing previous years' data, the average house price rose ~6.6% in quarter 2 of 2017 compared to quarter 2 of 2016. Increasing demand paired with increasing prices will be favorable for PulteGroup.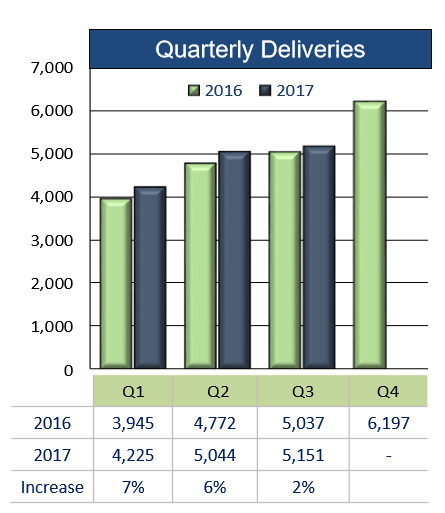 3rd quarter sale price of homes closed increased 7%, or $25,000, to $399,000 ending the quarter. Average sales price increased across all of the group's buyer segments, as First Time customers were up 5% to $293,000, Move Up and Luxury buyers increased 5% to $467,000, and Active Adult buyers were up 9% to $390,000. Move Up buyers accounted for 47% of closings by the group, First Time buyers at 28%, and Active Adult buyers at 25%. Overall home sales revenues for the quarter increased 9% to 2.1 billion. The graph represents quarterly closing percentage change.
Strong Backlog Value
Ending the third quarter, the group's unit backlog increased 15% to 10,823 homes. Backlog value increased by 26%, ending the quarter at $4.7 billion. Both backlog units and value are at 10-year highs for the quarter. The group recognizes backlog orders as an order with a signed customer contract and collected customer deposit, which may or may not be refunded under the nature of the contract.
Being in the construction industry, maintaining and improving backlog is crucial to the continuing of future operations. Backlog is essentially within the nature of the industry itself. In the group's most recent earnings call, the organization mentions that closing rates on the backlog are favorable and investors can expect a stable amount of backlog to be completed within the upcoming quarter. Currently, the group maintains a higher-than-average conversion rate of backlog when compared to its competitors. The average selling price associated with the backlog per unit increased to ~$431,000. This price was the highest backlog price per unit value the company has recognized and reported within the past ten years.
It is fair to assume that PulteGroup has a healthy pipeline of business in the works for future business. A strong portion of backlog operations is expected to be completed within the upcoming quarters, which will contribute strongly to revenue margins and revenue growth. In the previous quarter, the group invested ~$295 million for land acquisitions. 5,500 lots have been purchased, 46% of which are controlled under land options. Currently, it maintains a land pipeline of ~139,000 lots. These lots have been prepped and deemed acceptable for future construction.
The following chart is a comparison with competitors with regard to backlog value, backlog conversion ratio, and inventory turnover. PulteGroup's performance is highlighted in blue. The group's ability to maintain these statistics will contribute to its future growth.

(Created by author using Bloomberg terminal)
Long-Term Land Acquisition Strategy
PulteGroup acquires land primarily for the construction of homes for sale to home buyers. The group selects locations for development after completing a feasibility study, which includes, among other things, soil tests, independent environmental studies and other engineering work, and an evaluation of necessary zoning and other governmental entitlements. The group also uses extensive market research enabling it to match its locations with the needs of consumers. It manages a portion of the risk of controlling land acquisitions through the use of land option contracts. This allows the group to defer acquiring portions of properties owned by land sellers until it has determined when to exercise the contract and begin construction. PulteGroup typically acquires land with the expectation of completing sales within 24-36 months from the date of opening and development of construction. Pursuant to these land option agreements, it provides a deposit to the seller as consideration for the right to purchase land at different times in the future, usually at predetermined prices.
PulteGroup's plan to increase shareholder return is focused on mitigating the risks of land ownership. The group continues to decrease the number of land lots owned, while increasing the number of lots optioned. Optioning more lots will allow the group to lower its CAPEX expenses associated with land purchasing and the risks as well. From the most recent 10-Q filling, the group has maintained this strategy. This strategy is favorable to its operating margins.
Of the group's controlled lots, 90,398 and 99,279 were owned and 48,816 and 43,979 were controlled under land option agreements as of September 30, 2017, and December 31, 2016, respectively. The remaining purchase price under land option agreements totaled $2.3 billion as of September 30, 2017. These agreements can be cancelled at the group's discretion if the lots are not deemed feasible. Building a more optioned pipeline of lots will allow more opportunity to capitalize on market demand with regard to location, while lowering the risk associated with the investment.
The following charts and table highlight the group's performance. It is evident that the group has decreased the number of lots owned, while increasing the number of lots optioned. This is something it will continue to do as the strategy is explained in the most recent earning call.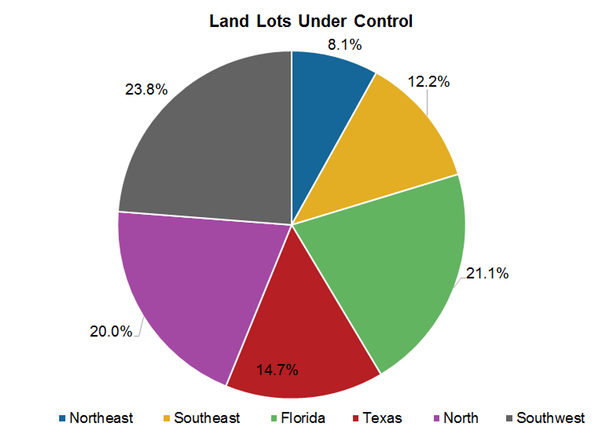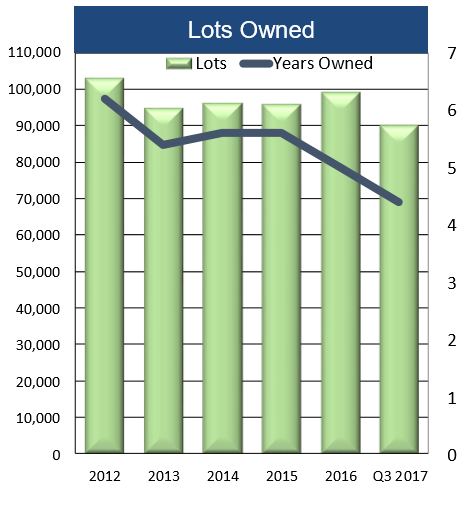 Conclusion
Concluding my analysis, I will provide three scenarios displaying possible outcomes for the future of PulteGroup and the effects each will have on the 1-year target price. The three projections are based on low, medium, and high expectations of revenue growth and operating margins. Revenue growth is subjective to the macro outlook on housing investment. Operating margins are subject to the costs associated with commodity fluctuations and the effects on input materials. They are also subject to the costs associated with land lot purchasing and the strategy of using optioned acquisitions versus upfront purchase.
My first prediction is my most optimistic scenario. Revenue growth is stronger than analyst expectations, and operating expenses are lower than historical averages. This is the ideal scenario, where revenue is at its peak and operations expenses are much lower than expected. The 1-year target price and return is as follows with a current price of $30.91.

(Source: Created by personal analysis)
My second scenario is a realistic and more neutral scenario. Revenue projections are based on analyst predictions and consider the group's historical average looking forward. Operating expenses are more realistic as well. Operations for this scenario include a slight increase in material expenses for upcoming quarters. This is something the group recognized last quarter resulting from the hurricanes. Operations also consider an improving ratio of optioned versus purchased land agreements, and the CAPEX expense associated. The current price is $30.91.

My final prediction is my most pessimistic scenario. Although I feel this scenario is unlikely, it is necessary to show. For this case, the group's revenues will dramatically decrease, while operating expenses continue to increase. This scenario will provide a negative return, as the 1-year target price will fall below the current price of $30.91.

Concluding my analysis, I believe it is fair to expect a favorable price per share increase. A 9.78% return is expected within a year from purchase. Based on my pro forma analysis, I believe there is a 72% probability of a price increase to $33.46.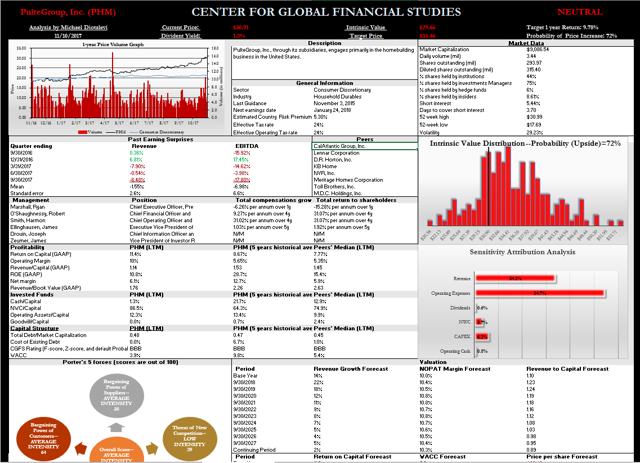 Disclosure: I/we have no positions in any stocks mentioned, and no plans to initiate any positions within the next 72 hours.
I wrote this article myself, and it expresses my own opinions. I am not receiving compensation for it (other than from Seeking Alpha). I have no business relationship with any company whose stock is mentioned in this article.
About this article:ExpandAuthor payment: $35 + $0.01/page view. Authors of PRO articles receive a minimum guaranteed payment of $150-500.Tagged: Investing Ideas, Long Ideas, Industrial Goods, Residential Construction, Editors' PicksWant to share your opinion on this article? Add a comment.Disagree with this article? Submit your own.To report a factual error in this article, click here