Pfenex (PFNX), is a clinical stage development and licensing biotech company producing therapeutic proteins, using their proprietary Pfenex Expression Technology platform.
On Monday, May 14, the company announced positive topline results from a phase 3 trial which showed their lead candidate, PF708-301 had comparable overall profiles with Eli Lilly's Forteo in osteoporosis.
In the same announcement, Eef Schimmelpennink, CEO of Pfenex commented:
"We expect that these results from the PF708-301 study, along with the previously announced bioequivalence findings from the PF708-101 study in healthy subjects, will support the PF708 NDA submission. We are on-track for submission to the FDA in the third quarter of 2018, with a potential commercial launch in the United States as early as the third quarter of 2019, subject, of course, to FDA approval of the application."
The market response was a very favorable 31% increase in stock price (from $6.10 on May 14 to $8.00 on May 15).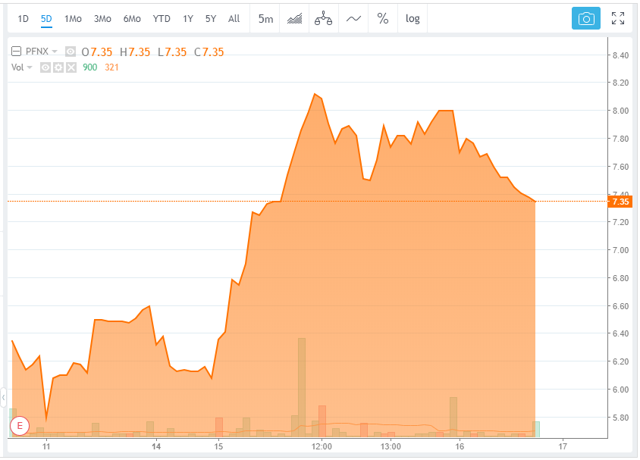 (Source: Seeking Alpha: 5 day chart ending on May 16, 2018)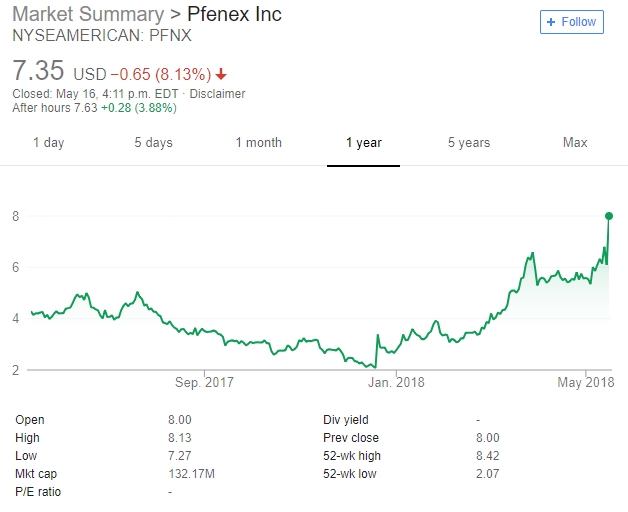 (Source: Google Finance: 1 year chart ending on May 16, 2018)
Pfenex's Drug Pipeline & Partnership
Pfenex uses their Pfenex Expression Technology庐 platform to develope a pipeline of therapeutic equivalents, vaccines, biologics and biosimilars. Below is an overview of their drug pipeline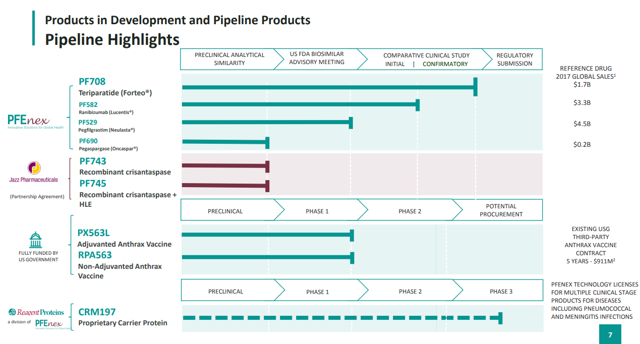 (Source: Corporate Presentation)
1. The wholly-owned therapeutic proteins.
| | | | |
| --- | --- | --- | --- |
| | Regulatory pathway | Indication | Reference Drug 2017 Global Sales & its makers |
| PF708 | PF708 is a therapeutic equivalent candidate to Forteo庐, and is being developed pursuant to the 505(b)(2) regulatory pathway in the US. | Osteoporosis | $1.7B by Eli Lilly |
| PF582 | PF582 is a biosimilar candidate to Lucentis庐 (ranibizumab) and is being developed as a biosimilar pursuant to the 351(k) regulatory pathway in the US. | Retinal Diseases | $3.3B by La Roche and Novartis |
| PF529 | PF529, is a biosimilar candidate to Neulasta庐 (pegfilgrastim) and is being developed as a biosimilar pursuant to the 351(k) regulatory pathway in the US. | Chemotherapy induced neutropenia | $4.5B by Amgen |
| PF690 | PF690 is a biosimilar product candidate to Oncaspar庐. Jazz Pharmaceuticals currently has an option to negotiate a license to PF690. | Acute lymphoblastic leukemia | $0.2B by Shire |
2. Collaboration with Jazz Pharmaceuticals
There are two drug candidates in this group so far: PF743 and PF745.
According to the lastest SEC form, Pfnex granted Jazz Pharmaceutical (JAZZ) worldwide rights to develop and commercialize these hematology/oncology drug candidates.
The partnership highlights:
up to $224.5M in upfront & potential milestone payments. Tiered royalties on net sales. $13.5M development achievement & 5M upfront payment received in Q4, 2017. On track to meet 2018 development milestones.
3. Novel Anthrax Vaccine Candidates
Px563L and RPA563 are novel anthrax vaccine candidates.
The development of Px563L and RPA563 is currently fully funded by the U.S. Department of Health and Human Services, through the Biomedical Advanced Research and Development Authority, or BARDA, via a $143.5 million advanced development contract.
4. CRM 197, a carrier protein in vaccines.
CRM 197 is being investigated as carrier protein in vaccines for diseases including pneumococcal and meningitis bacterial infection.
Merck and Serum Institute India are among companies with which Pfenex has royalty bearing partnership in place for CRM197's development and commercialization.
Pfenex's Near-Term Milestones
According to the company, there are 3 most significant near-term milestones.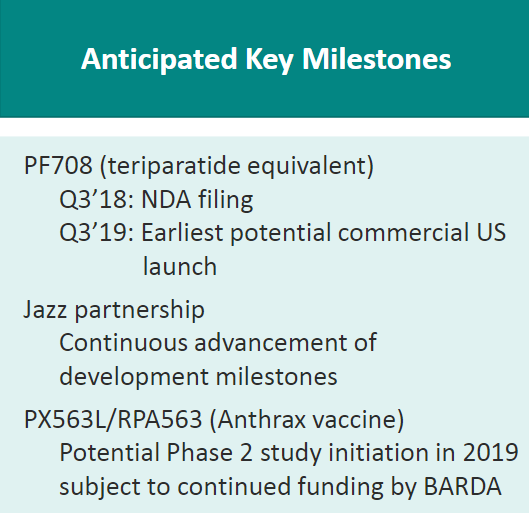 (Source: Corporate Presentation)
As stated in the beginning of this article, Pfenex reported positive topline results from their phase 3 study which shows that PF708 is comparable in safety and efficacy with its reference drug, Eli Lilly's Forteo.
As PF708 is the most advanced, wholly owned drug candidate, it represents the most significant value driver for this stock.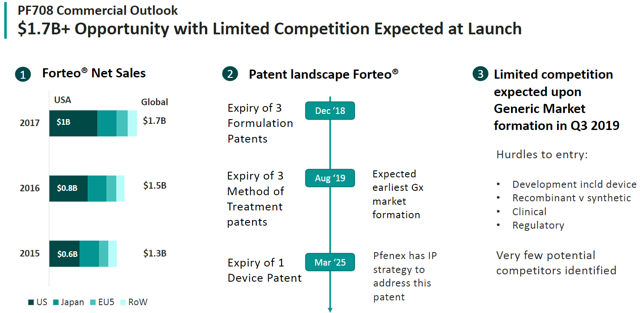 (Source: Corporate Presentation)
According to the company, there are several patents of Forteo that had expired in Dec. 2018 and in August 2019. If PF708's NDA is successful and it's approved, the company plans to launch in the US in Q3, 2019 at the earliest.
The market for biosimilar (or in this case therapeutic equivalent) drugs changes rapidly in the recent years, ranging from 1% achieved sale ($2B) of the global biologic market ($200B) in 2016, to an estimated 10% in the US or 25% to 62% of market share in the EU in 2015 (source, page 10).
The table below is an conservative estimation of the global peak sale of PF708 as a percentage of its reference drug's 2017 achieved sale of $1.7B.
| | | | |
| --- | --- | --- | --- |
| | 1% | 10% | 25% |
| PF708 global peak sale | $17M | $170M | $425M |
1% is probably too low an estimation, given the unfavorable market condition (i.e. loss of significant patents) for Forteo after Aug. 2019.
In their presentation, Pfenex indicates that the company values commercial partnership and are actively exploring ways for US and ex-US market of PF708 to be commercially partnered.
For example, the company has recently established a development and license agreement with NT pharma for PF708 in China and selective Asian countries with up to $25M in milestones and double digit royalties on net sale.
A Best scenario estimation for a potential revenue
If PF708 is successfully approved, launched, and reaches a 25% of annual sale of its mostly-off-patent reference drug, Forteo, and other partnered drug candidates continue to meet their developmental milestones, this table below estimates what the potential revenue will be like for Pfenex in a near to medium term.
PF708 reaches 25% of Forteo 2017 global sale
$425M
Remaining milestone payments from JAZZ partnership

$189.3M*

(=224.5-35.2)

BARDA development contract for Anthrax vaccine
$143M
Milestone payments from NT pharma for PF708
$25M
Total
$782.3M
*To date, Pfenes has already received $35.2M from JAZZ, thus it is subtracted from the total payment.
This above estimation only covers the disclosed development milestone amounts from the partners and does not include the undisclosed licensing/loyalty for CRM197. It does not include the tiered royalties on net sales of the partnered drugs, if/when they are successfully developed and go to market. It also does not include a possible contract of Anthrax vaccine by the BARDA, if/when the Anthrax vaccine candidates are successfully developed and approved.
The current market cap is ~$175M (May 18, 2018), which represents ~22.4% of the potential revenue of $782.3M. In other words, there is considerable room for the stock to appreciate, if the company successfully execute its business plan and increase its revenues.
Recommendation
In my opinion, Pfenex is a potential buy for investors who have done their own DD on Pfenex and find the risk/reward scenario favorable to their investment goal and risk tolerance.
Pfenex is a solid company that has formed very significant partnerships for their extended, advanced pipeline. Looking at their history of timely execution of their clinical trials, it is highly likely that the company will continue to reach the developmental and commercial milestones in various programs and thus increase the revenues steadily and significantly.
According to Yahoo Finance, the institutional ownership is over 80%.
Cash Position
At the end of March 31, 2018, the company has $47M in cash or cash equivalent. The burn rate is $11M per Q. The company projects the available cash to fund its operation for the next 12 months, including the filing of a NDA for PF708 anticipated to take place in Q3 2018.
Risks
The most significant risks include but not limited to the regulatory failure of PF708 in its indication as a therapeutic equivalent drug in osteoporosis; any significant delay or failure in PF708's commercial launch, if approved to go to market; lower than expected revenue generated by PF708 in the US and Ex-US; failures in the clinical developments of one or more drug candidates in partnership with JAZZ, BARDA, or other companies.
The financial risk of a dilution at the near term cannot be ruled out, if the company does not establish further commercial partnership for PF708 or no further non-dilutive fundings secured in a near term.
Thanks for reading. All the best in your seeking and finding Alpha!
Disclaimer: My articles are meant to help, not to replace your own DD. They are not investment recommendations, and I am not an investment adviser. Biotech stocks are highly risky, volatile and speculative. Therefore, investing in these stocks may result in a partial or complete loss of investment. I write about what I consider as good long term investment opportunities (>10 years). Therefore, my articles may not be relevant or useful for those who have a shorter time frame or who are frequent traders. The disclosure statement in each article is accurate at the time of its publication. However, my personal portfolio can change at any time, without further notice.
Please conduct your own DD and consult your financial adviser before making any investment decisions, and take full responsibility for your own investment decisions and ensuing results.
Disclosure: I am/we are long TNXP, GWPH, AST.
I wrote this article myself, and it expresses my own opinions. I am not receiving compensation for it (other than from Seeking Alpha). I have no business relationship with any company whose stock is mentioned in this article.
Additional disclosure: I/we have no position in any stocks mentioned, but may initiate a long position in PFNX over the next 6 month.
Editor's Note: This article covers one or more stocks trading at less than $1 per share and/or with less than a $100 million market cap. Please be aware of the risks associated with these stocks.