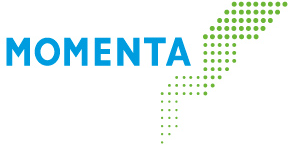 We deduce there are key attributes investors expect out of a small biotechnology company:
Ambitious & unadventurous management Partnership with big pharma for development & commercialization Talented scientific team with solid pipeline Regular cashflow and no regular dilution at regular intervals Opportunity for growth Focusing resources in the right place Limited market reaction for any bad news and sustained recovery realizing the other potentials
We feel an under-the-radar company, Momenta Pharmaceuticals (MNTA), checks all the above.
Introduction
Before moving further, would like to set the expectation for this article. Investment in Momenta is similar to a Lucky Seven pick 4 investment (low risk, sustained growth). We believe Momenta is taking advantage of the upcoming momentum in the biosimilar market. New interest from the FDA in promoting biosimilars and partnership with market leaders mitigates the overall risk. This make us believe that Momenta has better long-term risk-reward ratio.
Ambitious & Unadventurous Management
All of us expect every small cap company to be ambitious in their goals by bringing the drug product to market as planned. But at the same time, we dont expect them to be adventurous by marketing the product themselves by competing with the pharma giants. Rather, stockholders would love to see the company partner with big players to get the drugs to the market. In this sense Momenta is being more ambitious by developing complex generic, biosimilars and novel drugs as opposed to simply developing a small molecule generic drug. At the same time, Momenta is cautious by sharing the development expense and not focusing their efforts in marketing where they dont have deep expertise. Most of the executive team members including Craig A. Wheeler are long-termers and this show their confidence in the company and the product they are developing. Momenta's executive team doesnt seem to overcommit to the shareholders and prefer to discuss their shortcomings and mitigation plans at regular intervals.
Partnership with Big Pharma
Partnership with big pharma companies for development and commercialization effort is a major recognition for small cap companies. In case of Momenta, expense for most of the product in development is being shared between the parent company (Momenta) and partner companies. This limits R&D expense. The major advantage for Momenta is that it has strong commercial partners to market the drug. Partners like Sandoz (Novartis), Mylan, and CSL can make huge difference with their salesforce to market these products. Mylan is expected to continue and expand its biosimilar partnership with Momenta going forward. The biosimilar market in US is in its infancy and Momenta is taking advantage of it by being an early bird. Though many biotech companies are expected to jump into biosimilar market, partnerships with big pharma, like Mylan, will help to mitigate the risk of commercialization. For example, Mylan being the generic giant it is, will likely focus more to top priorities of the biosimilar market. Being a preferred partner for Mylan will make Momenta grow alongside its partners. Also, Momenta is tackling the biosimilar development with caution to pass through market and patent issues.
Solid Science and Pipeline
Momenta founder is Ganesh V. Kaundinya is COO and Chief Scientific Officer of the company. We believe Kaundinya is focusing his effort in the R&D of complex generic, biosimilars, and novel products. This makes the company a niche player in the generic industry. These are difficult to develop and keep the competition in control.
The pipeline consists of two marketed complex generic, seven biosimilars in various stages of development, and other novel drugs in early stage development: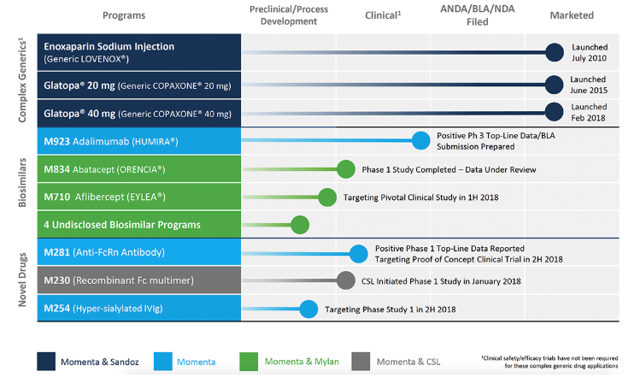 Source: http://www.momentapharma.com/pipeline/pipeline.php
Marketed products (Sandoz): Lovenox, Glatopa 20 mg, Glatopa 40 mg Biosimilar (unpartnered): M923 (Humira) BLA expected to be approved by the time patent expires and legal issues are resolved between AbbVie (ABBV) & Biosimilar developers Biosimilar (Mylan): ORENCIA, EYLEA, 4 undisclosed programs in development (total 6, expected to increase) in various stages of development Novel drug (NYSE:CSL): M230 (Recombinant Fc multimer) Novel drug (unpartnered): M281 (Anti-FcRn Antibody) Novel drug (unpartnered): M254 (Hyper-sialylated IVIg)
Momenta was founded to develop novel drugs and are targeted to be a best in class treatment for autoimmune disease. There are around 80+ autoimmune disease identified so far and it is a multibillion dollar space looking for new drugs with better efficacy at lower costs. All three novel drugs are in various stages of clinical development and the clinical progress of the novel should be closely followed for future updates.
Cash Flow
Momenta has regular cash flow through marked products; however, revenue is expected to be under constraints considering Copaxone generic competition from Mylan. Product revenue for Q1 2018 was only $3.5M, compared to $23.4M the previous quarter. Momenta assures investors that Sandoz is actively building inventory and securing customer contracts.
Cash and investments total $346M. The current cash reserve should be sufficient to run into 2020 and Momenta has other options to raise funds besides resorting to dilutive means.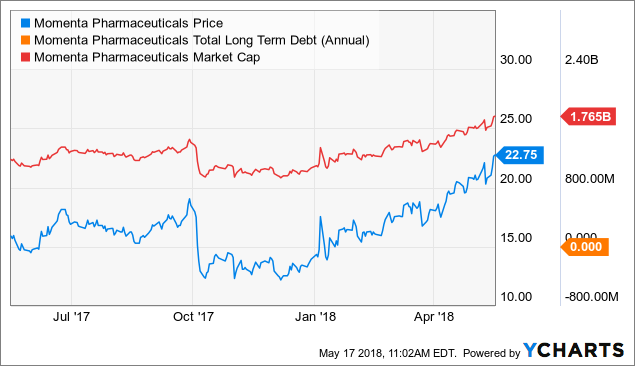 MNTA data by YCharts
Note: Humira and EYLEA racked up ~ $20 & $6B in sales, respectively, in 2017. Considering that Momenta & partners are targeting 10% of the market, it should bring in billions over time. In addition, Momenta is developing five other biosimilars targeting large markets.
Opportunity for Growth
Momenta focuses only on the complex generic because it had limited competition. Balancing the resource utilization between biosimilars and novel drug development programs to reduce cash burn. Momenta is developing innovative therapies in development for autoimmune diseases.
Technical Strength
Above all, stakeholders don't want the stock to drop drastically and lay low for a long duration until the company proves itself again. In case of Momenta individual stakeholders, institutions and insiders believe strongly that the company has potential. I can quote this based on two specific instances. Momenta was expected to release first generic of Copaxone, Glatopa 40mg, but Mylan generic version got approved first. Shares in Momenta responded by dropping but recovered the eve before Glatopa 40 mg was approved. This shows confidence in Momenta pipeline and capacity to deliver. Note: Copaxone was a Tevas blockbuster drug. On a similar instance when ORENCIA biosimilar preclinical failure didnt have too much of volatility.
Risks The market for biosimilars, though enormous, will sport many competitors. Biosimilars depend on a provision in the Affordable Healthcare Act to become marketable. Talks of repeal and replacement may damage investor confidence. There is no guarantee additional biosimilars will make it to the market and big pharma is doing everything they can to avoid their momentum. Momenta may resort to dilutive financing to raise funds to continue operating their business. Clinical trials may fail. Their products may not demonstrate superior efficacy and safety over existing products. Biosimilars require extensive scientific and development expertise and are, therefore, costly to develop. Detailed risks can be read by reviewing Momenta's most recent 10-Q. In Summary
Overall, Momenta has the right set of mix for a growing small cap biotech company: they boost a solid pipeline; couple of marketed products; no near-term dilution; working on generic/biosimilar version of multiple billion dollar drugs; partnerships with market giants for development and commercialization; and ambitious & unadventurous management makes it a long-term bet. Our recommendation for Momenta is not an immediate buy given the recent appreciation based on any upcoming catalyst; rather it should on everyone's watchlist to add at any dips for a long-term investment.
Author's note: This article was written in collaboration with Gobinath Varadappan, a biomedical engineer with big pharma experience and knowledge of clinical, regulatory, and commercial aspects of drug development. For further insight into biotechnology stocks, please follow Clover Biotech Research.


Disclaimer: The intention of this article is to provide insight, not investment advice. One must consider one's own financial standings, risk tolerance, research, etc. before making a decision to buy shares in a company. Many of my articles detail biotechnology companies with little or no revenue. These stocks are, therefore, speculative and volatile. Even when prospects seem promising, there is no predicting the future. Losses incurred may be significant.
Disclosure: I am/we are long GBT, VKTX, IMDZ, AKAO.
I wrote this article myself, and it expresses my own opinions. I am not receiving compensation for it (other than from Seeking Alpha). I have no business relationship with any company whose stock is mentioned in this article.