America's third biggest railroad company Norfolk Southern (NSC) reported earnings in the last week of April. The company presented another record quarter and was able to benefit from a trend that's currently putting tremendous pressure on conventional transportation companies on the road. Overall I'm impressed and will continue to use Norfolk as my go-to railroad stock.


Source: Norfolk Southern
Another Record Quarter
Norfolk Southern has beaten earnings expectations every time over the past few years. This happened during a slowdown (2015) and during a growth acceleration trend (2016-current). Moreover, Norfolk started its recovery one quarter earlier than its biggest rival Union Pacific (UNP).
Regarding growth rates, we see that the company is posting double-digit EPS growth numbers since early 2017. This perfectly fits the company's 2020 plan which aims at delivering double-digit EPS growth on a CAGR basis until at least 2020.


Source: Estimize
Total operating revenues increased 6% which outperformed the 4% increase of operating expenses and pushes income up 10%. The operating ratio had its ninth consecutive decline in the first quarter to a record low of 69.3%.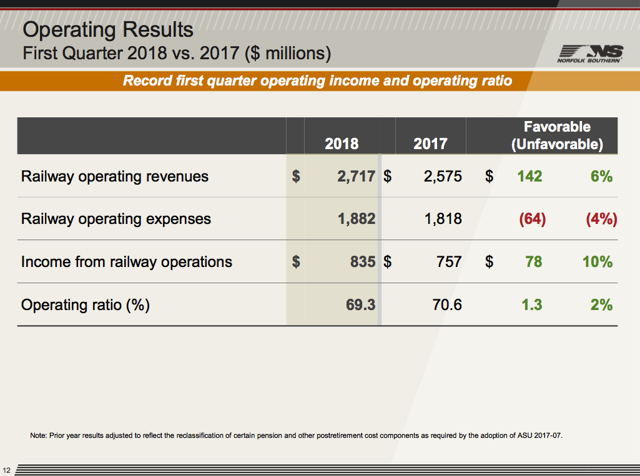 Source: Norfolk Southern
That being said, the revenue breakdown reveals that the company was able to grow sales in all key segments. Merchandise increased 1% despite a 2% volume drop. However, the reason behind this drop is the lower train velocity and the impact on equipment supply. Higher prices and fuel surcharges were able to avoid a revenue decline.
Intermodal contributed $107 million to the total revenue increase. Total sales increased 19% to a new record high. This was supported by an 8% volume increase and higher prices. Moreover, Union Pacific was able to benefit from the tightness in the truck market and problems among truck companies to acquire qualified personnel to deal with higher demand. In other words, Norfolk Southern is benefiting from a negative headwind that can be considered a problem throughout the entire economy.
Coal was almost unchanged given the slow sales increase of 3% and the low importance compared to intermodal and merchandise. Benefits from higher coal exports were offset by bad weather conditions in the US and lower train velocity.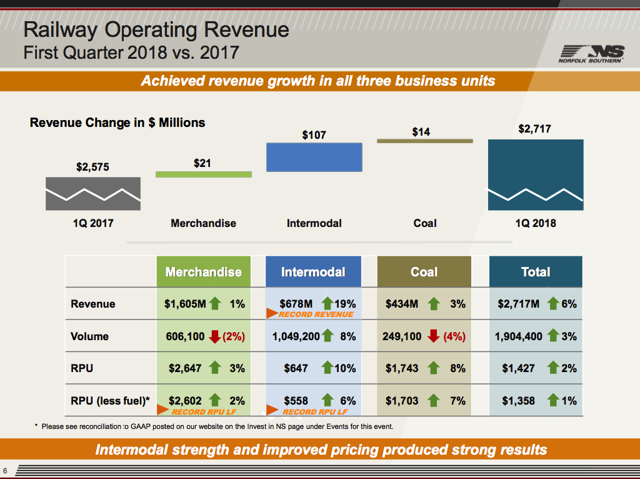 Source: Norfolk Southern
The result of another strong quarter is a new operating income record high.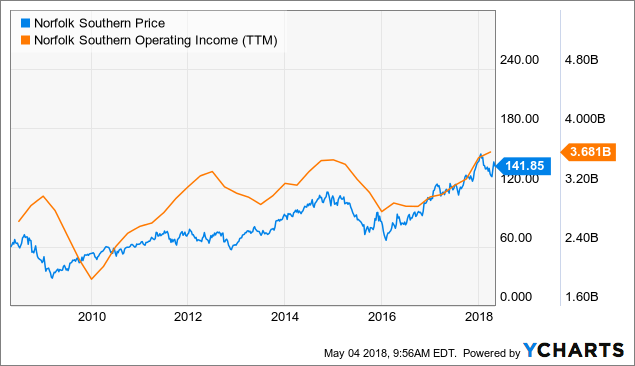 NSC data by YCharts
Add to this the benefits from a lower tax rate of 22% in the first quarter and the fact that the company is going to buy back shares worth $1.5 billion this year, and you get a best-case scenario for the company's bottom line (excluding macro economic changes).
Moreover, operating margins are at their highest level since the 1990s even though the company is seeing higher fuel costs. Total fuel costs increased 25% on a year-on-year basis which was partly offset by a 3% decline of wages. The company reduced its employee count by 1,000 persons and is expected to keep the current level for the foreseeable future. Note that the company did hire 500 conductor trainees to increase the lower velocity which had caused some trouble in the first quarter as I just discussed.
Personally, I expect operating margins stay at around 34% given that a large part of the margin improvements were due to a lower employee headcount while input inflation is likely to remain high.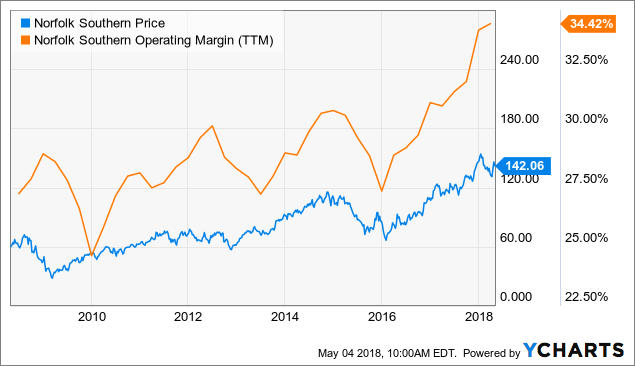 NSC data by YCharts
Outlook Is Macro Dependent
Just like other transportation companies, Norfolk Southern is presenting us their outlook when it comes to their key transportation segments. The overall outlook remains bullish based on a strong economy. Further industrial production is likely to offset automotive declines while construction activities and higher overall prices will add to these improvements. Intermodal will continue to benefit from a tight truck capacity and higher truck prices while e-commerce is another secular and cyclical driver of sales.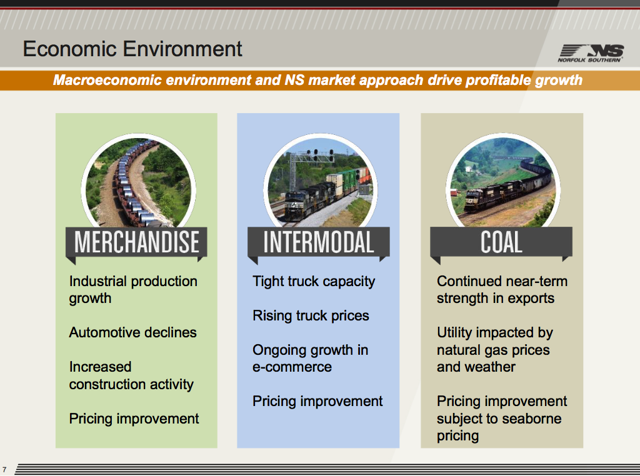 Source: Norfolk Southern
My personal take is that it is not a certainty that the economy is going to keep its current pace as I discussed in my most recent macro outlook. It seems that economic growth is likely to slow a bit after peaking in the first quarter of this year, as you can see below. I compared the stock price of Norfolk Southern to the leading ISM manufacturing index. Both are showing some weakness since the first week of this year. This is likely going to continue if growth declines further. It is unavoidable that Norfolk goes down along with sentiment simply because it is such an important macro stock.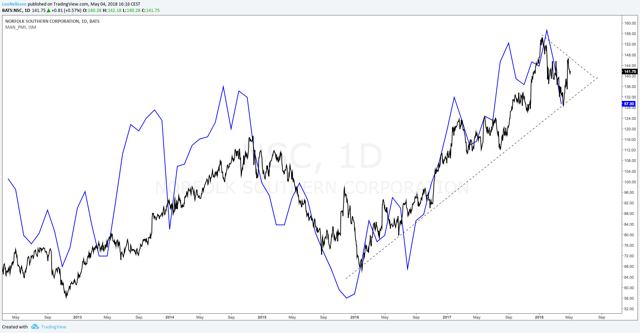 That being said, the company is an outperformer. Even during the most recent stock market volatility the stock reached a new high compared to the transportation ETF (XTN). The ratio spread below shows the strength of this company which is no surprise given its strong fundamentals and approach to benefit from the economic trend while avoiding the pressure from rising input costs.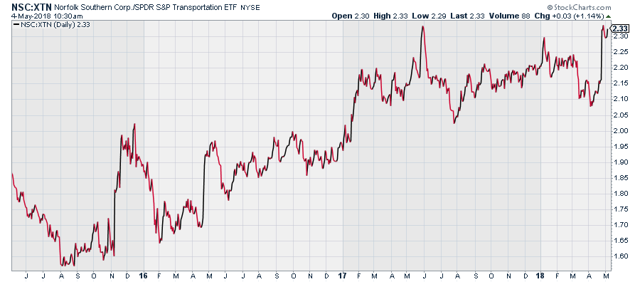 Takeaway
Norfolk Southern had another tremendous quarter with strong top and bottom lines. The company once again beat earnings and confirmed its strong commitment toward shareholders by buying back shares worth $1.5 billion in 2018.
Moreover, the company is getting additional business due to a tight trucking industry which I think won't change anytime soon.
Even if I'm not buying the stock right now because of falling economic sentiment, it is good to know that this company is a strong outperformer and one of my top picks if I start adding to transportation stocks again.
Stay tuned!
Thank you for reading my article. Please let me know what you think of my thesis. Your input is highly appreciated!
Disclosure: I/we have no positions in any stocks mentioned, and no plans to initiate any positions within the next 72 hours.
I wrote this article myself, and it expresses my own opinions. I am not receiving compensation for it (other than from Seeking Alpha). I have no business relationship with any company whose stock is mentioned in this article.
Additional disclosure: This article serves the sole purpose of adding value to the research process. Always take care of your own risk management and asset allocation.