Following the fleet status report of Rowan (NYSE:RDC), Noble Corp. (NYSE:NE) has also published its fleet status update. I remind you that Noble Corp. remains the sole driller which has chosen to present monthly updates, so news may look scarce compared to Rowan because of this. Here's the main news:
1. Noble Bully I is on route to Curacao after it finished work for Shell (NYSE:RDS.A). Noble Corp. stated that Noble Bully I will be cold stacked. This is a very serious decision for a drillship, which is now pushed to the end of the "job waitlist" and won't see any work for years to come.
2. Another drillship, Noble Bob Douglas, will finish work for Apache (NYSE:APA) in mid-April and will try to find work after this. Whether Noble Corp. will keep Bob Douglas in the warm stacked state remains a big question.
3. Final two 30-day priced options were exercised for Noble Regina Allen. The rig is currently providing accommodation services at an undisclosed dayrate before it commences work for Exxon Mobil (NYSE:XOM) in the fourth quarter of 2017.
4. Noble Houston Colbert will work until late June 2017 vs. the previous estimate of late May 2017. The dayrate remains undisclosed.
5. Noble Bully II will begin working at a reduced dayrate of $200,000 from April 2017 compared to the previous estimate of March 2017. The duration of the contract with Shell remains the same.
The big news is, of course, Noble Corp.'s decision to cold stack a drillship. Drillships are the most expensive to keep in the warm stacked state, but they are also the most expensive to bring them back to life after cold stacking. It's hard to tell what expenses for putting the drillship back in the working state will be in the future. Some observers also question the technical ability to do this after a prolonged cold stacked time.
Perhaps, some of the drillships that are stacked now will never work again due to technical difficulties or big cost of bringing them back to work. Thus, the decision to cold stack a drillship is a difficult one. Noble Corp.'s move once again highlights the tough state of the UDW market – there's still no light at the end of the tunnel, and all contracts go to jack-ups, which are better suited for the lower oil price environment.
I would also like to note that tough times from the cash flow perspective begin for Noble Corp. Two legacy contracts (Noble Bully I and Noble Bob Douglas) are now over. Together, they brought $1.1 million per day.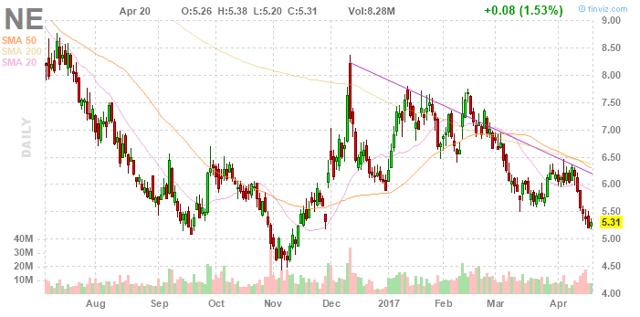 Noble Corp. shares continue their downside trend and November 2016 lows are now in sight. This fleet status report won't be able to break this trend, as a 60-day accommodation work for one jack-up is simply not enough. The decision to cold stack a drillship speaks volumes about the company's outlook for the UDW segment.
As time goes by and oil prices do not break through the ultra-important $57.50 level for Brent oil (BNE), offshore drilling stocks find themselves under increasing pressure. In my view, Noble Corp. shares may test November 2016 lows if oil prices fail to rise from current levels in the next month.
Disclosure: I/we have no positions in any stocks mentioned, and no plans to initiate any positions within the next 72 hours.
I wrote this article myself, and it expresses my own opinions. I am not receiving compensation for it (other than from Seeking Alpha). I have no business relationship with any company whose stock is mentioned in this article.
Additional disclosure: I may trade any of the abovementioned stocks.
About this article:ExpandAuthor payment: $35 + $0.01/page view. Authors of PRO articles receive a minimum guaranteed payment of $150-500. Become a contributor »Tagged: Investing Ideas, Quick Picks & Lists, Basic Materials, Oil & Gas Drilling & Exploration, United KingdomProblem with this article? Please tell us. Disagree with this article? Submit your own.Follow Vladimir Zernov and get email alerts