Monsanto (MON) is a one of the leading companies in the agrochemical and agricultural biotechnology sectors and is at the forefront of genetically engineered seeds. Over the years, Monsanto has become the flagship of negative publicity and sentiment in the farming community. For shareholders, however, there lies some very good news in the companys imminent future. In the wake of the Monsantos acquisition by Bayer, shareholders will end up realizing one of two possibilities: the deal goes through and the price differential with Bayers offer is locked in, or the deal does not go through and shareholders get a solid cash boost. The only question is why are you not aboard this train?
Financials
Over the past two years, revenue has decreased from a peak of $15.848 billion in 2014 to $13.502 billion in 2016. The companys fiscal second and third quarters ending in February and May 2017 have shown promise and a lot of commentary around the market suggests that the stock will outperform this year. Sales were higher 6.64% on average on a year on year basis. In the last few years, agricultural product companies and chemical companies have delved into each others product markets; hence, I believe it's appropriate to compare Monsanto with CF Industries (CF) and FMC Corporation (FMC). A Monsanto Dow Chemical comparison has been done way too many times and at this point, it would add little value to the reader.
| | | | |
| --- | --- | --- | --- |
| | Monsanto | CF Industries | FMC Corporation |
| Ticker | MON | CF | FMC |
| Market Cap ($ billion) | 51.76 | 8.02 | 11.97 |
| Revenue ($ million) | 13,502.00 | 3,685.00 | 3,282.40 |
| Operating margin | 17.59% | -0.90% | 13.36% |
| Net Income ($ million) | 1,296.00 | -158.00 | 245.50 |
| Net profit margin | 9.60% | -4.29% | 7.48% |
| EPS | 4.59 | -1.59 | 1.55 |
| Price | 117.42 | 32.04 | 87.14 |
| P/E | 25.58 | -20.15 | 56.22 |
| P/B | 11.35 | 2.17 | 5.99 |
| Total debt to assets | 45.80 | 38.19 | 30.83 |
| Employees | 20,800.00 | 2,900.00 | 5,900.00 |
| Dividend | 2.11 | 1.20 | 0.66 |
| Dividend yield | 1.80% | 3.75% | 0.76% |
(Source: Morningstar)
Net income has followed revenue in its fall, it is expected to rise around 20% this year. Earnings per share is expected to rise above the $5.00 level as well compared to $4.59 in 2016. The stock yields 1.80% at the current price and the company has been raising dividend year after year at an average rate of 13.10% over the last five years. This years strong performance should further cement this trend. In comparison to CF Industries and FMC, Monsanto is a better fit when P/E ratio and net profit margins are taken a look at cumulatively Monsanto is not only at a good entry point currently but it's also churning out a consistent level of net profit margin every year.
Stock Performance
Monsanto has had a steadier evolution than its competitors. One reason is the stronger financials and less volatile business model based on proven products and long-lasting licensing deals. Another reason resides in the significantly larger size and structure of the company compared to its peers.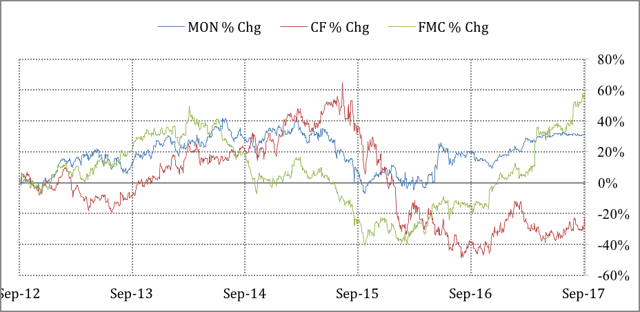 Apart from the period spanning the first half of 2015, the stock price stayed above its 2012 level maintaining shareholder value. While historical data does not guarantee future performance it still shows the stocks resilience compared to the competition. Its safe to say that Monsantos beta value is far less than its peers which leads one to believe that its price and market sensitivity is far lower than the rest.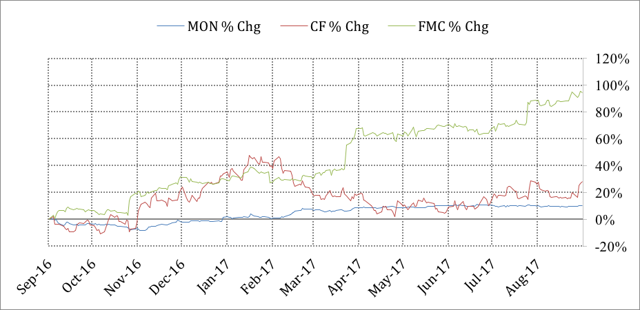 In a shorter time frame, Monsanto has been on a strong uptrend, since the beginning of 2016 although the first half of its ascension was highly volatile. In November 2016, it had entered a stage of docile rise with no major corrections.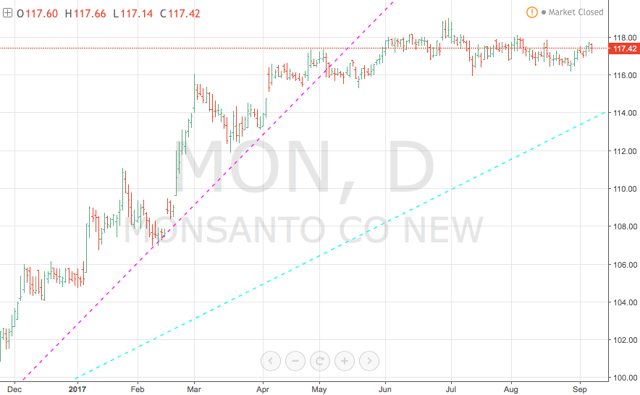 Monsantos stock price rose 11.50% year-to-date closing at $117.42. It has entered a range-bound course since the beginning of April while the acquisition deal is pending approval. At the current pace, it should hit its previous support line in a months time and eventually rebound if no negative news arrives in the meantime.
Acquisition
Monsantos shareholders accepted Bayers acquisition proposal for $66 billion by a 75% majority by the end of 2016. Bayer offered an all-cash deal at $128 per share, $22.69 or 21.55% above the years closing price. The deal is still awaiting regulatory approval from officials around the world. Some approvals have already been confirmed from countries such as South Africa. The pro-business stance of the US government should not create additional hurdles to the process as the acquisition faces getting from the European Union. The deal could pass US regulatory approval, as was the case for Syngenta when it was taken over by ChemChina. Bayer is determined to close the deal before the end of 2017 and is preparing to make the necessary asset sales to meet requirements. The merger is interesting for Monsantos shareholders either way. A success means a markup of $10.58, 9.01% over the current price. A failure will leave the companys cash with an additional $2 billion. Bayer has agreed to pay that much in compensation in case the deal does not go through.
Future Prospects
The company is betting on the increasing food-growing productivity needs. World population is expected to reach 9 billion individuals in 2050 increasing demand for food. At the same time, climate change is making harvests more vulnerable to droughts, floods and diseases. These factors make the use of more resistant crops a necessity and Monsanto is a pioneer in this field. As clouds of GMO protests and negativity subside, the company is forecasting new market incursions in South America with its Round Ready soybeans, which should impact revenues to the upside up to 30%.
It is also expecting advances in the sales of its FieldView software platform to cover larger areas of land in particular in Europe, Brazil and Canada. The restructuring program is expected to enhance the companys finances, whilst the modernization of its R&D function as well as its supply chain and the commercial network is expected to have a direct impact on the net income. This initiative should reduce expenses by $500 million per year.
Bottom Line
It doesnt happen very often that you are assured of winning the game regardless of getting a winning or losing hand. Such is a situation that current Monsanto holders find themselves in. In case of success, shareholders would get a markup of $10.58, 9.01% over the current price. In case the acquisition fails, the companys coffers would receive an additional $2 billion since Bayer has agreed to pay that much in compensation in case the deal does not go through. It remains to be seen whether it will skyrocket after the acquisition approval by regulators or it will resume its steady growth after the deals failure. Either way, there are no down sides to being associated with Monsanto at the moment I strongly recommend having Monsanto on your portfolio.
Disclosure: I/we have no positions in any stocks mentioned, and no plans to initiate any positions within the next 72 hours.
I wrote this article myself, and it expresses my own opinions. I am not receiving compensation for it (other than from Seeking Alpha). I have no business relationship with any company whose stock is mentioned in this article.
About this article:ExpandAuthor payment: $35 + $0.01/page view. Authors of PRO articles receive a minimum guaranteed payment of $150-500.Tagged: Investing Ideas, Long Ideas, Basic Materials, Agricultural ChemicalsWant to share your opinion on this article? Add a comment.Disagree with this article? Submit your own.To report a factual error in this article, click here