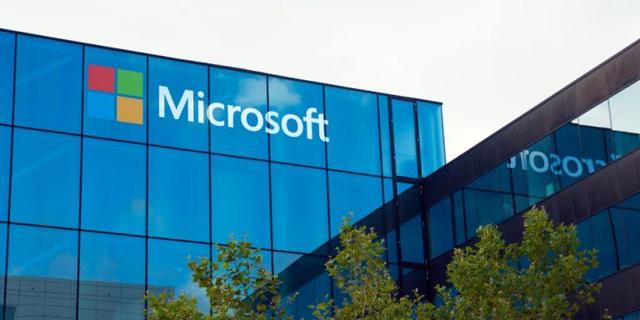 Source: InvestorPlace
Microsoft (MSFT) recently reported earnings, which came in higher than Wall Street estimates – and by a healthy amount. Revenue forecasts were ~$26 billion for the quarter, with actual Q3 revenue coming in at ~$27 billion. The strong growth is driven by Microsoft's rapidly growing cloud computing ("CC") segment, along with its business productivity unit ("BPU") segment.
The stock opened up just under 4% the day after the earnings report, showing the market's positive reception to the news.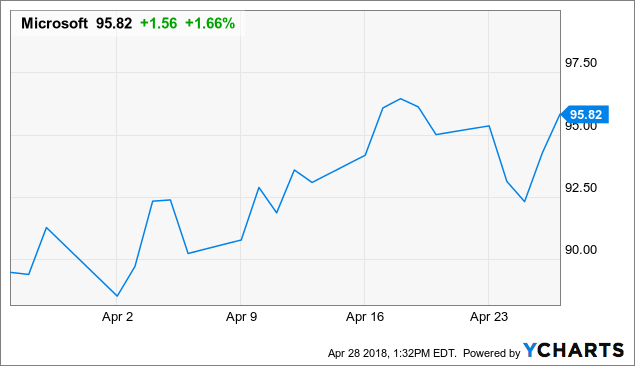 MSFT data by YCharts
The demand for cloud computing is evident, as companies seek to lower their data storage costs. Storing data in the traditional fashion is costly, and at times a logistical nightmare. As a result, companies such as Microsoft and Amazon (AMZN) have positioned themselves to best serve these needs.
The positive top line outlook is complemented by Microsoft's valuation, which appears to be more than justified when factoring in performance metrics and growth prospects. The stock seems to be ready to break a $96 resistance level, and headed to higher highs.
Financial Overview
Microsofts revenue has a healthy track record, performing quite well over the last several years. LTM revenue is nearly $100 billion, with an operating margin of ~30%.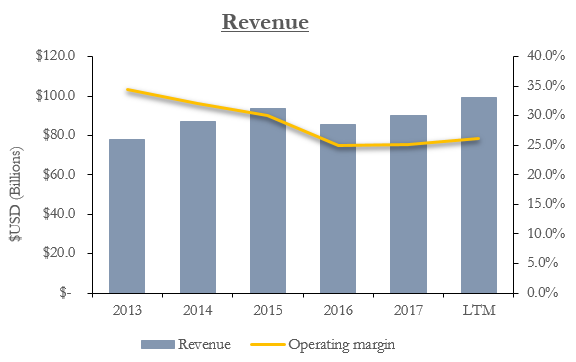 Source: Morningstar
Increased R&D spending has placed some pressure on operating margins, although we believe that this will translate into revenue opportunities in the future. Gross margins are perhaps the most affected, as revenue costs increased over 10 percentage points since 2013.
Microsoft's top line is certainly not done growing yet, and in our opinion is far from its full potential. As the company taps into rapidly growing markets, they set themselves up for continued success. Seeing as cloud computing drove strong revenue growth in Q3, we emphasize this segment's potential.
Cloud Computing
With the CC market expected to grow to $411 billion by the year 2020, combined with Azure's competitive position in the industry, Microsoft will certainly benefit from this, latching onto the growth for years to come.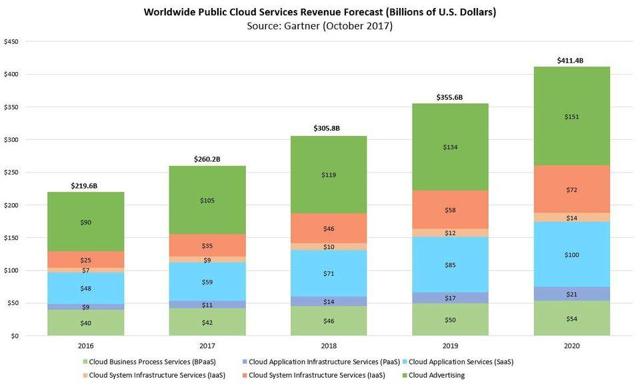 Source: Forbes
Azure currently offers a myriad of options, which are convenient to companies of all shapes and sizes. Whether it be a small mom and pop shop, or a Fortune 500 corporation, Azure has something to bring to the table. Several days ago, Seeking Alpha contributor David Barbalas highlighted a few positive aspects of Azure, which we strongly agree with:
Microsoft offers an undeniably greater integration of commercial products, providing both a platform as a service ((PaaS)) and infrastructure as a service ((IaaS)) for corporate use. This gives business as much or as little control over their internal system as they desire, and match both needs of multinational corporations as well as small businesses.
Source: David Barbalas
Azure certainly holds a competitive edge in the CC industry when considering what they have to offer customers. Although it may not seem like it at the moment, this presents further growth opportunities at Microsoft.
Investors may attempt to pick out the best company with skin in the CC game, but often times forget that it is not a zero sum game; there is plenty of money to go around to the companies with a presence in CC.
Azures growth has propelled Microsoft to the No. 2 position in the $15.6 billion cloud computing market with a 14 percent share, behind AWSs 32 percent, research firm Canalys estimated in February.
Source: Reuters
Given the sheer size of the CC market, a ~14% market share stands to be substantial in the coming years (excluding the possibility of market share growth). The market may be underestimating the future size of the CC market, and fail to price in the growth opportunities currently in Microsoft's path.
Historical Valuation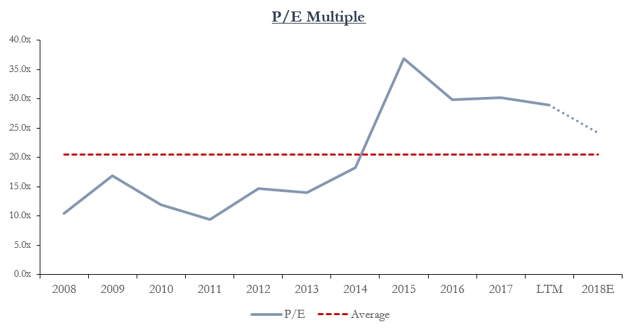 Source: Morningstar
Microsoft has traded between 10x and 35x earnings since 2008, averaging around ~20x earnings. With a current multiple (adj. for extraordinary items) of ~29x earnings, the stock is trading above its historical average. Factoring in growth potential, we believe the stock's valuation is more than justifiable given the growth prospects now being seen in their CC segment.
Conclusion
Microsoft is a company that has a strong track record as far as revenue is concerned, and continues to boast positive growth prospects in the industry. Looking at the CC market potential, we certainly see Microsoft's Azure as a big player in the industry alongside Amazon's AWS. We stress the important fact that it's not a zero sum game, and that Microsoft may be just one of the many companies benefiting from the strong growth in cloud computing.
The growth potential in Microsoft's top line may be understated by the market, and when combined with a reasonable valuation, and higher margin nature of their rapidly growing CC segment, Microsoft appears to be a great long-term investment in our eyes.
Disclosure: I/we have no positions in any stocks mentioned, but may initiate a long position in MSFT over the next 72 hours.
I wrote this article myself, and it expresses my own opinions. I am not receiving compensation for it (other than from Seeking Alpha). I have no business relationship with any company whose stock is mentioned in this article.