For quite some time, I've pounded the table on Micron Technology, Inc. (NASDAQ:MU), buying into its recovery story. So far, it's been the right call. On a year-to-date basis, MU stock is up a robust 30%. This mooning is all the more impressive considering the Trump administration's hardball posturing against the Asia-Pacific region.
Despite the well-deserved enthusiasm, I concede that investors considering Micron stock now have a tough time assessing the situation. Sure, you may love the company's fundamentals, and the growing semiconductor industry; however, who wants to buy at the top of the market. Given that MU has soared nearly five-fold since February 2016, I understand the hesitation.
Additionally, the semiconductor industry isn't known for its stability. If you want somewhat decent predictability in your investments, semiconductors' boom-bust cycle makes MU stock undesirable. Also, Micron must contend with the nasty legal battle with United Microelectronics Corp (ADR) (NYSE:UMC).
To add insult to injury, Micron stock is down nearly 12% from its closing high this year. I'm not going to mislead you: MU can get ugly in a hurry. Plus, with our President's not-so-great attitude towards Asian leaders — and with Asia being a key semiconductor player — investing in Micron is guaranteed to be eventful, no matter what its ultimate trajectory.
But if you've got the iron constitution to handle the volatility, MU stock has upsides you don't want to miss!
The Semiconductor Market Is Stronger Than You Think
Back in 2015, almost everyone was writing Micron's obituary. MU stock was basically halved, sending shareholders scrambling for the exits. Thankfully, those dreadful days are long gone.
Today, we can look at the situation with clearer and calmer eyes. The reality is that, despite some hiccups here and there, the semiconductor market is much stronger than you might realize.
During the 1990s, the average annual growth rate for worldwide semiconductor sales was just under 13%.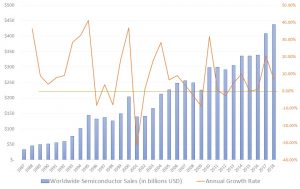 Over the next 10 years, this growth fell to 6%. Although individual years saw tremendous upside, the decade also saw the tech bubble collapse, the Sept. 11 terrorist attack and the 2008 financial crisis. It was simply too much for the industry to overcome.
In the present decade, however, circumstances have improved significantly. Currently, we're maintaining an 8% average growth rate. This is significant because it indicates the sector is not yet maturing. Plenty of upside remains, which is great news for Micron stock long-term.
MU Is Improving Its Lot Against Competitors
Plying your trade in a growing and robust industry is always a positive. However, in order to stand out, you have to make headway against your key competitors. That's exactly what Micron is doing.
While the worldwide semiconductor market has been rising, MU chipped away at its rivals, stealing market share. In the first three years of this decade, Micron's share of total industry revenues averaged 2.5%. Between 2013-2016, the company's average haul was 4.1%.
And, last year, Micron took away 5.5% — a 34% improvement over the aforementioned average share.
Of course, stealing market share from your competition is one thing, stealing where it matters is quite another. The results from management's aggressive strategies is clearly evident. Presently, only two companies have over 20% market share in the critical NAND and DRAM markets — SK Hynix and Micron. SK Hynix leads, but by less than a 3% margin.
The others? They're far behind. Toshiba Corp (OTCMKTS:TOSBF), Sony Corp (ADR) (NYSE:SNE), and Samsung Electronics have 11.5%, 10.5% and 8.4% market share, respectively.
Compare Brokers
Strong Financials and Smart Decision-Making
Usually, high-flying companies don't have the greatest financials — the riskiest plays tend to be the most lucrative. So those who are considering MU stock should reflect on the underlying organization's fundamentals.
For starters, operating and net margins are among the best in the business. It also has a three-year revenue growth curve that exceeds more than two-thirds of the competition. And although I don't put much weight on this metric, against earnings, MU is significantly undervalued.
Where I'm really impressed is management's excellent prioritization skills. As revenues climbed, so too did costs and expenses. However, Micron has put more of its money where it counts — in research and development. Over the past four years, R&D expenses have increased 33%, whereas SGA expenses have gone up only 5%.
Every company has to institute cost discipline; that's just the name of the game these days. But I'm glad to see that management is setting itself up for present and future success. That's why I remain confident in Micron stock.
As of this writing, Josh Enomoto is l