MannKind (MNKD) investors have seen scripts rising modestly over the course of Q4. Modest sales growth has been a common theme with Afrezza that everyone is pretty much used to at this point. Perhaps more interesting is the trajectory of retail sales revenue we are seeing.
At the beginning of Q3 2017, the average retail sales revenue per reported script was about $739. This past week, the average retail sales revenue per reported script was $1,177. During that same period, scripts rose from about 329 to 486. Essentially, scripts have risen 48% over the past 20 weeks, while retail sales per script have risen about 59%.
Seeing sales growth increase (even if more modest than investors would like) is natural. Seeing the average revenue per script rise could have some investors wondering how this is possible. Before getting to far into the weeds on this, we need to clarify a few things that oft seem to befuddle some investors.
The revenue reported by Symphony is retail sales. Retail sales are not what MannKind gets. In fact, MannKind does not get anything even close to the retail sales levels reported. There are two revenue numbers that are important to MannKind investors. Gross revenue and net revenue. Gross revenue is the money MannKind collects when it sells Afrezza to a wholesaler or distributor. Net revenue is what is left after the impact of discounts, rebates, returns, and fees are removed.
So what could account for the average revenue per reported Afrezza script rising almost 60% over the past 20 weeks?
The retailers are raising the price of Afrezza. The new Afrezza SKUs are now filling the channel. These SKUs contain more cartridges, and thus are more expensive.
For MannKind investors, the hope would be that the reason for the rise is mostly due to the second condition outlined above. Why? Because selling more cartridges does translate to more gross revenue and net revenue for MannKind, while the retailer raising prices does not.
Until we get to see the Q4 numbers, the realities will not be known. Over the coming weeks, you will likely be exposed to several "theories". Uber bulls will say that all of this rise is attributable to the label change, the ad campaign, and anything positive. Uber bears will say that the company is giving away vouchers which helps retail sales numbers look good, but takes a beating on the gross to net ratio.
The reality is in between. Yes, the sales efforts have helped to bring a shift. The steep rise transpired before the ad campaign started, so putting a lot of weight in the recent spike on television ads does not quite fit. What is possible is that the digital push preceded the television push. The label will help some, but not as much as people want to believe at this early stage. Vouchers do indeed happen. A voucher essentially means that the consumer gets a steep discount or a free product. In the case of a voucher, the retail sales would be reported by Symphony, but the "bill" (or a portion) would be paid by MannKind. We can track the level of voucher use in the quarterly numbers reported by MannKind. Further, the company guided that the gross to net ratio would be between 30% and 35%. If that ratio comes in at 40%, then one possible reason is heavier use of vouchers and rebates.
Understanding all of these dynamics and modeling various assumptions can help an investor to gauge the most probable situation. An example is in my own modeling. I am using a higher cartridge count in Q4 vs. Q3. I am using a higher revenue per script in Q4 vs. Q3 as well. With that, let's assess the latest numbers.
This past week Afrezza sales came in at just under 490 scripts. This is the highest script level since MannKind took over full control of Afrezza 16 months ago. It is by far the highest cartridge level that Afrezza has ever seen sold in 1 week. The unfortunate thing for MannKind and its investors is that beginning with next week's numbers, we will be in the holiday season. In particular, next week's numbers will be highly impacted by the Thanksgiving holiday.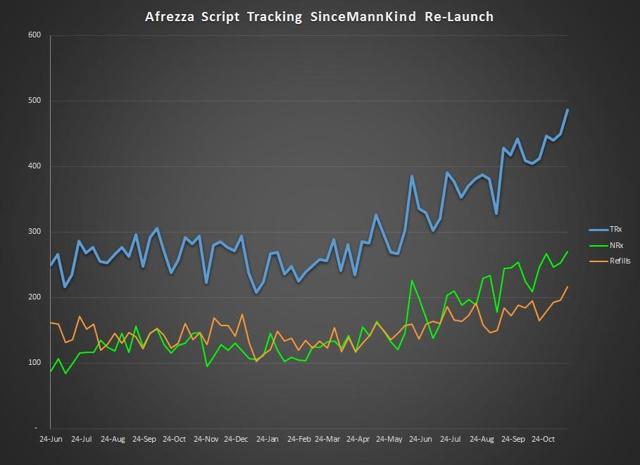 Chart Source – Spencer Osborne
The quarter-over-quarter sales numbers are tracking about 22% better here in Q4 than what we were seeing at this point in Q3. That number is nowhere near what is needed to impress the street or hit MannKind's guidance. This is the case even when you consider the higher average revenue per script. With just 6 weeks left in the quarter, the probability of scripts getting to the levels needed is very low. In the first 7 weeks of the quarter, MannKind has sold just over 3,000 scripts.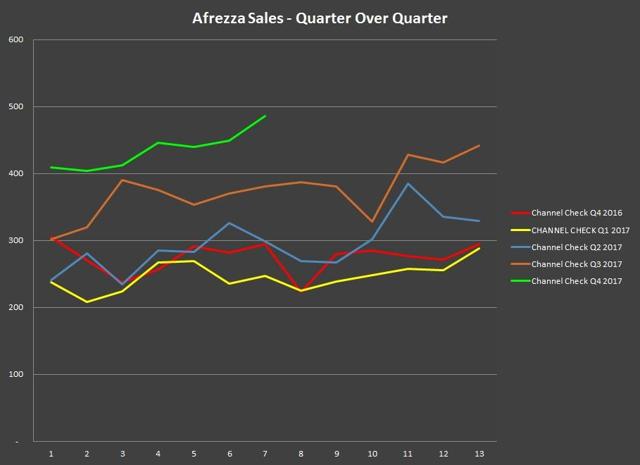 Chart Source – Spencer Osborne
The year-over-year numbers look much better in terms of growth levels, and carry much better "optics". Sales at this point in Q4 of 2017 are tracking over 57% better than what was delivered a year ago. It looks likely that the sales levels reported 2 weeks from now (9 weeks of sales) will surpass the full 13 weeks delivered in Q4 of 2017. At this stage, the focus is less on the year-over-year dynamics, but it would be foolish to ignore what is happening in that metric.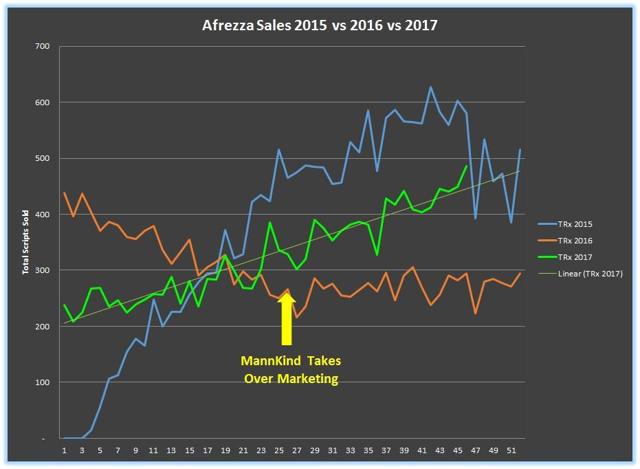 Chart Source – Spencer Osborne
As most investors know, MannKind is now running a rationalized television ad campaign. The campaign appears to have started just before the latest quarterly conference call. There seems to have been a big push for a few days, but reporting of ads seem to have diminished in the last week or so. If one looks at Google Trends, you can see the spike when the ads started, and the dip in more recent days. Google Trends does not track television ads. It tracks search interest of Internet users. Typically, an ad campaign would generate web searches. For some reason, web searches for Afrezza do not seem to be spiking in a very big way yet.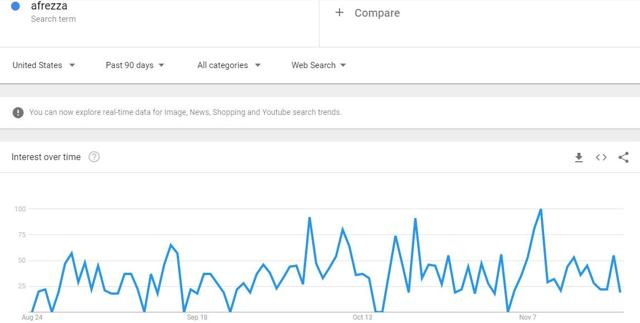 Chart Source – Google Trends
The numbers reported this week came in above my projections for script sales. That is good news. Bad news is that script sales need to be substantially higher than my projections to impress the street. On an aggregate basis (for the second half of the year), script sales are at 7,921. On an aggregate basis, the sales are tracking just above my middle projection which is at 7,854, and below my upper projection which is at 8,161. At this stage, I do not yet see any compelling evidence to shift the script sales projections themselves. I have shifted the revenue attached to each script as of last week.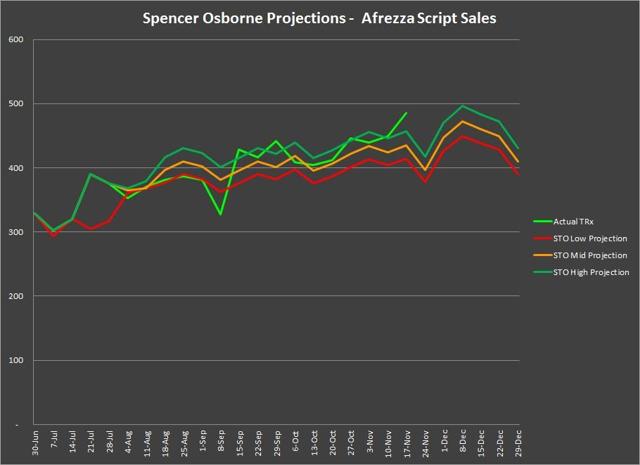 Chart Source – Spencer Osborne
Readers also have MannKind guidance to refer to. Essentially, MannKind has guided to net revenue of $6 million in the second half of the year. We already know that net revenue in Q3 was a bit less than $2 million. This means that in order to hit its guidance, Q4 needs to deliver $4 million in net revenue. By my estimation, the first 7 weeks of Q4 have delivered $1.3 million in net revenue. This means that the remaining 6 weeks need to deliver $2.7 million in order to hit guidance. It does not take a genius to arrive at the conclusion that reaching guidance is not likely. The chart below illustrates the type of growth MannKind would need to deliver in term of scripts. MannKind has not tracked well against its guidance the entire time since it offered it to investors.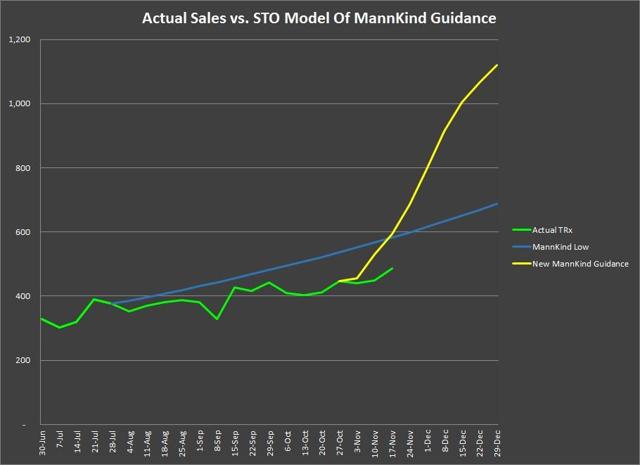 Chart Source – Spencer Osborne
As always, it is best to boil this down to dollars. The chart below shows retail sales, estimated gross and net revenue based on reported script sales, and projected gross and net revenue based on my projections. As you can see, there has been a material shift in retail sales dollars. At this point, I acknowledge and recognize that it exists, but am not yet ready to jump onto a specific reason as to why. If this relates to the new SKUs, then we should see the average normalize based on a non-availability of the old SKUs. In my opinion, that normalization should become evident in the next 2 weeks. It bears watching.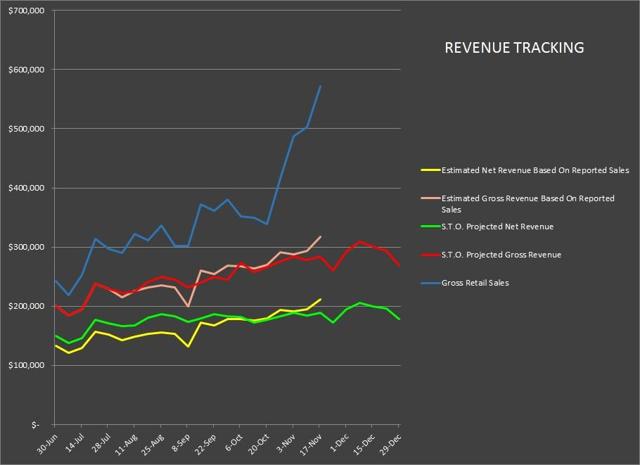 Chart Source – Spencer Osborne
The next chart is an important one to investors. This is where you can see very clearly how tall of a task it will be for MannKind to hit its net revenue guidance of $6 million in the second half of the year. I have a very, very high degree of confidence that MannKind will meet my low projection. I have a very high degree of confidence that MannKind will hit my middle projection. I am confident that MannKind can hit my high projection. I am not at all confident that MannKind can hit its guidance based on sales. If the company pulls an accounting shift out of its hat to hit guidance, I will consider that a miss and only an artificial hit due to manipulation of accounting methodology. Savvy investors will keep an eye on deferred revenue and cash to see if shifts are happening, and to what degree. It is my hope that MannKind can get to its numbers in an organic manner. I simply do not see that as being realistic. Simply stated, I do not see MannKind generating $2.7 million in net revenue in the 6 weeks that remain.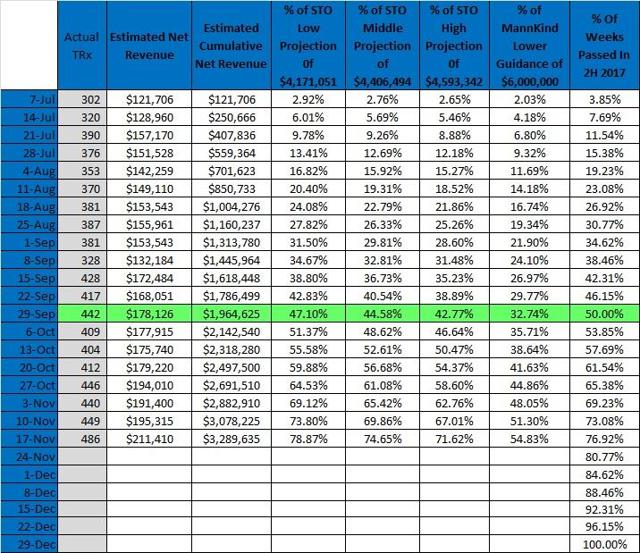 Chart Source – Spencer Osborne
In terms of cash, it is my estimation that MannKind had roughly $60 million remaining as of November 10th. I also estimate that MannKind will finish the year with about $46 million in cash. That is likely enough physical runway for two quarters in 2018. That being said, a Deerfield covenant requiring that MannKind have $25 million at the end of Q1 is concerning. It is even more concerning if MannKind replicates an approximately $8 million advertising buy in Q1.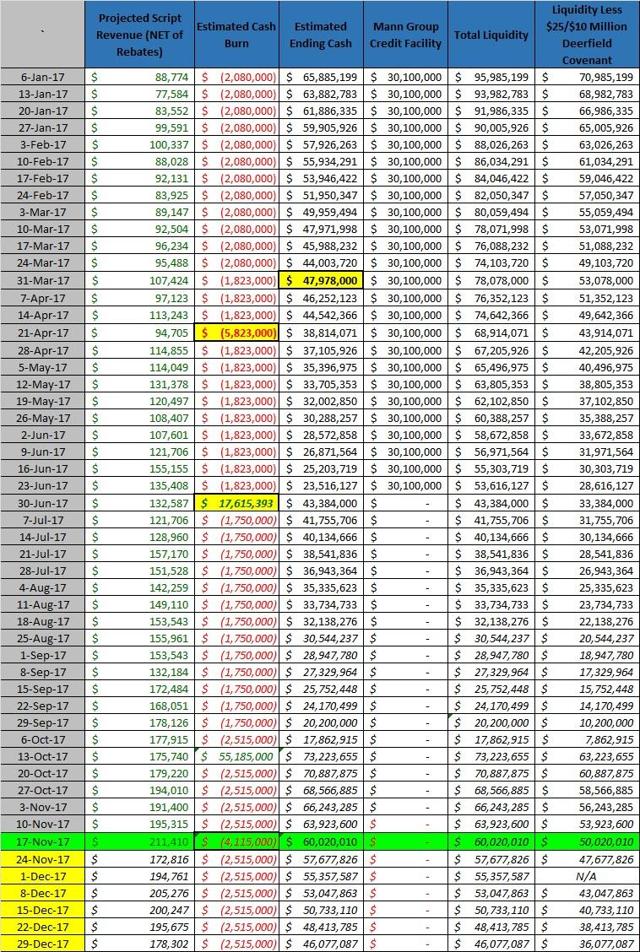 Chart Source – Spencer Osborne
The cash issue at MannKind brings to the forefront the matter of the company seeking to double the authorized share count in mid-December. As things stand now, MannKind has only 4 million authorized shares on the shelf to work with. From a business perspective, MannKind is woefully short on authorized shares. Being at just 4 million authorized shares simply ties the hands of the company, and thus its shareholders. Months ago I was raising awareness of the authorized share count and stating that the company needed to address this matter, even if it meant taking a hit on the stock, sooner rather than later. The company waited until later and is now essentially forcing the hand of shareholders to accept a level of shares that is perhaps more than some shareholders would like to see authorized. The situation is simple. If MannKind is going to move on, it must have more authorized shares. That means that the logical answer to the voting question is a yes vote.
Unless MannKind can garner a partner with cash, or substantially increase sales whilst controlling cost, it will need to either raise more cash via dilution or once again pay Deerfield to relax its covenant. The clock on that critical issue is 19 weeks. If the proxy vote in December fails, it will take at least another 4 weeks to send a new proxy. It may be wise for management to schedule a conference call in the next week or so to lay out its case for the matter.
The bottom line is that there is a lot happening at the moment that investors need to assess. The most important issue is the proxy vote. Another critical issue is whether the company has a shot at its guidance in an organic manner, and how they deal with that matter. At current prices, MannKind remains speculative. The street will see any additional authorized shares as almost certain dilution, especially when you consider the level of cash left. Typically, when the street sees dilution, the equity suffers. Pay attention, and Stay Tuned!
Disclosure: I/we have no positions in any stocks mentioned, and no plans to initiate any positions within the next 72 hours.
I wrote this article myself, and it expresses my own opinions. I am not receiving compensation for it (other than from Seeking Alpha). I have no business relationship with any company whose stock is mentioned in this article.
About this article:ExpandAuthor payment: $35 + $0.01/page view. Authors of PRO articles receive a minimum guaranteed payment of $150-500.Tagged: Investing Ideas, Quick Picks & Lists, Healthcare, BiotechnologyWant to share your opinion on this article? Add a comment.Disagree with this article? Submit your own.To report a factual error in this article, click here