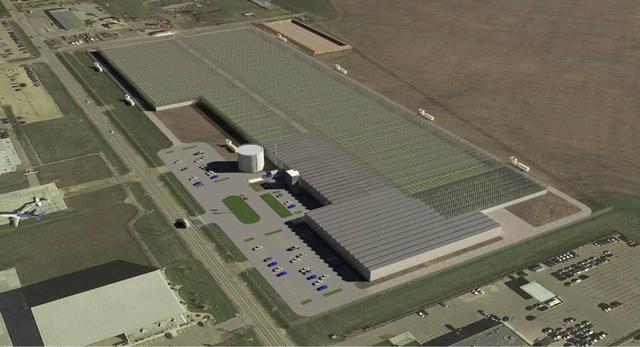 source: globeandmail
Aurora Cannabis (OTCQX:ACBFF) has easily been the most aggressive pot company on the growth side, as it has apparently decided it will settle for nothing less than the top position among the marijuana production companies.
Its recent offer for MedReleaf will make it the largest cannabis company in the world, and CEO Terry Booth said the company isn't going to stop at MedReleaf, it's looking for more growth via the acquisition route.
Concerning the MedReleaf offer, he said this: This deal checks every box. Were leaders in every box now, and were not looking back and were not going to stop here.
We'll look at the key reasons for the acquisition in this article and what MedReleaf brings to the company besides the obvious increase in production, as well as some important results from its latest earnings report.
What's driving Aurora Cannabis CEO Terry Booth
There are a few major things driving the decisions of Aurora Cannabis CEO Terry Booth, and in this section of the article we'll look at the key macro factor. Later on we'll dive into some of the reasoning behind the acquisition of MedReleaf and how it fits into the long-term strategy of the company.
How I see the overall impetus behind the rapid pace of acquisitions and growth by Aurora Cannabis is it believes it's far more important at this time to take the production lead in the market, even if it significantly dilutes the stock.
I think of it in terms of the same strategy Amazon used until it focused on building out AWS as a key part of its business. For a long time Amazon targeted revenue growth at almost any cost, and had little concern for generating any meaningful earnings until it scaled to the point it would be very difficult to catch up with the company.
It appears Booth has the same belief that Jeff Bezos did, that it was more important to rapidly win market share than it was to boost margins and earnings. Contrary to what many pundits were saying for some time, Amazon and Bezos were right in following that strategy. Most of the concern was over the length of time Amazon was taking to turn profitable on a consistent basis. In the past, tech companies were known to scale at the expense of earnings, but most if not all of them were able to start turning a profit much sooner than Bezos was able to.
Part of the problem was its major competitors like Wal-Mart and Target, which it had to pre-empt by innovating and scaling at speeds that made it impossible for them to slow them down. If Wal-Mart, in particular, had been given time to develop a meaningful response in the early years, Amazon would have struggled to survive in my opinion, and would probably have been acquired by one of its larger peers. Another factor was the company was competing in an industry that had been around for a long time. It had to prove to the consumer base it was pursuing that online shopping was a superior experience at competitive prices.
It seems like to me Booth is taking a page from the strategy textbook of Amazon and applying it to the cannabis market. While some of its other competitors such as Canopy Growth are doing something similar, it is now obvious that Aurora Cannabis management believes it needs to take the market lead away from Canopy permanently, and based upon Booth's comments, it will continue to look for acquisitions to further that goal.
My thought is Aurora believes the market will reward revenue in the near term, as Canada gets closer to legalizing recreational marijuana and more markets around the world are opening up to both medical and recreational pot. While some have pointed out the dilution effects of making these types of deals, and the industry continuing to struggle to turn a profit anytime soon, I don't see that as much of an issue. The reason why is this is a relatively new market that is just getting started. Why it would be considered different than other new industries is puzzling to me. After all, even if there wasn't the dilution from the different means of financing the industry must use to provide capital needs, it's not like there would suddenly be a big surge in margins and earnings in the near future.
In the near term I believe the market will reward cannabis companies based upon revenue, and all the hand-wringing by those worrying about dilution, margins and earnings, will be quickly forgotten. The time frame I'm thinking of is over the next couple of years.
There will of course come a time when the market starts asking for wider margins and profitability, and I don't believe when that time comes the market will be as patient with the pot stocks in the same way it was with Amazon. For now though, I believe revenue will be what drives the share price of Aurora Cannabis, and it's positioned well to take full advantage of that, if that's how it plays out.
What MedReleaf brings to the table
While I see MedReleaf as a play for the long-term growth prospects for Aurora, with its brands and international reach being especially valuable to the company. Even so, it does bring some immediate value to the company in Canada, as it gives it a "footprint in Ontario," a large domestic market.
MedReleaf already has facilities in Bradford and Markham, Ontario, and has said it will convert a 1 million square foot greenhouse in Exeter, Ontario to a cultivation facility. It is believed Ontario will be the largest Canadian recreational pot market. The timing of the expected closing in August will be beneficial to Aurora in the near term.
The presence in Ontario will complement Aurora's existing facilities in Medicine Hat and Edmonton, Alberta, and to a smaller degree, Quebec. Aurora is constructing an 800,000 square foot facility in Edmonton, and plans are in place to build a 1.2 million square foot facility in Medicine Hat.
No matter what demand comes from the legalization of recreational pot in Canada, Aurora Cannabis and its competitors have more than enough production capacity to meet the needs. The issue going forward will be if it's too much and it puts downward pressure on prices because of the commodity nature of the business.
Assuming the deal is approved, Aurora will be able to produce about 570,000 kilograms of cannabis annually.
That leads to one of the strengths of MedReleaf, which is its three strong recreational brands – San Rafael 71, AltaVie, and Woodstock. It is generally believed that as supply ramps up the companies able to best brand their various strains will generate the strongest margins and earnings over time. Booth said they are the leading strains in Canada, and probably the world.
Although important in the long run, Auroras chief corporate officer Cam Battley said it's not the major reason for making the deal. He stated:
Our eyes are on the global market. The scale of the global medical cannabis market dwarfs everything that well ever be able to achieve in Canada.
Booth said quite boldly stated that MedReleafs science teams, … are better than Auroras. When combined with its expanded global reach, this could be a game changer in the years ahead.
As it now stands, both companies have a presence in Germany and Australia, and a facility is currently under construction in Denmark for the purpose of supplying the European Union.
The superiority of MedReleafs science teams when applied at the global level could be a long-term moat for the company.
We'll get into some important points coming from its earnings report in a moment. One thing I do want to mention at the international level was that sales appeared to be disappointing. Sales of dried cannabis dropped 6 percent globally from the prior quarter, even with strong demand from the region.
The good news is this didn't come about from having market share taken from it. The issue was the company's production facilities at the international level have reached full capacity. The bad news in the short term is the company won't be able to meet the rising global demand until more capacity is added.
Thoughts on its latest earnings report
The first and probably most important takeaway from the latest earnings report of Aurora was that demand for cannabis continues to rapidly increase. Sales in the third quarter came in at $12.6 million, up 211 percent year-over-year.
The number of registered medical cannabis patients that remain active jumped to 45,776, up close to 250 percent in the same reporting period last year. The number of grams of dried cannabis sold in the quarter was 1.35 million, more than twice what it sold in the third quarter of 2017.
Even more important to me was its overall sales of cannabis oil, which command a higher price, wider margins, and stronger earnings. Last year it has no cannabis oil sales in the reporting period, while this year it generated $1.71 million in oil sales in the quarter. This resulted in the average price of its product to climb 20 percent, with almost all of that as a result of cannabis oil sales.
If Aurora is able to command a higher price with its branded recreational pot as a result of the strains it receives with the MedReleaf merger, along with the expert science team that comes with it, it provides a visible path as to how it'll generate a profit in the years ahead. It also should be able to lower costs as it scales production capacity even further.
One thing I believe the market has missed almost entirely with Aurora is the completion of its acquisition of Larssen, a greenhouse engineering and consultancy firm. Of the $12.6 million in revenue in the last quarter, it accounted for over 18 percent of the total. With demand for greenhouses to meet growing cannabis demand around the world, this is a great revenue stream that helps mitigate some of the risk pure pot producers face.
On the distribution side, Aurora has been improving and adding to its channels, which point to it not appearing to have any problems in moving its product.
In its 3rd fiscal quarter it added Shoppers Drug Mart and Pharmasave as distribution outlets, while making improvements on its important mobile app, which provides online ordering for medical cannabis needs. Add to that its improved international presence and its entry into the Ontario market, and it should provide its customers with a predictable and consistant experience via its improving supply chain.
Last, the company remains in a strong position to fund projects or make more acquisitions. It raised $279 million in new capital last quarter, ending the reporting period with about $227 million in cash, cash equivalents, and marketable securities. I see it having no problems raising capital through bought-deal offerings or using its own shares to enter into mergers like it did with MedReleaf.
Why dilution doesn't bother me
The dilution factor for Aurora Cannabis is very real, and will have an impact on the company. But at this stage of the cannabis industry, I don't see it being relevant.
The reason for that is the top largest companies are going to be the big winners over the long term, and if they don't battle for that position now, it won't matter if they're diluted or not. Because of the nature of the industry in regard to it being illegal in a number of countries, bought-deal financing is the primary means of raising capital available to the sector. If that wasn't the case, worries would be aired about debt being an issue concerning performance.
That isn't to say dilution isn't a factor in performance, only that it's the nature of the industry as it now stands, and there isn't anything those companies looking to be industry leaders can do about it.
So it's either dilute the shares and grow, stagnate, or plunge into irrelevancy. It's obvious what Aurora Cannabis has decided to do.
Conclusion
I like the deal for MedReleaf, as it has a number of additional components included beyond simply increasing production capacity. That is already suspect in Canada as it now stands because of the disparity and uncertainty in outlook as to how much recreational pot demand there will actually be in the country once it's legalized.
The most important positive catalysts coming from the MedReleaf deal are its international presence, exposure to Ontario, ability to create branded cannabis strains, and its quality science team. They are beneficial to its short-term revenue performance and its long-term margins and earnings results.
With the existing capacity and geographic and revenue diversity of Aurora Cannabis, it does look like an addition that will complement it very well.
As for concerns about it being able to absorb it while working out the integration of CanniMed Therapeutics, I see them as being overstated. The primary reason for that, and which Aurora management agrees, is there isn't a lot that needs to be done to change MedReleaf. It's a well-run company that does many things right. For that reason it isn't likely to be disruptive from an integration standpoint or the need for large changes.
With the willingness of the company to pay premium prices for these companies while further diluting the shares, it tells me it's serious about taking over the market leadership from Canopy Growth. It already has done that with the acquisition of MedReleaf, and as it stated, is looking for more deals on the merger front.
This also means that it could take longer than expected to turn a profit, although the benefit of scaling on the cost side of the business will need to be discovered. If the company is able to remove costs out of production at a deeper rate than expected, it could surprise on profitability by reaching it sooner rather than later.
Either way, Aurora Cannabis seems to want to be the Amazon of the cannabis market, and the steps it's taking not only reinforces that thesis, but are giving the company a strong chance at succeeding.
At this time the market has given a collective yawn over the announcement of the deal, but as sales soar and Aurora takes a big chunk of market share, investors will be rewarded over the long term.
It's probable that the reason for the market somewhat ignoring the impact of the deal was the fact the company clearly stated it isn't through with its growth phase. That means further expansion with accompanying dilution.
I like what Aurora is doing, but investors will have to hang on for the long term to get the full benefits of it, outside of the initial bump the company and industry should get once recreational marijuana is approved in Canada.
Disclosure: I/we have no positions in any stocks mentioned, and no plans to initiate any positions within the next 72 hours.
I wrote this article myself, and it expresses my own opinions. I am not receiving compensation for it (other than from Seeking Alpha). I have no business relationship with any company whose stock is mentioned in this article.
Editor's Note: This article discusses one or more securities that do not trade on a major U.S. exchange. Please be aware of the risks associated with these stocks.