Kinder Morgan (KMI) is one of the largest transporters of natural gas in North America. Natural gas is one of, if not the, cleanest fossil fuels. Future demand growth, coupled with Kinder Morgan's massive network of midstream pipelines, make it a fantastic bet for investors looking for both growth and value.
Increased natural gas demand
According to International Energy Agency's report, Gas 2017 Report, natural gas plays a vital role in meeting the need for the energy needs of tomorrow. Today, a full 25% of total electricity generation comes from natural gas. This is expected to grow through 2022 when the report's estimates end. By that year, annual gas consumption is expected to be around 4,000 billion cubic meters (bcm), up from 3,630 bcm in 2016. Developing economies are expected to account for 90% of the anticipated growth, with China taking the lion's share.
At present, the United States is the biggest natural gas consumer in the world. It is likely that by 2022, domestic demand will surpass 1,000 bcm — 25% of global gas consumption.
Project U.S. Natural Gas Demand:
| | |
| --- | --- |
| Year | Natural gas demand |
| 2000 | 661 Bcm |
| 2002 | 651 Bcm |
| 2004 | 634 Bcm |
| 2006 | 614 Bcm |
| 2008 | 659 Bcm |
| 2010 | 683 Bcm |
| 2012 | 728 Bcm |
| 2014 | 750 Bcm |
| 2016 | 778 Bcm |
| 2018 | 790 Bcm |
| 2020 | 805 Bcm |
| 2022 | 816 Bcm |
Source: IEA.
It seems highly likely that our world will see increased natural gas usage in the years ahead. Given the reach of its pipeline network, Kinder Morgan is uniquely positioned to meet this demand and capture a big share of the pie.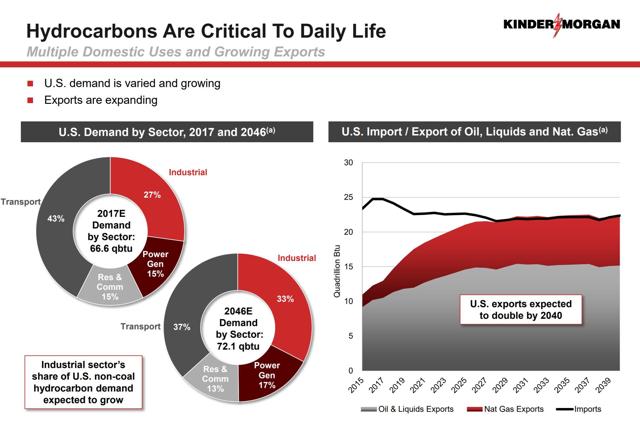 Source: Kinder Morgan Analyst Day Presentation, January 24, 2018.
Within just North America, the LNG opportunity is intriguing. The export of LNG to Mexico is expected to rise to 6.1 Bcfd by 2022 according to the WoodMackenzie report. Kinder is in an excellent position to cater to our southern neighbor. At present, it delivers ~2.9 Bcfd via 16 interconnects. It is also working on expanding its existing infrastructure, development of new hubs and constructing new pipelines like the GCX. KMI is increasing storage opportunities near US/Mexico border by developing current, and building new, facilities.
Supply rising to meet demand
Analysts expect the United States will report the highest growth in natural gas production through 2022. Should this come to pass, America will account for 40% of total global output growth. There was a decline in 2016 natural gas production, but KMI"s management expects that the rebound in shale production (which began in 2017) will more than make up for the dip.
The bottom line is that Kinder Morgan lies at the intersection of both increased demand in the nation that will rise to the challenge with growing supply.
Kinder need not rely on the "kindness" of strangers
Kinder Morgan transports nearly 40% of all natural gas in the United States. On top of this impressive fact, multiple factors will be long-term growth drivers for Kinder Morgan. The company highlighted each in their 2018 Analyst Day Presentation, and can be summarized as follows:
Shale driven extensions/expansions: There are greenfield projects that will provide outlets for increasing supply. Debottlenecking and expanding existing footprint LNG Exports: LNG exports to Mexico are going to grow in the coming years. Liquefaction facilities and pipeline infrastructure will be increased. Increasing demand from end users and industrial customers: Industrial growth in the Gulf coast and regional power generation opportunities will lead to higher demand. It is expected that there will be better access to LDC markets. Pipeline conversions: Plans are underway to repurpose current assets in search of efficiency gains. Acquisitions: The company is looking to acquire firms that meet its requirement for natural gas production. Storage: High storage capacity needed to backstop variable renewable generation and need for storage will support LNG liquefaction.
As the owner of one of the biggest natural gas transmission networks in North America, comprised of 70,000 miles of natural gas pipeline as well as 687 bcf of storage, Kinder Morgan is a natural beneficiary of increased natural gas usage.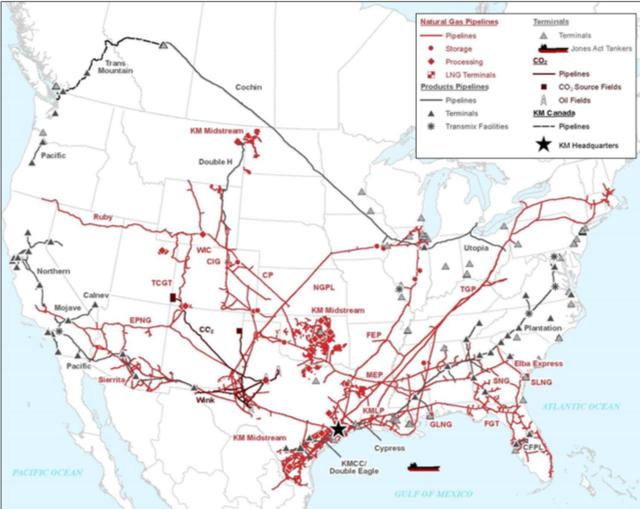 Source: Kinder Morgan.
Management is aware of strong hand they are holding and continues to invest in anticipation of a world increasingly fueled by natural gas.
Adding to its advantages
Kinder Morgan has multiple projects that it plans to complete in the 2018-2021 timeline. One of its main projects is the Gulf Coast Express (GCX). It is a joint venture between Kinder Morgan, DCP Midstream (DCP) and an affiliate of Targa Resources Corp. (TRGP). Kinder Morgan will own a 50% stake, DCP Midstream 25% and Targa Resources Corp the remaining 25%.
Project drivers for the GCX are transporting growing supply of natural gas from the Permian Basin to Agua Dulce. This pipeline will provide access to increasing industrial demand, growing exports to Mexico and Gulf Coast liquefaction terminals. In addition, several pipelines interconnect at Agua Dulce, notably KMI's vast interstate network.
The project scope is as follows:
| | |
| --- | --- |
| Mainline: | 82 miles of 36″ pipeline and 365 miles of 42″ pipeline starting from the Waha Hub and ending near Agua Dulce, Texas |
| Midland Lateral | 50 miles of 36″ pipeline |
| Initial Capacity | 1.92 Bcfd |
| Capital | $1.7 billion |
| In-service | October 2019 |
Source: Kinder Morgan.
All in all, KMI currently has eight active transportation projects on five individual pipelines. All these boast an 18-year average contract term.
Another major natural gas project for KMI is a gas liquefaction plant at Elba Island in Chatham County, Georgia. The project scope includes ten modular units for liquefaction, ship loading facilities, and boil-off gas compression.
Bottom line: someday we may wean ourselves from fossil fuels entirely. Until that day, natural gas will be the fuel source of choice.
What investors need to know
The size of Kinder Morgan's network coupled with the increased use of natural gas, both internationally and domestically, make KMI a fantastic stock for investors.
Of course, there are risks. The rise of alternative energy, particularly wind and solar, could derail the projected surge in natural gas demand. It is fossil fuel and, should wind and solar gain a cost advantage or the government step in to further engender their use, the sun may set on natural gas usage. For Kinder Morgan, this would mean a ratcheting down of its growth potential, and therefore valuation multiple. The company typically works with long-term supply contracts and will be insulated from any widespread industry downturns — at least in the short to medium term.
The weight of the evidence points to there being enough energy demand for wind, solar, and natural gas to coexist. Indeed, one of the main problems with wind and solar is their relative inconsistency — a problem natural gas does not suffer from. In fact, many utilities are constructing plants that combine the use of natural gas with renewables to satisfy their customer's energy needs. For the foreseeable future, at least, natural gas is likely here to stay.
Management is aware of the risks and opportunities. KMI cut its dividend in 2015 as the broad energy industry's access to capital markets was cut off. Management chose to do this rather than skipping its growth capital expenditure plans. All made in anticipation of the natural gas needs of tomorrow. The 75% payout decrease was without question the right decision.
With a dividend yield of 3% (which is expected to grow markedly in the coming years) and shares at just over 1x book value, Kinder Morgan has something to offer everyone.
Disclosure: I/we have no positions in any stocks mentioned, but may initiate a long position in KMI over the next 72 hours.
I wrote this article myself, and it expresses my own opinions. I am not receiving compensation for it (other than from Seeking Alpha). I have no business relationship with any company whose stock is mentioned in this article.
About this article:ExpandAuthor payment: Seeking Alpha pays for exclusive articles. Payment calculations are based on a combination of coverage area, popularity and quality.Tagged: Investing Ideas, Long Ideas, Basic Materials, Oil & Gas PipelinesWant to share your opinion on this article? Add a comment.Disagree with this article? Submit your own.To report a factual error in this article, click here