Quick Take
Iterum Therapeutics (ITRM) intends to raise $80 million in an IPO from the sale of common stock, per an amended registration statement.
The company is developing a pipeline of treatment candidates for urinary tract and intra-abdominal infections.
ITRM is preparing to enter Phase 3 trials for its in-licensed drugs from Pfizer. If those trials go well, I wouldn't be surprised if Pfizer acquires Iterum.
Company And Technology
Dublin, Ireland, and Chicago, Illinois-based Iterum was founded in 2015 to license sulopenem technologies from investor Pfizer (PFE).
Management is headed by CEO Corey Fishman, who has been with the firm since November 2015 and was previously COO of Durata Therapeutics and CFO of GANIC Pharmaceuticals.
While management hasn't disclosed any specific collaboration partnerships, the firm's primary technology has been licensed from Pfizer. Assuming it continues to have success commercializing the various treatments for the compounds, it will owe Pfizer significant clinical and regulatory milestone payments as well as royalties.
Investors have funded approximately $120 million to-date and include Advent Life Sciences, Arix Bioscience, Bay City Capital, Canaan Partners, Frazier Healthcare Partners, New Leaf Venture Partners, Pivotal bioVenture Partners, and Sofinnova Ventures. Pfizer, a shareholder as a result of the license of technologies to Iterum.
The firm's strategy has been to in-license the sulopenem product family from Pfizer and advance it through the regulatory process. Management expects to begin Phase 3 trials in the second half of 2018 for a range of oral and intravenous candidates for a variety of infectious disease conditions.
Below is a brief overview video of uncomplicated urinary tract infections:
(Source: Mabe Cordero)
The firm's current pipeline status is shown below: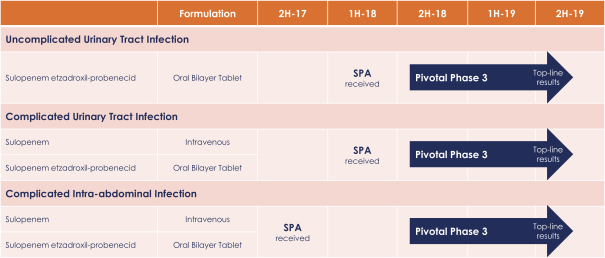 (Source: Iterum S-1)
Market And Competition
According to a 2017 market research report by Research and Markets, the global urinary tract infection market size is expected to grow at a CAGR of 3.2% from 2017 to 2025.
Although the U.S. has previously accounted for the greatest treatment demand, the Asia Pacific region is forecasted to show the greatest growth during the period 'due to increasing healthcare awareness among [the] general population and growing partnership[s] of key players with local manufacturer[s].'
Major competitive vendors that provide or are developing treatments for UTIs include:
AstraZeneca (AZN) Bayer (OTCPK:BAYRY) Cubist Pharmaceuticals F. Hoffmann-La Roche GlaxoSmithKline (GSK) Johnson & Johnson (JNJ) MerLion Pharmaceuticals Osel Rempex Pharmaceuticals Achaogen (AKAO) Spero Therapeutics (SPRO) Melinta Therapeutics (MLNT) Paratek Pharmaceuticals (PRTK)
Management says 'the key competitive factors that will affect the development and commercial success of oral sulopenem and sulopenem, if approved, will be efficacy, coverage of drug-resistant strains of bacteria, safety and tolerability profile, reliability, convenience of oral dosing, price, availability of reimbursement from governmental and other third-party payors and susceptibility to drug resistance.'
Financial Performance
Iterum's recent financial results are typical of clinical stage biopharma firms in that they feature no revenues and significant R&D and G&A expenses associated with their pipeline development efforts.
Below are the company's financial results for the past two and 录 years (Audited GAAP for full years):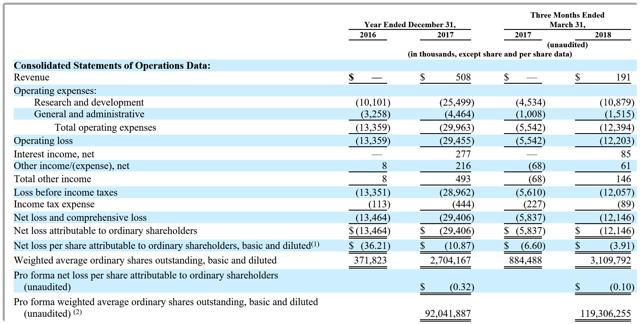 (Source: Iterum S-1)
As of March 31, 2018, the company had $59.8 million in total cash and short-term investments and $8.4 million in total liabilities.
IPO Details
ITRM intends to raise $80 million in gross proceeds from the sale of 5.33 million shares of its common stock at a midpoint price of $15.00 per share in an IPO.
There is an expression of interest for existing shareholders to buy up to $35 million of shares at the IPO price, which is a positive signal for prospective IPO investors and is typical of successful IPO transactions in the current environment.
Assuming the IPO prices at the midpoint of the range, the market capitalization at IPO will be $197 million, excluding the effects of underwriter options.
Management says it will use the net proceeds from the IPO as follows:
to fund our Phase 3 clinical trials of oral sulopenem and sulopenem in three indications
for milestone payments to Pfizer Inc. payable upon commencement of Phase 3 clinical development for oral sulopenem and sulopenem pursuant to the exclusive license agreement we have entered into with Pfizer; and
the balance for working capital and other general corporate purposes, including regulatory, manufacturing, clinical supply and related costs.
Management's presentation of the company roadshow is not available.
Listed bookrunners of the IPO are Leerink Partners, RBC Capital Markets, Guggenheim Securities and Needham & Company.
Expected IPO Pricing Date: May 24, 2018.
An enhanced version of this article on my Seeking Alpha Marketplace research service IPO Edge also includes:
– Valuation
– Commentary
– IPO Opinion
Members of IPO Edge get the latest IPO research, news, market trends and industry analysis. Start with a Free Trial.
Disclosure: I/we have no positions in any stocks mentioned, and no plans to initiate any positions within the next 72 hours.
I wrote this article myself, and it expresses my own opinions. I am not receiving compensation for it (other than from Seeking Alpha). I have no business relationship with any company whose stock is mentioned in this article.