Hostess Brands (TWNK) has chosen Andy Callahan to take the reigns as the new president and CEO. Callahan started on May 7th, and is bringing decades of experience in corporate branding within the packaged food industry – something which Hostess can certainly use on its rebound.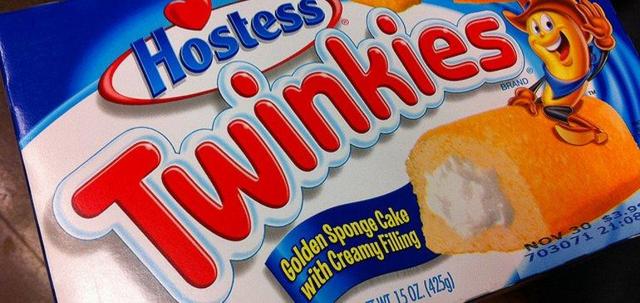 Source: FoodDive
Additionally, improvements within Hostess' supply chain and warehouses are contributing to margin expansion – which we envision to be a primary driver in bottom-line growth. Top-line growth is not to be forgotten, with Hostess' heavy M&A activity in recent years pumping up revenue, and a new brand-oriented mission driving expansion into the future. Coupled with a reasonable valuation, we see further upside in Hostess.
Hostess Bounces Back
One of the most interesting aspects of Hostess Brands revolves around its history. The financially-troubled company filed for bankruptcy in 2012, loaded with nearly $1 billion in debt and ridden with an inefficient distribution network.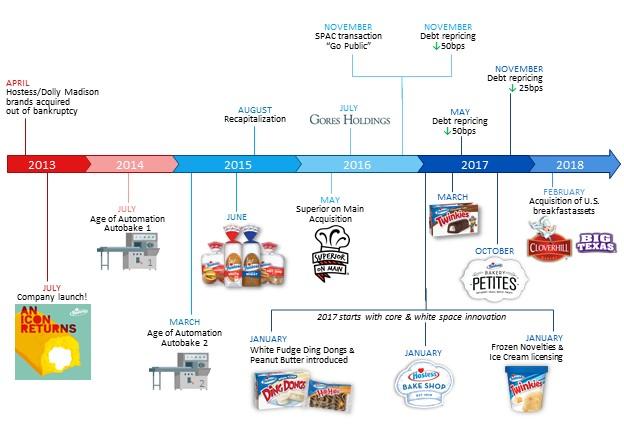 Source: Hostess Brands
Shortly after (2013), private equity giant Apollo Global Management came to the rescue, acquiring Hostess together with Metropoulos & Company for $410 million. The company was relaunched, putting the famed Twinkie at forefront of its public image.
Improvements in the manufacturing process were made, followed by the launch of new product lines in the sweet snacks space, and a recapitalization. Eventually, Gores Holdings acquired Hostess Brands in a deal to take the company public through a special purpose acquisition company ("SPAC"). The SPAC acquired Hostess in late 2016, and Hostess began trading under the ticker TWNK resembling their prized product: the Twinkie.
Shortly after, a series of debt restructurings went into place relieving some financial pressures on Hostess. As can be seen above, Hostess also dabbled in M&A acquiring a number of companies to expand their outreach in the baked packaged goods market.
Growth Prospects
Since 2014, revenue has grown at a CAGR of ~12% reaching $776 million in FY17 (+6.6% y/y) and $800 million in the LTM.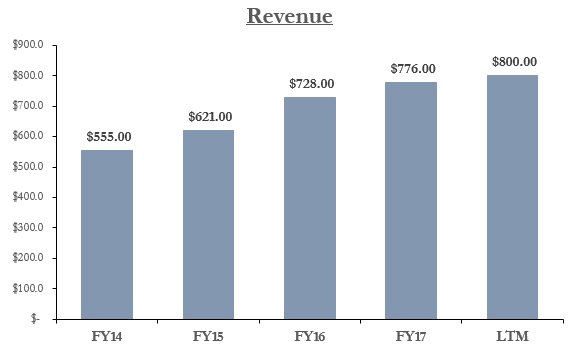 Source: Morningstar
The company continues to see top-line growth, with the most recent quarter delivering revenues of $208 million, up 13% y/y. Looking forward, we see considerable potential in untapped markets which Hostess can enter through M&A activity, as well as new product launches. Among those include breakfast snacks, which Hostess has zeroed in on after the recent acquisition of the Cloverhill and Big Texas brands owned by Zurich-based Aryzta.
Chairman Dean Metropoulos noted how:
This is an excellent enabling acquisition for the Hostess breakfast strategy and fills a key strategic gap in our product portfolio…The Big Texas and Cloverhill brands and private label partnerships will add significant strength to our growing breakfast business…
Source: BusinessWire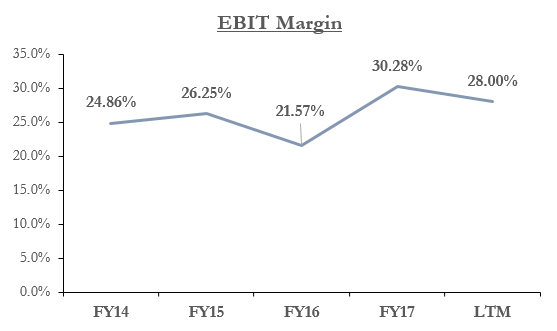 Source: Morningstar
With EBIT margins up significantly into FY17, we believe further upside remains in the long-run as a result of strategic M&A. The upside, as noted by Metropoulous, includes the expansion of Hostess' product portfolio strengthening Hostess' breakfast segment. On top of that, we believe that Hostess will benefit from efficiencies realized through the integration of an in-house manufacturing process, and supply partnerships between retailers. These could help improve Hostess' production costs, and in turn allow them to price products aggressively against peers if need be.
Cash Is King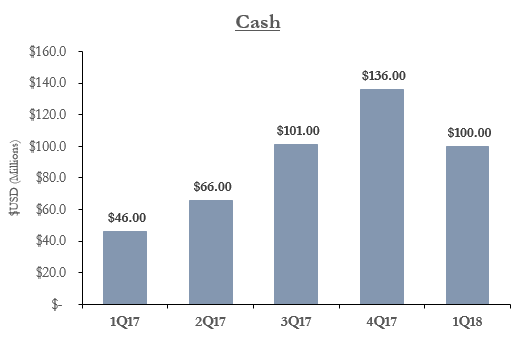 Source: Morningstar
Although no specific deal terms were disclosed, management noted that the deal would be an efficient use of cash, reinforcing the likelihood of a cash-heavy purchase. Cash in the 1Q18 declined by $36 million sequentially, yet has increased $54 million y/y. With $100 million on the balance sheet, Hostess has some legroom to finance growth – and with strong free cash flow, placing debt into the mix is not such a concern.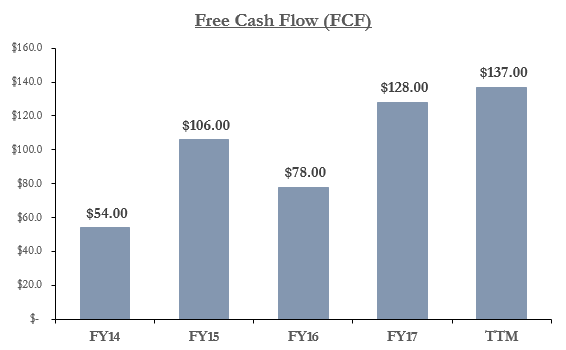 Source: Morningstar
Hostess delivered FCF of $128 million in FY17, up $50 million y/y. Although no dividend is currently being paid out to shareholders, we are confident that management will continue to deploy cash into strategic M&A opportunities, as has been the case.
Relative Valuation
When comparing Hostess to its peers in the packaged foods space, the company is trading at a higher P/E than peers, but just under its peers on an EBITDA basis.

Source: YahooFinance, S&P Capital IQ
Hostess is currently valued at ~10x EBITDA, compared to peers averaging 12x EBITDA, showing a substantial discount when factoring out the company's capital structure. The recent acquisition discussed above is also set to be EBITDA positive in 1H19.
In addition to that, the company is delivering strong EBIT margins nearly 500 bps higher than peers. As discussed above, Hostess has yet to pay shareholders a dividend, but growth investments via M&A stand to be more beneficial.
Looking forward, we project revenue growth of 5%; forecasting EBITDA margins at 26%, we estimate FY18 EBITDA at ~$212 million, below managements guidance range. Applying the industry average EV/EBITDA multiple of 12x, we derive an EV of ~$2.5 billion. When factoring in our net debt assumptions we arrive at a share price of ~$16.
Takeaway
Hostess has clearly made a turnaround, bouncing back since 2013. New management now at the wheel brings decades of experience to Hostess, which may help boost intangible aspects of the company such as branding – a key component in strengthening customer loyalty.
Furthermore, Hostess continues to turn up strong cash flows and holds a healthy pile of cash on its balance sheet after the acquisition of Cloverfield/Big Texas brands and assets. Future M&A is certainly not out of the question, and the company remains in a good position to continue its growth. Although the deal will impact earnings in the near-term, it is expected to be profitable accretive to EBITDA in less than a year.
The warehouse/supply chain aspects of the deal will allow for increased efficiency in Hostess' manufacturing process, which in the future may positively impact labor expenses, translating into higher margins. The partnerships between retailers also allow Hostess to compete more effectively in what some may call a crowded market.
Looking at valuation, Hostess trades at 10x EBITDA – below the peer average of ~12x. We believe as the synergies from recent deals are realized (primarily driven by supply chain improvements, as mentioned above), EBITDA will see some growth.
We initiate a buy rating, and a $16 PT reflecting upside of over 16% from Friday's close.
Disclosure: I/we have no positions in any stocks mentioned, but may initiate a long position in TWNK over the next 72 hours.
I wrote this article myself, and it expresses my own opinions. I am not receiving compensation for it (other than from Seeking Alpha). I have no business relationship with any company whose stock is mentioned in this article.