Noble Corp. (NE) has long been one of the most beaten-down drilling stocks, if we exclude shares of the companies that are undergoing restructuring. Inevitably, the topic "Is Noble Corp. cheap enough?" has been a frequent guest in the comments sections of offshore drilling related articles. This time, Noble Corp. shares have firmly settled below $4 after trading as low as $3.36 a couple of days ago, and the above-mentioned question is definitely worth discussing.
There are two ways of looking at the word "cheap." A company might be worth less than it should be given the fundamental situation (obvious value), or the company might not be valued high enough given the future perspectives. The first situation leads to an obvious margin of safety assuming that the stock market will see the company's strengths in due time. The second one is a bet on the future, which brings the risks associated with such bets. In this article, I want to discuss whether Noble Corp. stock is cheap given the information we know now. This is a discussion of whether the market is too hard on Noble Corp. stock based on present conditions.
So, what is the big picture for Noble Corp.? The offshore drilling industry is in a historic downturn and has yet to show any kind of recovery. Many drillers, including Noble Corp., sounded optimistic during the last reporting season. But I believe that the tone will change when the companies report their second-quarter earnings, as the oil price has experienced material downside — both Brent and WTI are roughly 20% below their yearly highs.
Besides industry-wide problems, Noble Corp. has company-specific problems. In my opinion, the company's whole semi-sub fleet is on the verge of being scrapped. Noble Jim Day, Noble Danny Adkins, Noble Amos Runner and Noble Dave Beard are all cold stacked. Noble Clyde Boudreaux is currently warm stacked, while the contract of Noble Paul Romano ends in early August 2017. All these rigs have been built in the 80s. A lot have been said about the importance of rig maintenance — older assets can be useful for certain jobs if maintained properly — but a significant period of time without work is a death sentence for an old rig in an oversupplied market.
The situation is much better in the company's drillship segment, although Noble Corp. had to stack Noble Bully I. Noble Bob Douglas has recently got short-term jobs with Murphy and Tullow, but it will need more work if the rig wants to position itself in the first row of the active fleet. Also, drillships Noble Tom Madden and Noble Sam Croft have been warm stacked for quite some time now. The jack-up segment is showing better dynamics, but Noble Corp. will likely have to deal with five jack-up contract roll-offs this year.
On the positive side, Noble Corp. was able to save its backlog through its key relationships with Shell (RDS.A) and Saudi Aramco (Private:ARMCO).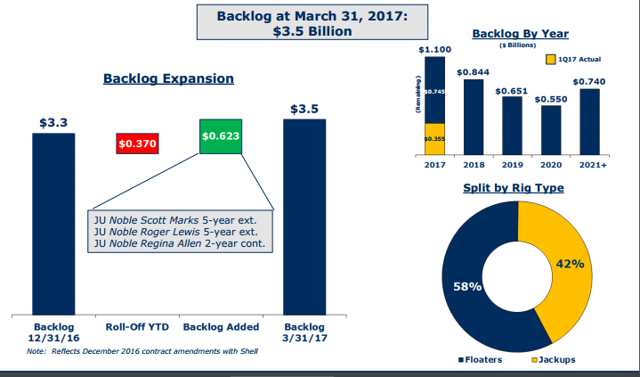 Also, the company's maturities are evenly spread. The only big spike comes in 2024 and 2025, when the company will have to deal with $980 million and $449 million of debt, respectively.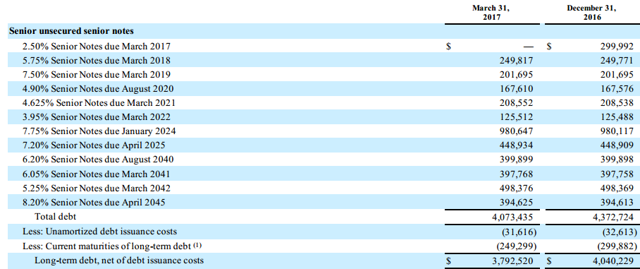 Now, let's look at how the market values the company. Currently, Noble Corp. has about $950 million of market capitalization. We should also not forget about the long-term debt (which can be seen above) and the cash position, which stood at $519 million at the end of the first quarter. I expect that the semi-sub segment will ultimately be scrapped, so for valuation purposes Noble Corp.'s fleet consists of eight drillships and 14 jack-ups.
As far as recent transactions are concerned, Seadrill (SDRL) has recently sold 3 jack-ups for $75 million each. While analyzing the Transocean (RIG) deal with Borr Drilling, I concluded that Transocean's newer (but not newbuild) jack-ups received a valuation of about $65 million. Given the fact that Noble Corp. has four jack-ups that were originally built in the 80s, I'd expect that current market value of the company's jack-up fleet does not exceed $1 billion (without taking into account the backlog).
Turning to drillships, we are mostly at uncharted waters regarding their potential market price. I refuse to consider the Ensco (ESV) / Atwood Oceanics (ATW) deal as a data point for drillship valuation because it has yet be approved by Ensco shareholders, and chances are that they will not approve the deal. Using any discount to replacement cost is also useless as no one will order a drillship again in the foreseeable future.
In my view, anyone trying to come up with a potential market value for a drillship will end up with a guesstimate at best. My rough guesstimate is that Noble Corp.'s drillship fleet could currently be valued at $1.5 billion to $2 billion at best (without backlog). Contracting margins and uncertainty regarding the company's ability to collect full backlog (recent early termination from Shell is a vivid reminder) does not allow me to assign more than $1.5 billion for Noble Corp.'s backlog.
Putting these numbers together and comparing them to actual market price of Noble Corp. shares leads to the conclusion that Noble Corp. is fairly valued at this point. Given the volatility of Noble Corp. shares, its enterprise value will easily jump between $4.5 billion and $5.5 billion, more or less reflecting the market value of the fleet, the available backlog, and a bit of premium for Noble Corp.'s expertise in business.
Conclusion
Noble Corp. shares do not look oversold given the current industry dynamics and the company's situation. Any sustainable upside in the company's shares should come from improvements on the contract front. A potential rebound in oil prices could provide short-term upside for the stock, but fundamentals should change for longer-term success. At the same time, the absence of near-term liquidity risks could attract value searchers and potentially provide support for Noble Corp. shares at current levels — assuming oil does not dive significantly lower.
Obviously, the above-mentioned valuations do not take into account any potential upside from the recovery of the offshore drilling industry. The goal was to look at Noble Corp. in its present state and using only current market transactions. Therefore, those believing that offshore drilling recovery is right around the corner will likely find Noble Corp. as an attractive candidate for a long-term position at current levels. I continue to believe that offshore drilling stocks are better for trading given present industry fundamentals, and I also continue to wait for tangible evidence of any recovery of the beaten sector.
Disclosure: I/we have no positions in any stocks mentioned, and no plans to initiate any positions within the next 72 hours.
I wrote this article myself, and it expresses my own opinions. I am not receiving compensation for it (other than from Seeking Alpha). I have no business relationship with any company whose stock is mentioned in this article.
Additional disclosure: I might trade any of the above-mentioned stocks.
About this article:ExpandAuthor payment: $35 + $0.01/page view. Authors of PRO articles receive a minimum guaranteed payment of $150-500.Tagged: Investing Ideas, Quick Picks & Lists, Basic Materials, Oil & Gas Drilling & Exploration, United KingdomWant to share your opinion on this article? Add a comment.Disagree with this article? Submit your own.To report a factual error in this article, click hereFollow Vladimir Zernov and get email alerts