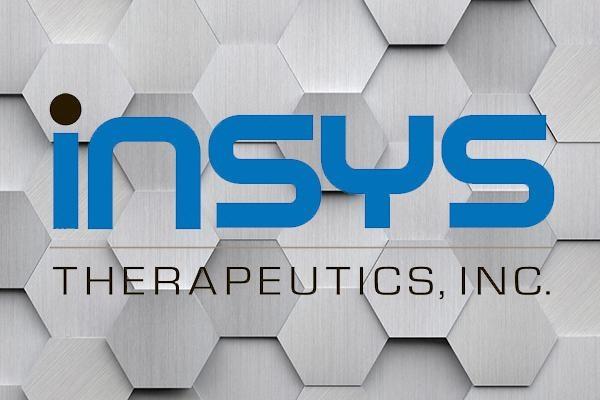 Insys (NASDAQ:INSY) missed on Q1 revenue and earnings. The company's revenue appeared to have stabilized in Q4 2017, growing 3% sequentially. This quarter the company reported revenue of $24 million, down 24% sequentially and 34% Y/Y.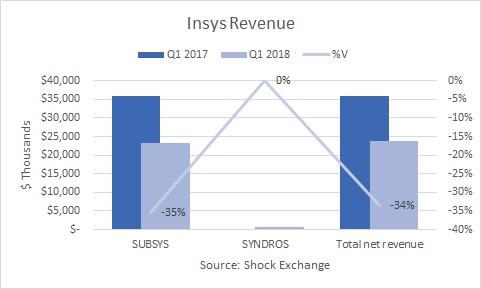 Revenue from Susbsys was $24 million, down 35% Y/Y, while Syndros's revenue of $637 thousand was marginal. Syndros is an oral solution approved for the second-line treatment of chemotherapy-induced nausea and vomiting ("CINV") and anorexia associated with weight loss in patients with AIDS. The drug was launched in August 2017 by Insys to help diversify its revenue stream away from Subsys – the leading branded transmucosal immediate release fentanyl ("TIRF") product.
Management believes Subsys can still address breakthrough pain suffered by cancer patients. In the past the drug was prescribed for non-critical-care cancer patients, leading to a spike in revenue. Ballooning opioid prescriptions and addictions have gotten the attention of lawmakers. Some believe there is a correlation between opioid use and the sudden spike in drug overdoses. The number of Fentanyl-related overdoses has spiked so much that the National Institute on Drug Abuse has tracked Fentanyl-related overdoses separate from other drug overdoses.
That said, Subsys has gotten a bad reputation for its role – real or perceived – in the opioid crisis, to the extent Subsys becomes limited to only treat critical-care cancer patients and its revenue to continue to decline.
Loss Of Scale
Despite the rapid decline in revenue, Insys's operating costs have not declined in lockstep. Q1 2018 total operating costs were $41 million, down about 6% Y/Y. Sales and marketing costs were cut, but R&D and general and administrative costs went up. Insys recorded EBITDA of -$18 million, down from -$11 million in the year-earlier period. Unless the revenue decline subsides, EBITDA could remain negative for some time.
The company should be commended for investing in R&D to attempt to tamp down its dependency on Subsys. Insys has completed phase III testing for a buprenorphine sublingual spray and the company has submitted a new drug application ("NDA") to the FDA. Buprenorphine sublingual spray has the potential to treat dependence/addiction to opioids. It could be promising given that the U.S. leads the world in the number of people suffering from opioid addiction.
Liquidity
A key question for Insys is whether or not it will be around a year or two from now. It seems opioid manufacturers are getting sued every month, yet very few of those lawsuits have actually been paid out. The company is also under investigation by the Department of Justice ("DOJ") for its role in the opioid crisis. Insys has a $152 million reserve for potential litigation awards and settlements. Earlier this year five doctors were charged with writing fentanyl prescriptions in exchange for kickbacks from Insys. One doctor admitted to taking kickbacks from the company and was sentenced to four years in prison. I believe this could be the biggest risk to the company because it speaks to its business practices. While opioids are legal drugs, providing kickbacks to doctors for prescribing such drugs could potentially be deemed illegal.
The company has about $115 million of cash and securities that it could use to pay claims. It could be enough to pay potential claims until Insys receives additional revenue and cash flow from new drug launches. At least that's what INSY bulls appear to be betting on.
Conclusion
If the government was going to shut down Insys, it likely would have done so already. New drugs to treat opioid addiction and infantile spasms could potentially bear fruit. I rate INSY a hold.
Disclosure: I/we have no positions in any stocks mentioned, and no plans to initiate any positions within the next 72 hours.
I wrote this article myself, and it expresses my own opinions. I am not receiving compensation for it (other than from Seeking Alpha). I have no business relationship with any company whose stock is mentioned in this article.