The Home Depot (NYSE:HD) online sales make it one of the largest e-commerce retailers in the U.S. Between 2009 and 2016, they grew their online sales from $500 million to $5 billion in 2016.
In an interview earlier this year, CEO and president of Home Depot, Craig Menear, stated:
We continue to invest in our digital properties and it has increased traffic and conversion. Versus prior year, our online sales grew 21.0% in the fourth quarter and 21.5% in fiscal 2017, now representing 6.7% of our total sales.
Based on that sales percentage, e-commerce accounted for $6.76 billion last year.
I am bullish on The Home Depot, and in this article, I will compare them to their largest rival, Lowes (NYSE:LOW), and show they are outperforming it at many key points. We will see how they are earning 6x the online revenue that their rival is with fewer keywords. Then we will see how they are beating them in revenue and net income and in same-store sales growth. We will see how The Home Depots ROIC is almost double what Lowes ROIC is. We will conclude by seeing how The Home Depots total return to investors is over 700%.
Home Depots advertising budget was $846 million in 2016, and then has increased from $737.6 million in 2012. The numbers below are pulled from semrush and SimilarWeb.
The Home Depot
Organic Traffic: 21.4 million Keywords: 17.2k Traffic cost: $2.5 million 114.75 million visitors a month in estimated traffic
Lowes
Organic Traffic: 13.2 million Keywords: 57k Traffic Cost: $3.3 million 13.2 million visitors a month in estimated traffic
In 2016, Lowes reported that its online sales amounted to $1.77 billion, 3% of all sales. What is ironic when looking at these numbers is that Home Depot has much fewer keywords getting organic traffic than Lowe's does, yet it has eight million more visitors a month than Lowe's does. Also, Lowe's organic traffic is worth more than Home Depots organic traffic is, yet according to the numbers, The Home Depot is bringing in 6x more revenue online than Lowes is. According to these numbers, the Home Depot is getting 10x the traffic Lowe's is with forty thousand fewer keywords. Lowes advertising budget is $893 million a year. The Home Depot is getting more for its marketing dollar than Lowes is, without a doubt.
One can never draw a true picture of how things are going because of how a store is performing with online revenues. Lets examine some more numbers to get a better idea of what is really going on behind the scenes.
The Home Depot revenues have grown at a compounded annual growth rate ("CAGR") of 6.2% over the past 5 years versus 3% for the S&P 500. Their net income growth is 10.81% over the last three years. Lowes has had a CAGR of 5.2% over the last 5 years and had a 21% increase in their net income last year alone.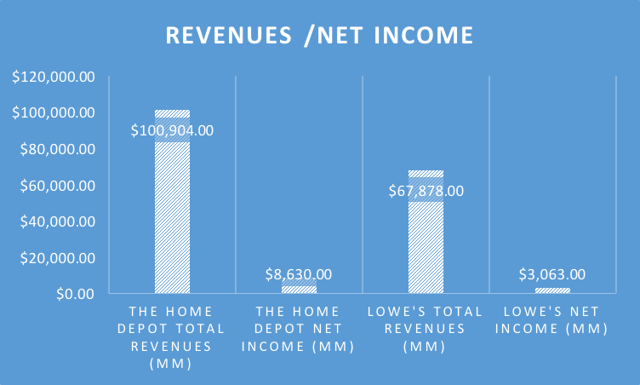 (Source: Stockrow.com)
That stated, The Home Depot is handily beating Lowes in both their revenues and net income. As of January 2018, The Home Depot operates 2,284 stores worldwide and Lowes operates 2,144 stores worldwide.
The ROIC (return on invested capital) is 33.36% for The Home Depot and is 15.83% for Lowes. These numbers are both good, but The Home Depot number is especially good considering the size of the company. A good ROIC number is typically going to be between 10% and 20%. Much of the success of this ratio will depend on the size of the company. For example, Walmart (NYSE:WMT) only has a 10% ROIC, but it is a large company. This number is great for The Home Depot, although Lowes ROIC is not a bad number either.
The gross margins for The Home Depot and for Lowes are both in the ballpark of 35%. Both of these numbers have been very stable for the past ten years. A gross margin of 35% will mean that you will be able to invest $0.35 out of every dollar back into your operating income. Gross margins are a good indicator of where the company is headed. In this case, there are no worries because these margins are very consistent.
Store Productivity and Same-Store Sale Growth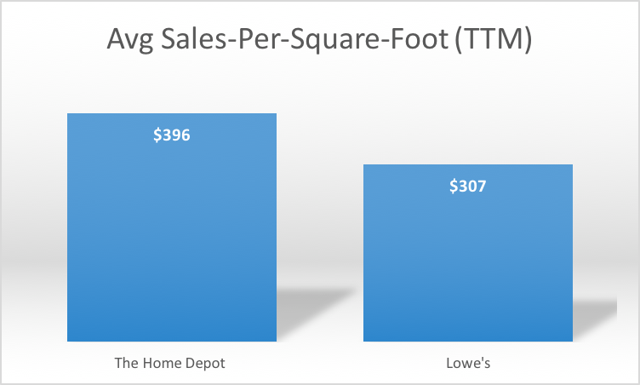 (Source: eMarketer)
Okay, let's break these numbers down. The Home Depots average sales per square foot is $396. That number has increased from $324 per square foot in 2013. The average sales per store is $41.24 million coming from $33.68 million in 2013. The average sale per square foot growth has averaged out at 5.7% since 2013. The average sales per growth have increased 5.4% since 2013. Lowes average sales per square foot is $307. This number is considerably lower than that of The Home Depot, which means they might not be taking advantage of all of their stores space.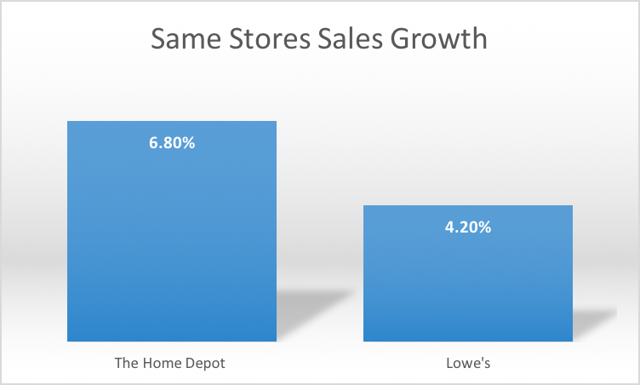 (Source: eMarketer)
The Home Depot is once again beating Lowes in same-store sales growth. Looking at this data is important because it is a good metric of future growth. For example, last years revenue growth for The Home Depot was up 6.67%. See how closely that lines up with the 6.80% same-store sales growth. Lowes revenue was up 10.06% last year, so the 4.20% is a way off from that. However, these numbers give us trends for what the future will be for these companies. These numbers are all positive, and projected growth rates are positive as well.
The Home Depot is projected to grow 12.73% in 2018. The P/E ratio is 23.84 and the forward P/E ratio is 17.15. In the past five years, the P/E ratio has averaged 22 for The Home Depot. The lowest it has been is 18.92 in August of 2014, and the highest it has been is 28.41 in January of 2018. Thus, I am comfortable with a projected growth rate of 12.73% in 2018. This number could even be slightly low, but just slightly. However, to verify these numbers, lets look at the earnings per share.
1-28-2018: EPS $7.33 (+14%) 1-29-2017: EPS $6.47 (+17%) 1-31-2016: EPS $5.49 (+22%) 2-01-2015: EPS $4.74
After evaluating the EPS, I would say that the 12.73% growth prediction is right on track, as it would align perfectly with the current trend. Lowes projected growth rates are higher than The Home Depot's with an expected growth rate of 24.69% in 2019.
Next, lets look at The Home Depots tabulated tangible book value. This number is the shareholders equity minus the intangible assets. Then, divide that number by the shares outstanding. That number comes to -$0.71. This is the number that an investor would receive if The Home Depot went bankrupt or had to liquidate all of its assets. Keep in mind that The Home Depot stock price is $174.76. This number is slightly alarming. Ideally, you want the tangible book value to line up with the stock price. Lowes is not that much better – the tabulated tangible book value is $5.50, and the stock price is $85.88. It comforts me somewhat to see Lowes tangible book value in the ballpark of Home Depots, because this could be an industry-wide thing. This is the only major weakness I have found in this stock.
Conclusion
The total return for The Home Depot was 706% in December of 2017. There is very little not to like about this stock. It is outperforming Lowes at almost every turn. It is turning up its online marketing game and is ready to face Amazon (NASDAQ:AMZN) head-on, bringing in over $6 billion worth of online sales in 2017. It continues to bring in solid revenue growth year after year, seeing average revenue increase by 8% these past three years. The stock price is down from $206.64 in January to now at $176.04. Considering all of the positive things with the stock, I think now would be the time to buy in at the dip. I am very bullish on this stock, and it is a buy on my list.
Disclosure: I/we have no positions in any stocks mentioned, and no plans to initiate any positions within the next 72 hours.
I wrote this article myself, and it expresses my own opinions. I am not receiving compensation for it (other than from Seeking Alpha). I have no business relationship with any company whose stock is mentioned in this article.