The Home Depot (NYSE:HD) has just reported earnings and the stock looks set to move on the news. As you know this is our home improvement store of choice that we highlighted well over one year ago with a buy recommendation. The Home Depot remains a strong name and was our top retail choice for 2017. Today we are revisiting the name. It is our opinion that Home Depot stock continues to be a top choice for a long-term investor for both share appreciation and dividend growth. Further, the reality is that this quarter was considered mixed, but was negatively impacted by a weaker than expected March-April thanks to a prolonged winter weather season. Let us discuss.
Recent price action and fundamental backdrop
Despite a rough 2016-2017 for much of retail, Home Depot was a retailer that was doing very well in that time frame. Take a look at the price action in the last year alone:

Source: BAD BEAT Investing
The stock continued to rally through 2017 and into 2018 and peaked at $207.60 back in January. However, the stock now at $188 represents the mid-point in the year-to-date price range between $170 and $207:
Source: BAD BEAT Investing
So we have to ask, where is the stock going from here? Well, we contend that while Home Depot will suffer setbacks along with market turmoil or profit taking pressures, the company is firing on all cylinders. The housing market is the strongest it has been since the Great Recession. There are little headwinds ahead for the company, and we see no reason it will slow down. As such, we think that at present levels shares are a buy, and are supported by continued strong performance.
Rudimentary valuation considerations
Home Depot's just reported earnings were once again strong. In fact, it was a better than expected quarter in many respects. That said, the company still has a valuation that is pricing continued growth at 26 times current earnings. But this pricing is justifiable if the growth continues, and frankly, the growth is evident. While the multiple continues to expand, so does performance. We do not consider the name overvalued here, given such growth. Considering we are expecting the current fiscal year's earnings to be at least $9.50, then we are looking at a price that is 19.7 times forward earnings. The growth, in our opinion, is more than making up for this expanded multiple.
Sales motor higher
Sales growth has consistently been in the mid-single digits for Home Depot. Judging from the performance in Q1, the growth is there and looks set to continue. The company saw strong Q1 sales of $24.95 billion. This was a 4.4% increase compared to Q1 2017, but continues the growth in the last few Q1 periods: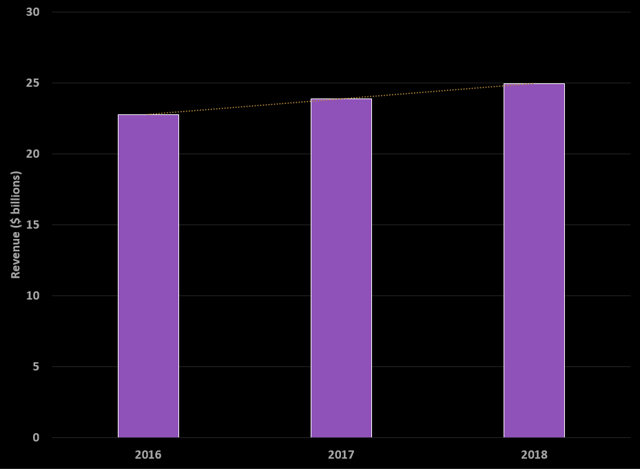 Source: SEC Filings, graphics by BAD BEAT Investing
However, some are considering this a mixed quarter because the revenues missed consensus estimates by $260 million. We believe this miss is partially explained by a longer than expected winter in the United States. This led to what we consider a late start to spring cleaning, particular outdoors, in much of the northern and northeastern portions of the United States. Therefore, we expect Q2 to see an early boost as a result.
Turning to one of the more critical metrics we follow, comparable store sales also rose. In fact they were one of the largest highlights of the report. They came in +4.2% in Q1, and comparable sales for U.S. stores continue to be strong, coming in at +3.9%. This continues to be solid growth for a company of this size. However, transactions were down 1.3%, but we again attribute much of this to weather patterns delaying the spring start-up. It is not a cop out or soft excuse for the performance. While it varies regionally, the Northeast experience multiple snowstorms in April. We think that the sell-off today represents an underappreciation for this reality.
Bottom line growth
Despite the revenue miss stemming from the longer than expected winter in much of the United States, the company controlled expenses and managed to deliver yet another earnings beat. In addition, the company posted another year of growth: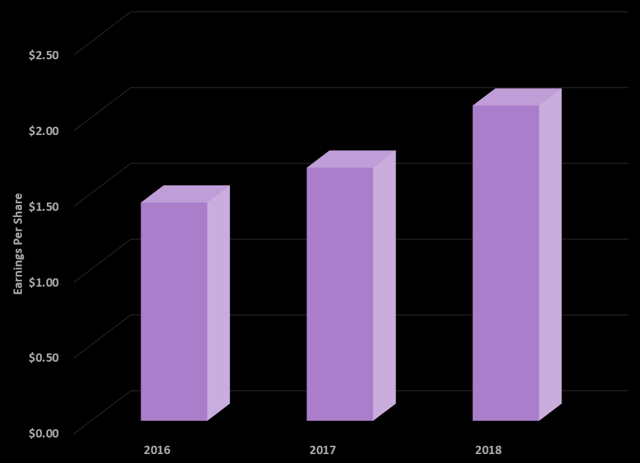 Source: SEC Filings, graphics by BAD BEAT Investing
The company has historically been exceptional at managing its expenses. Here in this report earnings per share were up 24.6% year-over-year. This growth is what we have become accustomed to and it helps justify the valuation. It is worth noting that of course tax benefits helped boost earnings, but on an organic basis they were up around 15%.
Net earnings for Q1 2018 came in at $2.4 billion. This translates to $2.08 per share, compared to $1.67 per share brought in during Q1 2017. These results surpassed estimates by $0.02. While much of this improvement is from fiscal discipline and of course from rising sales, the earnings per share bump also reflects the company's buyback which improves the earnings per share a bit. Still the continued growth is impressive and, in light of that, this remains a stock that you should consider on any meaningful pullback. Let us be clear. The name not only set new Q1 sales and earnings records, it smashed prior records. What is more, Craig Menear, Chairman and Chief Executive Officer and President of Home Depot, reinforced our thesis when he stated:
"We are pleased by the strength of our business despite a slow start to the spring selling season…we had solid results in all markets and categories and are seeing strong momentum in all lines of business during these first few weeks of May. These trends, as well as a favorable housing and macroeconomic backdrop, give us confidence to reaffirm our sales and earnings guidance for fiscal 2018."
As you can see, the commentary directly addresses what we had opined regarding our interpretation of the sales miss. We anticipate a boost in May sales thanks to the late start to the spring.
Looking ahead
Strong sales and earnings, as well as continued growth in comparable sales justify our buy call. With the stock off its 52 week high by 20 points, we think you can do some buying here. Mid-single digit sales growth and double digit earnings growth is exactly the type of growth you like to see from a company you are invested in. For the last few quarters the company has met or beat expectations for the most part, and we see this continuing.
Recall that Home Depot is a serial guidance raiser and is another reason we like this name long-term. With these results we have the following expectations for Home Depot this fiscal year. We see up approximately 7% and comp sales will be up approximately 5%. We are also bullish on the bottom line and further anticipate earnings per share of $9.50 for the year.
Finally the name is shareholder friendly. We would be remiss if we did not mention that the company recently gave us a nice raise of 16% to the dividend, now paying $1.03 per share quarterly. In the company is in the midst of another $15 billion buyback program. That is a winning combination. Home Depot consistently meets or beats expectations on many metrics. Bottom line, it's a winner and you should be buying these dips.
Quad 7 Capital has been a leading contributor with Seeking Alpha since early 2012. If you like the material and want to see more, scroll to the top of the article and hit "follow." Quad 7 Capital also writes a lot of "breaking" articles, which are time-sensitive, actionable investing ideas. If you would like to be among the first to be updated, be sure to check the box for "Get email alerts" under "Follow."
Ready to start winning?
We find beaten down stocks, and profit from their reversals.
Swing trades are suggested almost daily, along with frequent deep value plays
Dozens of investors are winning thanks to ideas like this and our members profit daily.
We've generated thousands of profitable ideas, but our best ideas are reserved for our members.
Invest in your future by joining BAD BEAT Investing today
Disclosure: I/we have no positions in any stocks mentioned, but may initiate a long position in HD over the next 72 hours.
I wrote this article myself, and it expresses my own opinions. I am not receiving compensation for it (other than from Seeking Alpha). I have no business relationship with any company whose stock is mentioned in this article.